---
Crew
Director – Len Wiseman, Screenplay – Danny McBride, Story – Danny McBride & Len Wiseman, Producers – Gary Lucchesi & Tom Rosenberg, Photography – Simon Duggan, Music – Marco Beltrami, Visual Effects Supervisor – Gary E. Beach & James McQuaide, Visual Effects – CafeFX Inc, Fantasy II Film Effects (Supervisor – Gene Warren Jr), Framestore-CFC, Krypton (Supervisor – Lloyd Lee Barrett), Luma Pictures (Supervisor – Payam Shohadai), Ntropic (Supervisors – Andrew Singara & Nathan Robinson) & Sub/Par FX, Special Effects Supervisor – Joe Whist, Creature/Animatronic Effects – Patrick Tatopoulos Designs Inc (Supervisor – Patrick Tatopoulos), Production Design – Patrick Tatopoulos. Production Company – Lakeshore Entertainment.
Cast
Kate Beckinsale (Selene), Scott Speedman (Michael Corvin), Tony Curran (Marcus Corvinus), Derek Jacobi (Alexander Corvinus/Lorenz Macaro), Steven Mackintosh (Andreas Tanis)
---
Plot
Selene and the vampire-Lycan hybrid Michael Corvin are on the run after the murder of her clan. Marcus Corvinus rises up, transformed into a more powerful winged form and fiercely pursues the two of them, wanting a talisman that they hold. Gradually, Selene realises that the talisman relates to her past. Marcus is obsessed with finding the whereabouts of the tomb where his beloved but insane Lycan brother William was imprisoned. Selene's father was the builder of the tomb and Marcus wants to obtain the knowledge of its whereabouts that lies buried in her memory.
---
Underworld: Evolution is a sequel to Underworld (2003). Underworld was made on a modest $22 million budget by debuting director Len Wiseman and proved a successful worldwide hit. Underworld did feel like Len Wiseman had assembled a slick mimetic package out of a host of elements taken from the modern dark Gothique vampire movie and the graphic novel. However, beneath the slick moves, Underworld had little in the way of substance. Len Wiseman says that he had always intended Underworld as part of a series. The success of the first film has meant that he has been able to mount Evolution on a bigger budget – more than twice that of the original – and on a much more ambitious scale in terms of special effects and set-pieces.
Unfortunately, while Underworld sat just on the edge between all posture with no substance and the potentially interesting, Underworld: Evolution amplifies all the faults of Underworld and expands on none of the places that it did work. There is even less substance here than there was in Underworld. Essentially all that has happened is that the bigger budget has allowed Len Wiseman to go from a medium-budgeted series of kinetic fight sequences to a big showcase of CGI effects and action sequences.
Wiseman throws these action sequences at us variously:– a sequence with Kate Beckinsale driving a truck while a winged demon figure flies around the outside attacking her and Scott Speedman; lots of gore and makeup effects (there being an especially impressive demon figure who goes around impaling people with its wingtips); lots of fight sequences between vampires and werewolves (although these lack the revved up kick that they had in the first film); and numerous explosions, even a big climactic set-piece with a helicopter crashing down through the lair during the middle of combat and somehow becoming impaled on a rope bridge without causing it to collapse.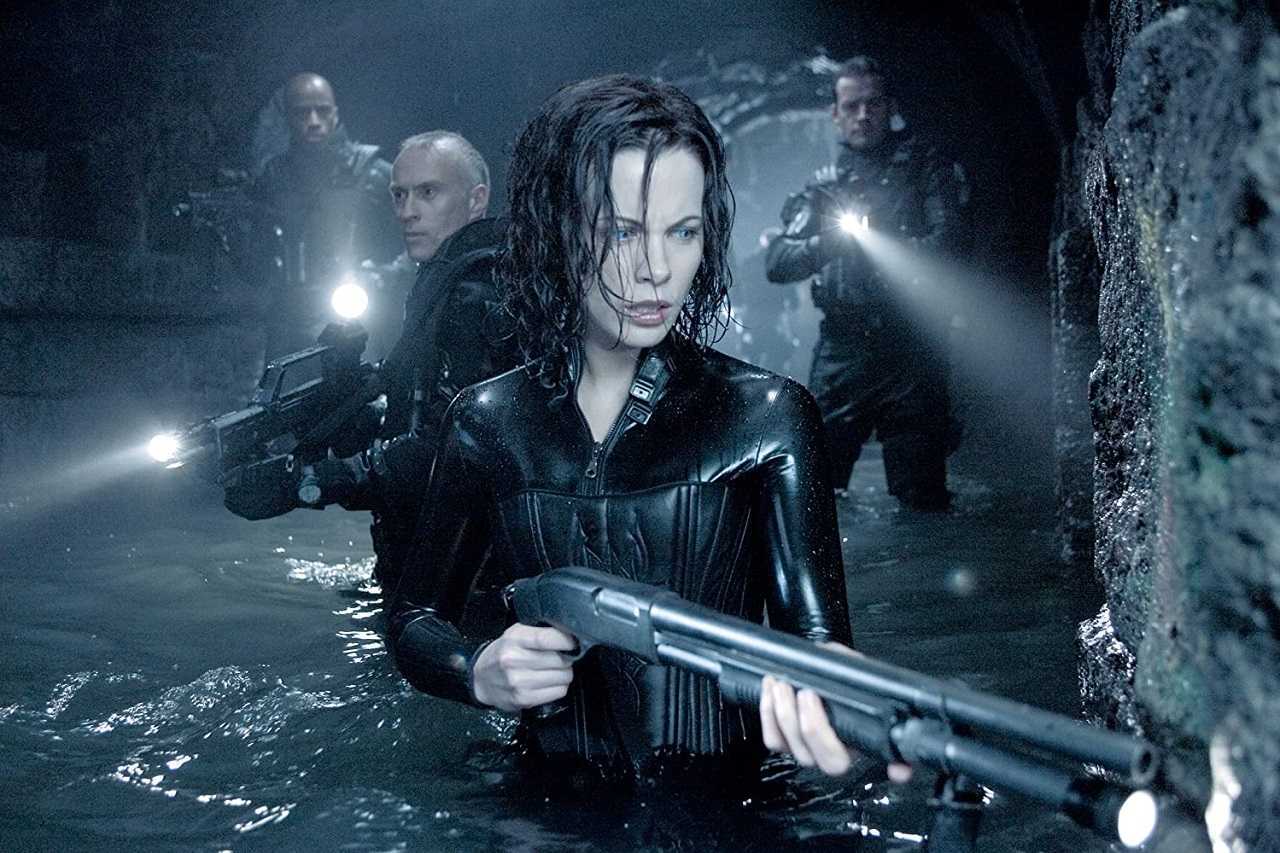 Certainly, Underworld: Evolution is not as mindlessly empty-headed a vehicle of CGI bombast as Kate Beckinsale's previous genre outing Van Helsing (2004). However, the action sequences are surprisingly unmemorable and ultimately Underworld: Evolution is no more than a slickly packaged adrenalin rush that is fine while it lasts but can hardly be remembered the moment the film is over.
Underworld: Evolution is especially poor in terms of story and character. It is a film where Len Wiseman invests a great deal of dramatic urgency and effort in the telling, only for one to come out of it not understanding much of what has happened. Certainly, anyone coming to see Underworld: Evolution without having seen Underworld would be highly confused as to what is going on – who is who, the various sides and the connections between characters – which are still confusing even when one has seen the first film. I had to sit down and think to work out whether Stephen Mackintosh's character was meant to be vampire or Lycan, for instance.
Though the end of the film tells us that what has happened throughout has blurred the lines of how vampires and Lycans regard one another, we have no idea why. The plot circles around elements that are corny genre cliches – talismans that are a key to a secret location, clues to be found in long-forgotten memories, revelations about parentage, characters becoming more powerful and developing superpowers for little explained or contrived reasons.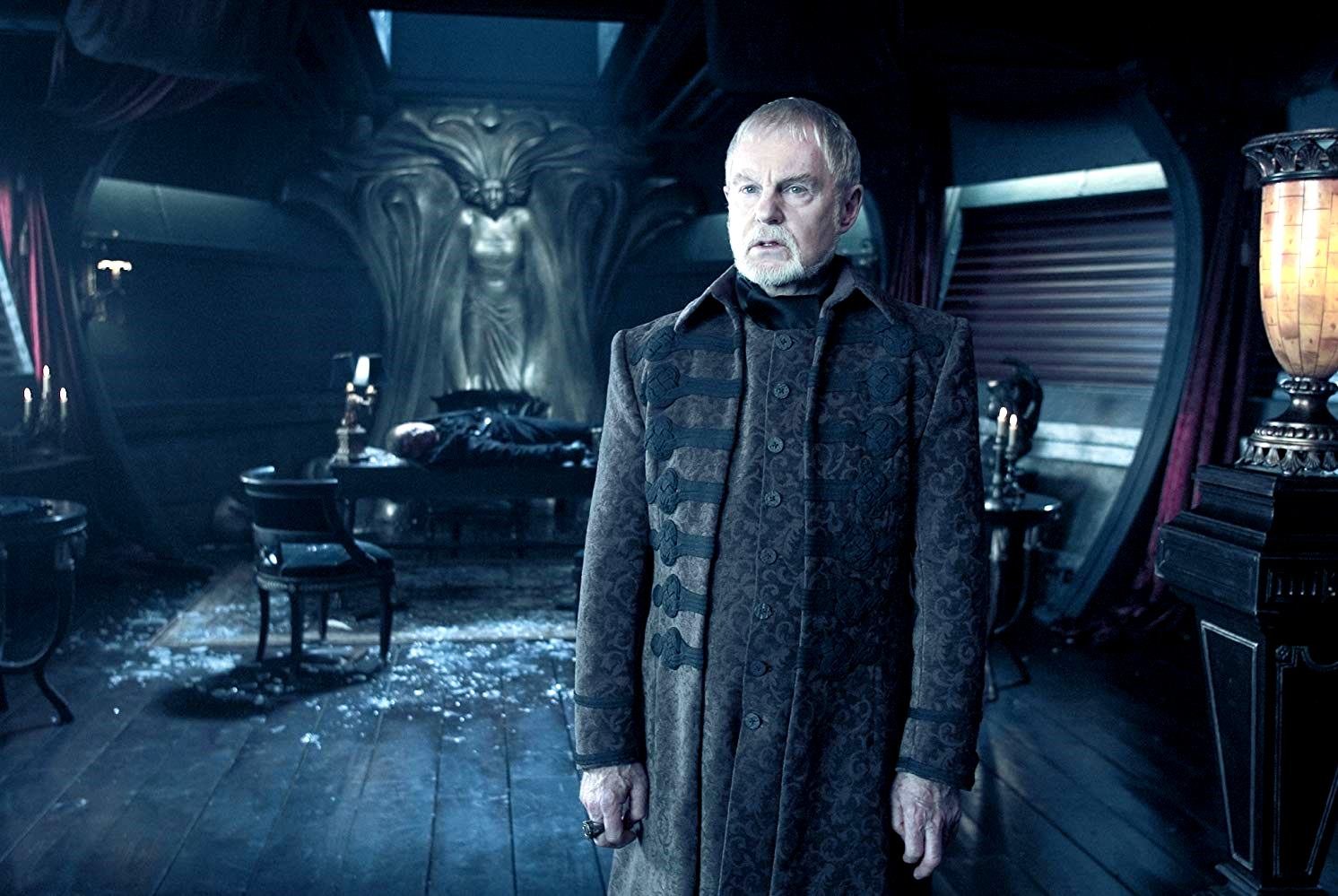 The characters seem of so little importance to the film that the actors filling the parts are negligible – Scott Speedman makes almost zero impression on the film and Kate Beckinsale barely more than he does. She has even been stripped of all the Gothic poses that Len Wiseman (now her real-life husband) put her through in the first film and is only there in a handful of lines of dialogue and a few action sequences.
The character that does come to the fore is that of Tony Curran's Marcus whose obsession with his brother and especially the sequence where he remonstrates Derek Jacobi about becoming a god, which have a great mad intensity to them. Derek Jacobi does present some class to the proceedings, although you wonder what a classic actor like Jacobi – who is pointedly listed as being Sir Derek Jacobi on the end credits – is doing in a mindless action vehicle like this.
This was followed by the prequel Underworld: Rise of the Lycans (2009) and two further sequels Underworld: Awakening (2012) and Underworld: Blood Wars (2016).
Len Wiseman subsequently went onto direct Live Free or Die Hard/Die Hard 4.0 (2007) and the remake of Total Recall (2012), as well as to create/produce the tv series' Sleepy Hollow (2013-7), Lucifer (2015-8), The Gifted (2017-9) and Swamp Thing (2019).
(Nominee for Best Makeup Effects at this site's Best of 2006 Awards).
---
---