---
Crew
Director – Patrick Read Johnson, Teleplay – Patrick Read Johnson & John Lau, Story – R.L. Stine, Producer – Steve McGlothen, Photography – Brian Beheny, Music – Christopher Gordon, Visual Effects Supervisor – Dale Duguid, Visual Effects – Photon, Special Effects – Pride Studios (Supervisor – Ted Pride), Makeup Effects – Rick Connelly, Production Design – Les Binns. Production Company – Parachute Entertainment/Fox Television Studios/Moonwatcher.
Cast
Christopher Lloyd (Uncle Fred Walker), Joe Pichler (Danny Walker), Brittany Byrnes (Dayna Stenson), Tom Amandes (James Walker), Imelda Corcoran (Taylor Stenson), Joe Clements (Coach Kankel), Craig Marriott (Ryan Kankel), Alan Fowler (Sheriff Ed Frady), Louise Fox (Miss Vanderpool), Roy Billings (Mayor Bob Churney), John Gibson (Herr Schmidt), Brendan McCarthy (Curtis Danko)
---
Plot
Young Danny Walker has just returned to Walker Falls, Michigan, with his father James who plans to restart the family chocolate factory. They move in with James's eccentric father Uncle Fred. James's plan to market the chocolates around a Halloween theme meets much opposition from the townspeople who fear the celebration or even the mention of Halloween. Danny learns that this is all due to several years ago when weird kid Curtis Danko was reputed to have made a statue for the town square that was so fearsome it burned out the eyes of whoever saw it. Curtis was then burned alive in a school fire. Meanwhile, someone has been placing Halloween decorations up around the town. Uncle Fred is crushed when a mountain of pumpkins planted in the town square collapses on him.  Danny is startled when Uncle Fred returns from the dead. Soon after, the dead everywhere start rising from their graves.
---
When Good Ghouls Go Bad is a modestly effective children's tv movie that was made for the Halloween season. It is based on a story idea by R.L. Stine, the hugely successful author of horror stories written for kids. Stine has published over 400 books in this vein since 1986, the most well-known of which are the massively popular Goosebumps stories. Stine's works have also been adapted to the screen as the tv anthology series Goosebumps (1995-8); the tv anthology series The Nightmare Room (2001-2); the films Superstitious (1999) and Mostly Ghostly: Have You Met My Ghoulfriend? (2014); the tv series Eye Candy (2015); the big-screen film Goosebumps (2015) and its sequel Goosebumps 2 (2018); and the film trilogy Fear Street 1994 (2021), Fear Street 1978 (2021) and Fear Street 1666 (2021).
The majority of children's made-for-television genre movies are completely forgettable – the Disney Channel churns them out by the barrow load. When Good Ghouls Go Bad, which was made for the Fox Network, is surprisingly decent. There are some very nice pieces of writing – like one speech that goes on about considering the beauty of death and cellular disintegration. Or a line like "If you don't survive being scared as a kid, you're not going to survive being scared as an adult," where you can almost detect R.L. Stine's authorship as an instant response geared to deal with questions about the justification for scaring children. The plot holds some clever end revelations and reversals of expectations.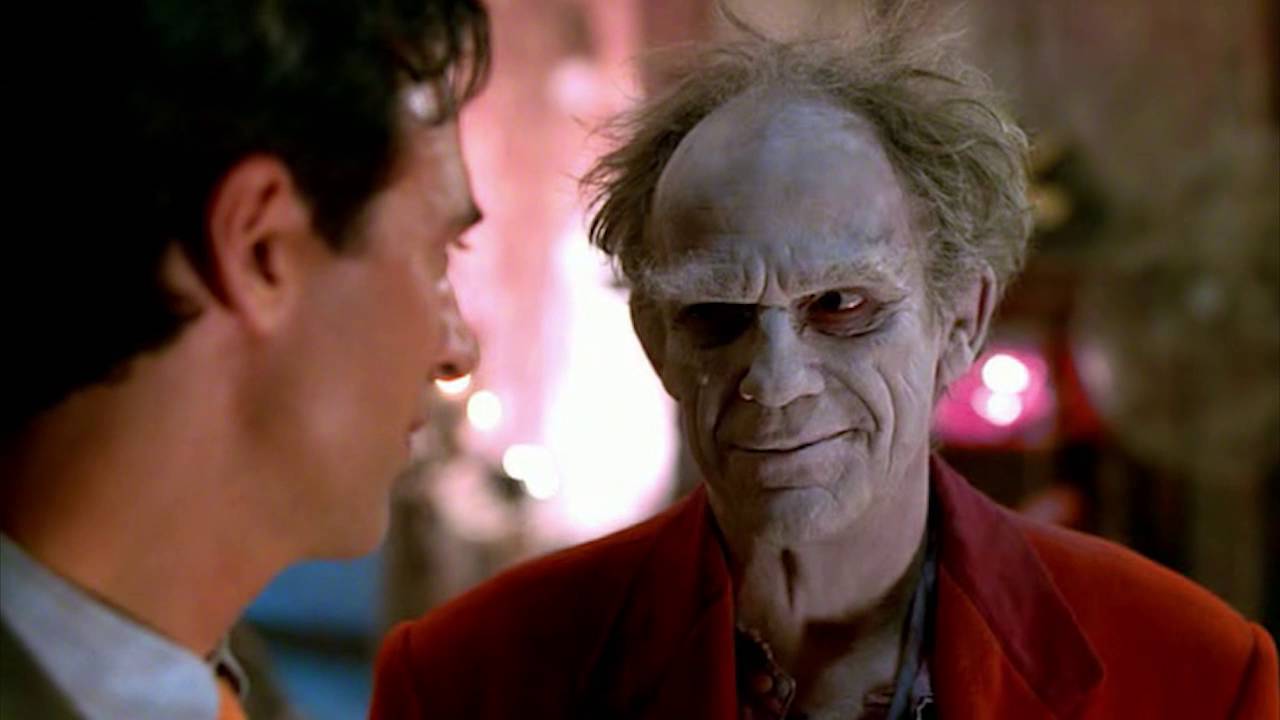 This is also a children's film with a surprising message in favour of arts funding – it reaches an ending where Christopher Lloyd's grandfather is portrayed as heroically noble because he stood up to fund the arts, while the bullying villain is seen as standing on the side of values represented by football funding and sports intended to toughen up today's youth and make them into Real Men.
This is also a children's horror story that is not unafraid of going so far as to scare kids. There are some reasonably effective zombie makeups throughout. The show tends to descend to slapstick at times, especially in the scenes with an undead Christopher Lloyd running around a kid's party looking for his missing hand or the kids having to reattach his body parts. Christopher Lloyd is the name star of the show and gives us the sort of character only he can do, alternating between a nutty but good-hearted madman and grandfatherly wisdom.
Director Patrick Read Johnson first made the comic alien invaders film Spaced Invaders (1990) and went onto several other films including Baby's Day Out (1994), Angus (1995) and 5-25-77 (2022), a standout film about based on Johnson's own teen years growing up as a wannabe filmmakerand attending a pre-release screening of Star Wars. Johnson has also written DragonHeart (1996).
---
---