aka Harry, He's Here to Help
(Harry, Un Ami Qui Vous Veut du Bien)
---
France. 2000.
Crew
Director – Dominik Moll, Screenplay – Gilles Marchand & Dominik Moll, Producer – Michel Saint-Jean, Photography – Matthieu Poirot-Delpech, Music – David Sinclair Whitaker, Production Design – Michel Barthelemy. Production Company – Diaphana Films/M6 Films/Sofica Sofinergie/La Procirep/Center National de la Cinematografie/Le Studio Canal +.
Cast
Laurent Lucas (Michel Pape), Sergi Lopez (Harry Balestero), Mathilde Seigner (Claire Pape), Sophie Guillemin (Prune/Plum), Dominique Rozan (Michel's Father), Liliane Rovere (Michel's Mother), Michel Fau (Eric Pape), Victoire de Koster (Jeanne Pape), Laurie Caminata (Sarah Pape), Lorena Caminata (Iris Pape)
---
Plot
In a highway rest-stop station, Michel Pape is approached by Harry Balestero, who remembers him from school, although Michel is unable to remember Harry. Michel and his wife Claire invite Harry and his fiancee Plum back to their country home to stay. Michel is amazed at the awe Harry holds him in, having committed to memory a poem Michel published in the school magazine and considering the fragment of a novel Michel wrote the best thing he has ever read. Harry inspires Michel to start writing again and proves amazingly generous, buying them a new vehicle when their car breaks down. However, when Harry then sees Michel's parents and others as influencing undue stress on his life, he starts killing them.
---
With a Friend Like Harry/Harry, He's Here to Help is a psycho-thriller that was a huge hit in France and Europe and a modest arthouse and film festival release in the English-speaking world. With a Friend Like Harry falls into the mini-genre of the psychopathically friendly houseguest popularised by the likes of Pacific Heights (1990), the great Funny Games (1997) and the little seen Cleopatra's Second Husband (1998), the film it most resembles.
Director Dominik Moll takes an approach of calm manneredness. With a Friend Like Harry is one of the few thrillers that one can think of that realistically situates itself amid a naturalistic rather than romanticised portrait of family life – where a couple are being visibly torn apart by the pressures of children and an intrusive set of parents.
Dominik Moll only infrequently lets the brooding psychopathic violence erupt and when it does amid the quietude and domestic naturalism, the resulting tension is often startling – the attack on Michel's parents, or just the suggestion that we are left with after Sergi Lopez suddenly stops in the middle of the road with Michel's brother and then turns up sans passenger (a situation Moll immediately starts putting the screws on).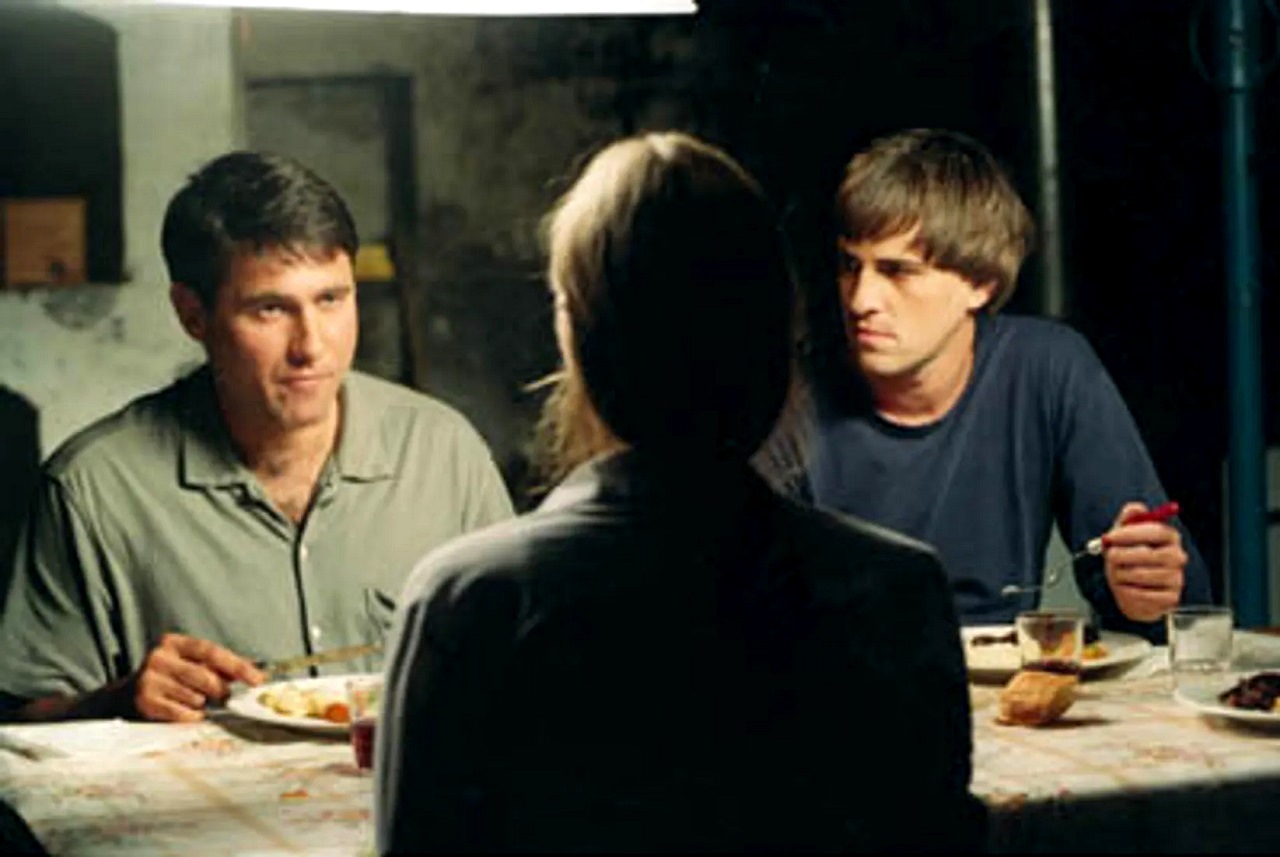 All four principals give excellent performances, especially Sergi Lopez as Harry, whose friendly ease and controlled manner is unnerving in its perfect calm. Dominik Moll never darkens the film or goes underneath the psychosis the way the abovementioned thrillers did but the results nevertheless add up to a suspensefully well-tuned ride. There is also a fine Hitchcockian score.
Director Dominik Moll subsequently went on to make Lemming (2005), a strange surrealist film about identity exchange, The Monk (2011) based on a classic novel about a monk's temptation by The Devil, the surreal comedy News from Planet Mars (2016), and the crime films Only the Animals (2019) and The Night of the 12th (2022).
(Winner for Best Musical Score at this site's Best of 2000 Awards).
---
Trailer here
---