---
Crew
Director – Shawn Levy, Screenplay – Jennifer Flackett, Mark Levin, T.S. Nowlin & Jonathan Tropper, Producers – David Ellison, Dana Goldberg, Don Granger, Shawn Levy & Ryan Reynolds, Photography – Tobias Schliessler, Music – Rob Simonsen, Visual Effects Supervisor – Alessandro Ongaro, Visual Effects – DNeg (Supervisor – Alexander Seaman), Lola | VFX (Supervisor – David Hernandez), Scanline VFX (Supervisor – Nick Crew) & Supervixen, Special Effects Supervisor – Cameron Waldbauer, Production Design – Claude Pare. Production Company – Skydance/21 Laps EntertainmentMaximum Effort.
Cast
Ryan Reynolds (Big Adam), Walker Scobell (Young Adam), Mark Ruffalo (Louis Reed), Jennifer Garner (Ellie Reed), Zoe Saldana (Laura), Zoe Saldana (Laura), Catherine Keener (Maya Sorian), Braxton Bjerken (Ray), Alex Mallari, Jr (Christos), Kasra Wong (Chuck)
---
Plot
In 2022, twelve year-old Adam Reed is surprised by the arrival of a pilot at his home before realising that the pilot is his grown-up self travelled back from the year 2050. Big Adam tells Young Adam how he has travelled back in time to prevent his late father Louis from discovering The Adam Project, the means of opening wormholes to allow time travel. Big Adam gives Young Adam some lessons in growing up. However, they are interrupted by Maya Sorian who holds strict control over the time travel operation in 2050 and has travelled back in time to stop Adam, along with her army of killer robots. With Young Adam's help, Big Adam tries to get his plane repaired so that he can travel back to 2018 just before his father discovers The Adam Project and prevent Maya from taking it over.
---
Ryan Reynolds has become an A-list star from the late 2000s onwards with films that range from The Amityville Horror (2005), Buried (2010), The Croods (2013), Deadpool (2016), Life (2017), The Hitman's Bodyguard (2017) and the one that Reynolds misses no opportunity to trash Green Lantern (2011). The Adam Project is the second collaboration between Reynolds and director Shawn Levy following Free Guy (2021), while as The Adam Project goes into release, the two have announced the Levy will helm the third Deadpool movie. (See below for Shawn Levy's other films).
There is a long history of time travel movies ranging from early efforts of the 1950s through classics like The Time Machine (1960) and defining modern works like The Terminator (1984) and Back to the Future (1985). Recent years have seen an explosion of these with the likes of Timecrimes (2007), The Time Traveler's Wife (2009), Looper (2012), Project Almanac (2015) and Tenet (2020), among others. For a more detailed overview see Time Travel Movies.
The Adam Project is a likeable if lightweight effort that is largely driven by the Ryan Reynolds factor. Reynolds has struck a niche in his performances that connects with audiences – a cocky, lippy sarcasm delivered with a snappy deftness of touch, mixed with a certain cuteness that he is constantly mocking. The film even has Walker Scobell as the kid version of Ryan getting into the sarcastic backchat. The film certainly has its best moments when its plays into the Ryan Reynolds factor – like when he is inspiring his younger selves to stand up the bullies and then confronting them himself.
The film has a certain adeptness to the plot, although none of the truly mind-spinning possibilities that efforts such as Twelve Monkeys (1995), The Infinite Man (2014), Black Hollow Cage (2017), In the Shadow of the Moon (2019) and Beyond the Infinite: Two Minutes (2020) or even the better among the Back to the Future films did. Much of it feels as though it has been recycled from the basics of other films in the genre – in particular the time traveller travelled back to save the future plot from The Terminator or perhaps even more so Terminator 2: Judgment Day (1991). That maybe and a variation on The Kid (2000), which had Bruce Willis encounter his boyhood self – this reverses it to have the boy encounter his grown-up self but the same comic relationship plays out in both films. A very similar – and much better – film with almost the same plot was the Dutch Captain Nova (2021), which came out three months before this did.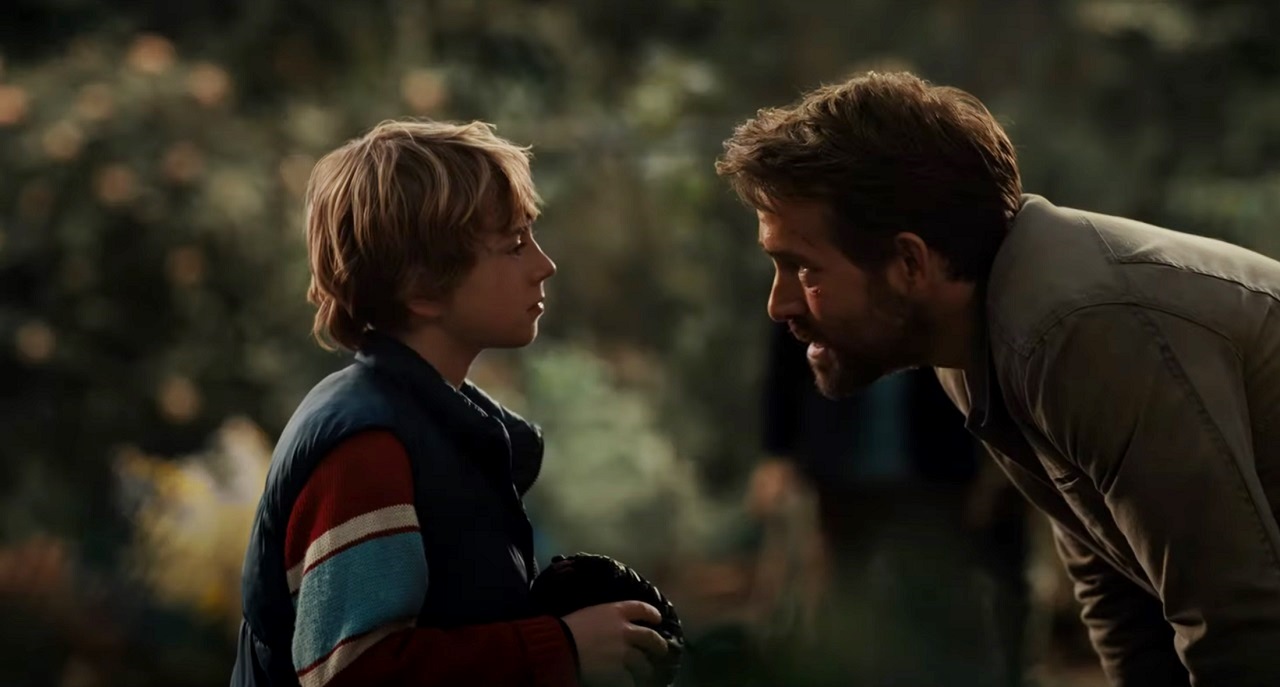 The potential time paradoxes that would result – like surely the young Adam would have some memory of meeting his older self – are swept under the carpet with some handwave doubletalk about memory snapping into place. Although clearly this does not seem to apply to the ending where the time travel system is destroyed. This would create a causal paradox in that it would wipe out the future from which Ryan Reynolds came – with the time travel process from being destroyed that would mean he would be unable to travel back from the future to destroy the machine meaning that the future where there was a machine would be created so he would have to come back to destroy the machine erasing the future where there was a time machine for him to use to come back and stop its creation ad infinitum.
Ryan Reynolds and Shawn Levy seemed to click really well on Free Guy, which had a strong central concept that played to both their strengths. By contrast, The Adam Project has a script designed to highlight their respective interests but never goes much more beyond that. One also must remember that Levy is a director who emerged out of exceedingly lightweight, middle-of-the-road comedies during the 2000s. Before the unexpectedly delightful Free Guy, his highlights in genre material were the Night at the Museum films with his best work being Real Steel (2011).
As a result of what one suspects is Levy's influence, there is a certain desire to push The Adam Project in the direction of being a lightweight comedy-action film and this ends up unbalancing it somewhat. The regular time travel plot is pumped up with random action scenes, including the addition of robots where Ryan Reynolds gets a cool lightsabre weapon to eliminate them. There are high-speed vehicle chases through the woods, along with Star Wars (1977)-styled fighter plane pursuits through the skies and down a canyon (where Reynolds fighter seems capable of making physics-defying moves – coming to a dead stop a few feet from the ground after turning the plane's power off). These sequences are so forgettably lightweight that you can fast forward through them without missing anything significant. I would far rather have watched a film that placed its focus less on action scenes and comedy and a little more into its not uninteresting time travel scenario.
Shawn Levy is a director who emerged through a good many easy, middle-of-the-road comedies with the likes of Big Fat Liar (2002), Cheaper By the Dozen (2003), Just Married (2003), The Pink Panther (2006), Date Night (2010), The Internship (2013) and This is Where I Leave You (2014). He has ventured into genre material with the popular family-friendly hit of Night at the Museum (2006) and made both its sequels Night at the Museum 2 (2009) and Night at the Museum: Secret of the Tomb (2014). In between these, Levy also made the likeable robot boxing film Real Steel (2011) and previously collaborated with Ryan Reynolds later teamed for Free Guy (2021). Levy has also worked as a producer with genre efforts like The Watch (2012), the Young Adult The Darkest Minds (2018), Denis Villeneuve's Arrival (2016) and Crater (2023) and the tv series' Stranger Things (2016– ) and Shadow and Bone (2021– ).
---
Trailer here
---