aka Deep Burial
---
Crew
Director – Dagen Merrill, Screenplay – Kevin Burke, Fred Fernandez-Armesto & Adam Gyngell, Producers – Jaime Burke & Vahan Paretchan, Photography – Timothy A. Burton, Music – Christian Davis, Visual Effects Supervisor – Juan Ignacio Cabrera, Visual Effects – Labyrinth Cinematic Solutions Ptv Ltd. (Supervisor – Siddharta Jayakar), Production Design – Ben Blankenship. Production Company – Lifeboat Productions/Epic Pictures.
Cast
Sarah Habel (Abby Dixon), Dominic Monaghan (Robinson Scott), Tom Sizemore (Dr Darius Zek), Sarah-Eve Gazit (Young Abby Dixon)
---
Plot
In the near future, the corporation Auxilisun has been able to create a new energy supply with a process that reuses the power from radioactive waste. Auxilisun technician Abby Dixon discovers that contact has been lost with the Gibson Desert North processing plant. She travels there to find the plant in a rundown state. The supervisor Dr Darius Zek has been missing in the radioactive desert outside for several days. She meets the sole other employee, the weird and over-friendly Robinson Scott. As she attempts to get to the bottom of what happened, Robinson insists that Dr Zek was engaged in experiments in the Deep Burial area where the nuclear waste is stored.
---
This was the fifth film for American director Dagen Merrill who had previously made the horror films Beneath (2007) and Murder in the Dark (2013) and non-genre indie dramas such as Broken Hill (2009) and Finding Harmony (2013). This started out being called Deep Burial but was changed to Atomica for release, a title that makes it sounds like some kind of lost 1950s atomic monster film (which it isn't).
The opening moments of the film create a set up that looks interesting – a near future setting, the idea of a new technology based on mining radioactive waste, the venture to a processing plant that has gone off the grid. The film was shot at an abandoned nuclear missile silo at Moses Lake, Washington, which provide a series of cavernous, labyrinthine tunnels that no set designer could replicate. The effects team produce a novel looking spherical flying machine that carries Sarah Habel to her destination.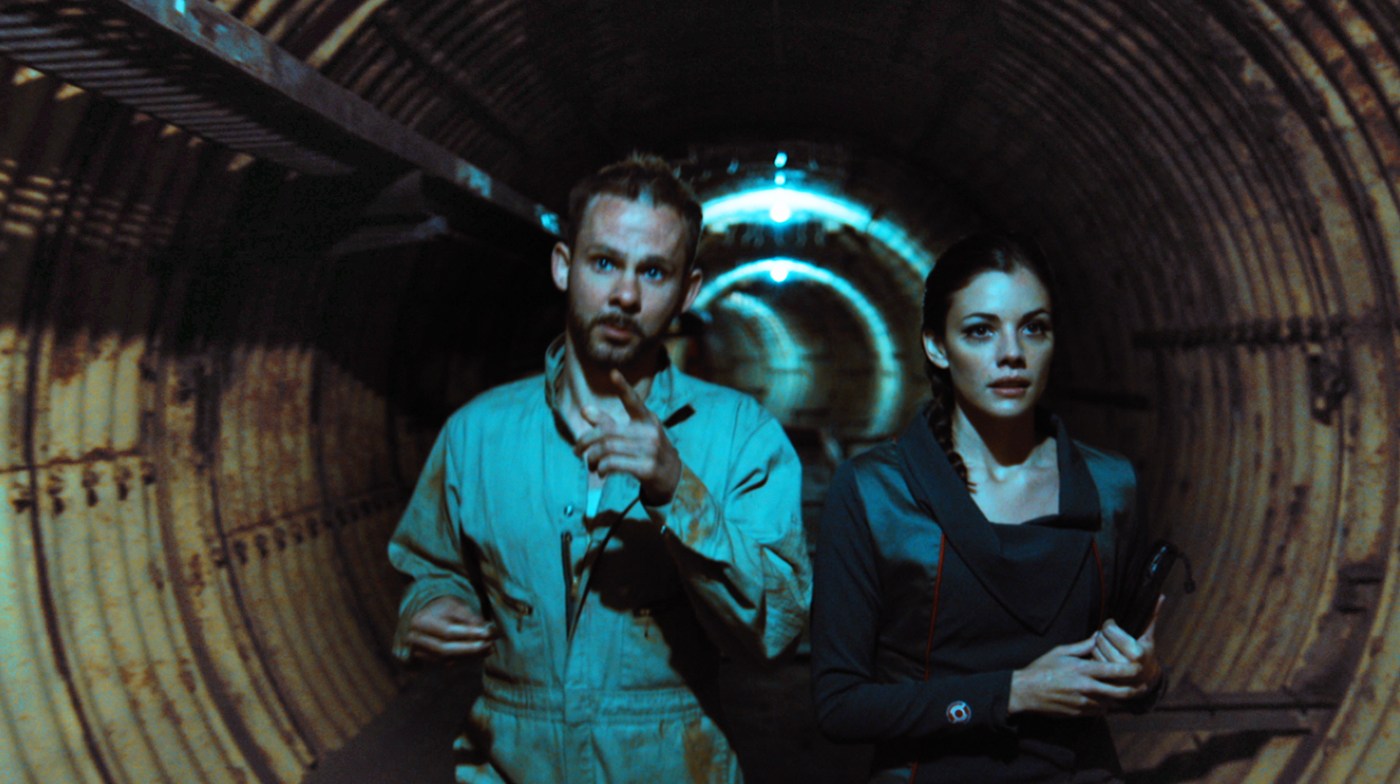 Unfortunately these opening scenes are the best sections. It takes a long time to get a handle on where the story is going, As soon as Sarah Habel arrives, the film is all about the hardly exciting process of her investigating why communication with the plant was lost. There's an additional mystery about what happened to Dr Zek who has failed to return from an excursion outside several days ago but she doesn't seem that interested in investigating what happened to him. There's no real mystery or secrets uncovered. Most of the film seems to consist of the disinterested Sarah Habel wandering around doing technical stuff followed by a puppydoggish, over-friendly Dominic Monaghan (who also executive produces the film) asking annoying questions.
In the end, Atomica/Deep Burial proves to be a film with an uninteresting set-up – an investigation into why communications stopped at a nuclear waste reprocessing plant – and an even less interesting series of answers. It is hard to believe we can have a film that throws in a scientist conducting off the book experiments down in the reactor core (which we never get to see), identity masquerade and scientists missing in mysterious circumstances yet fails to build anything the slightest bit interesting out of them.
---
---