---
USA. 1986.
Crew
Director – Peter Manoogian, Screenplay – Danny Bilson & Paul De Meo, Producer – Charles Band, Photography – Mac Ahlberg, Music – Bob Summers, Music Supervisor – Don Perry, Makeup Effects – Mechanical and Makeup Imageries Inc (Supervisor – John Carl Buechler), Production Design – Phillip Foreman. Production Company – Altar Productions/Empire.
Cast
Denise Crosby (Colonel Nora Hunter), Andrew Prine (Harry Fontana), Patrick Reynolds (Mandroid), Conan Lee (Kuji Takada), Roy Dotrice (Abbott Reeves), Peter Schrum (Ray), Peggy Mannix (Bayou Betty), Tad Horino (Dr Takada)
---
Plot
Scientist Abbott Reeves is conducting time-travel experiments in the Mexican jungle. Reeves orders his assistant Dr Takada to decommission the half-human, half-cyborg Mandroid when Mandroid starts having flashbacks to his life as a human. Takada instead helps Mandroid escape and tells him to seek out robotics expert Nora Hunter. Nora is surprised to find that Reeves, thought killed, is alive and that he has stolen her robotic designs to build Mandroid. She immediately sets forth on an expedition into the Mexican jungle, joined by Mandroid, the wily boatman Harry Fontana and Takada's ninja son who has come to find his father. Fighting their way past Neanderthals brought back via Reeves's experiments and river pirates, they eventually discover Reeves's plan to go back in time and make himself the Emperor of Rome.
---
Aside from Re-Animator (1985), Eliminators is possibly one of the most entertaining films that Charles and Albert Band made during the reign of Empire Pictures in the 1980s. Empire's output consisted of a number of very cheap films, including the likes of Ghoulies (1985), Trancers (1985), Troll (1986), Creepozoids (1987) and Sorority Babes at the Slimeball Bowl-o-Rama (1987).
Eliminators is scripted by Danny Bilson and Paul Di Meo who wrote Trancers/Futurecop (1985) and Arena (1990) and then went onto direct/write/produce the great Zone Troopers (1986) for the Bands. Later Bilson and DeMeo would go onto create and produce tv series such as The Flash (1990-1), Viper (1994, 1996), The Sentinel (1996-9) and write the script for Rocketeer (1991).
Eliminators might be noted for the improbability of the elements it manages to gather – the heroes consist of a female robotics expert, an amnesiac cyborg, a laconic Han Solo-cum-Humphrey Bogart-styled riverboat captain, a ninja and a cute robot, and their encounters include Neanderthals, river pirates and a mad scientist who plans to travel through time to conquer the Roman Empire. It is to Bilson and Di Meo's credit that they manage to include all of the elements into the story in a way that does not stretch it beyond all realms of credulity.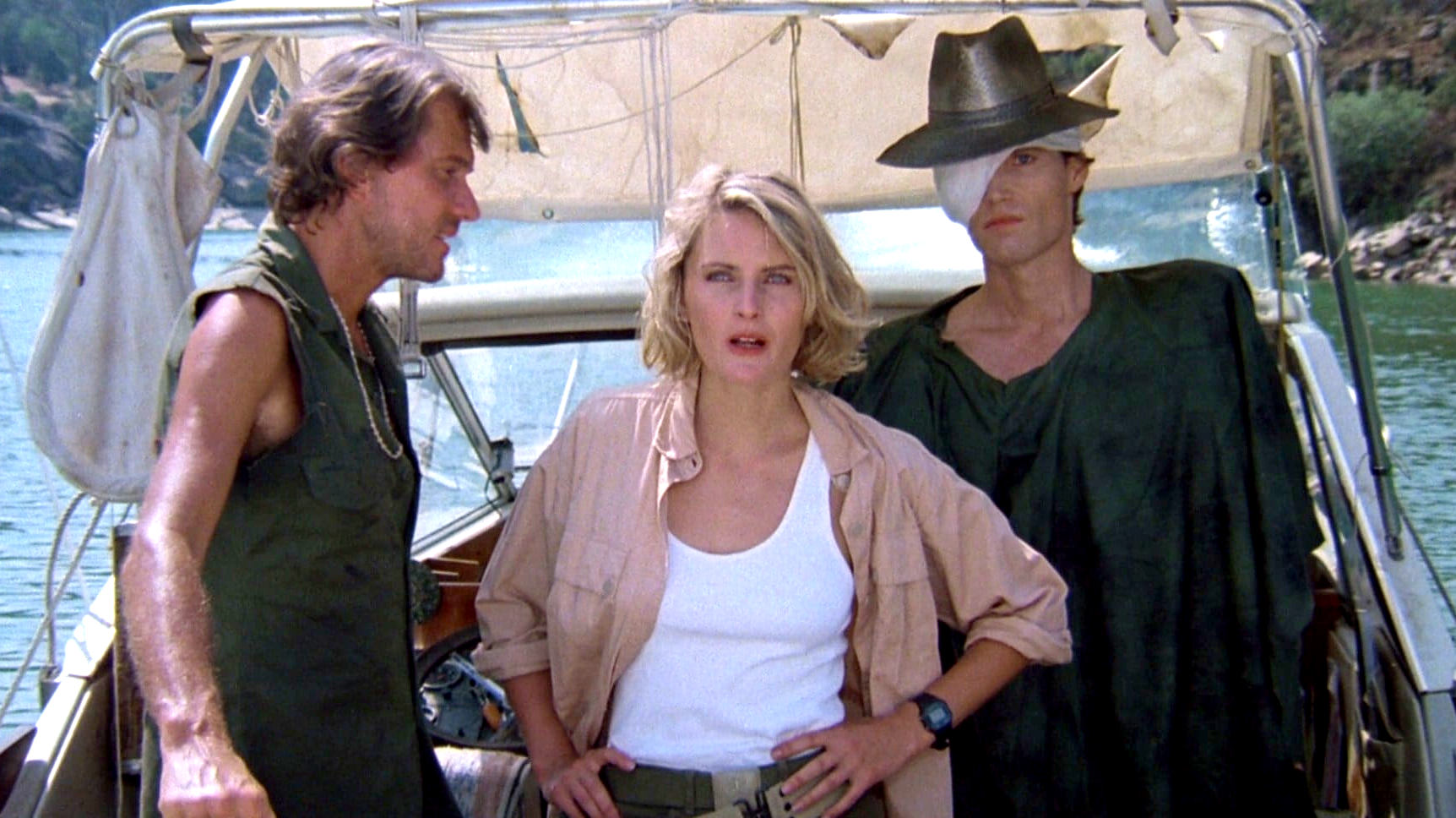 There is one moment when the script does put its finger on their stew of elements – "What is this?" Andrew Prine asks, "Some sort of comic-book? We got robots, we got cavemen, we got kung fu." The question is rhetorical but the answer is surely yes, it is some sort of comic-book – and delightfully so. (Although there is the later moment where Bilson and Di Meo overplay such a self-aware moment, the moment Andrew Prine says "This is all some kind of weird-ass science fiction thing, right?" at which point the cuteness turns into cutsie cynicism).
The Mandroid character is particularly well written. The gadgetry he is outfitted with – detachable legs, the ability to plug into a mobile all-terrain unit – is most inventive. There is the moment he says "My life before the crash is a blank," which seems to be heading into cliches of androids pining for their human past, only to be told "I'm not surprised – you haven't got much memory storage." Denise Crosby's character is given a satisfying degree of toughness and she plays well.
The lack of budget prevents some of the action opening up but regular Band director Peter Manoogian does a good job with the small scale he has. One may find amusement in the fact that the SPOT robot's control panel is simply a calculator keypad.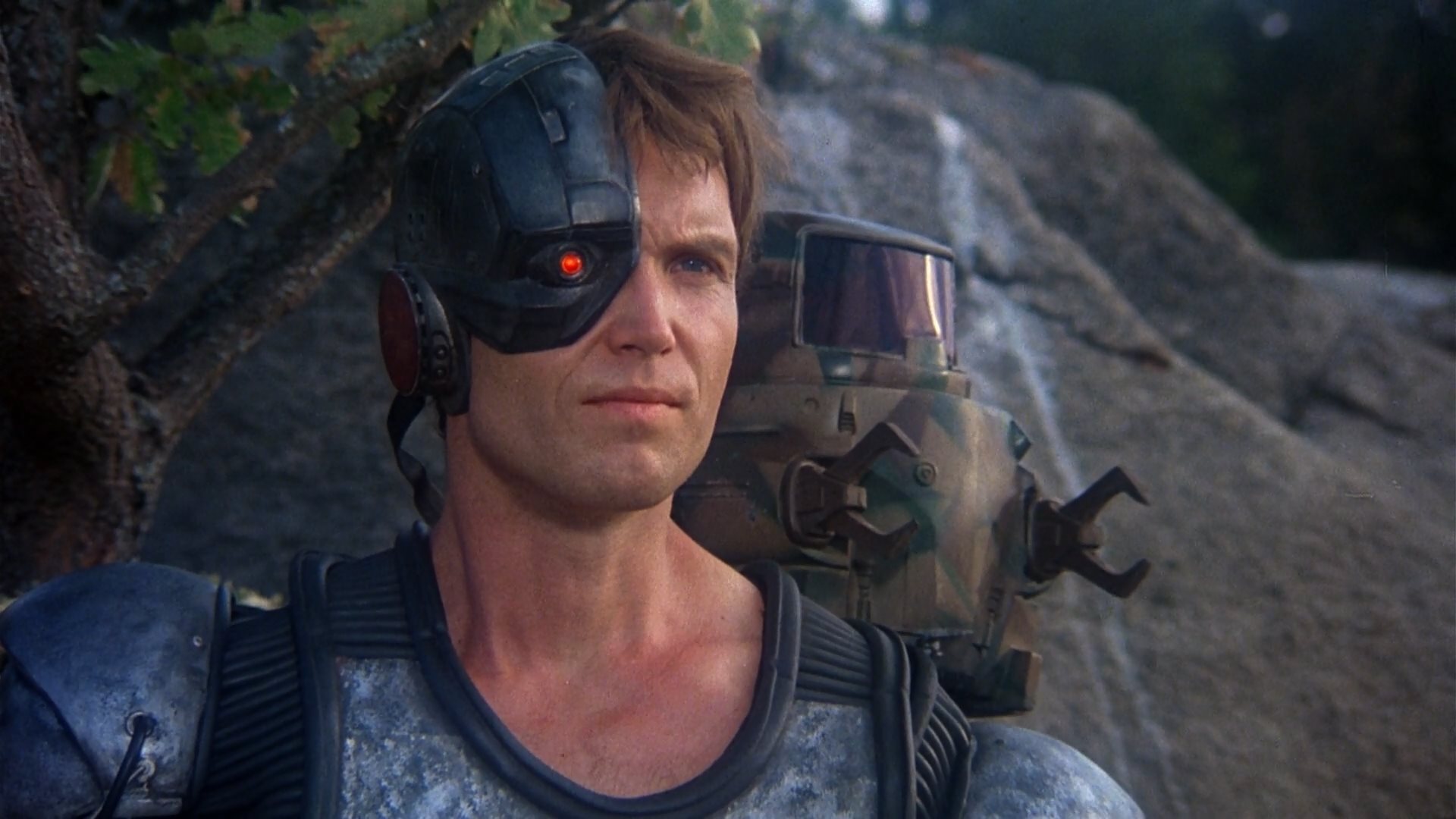 The Bands purportedly planned this to launch a series of films. They later spun the character of Mandroid off in the film Mandroid (1993), although with some confusion that film is unrelated to this.
Peter Manoogian directed several other Band films, including one of the episodes of The Dungeonmaster (1984) and the full-length likes of Enemy Territory (1987), Arena (1989), Demonic Toys (1992) and Seedpeople (1992).
---
Trailer here
Film online in several parts beginning here:-
---