---
Crew
Director/Screenplay – Chris Matheson, Story – Chris Matheson & Ryan Rowe, Producers – Debra Grieco & Erica Huggins, Photography – Russell Lyster, Music – David Russo, Visual Effects/Digital Animation – Digital Domain (Supervisor – Andre Bustanoby), Special Effects Supervisor – Frank Ceglia, Production Design – Devorah Herbert. Production Company – Radar Pictures.
Cast
Diedrich Bader (My-ik), Chris Parnell (Du-ug), Michael Weston (Kenny), Tyler Labine (Croker), Eldon Henson (Ron), Missy Yager (Penny), [uncredited] Tori Spelling (Jan), Joel McCrary (Mr Breen), Michael McShane (Rabirr), Beth Grant (Sheila)
---
Plot
Rabirr, the ruler of the planet Kabijj, decides that he wants to invade Earth and assigns the task to My-ik and Du-ug. The two are teleported to Earth with orders that if they do not succeed in three days then the hundred-foot tall giant Croker will be unleashed to kill everything, including them. Materialising in Palmdale, California, the two are befriended by fast food cook Kenny who offers for them a place to stay. Kenny tries to help them navigate Earth culture and get a practical grasp on how they can cut the heads off 5.8 billion people within three days. As they explore various methods of beheading humanity with increasing frustration, My-ik and Du-ug meet two women Penny and Jan. As attraction blossoms, they begin to doubt the nature of their mission. All the while, they are facing the deadline of the unleashed Croker.
---
Chris Matheson is the son of the celebrated Richard Matheson, author/screenwriter of famous works like The Incredible Shrinking Man (1957), Duel (1971), What Dreams May Come (1998), Stir of Echoes (1999) and the original novel version of I Am Legend (1954), among many others. Chris Matheson made his screenwriting debut with the hit Bill and Ted's Excellent Adventure (1989). He and frequent co-writing partner Ed Solomon went onto write Bill and Ted's Bogus Journey (1991), Mom and Dad Save the World (1992) and Bill & Ted Face the Music (2020), films on the common theme of not terribly bright people in various science-fiction scenarios, as well as the Eddie Murphy vehicle Imagine That (2009). Without Solomon, Chris Matheson has also written A Goofy Movie (1995), Stepsister from the Planet Weird (2000) and Rapture-Palooza (2013). He made his directing/writing debut with the little-seen New Age genre spoof The Wise Ones (2001) and subsequently the even less seen Monkeys (2007).
There have been films about stupid aliens before – Morons from Outer Space (1985), Spaceballs (1987), Spaced Invaders (1990) and Chris Matheson's aforementioned Mom and Dad Save the World – most of which, not too surprisingly, haven't been particularly funny. Recycled again here, the idea comes up a resounding thud at first glance. There is another whole genre of comedies about alien fish out of water trying to make sense of Earth culture – see the likes of the tv series' My Favorite Martian (1963-6), Mork and Mindy (1978-82), ALF (1986-1990) and 3rd Rock from the Sun (1996-2001) and films like My Stepmother is an Alien (1988), Earth Girls Are Easy (1989), Coneheads (1993) and What Planet Are You From? (2000). Evil Alien Conquerors perhaps resembles something akin to the duo from Dumb and Dumber (1994) cast as not-terribly-bright invaders who come spouting cliches of military dominance and end up as fish out of water trying to make sense of Earth culture.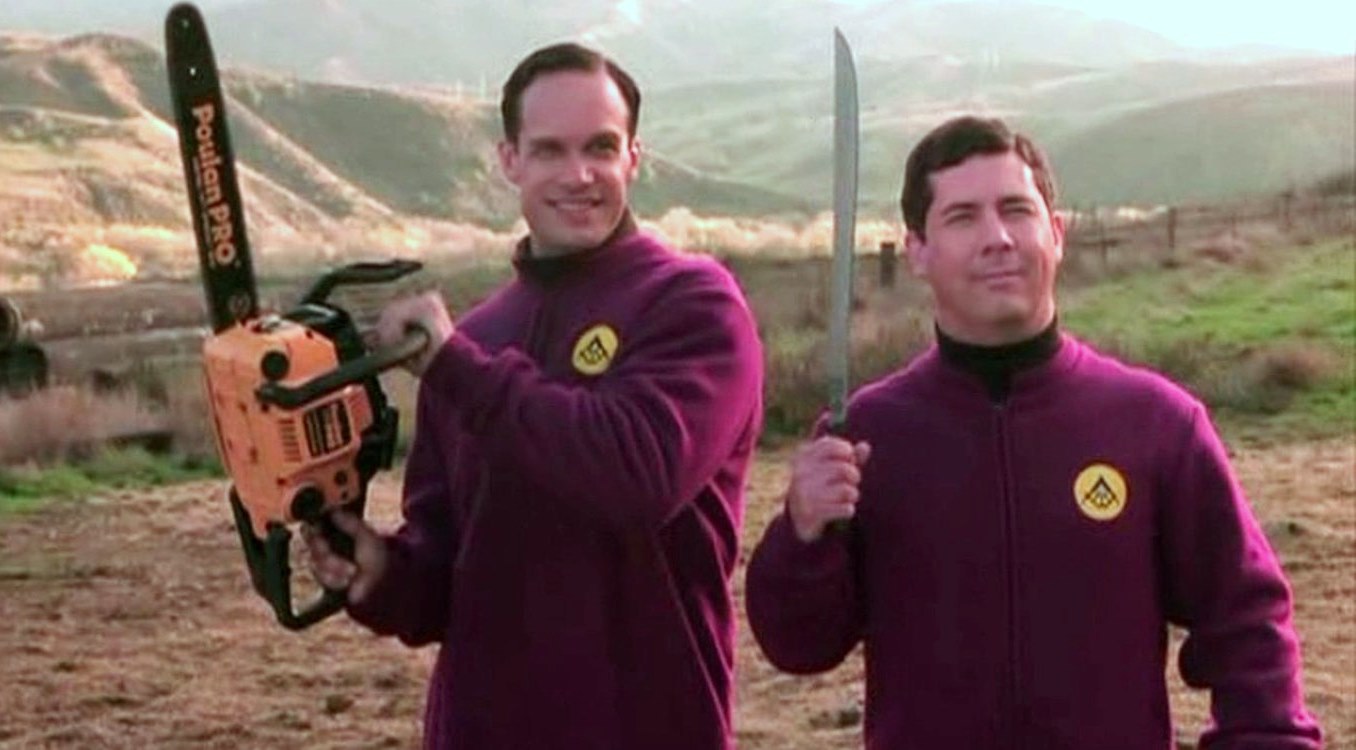 Surprisingly, I ended up enjoying Evil Alien Conquerors far more than I thought I would. It is a film that is largely driven by the wilful silliness of its two central characters. Diedrich Bader in particular is standout in his determined deadpan delivery of the nonsense. The film lacks a particularly big budget. Mostly it just consists of various scenes with Diedrich Bader and Chris Parnell delivering clipped alien invader phrases about wanting to decapitate heads and unleashing Croker where you get the impression that the two have been allowed to improvise many of their scenes.
After a time, some of these scenes attain a silliness that is so goofy it is actually entertaining – the sight of Bader and Parnell running around a field trying to practice decapitating a cow, or their plot to travel around the world in their underwear on a flying machine made out of two bicycles to decapitate everybody.
The latter sections have the appealingly nonsensical idea of an average sized giant (Tyler Labine) comes to pulverise everybody (he was shrunken during the teleport) and being persuaded to take part in an infomercial for an exercise machine where his preparations to decapitate the two heroes while they are tied to chairs also manages to end up being wound in as part of the promotion.
---
---