---
USA. 2001.
Crew
Director – Ivan Reitman, Screenplay – Don Jakoby, David Diamond & David Weissman, Story – Don Jakoby, Producers – Daniel Goldberg, Joe Medjuck & Ivan Reitman, Photography – Michael Chapman, Music – John Powell, Visual Effects Supervisor – Phil Tippet, Visual Effects – Tippett Studio, Additional Visual Effects – PDI/Dreamworks (Supervisor – Richard Chuang), Flatworm Animation – Sony Pictures Imageworks (Supervisor – Jim Berney), Special Effects Supervisor – Burt Dalton, Primate Effects – Amalgamated Dymanics (Alec Gillis & Tom Woodruff Jr), Creature Effects – KNB EFX Group Inc (Supervisors – Howard Berger, Robert Kurtzman, Greg Nicotero & Shannon Shea), Production Design – J. Michael Riva. Production Company – DreamWorks S.K.G./Columbia/The Montecito Picture Co.
Cast
David Duchovny (Dr Ira Kane), Orlando Jones (Dr Harry Block), Julianne Moore (Dr Allison Reed), Seann William Scott (Wayne Gray), Ted Levine (General Russell Woodman), Ethan Suplee (Deke), Michael Ray Bower (Danny), Dan Aykroyd (Governor Lewis), Pat Kilbane (Officer Sam Johnson), Katharine Towne (Nadine), Gregory Itzin (Barry Cartwright), Ty Burrell (Flemming), Sarah Silverman (Denise)
---
Plot
Ira Kane and Harry Block, two science lecturers at Glen Canyon University in Arizona, investigate a meteorite fallen in the desert. Kane takes samples and discovers that the meteorite contains organisms that evolve at an enormous rate, they crossing two million years of evolution in a matter of hours. The meteorite site is taken over and cordoned off by the military and all of Kane's samples and work stolen. They soon discover that the alien creatures have reached reptilian stage and burrowed up through the tunnels to emerge out to the surface world. As the creatures evolve the ability to breathe air, they begin to endanger human life.
---
Director Ivan Reitman comes with a number of genre associations – he started out in his adopted country of Canada directing Cannibal Girls (1973) and producing films like Shivers/They Came from Within/The Parasite Murders (1975) and Rabid (1977) for David Cronenberg, as well as the cult animated hit Heavy Metal (1981) and Spacehunter: Adventures in the Forbidden Zone (1983). Mostly, Reitman is known for his comedies. He first produced the landmark National Lampoon's Animal House (1978) and then directed Meatballs (1979) and Stripes (1981), all three being frat rat comedies. These also brought the likes of Bill Murray and Harold Ramis to public attention, both of whom Reitman has regularly worked with since. Reitman's biggest hit was the runaway sensation of Ghostbusters (1984). He has since made light comedies such as Kindergarten Cop (1990), Dave (1993) and Six Days, Seven Nights (1998), as well as a number of genre forays with the likes of Twins (1988), his single greatest moment, Junior (1994) and My Super Ex-Girlfriend (2006).
Evolution was given a curious lack of build-up by DreamWorks – no promotion until almost the last moment, merely a bland trailer and a poster of three-eyed smiley face that told one almost nothing about the film – and as a result did only middling business. Ivan Reitman comes armed with a script by Don Jakoby, a former collaborator with Dan O'Bannon – Blue Thunder (1983), Lifeforce (1985), Invaders from Mars (1986) – and author of solo projects such as Arachnophobia (1990) and Vampires (1998).
Unfortunately, Evolution is only a reprise of Ghostbusters. It is maybe Ghostbusters by way of Men in Black (1997), nevertheless it is Ghostbusters warmed over in all essential respects – the team of anti-authoritarian scientists taking on an alien/ghostly menace, the tightass bureaucrats/military, a scene where the mayor/governor admits he needs their help, and a climax taking on a giant-size monster ending in a rain of gloop everywhere.
Evolution is not an entirely unenjoyable effort. It has a good front-end comedic pairing from the effortlessly engaging comic presences of Orlando Jones and David Duchovny. David Duchovny's role is not that far removed from his most famous part on tv's The X Files (1993-2002, 2016-8) despite Duchovny's loud denunciation of how fed up with the series he was around the time that Evolution was made, and he gives the part his customarily laconic, deadpan delivery to amusing affect. There are some nifty creature effects from Phil Tippett.
As with most of Ivan Reitman's comedies, Evolution is commercial, mainstream humour pitched at easy laughs that is amiable enough but never particularly challenging. The main difference between Evolution and Ghostbusters is the emergence of a good deal of Farrelly Brothers' gags about sex, bodily excretions and bad smells. There is an extended gag – and one that obtained the biggest audience laugh – about an alien insect that gets stuck up Orlando Jones's butt and has to be extracted; and a climax that involves administering a giant-size enema to a mass of alien protoplasm. I may be alone in this attitude – the young audience seemed to relish this – but I tire of films that want us to applaud and find them funny simply because they throw in vulgar references. Not to be prudish or anything but real humour involves an actual joke not simply showering someone in goop or referring to moderately socially taboo subjects.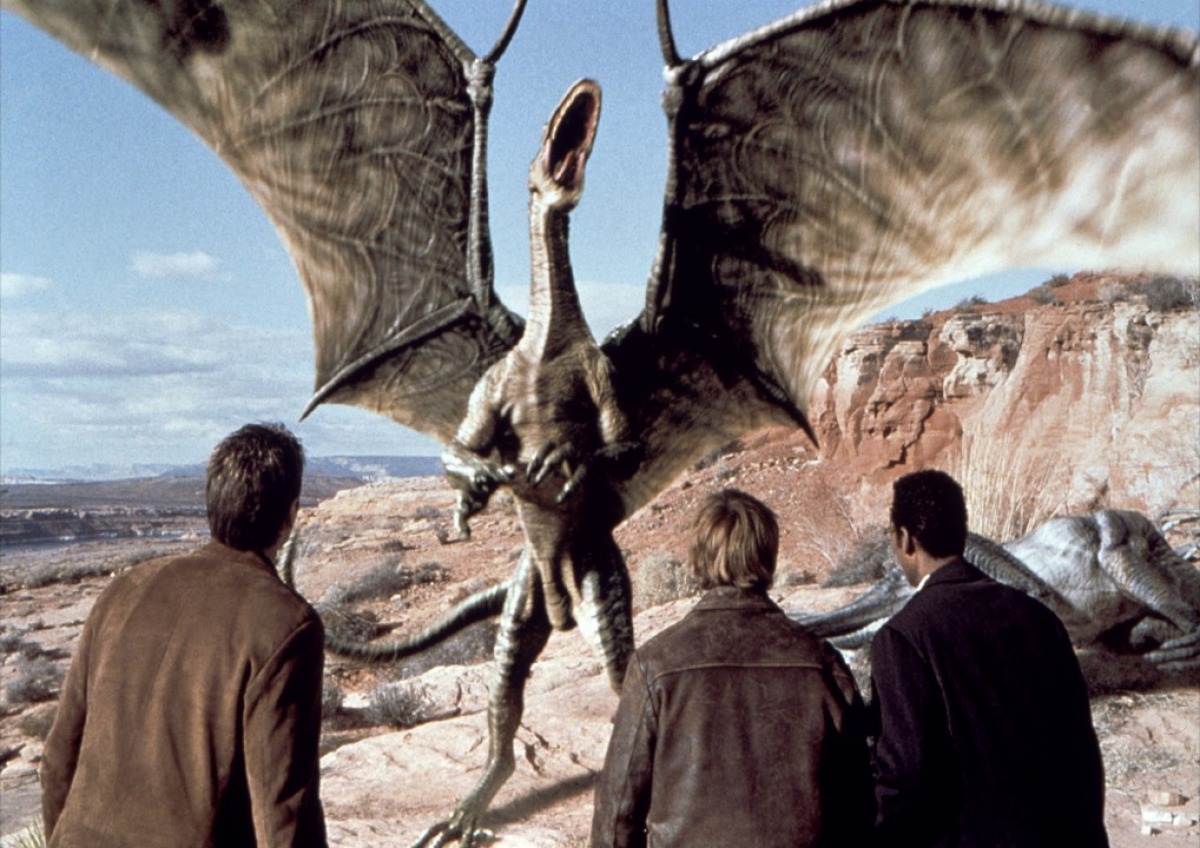 One also had a few quibbles about the film's concepts of evolution. There is a credited evolutionary advisor but there are times the film's idea of evolution is distinctly Lamarckian – ie. assuming that lifeforms evolve according to genetically pre-destined patterns, as opposed to Darwinian evolution where those most suited to environmental conditions survive over those less adaptively suited. Furthermore, a series of lifeforms that can go from single cellular organisms to reptilian and primate lifeforms within a matter of weeks would require an amazing number of generations of births – and a single cave would not be able to support a biosphere of the size required.
Evolution was later spun out into a short-lived animated tv series Alienators: Evolution Continues (2001).
Ivan Reitman's other genre films are:- Cannibal Girls (1973); Ghostbusters (1984); Twins (1988) with Arnold Schwarzenegger and Danny DeVito as mismatched clone twins; Ghostbusters II (1989); Junior (1994) with Schwarzenegger as a pregnant man; and My Super Ex-Girlfriend (2006). Reitman also produced David Cronenberg's first two commercial successes, Shivers/They Came from Within/The Parasite Murders (1976) and Rabid (1977), the revenge and brutality film Death Weekend/The House By the Lake (1976), the animated Heavy Metal (1981), the space opera Spacehunter: Adventures in the Forbidden Zone (1983), Space Jam (1996) featuring Michael Jordan taking on Warner Brothers cartoon characters, the animated tv series Mummies Alive! The Legend Begins (1998), the psycho-thriller Disturbia (2007), the ghost story The Uninvited (2009), Hitchcock (2012), Ghostbusters (2016), A Babysitter's Guide to Monster Hunting (2020), Ghostbusters: Afterlife (2021) and Space Jam: A New Legacy (2021).
---
---