---
Crew
Director/Screenplay – Alex Garland, Producers – Andrew MacDonald & Allon Reich, Photography – Rob Hardy, Music – Geoff Barrow & Ben Salisbury, Visual Effects Supervisor – Andrew Whitehurst, Visual Effects – Double Negative, Additional Visual Effects – Milk Visual Effects (Supervisor – Sara Bennett) & Utopia (Supervisors – John Lockwood & Steve Street), Special Effects Supervisor – Richard Conway, Production Design – Mark Digby. Production Company – DNA Films.
Cast
Domhnall Gleeson (Caleb Smith), Alicia Vikander (Ava), Oscar Isaac (Nathan), Sonoya Mizuno (Kyoko)
---
Plot
Caleb Smith, a programmer with Bluebook, the world's top internet search engine, wins a competition to become part of a secret project run by Bluebook creator Nathan. He is flown to Nathan's reserve where, after signing non-disclosure agreements, he is shown Nathan's creation – an artificially-intelligent android that he calls Ava. Caleb's job is to conduct a series of Turing Test interviews with Ava that will determine if she is fully artificially intelligent or just a program. He drawn in by Ava's smartness and intelligence. However, during a series of power cuts (which she secretly generates), she tells him not to trust Nathan. As he becomes involved, Caleb thinks that Ava, who has never been outside the room, is starting to develop feelings for him. Through their brief moments afforded by the power cuts, he begins to hatch a means to rescue her.
---
Alex Garland came to fame first as a novelist whose first published book The Beach (1996) was turned into the Danny Boyle film The Beach (2000) with script by Garland. Garland has written two other novels, one of which was also filmed as The Tesseract (2003). Garland and Danny Boyle then collaborated on the hit zombie film 28 Days Later (2002) and the underrated science-fiction film Sunshine (2007). This seemed to set Garland on a career as a science-fiction screenwriter and he subsequently went onto the excellent Never Let Me Go (2010), the adaptation of Dredd (2012) and has been prominently associated with the scripts for the stalled adaptation of the Halo videogame and remake of Logan's Run (1976). Ex Machina was his directorial debut.
Artificial intelligence themes have been on a major rise in the last couple of years. One is not sure why now all of a sudden – it is not that there have been any major sea changes in the public paradigm regarding A.I. to account for it, maybe it is just an increasing public awareness of just how prevalent the computer industry and internet has embedded itself into people's daily lives. This was kicked off by Spike Jonze's amazing Her (2013). There have been a number of other films such as the fine and underrated The Machine (2013), Automata (2014), the first two seasons of tv's Westworld (2016-22), Finch (2021) and The Creator (2023), although other works on the topic, Transcendence (2014), Chappie (2015), Morgan (2016) and Zoe (2018), ended up being disappointments in terms of delivery on their ideas. We even had A.I. comedies with Superintelligence (2020) and BigBug (2022), as well as Automation (2019), Life Like (2019) and Outside the Wire (2021), which felt like they should have been comedies. (For a more detailed overview of the genre see Films About Artificial Intelligence).
One interesting entry that predates Ex Machina is Uncanny (2015), which has a near-identical plot in which a journalist is invited by a tech giant to interview his creation – although this takes the plot even further and has the journalist in a romantic triangle between creator and android However, it feels like the field has been waiting for one work to come along and set the benchmark for the treatment of A.I. themes. And one would have to say that Ex Machina arrives with a beautiful cool that feels like it is that film.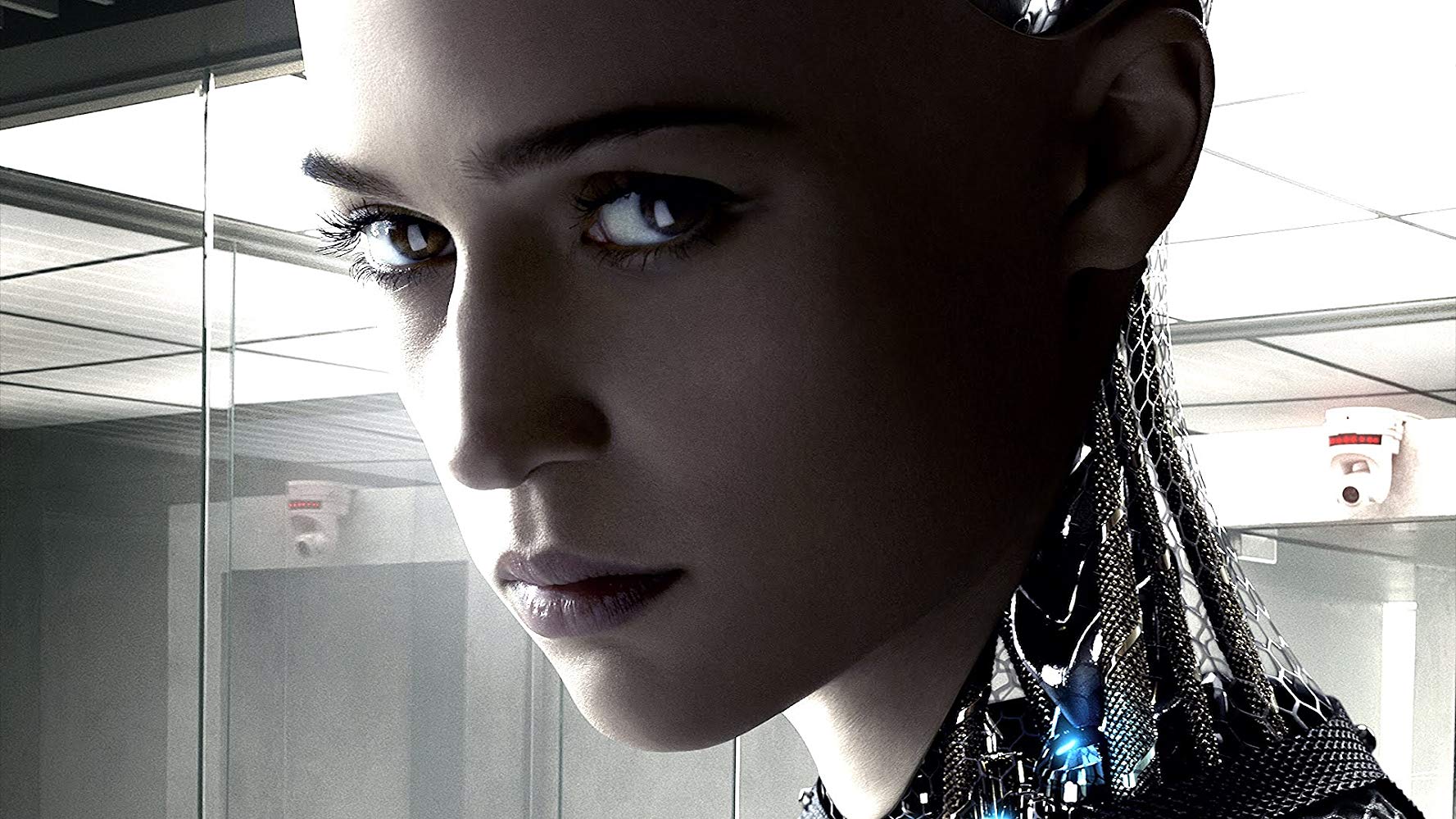 Alex Garland wastes no time in writing the film down for audiences that wouldn't know the difference between a Turing Test and the Turin Shroud, let alone be able to pass one themselves. Ex Machina is a work that assumes that everybody present has a working knowledge of the issues surrounding A.I. and proceeds on from there. Garland has no interest in Neill Blomkamp's big flashy action and effects sequences and gives us a minimalist science-fiction film – one set in a coolly ambient underground home that consists of little more than a series of conversations among four characters (one of whom never gets to say a word throughout anyway). It is not that effects are not present either – those use to create Alicia Vikander's android body are every bit as impressive as the motion capture work that went into Chappie – it is more that the fascination of the film lies in the carefulness of the conversations between the characters.
While films like Transcendence and Chappie have fallen light years wide of their conceptual grasp, Ex Machina becomes one of the few films to touch directly onto the questions at the heart of the artificial intelligence and raised by the Turing Test. The entire film is staged as a beautifully absorbing series of debates about whether Ava is alive or merely programmed. Alex Garland's script is filled with sharp writing and ideas. One of the most amusing of these is the idea that Oscar Isaac's creator of Bluebook – who is clearly intended as a dark fusion of Sergei Brin and Mark Zuckerberg – demonstrates that the A.I. was created out of an amalgam of the mass of data that his search engine has accumulated. It is the intriguing question in a post-Edward Snowden world of hyper-surveillance of our online presence of what comes after that? At one point, an outraged Domhnall Gleeson delivers the side-splitting line "Did you design her face based on my pornography profile?"
The staged conversations and the tight plot about trust and deception is superbly absorbing. What I especially liked about the film is that Alex Garland is willing to twist the anthropomorphism that drives most films about artificial intelligence and androids on its head. Through previous cinematic offerings runs the assumptions that most machines would regard being human as desirable and that their developing nebulous qualities like emotion or feelings of love would be seen as a breakthrough – look at works like Galaxina (1980), Electric Dreams (1984), Short Circuit (1986), Bicentennial Man (1999) and Star Trek: The Next Generation (1987-94). Even the otherwise worthwhile Her and The Machine buy into this.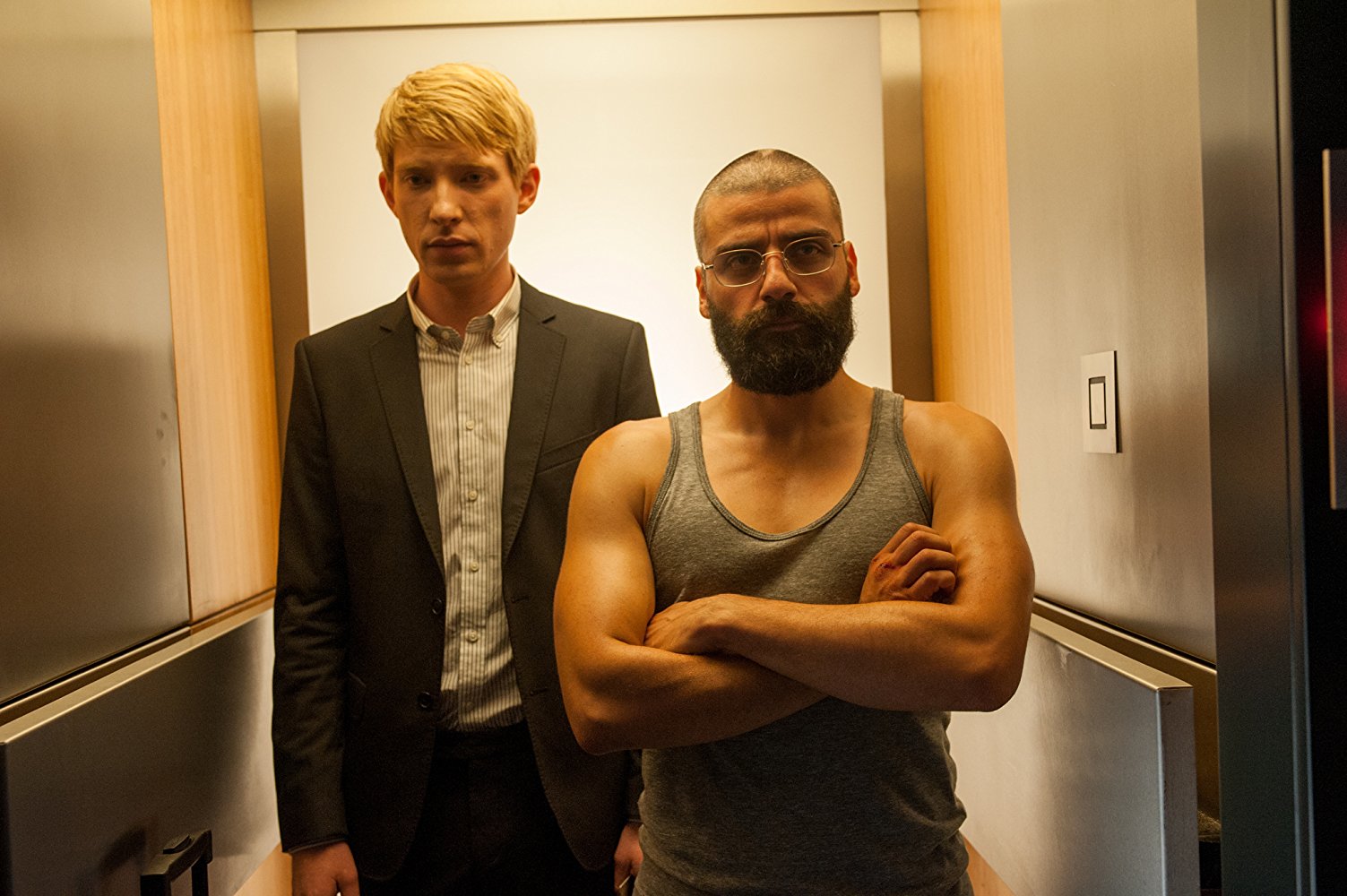 By contrast, Alex Garland gives us debates that works around the meta-questions of these – like why Oscar Isaac has constructed the android with a female body and identity. [PLOT SPOILERS] One of the best parts of the film comes at the ending where it is revealed that Alicia Vikander has been manipulating the anthropomorphic assumptions that Domhnall Gleeson has been projecting onto her and turns them on their head as a means to escape. By contrast to most of the above-mentioned, Alex Garland is saying that a truly artificially intelligent machine would regard humanity's desire of it to have feelings and identity as merely an anthropomorphic weakness to be exploited and that they, once having gotten what they need from us, would abandon humanity without even thinking about it.
All of the principals give excellent performances – Domhnall Gleeson has been a rising name in recent years and appears the essence of callow youthfulness; Oscar Isaac, another rising name, gives a performance of burly coarseness that comes wry a wry intellectual wit; while Alicia Vikander gives an absorbing and eerily fascinating performance as the android girl.
Alex Garland went on to make the SF film Annihilation (2018) about a mysterious alien zone, the extraordinary tv mini-series Devs (2020) and the folk horror/gender politics film Men (2022).
(Winner in this site's Top 10 Films of 2015 list. Tie for Best Original Sceenplay, Winner for Best Actress (Alicia Vikander), Nominee for Best Supporting Actor (Oscar Isaac) and Best Special Effects at this site's Best of 2015 Awards).
---
---