---
Crew
Director – Mark Palansky, Screenplay – Mark Palansky & Michael Vukadinovich, Producers – Lee Clay & Daniel Bekerman, Photography – Gregory Middleton, Music – Gregory Tripi, Special Effects Supervisor – John Sleep, Production Design – Hank Mann. Production Company – Great Point Media Limited Partners/Scythia Films/First Point/Strophic Productions Limited/Question Films.
Cast
Peter Dinklage (Samuel Bloom), Julia Ormond (Carolyn Dunn), Martin Donovan (Gordon Dunn), Anton Yelchin (Todd), Evelyne Brochu (Wendy Polk), Henry Ian Cusick (Robert Lawton), Matt Ellis (Dash Bloom), Chad Krowchuk (Neil Frankel), Colin Lawrence (Detective Mike Buckland), Carrie Anne Fleming (Norma Myers), Scott Hylands (Charles)
---
Plot
Gordon Dunn, the CEO of the Cortex tech corporation, hosts the launch of a new product – a device that can record and playback memories. Among the audience is Samuel Bloom who is recovering following a car accident in which his brother Dash lost his life. Some of those present are unhappy about Gordon having used their recorded memories without asking their permission, while others warn that the device is unsafe. That evening someone bursts in to Dunn's office, kills him and steals the only working prototype of the device. In the aftermath, Bloom begins to investigate. He befriends Dunn's widow Carolyn. After he finds the device in the house, he sneaks back in to steal it. He replays the chips that he found at the scene, trying to decipher clues to the identity of the patients from whom they were recorded. As Bloom sets out to trace which of the patients was responsible for killing Dunn, he also finds Cortex are accusing him of the murder.
---
Rememory was the second film for Mark Palansky. Palansky had previously made the modern fairytale Penelope (2006) with Christina Ricci as a woman suffering a disfiguring curse. (That film also featured Peter Dinklage in a supporting role before Game of Thrones (2011-9) made him into a name star). Rememory premiered at Sundance and played a small theatrical release.
We have had a variety of films before about the invention of devices (or techniques) that can record and playback memories, ranging from BrainWaves (1982), Brainstorm (1983), Strange Days (1995) and Unforgettable (1996) to the film that this resembles most, The Final Cut (2004). Each of these have dealt with the theme in their own ways. Rememory looks promising at the outset – and certainly comes mounted with an impressive-enough cast list that gives the expectation that it should be treated seriously.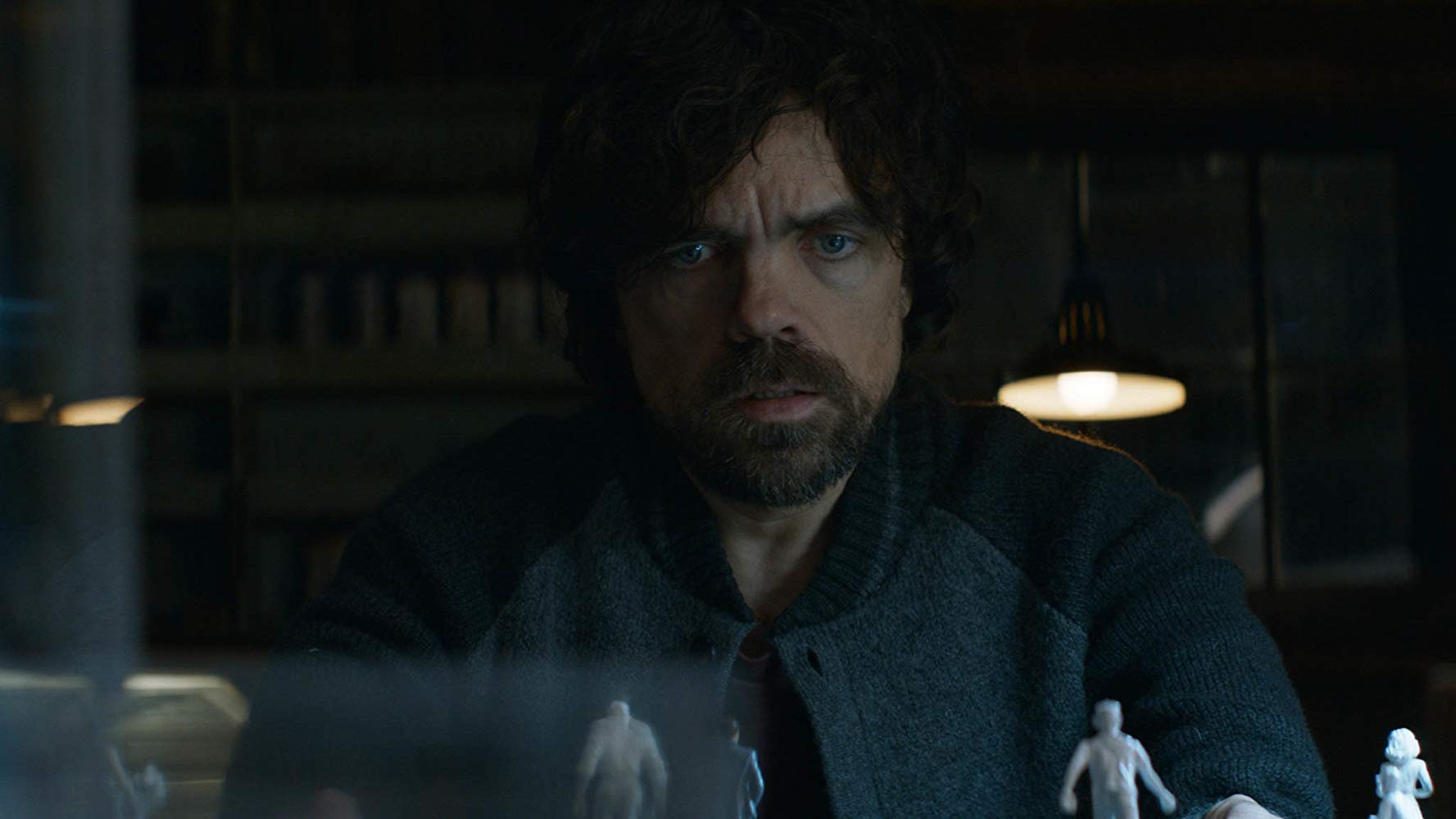 The disappointment of the film is the thorough ordinariness of its treatment of its ideas. What we have resembles the same conceptual failure of almost every clairvoyance film – see the likes of Baffled! (1972), Eyes of Laura Mars (1978), After Alice (1999), In Dreams (1999), The Gift (2000) and In/Sight (2011), among others. All of these introduce an amazing fantastical ability (or device, as here) but rather than explore the possibilities it offers, immediately use it for is no more than a standard murder mystery where its sole purpose is to provides a series of clues in the solving of a case.
The whole of Rememory seems to consists of nothing more than Peter Dinklage wandering about obtaining different sets of memory chips, viewing them and then presenting his deductions to people. The film turns into a mundane murder mystery that abandons any exploration of the device's potential. Moreover, as a mystery, it holds a singular lack of suspense, unexpectedness or excitement to any of its unveilings or eventual resolution.
One of the more absurd aspects of the film is how the progress of Dinklage's investigation is sketched out not by the usual process of notes and photos on a whiteboard but him making miniature figures that he lays out around a model city a table – and in a laughably melodramatic touch is seen tossing it off a pier into the sea in the final scene.
---
---