---
Crew
Director/Screenplay – Zak Hilditch, Producer – Liz Kearney, Photography – Bonnie Elliott, Music – Cornel Wilczek, Visual Effects – Double Barrel, Visual Effects Supervisor – Nathan Stone, Special Effects – Pierce Davison, David Norton-Woad & Jeremy Shaw, Production Design – Nigel Devenport. Production Company – ScreenWest/Lotterywest/8th in Line Productions/Screen Australia/The Melbourne International Film Festival Premiere Fund/XYZ Films/Celluloid Nightmares.
Cast
Nathan Phillips (James), Angourie Rice (Rose), Kathryn Beck (Vicky), Jessica De Gouw (Zoe), Daniel Henshall (Freddy), Sarah Snook (Mandy's Mum), Lynette Curran (James's Mum), Ben Sutton (Father in Library), David Field (Voice of Radio Man)
---
Plot
An impact has caused a fireball to blast across the Earth, destroying all life. It is twelve hours until the end comes to Perth, Western Australia. The city has descended into anarchy and chaos with rioting, murder, suicide and rampant partying among those left. James leaves Zoe, a girl he has been secretly seeing, and sets out across the city to be with his girlfriend Vicky as the end comes. Seeing two men abducting a young girl and dragging her to their home, he intervenes, killing the men. He sets out to reunite the girl Rose with her father, which involves a long trip to her aunt's place. During the course of their journey, James seeks to offload Rose or find someone else who can take her there. As they become embroiled in various incidents they encounter on the road, James realises that he has a care and responsibility for Rose.
---
The last few years have seen a spate of end of the world films. Beginning with Last Night (1998), these are films that eschew any big-budget effects-driven end of the world visions and concentrate on small personal apocalypses. Other films in this vein might include The Divide (2011), 4:44 Last Day on Earth (2011), Melancholia (2011), It's a Disaster (2012) and Goodbye World (2013) – we have even had an end of the world romantic comedy with Seeking a Friend for the End of the World (2012).
The common thread in all of these is that actual details of the apocalypse, often even any explanation of the cause of it, occurs largely off-screen and they concentrate on the human reaction and the ways in which people greet the end. These Final Hours also reminds of On the Beach (1959), one of the cornerstone end of the world films, featuring the last people left alive in Australia as they want for nuclear radiation clouds to come and kill everyone – an On the Beach by way of Last Night perhaps.
These Final Hours is an Australian variant on the end of the world film, It is an amazing effort from Zak Hilditch who had previously directed three non-genre comedies, The Actress (2005), Plum Role (2007) and The Toll (2010), none of which seemed to find much play even in Australia. He had previously also made the short film Transmission (2012), which holds many elements of These Final Hours in it, including a near-identical central role from child actress Angourie Rice, in the story of a father's journey across an Australia where the entire population is being killed off by a disaster. Subsequent to this, Hilditch went on to make the Stephen King adaptation 1922 (2017) and the horror film Rattlesnake (2019).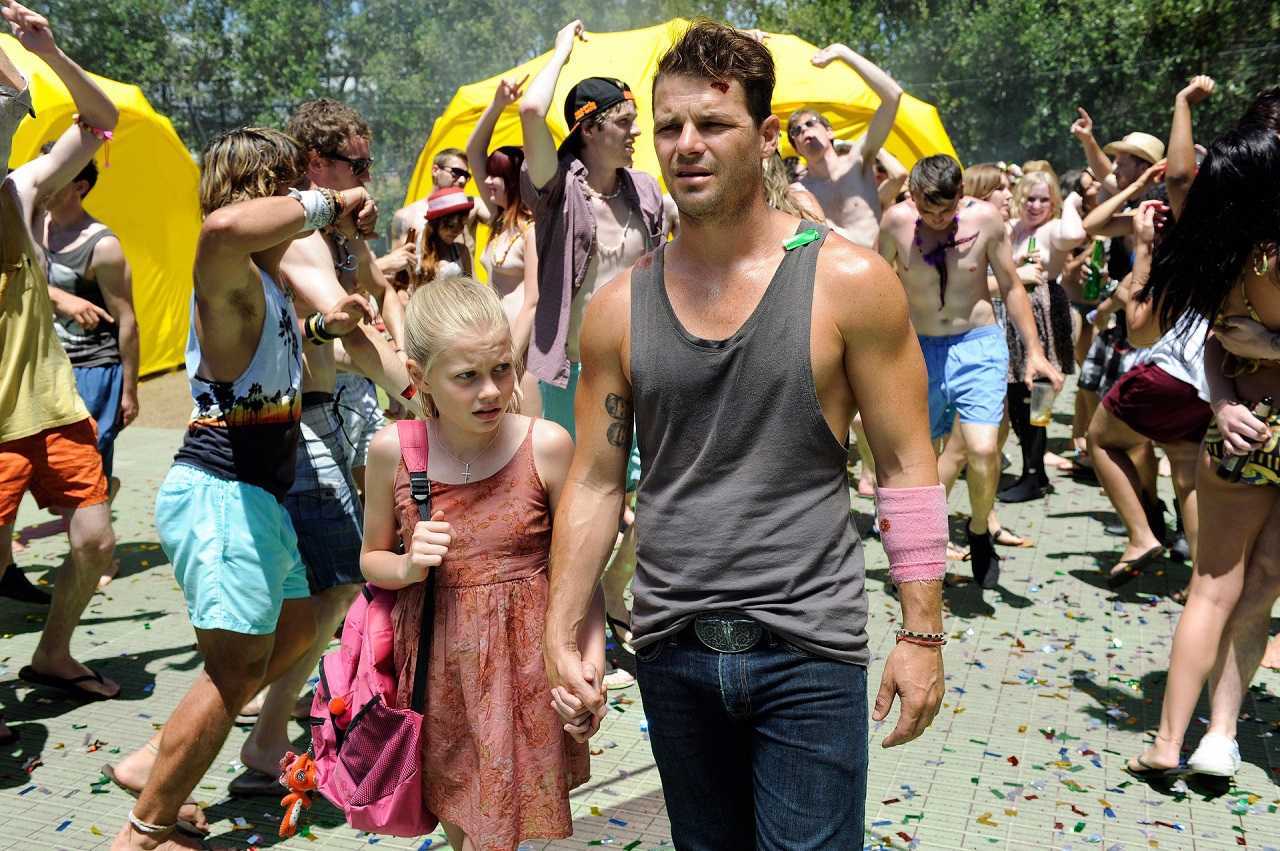 The background vignettes that Zak Hilditch gives us during the opening scenes, looking out the car window as Nathan Phillips drives through the streets are astonishingly bleak – groups rioting and smashing cars, others praying in circles, people having sex in broad daylight, bodies hanging from lampposts, a madman who hijacks Phillips' car and chases after someone to hack them apart with a machete. In these scenes, Hilditch says all he needs to about the complete collapse of society as we know it into anarchy.
The crux of the film is the relationship that grows between self-centred Nathan Phillips and the girl he takes into his care (Angourie Rice) in the midst of the chaos. All of this is a road movie standard. Indeed, not long after These Final Hours came out, there was the also Australian-made The Rover (2014), which enjoyed a far more high-profile internationally. Both films have not dissimilar storylines – they offer visions of Australia in the process of social collapse. Both also are road movies that feature the relationship between an emotionally-closed off man and a child (or in the case of The Rover, an adult with the mind of a child) and the way in which what is encountered along the journey causes the man to mellow.
The journey is a harrowing one. There is the extraordinary scene in a library with Nathan Phillips encountering a former cop (Ben Sutton) who has brought his family there and is preparing to shoot them as the adults read the children a story. As they meet, the man begs Phillips to shoot them and then, when Phillips says he cannot, to at least grant him forgiveness for what he is about to do.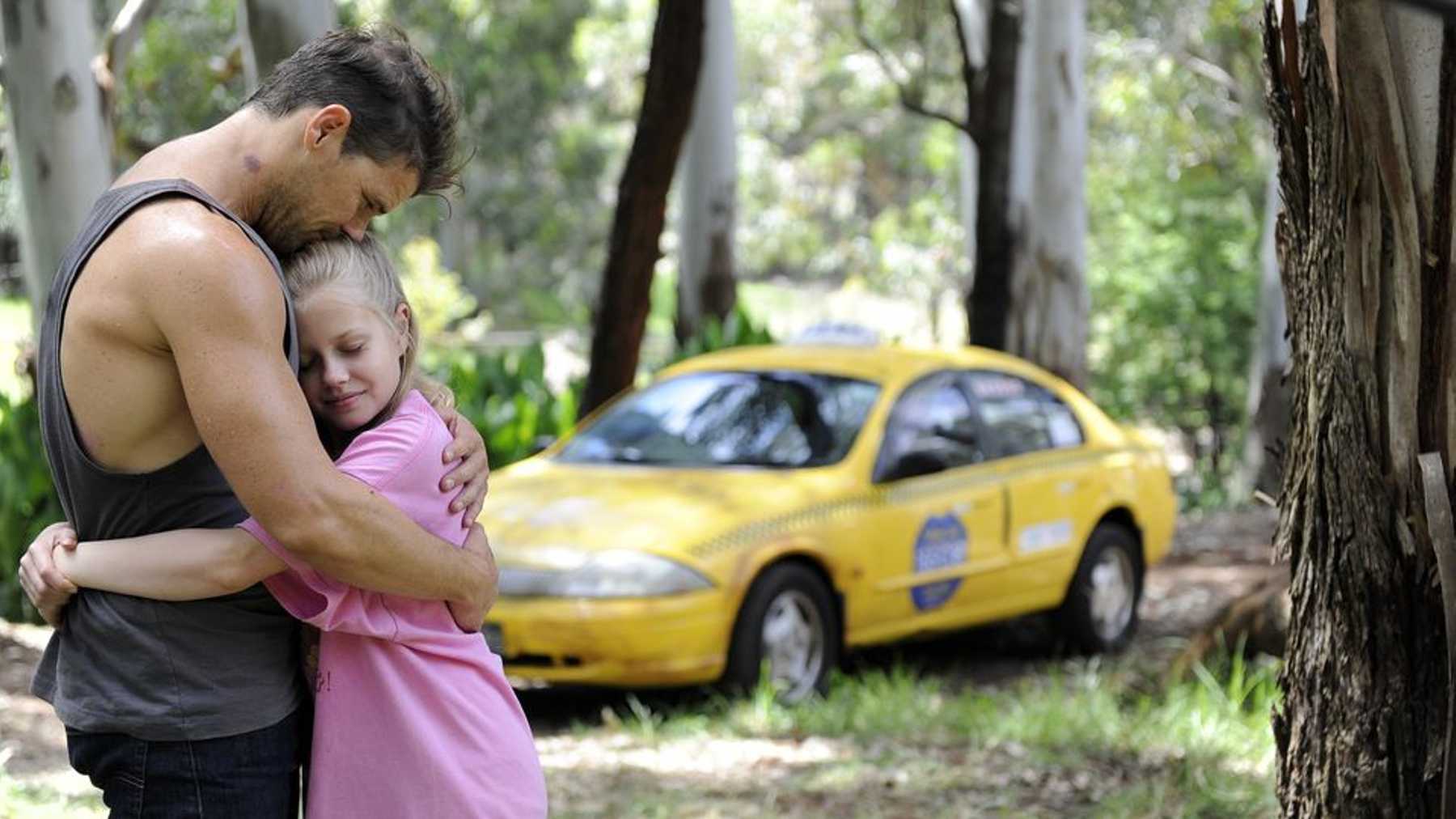 Even more extraordinary is the party/orgy where Zak Hilditch has clear fun choreographing it with as much colour and light, not to mention naked bodies, as he can. The true effect of the scene though is where Nathan Phillips is shown the fallout shelter by his girlfriend (Kathryn Beck) and he tries to tell her that it will offer no protection, only for her to turn on him in a meltdown that is escalated when her brother (Daniel Henshall) walks in casually waving a gun and she starts saying she wants to kill Phillips.
Zak Hilditch takes it even further in the subsequent scene where Angourie Rice is being dragged away by a crazy woman (Sarah Snook) who insists that she is her daughter, only for Kathryn Beck to emerge out of the shelter with her brother who points the gun at Phillips believing that he is trying to take the woman's daughter. These scenes make for something that is a world away from the twee cuteness of Seeking a Friend for the End of the World. The last fifteen minutes of the film end up being incredibly emotional.
(Winner in this site's Top 10 Films of 2013 list).
---
---