(Los Cronocrimenes)
---
Crew
Director/Screenplay – Nacho Vigalondo, Producer – Eduardo Carneros, Photography – Flavio Martinez Labiano, Music – Eugenio Mira, Visual Effects – Mentopia Visual Effects & Plan 9 FX, Special Effects – EFEX, Art Direction – Jose Luis Arrizabalaga & Biaffra. Production Company – Karpo Vantas Entertainment/Zip Films/Ibarretxe & Co S.L.
Cast
Karra Elejalde (Hector), Nacho Vigalondo (Scientist), Barbara Goenega (Girl), Candela Fernandez (Clara)
---
Plot
Hector is relaxing at home in the garden with his wife Clara when he sees someone in the trees beyond the property. Using his binoculars, he is startled to see a girl stripping off. After his wife goes out, he goes to investigate, finding the girl lying naked and unconscious. As he approaches her, a man whose face is covered in bandages stabs him with a pair of scissors. Hector flees to a neighbouring property but finds that this is a scientific research facility. As the bandaged man comes in pursuit, Hector picks up a walkie-talkie and communicates with a scientist who urges him to come to the laboratory at the top of the hill for safety. There the scientist tells Hector to step inside a vat of liquid to hide from the bandaged man. When Hector emerges, he finds it is mid-afternoon instead of evening. The scientist tells him that he has travelled an hour-and-a-half back in time. Using his binoculars, Hector looks down to see his earlier self at home in the garden with his wife. Unable to understand what has happened, Hector drives back home, only to crash on the road. As a girl comes to his aid and he wraps a bandage around his wounded head, he realises that he is the bandaged assailant. Taking the girl prisoner, he then forces her to strip and enact out what his original self saw happen. As the events that happened earlier unfold, things start to go disastrously wrong, ending in murder. Hector then realises that he must go back a second time to prevent everything from happening.
---
Time travel is always a theme that has great potential when done well in a story. There are a great many stories in science-fiction literature that develop considerable conceptual dexterity in playing around with the various possibilities of time travellers meeting up with their earlier selves, changing/trying to prevent changes to the timeline or mapping out what happens when such changes are made. On film, time travel has disappointingly been mostly a there-and-back adventure into the future or past. Either that or a fish-out-of-water story about a time traveller in the present, or various action/thrillers about someone trying to alter the future.
There have only been a handful brave enough to venture into dealing with the problems of causal paradoxes and alternate timelines that may result. You could point to films like Twelve Monkeys (1995), Retroactive (1997), The Lake House (2006) or some of the episodes of the new Doctor Who (2005– ), as well as Back to the Future Part II (1989), which has many similarities to Timecrimes in the way that it constructs another entire film inside the margins of Back to the Future (1985). The causally looped time paradox idea here was also used in very similar ways in the subsequent likes of The Infinite Man (2014), Predestination (2014), Synchronicity (2015), Paradox (2016) and Black Hollow Cage (2017).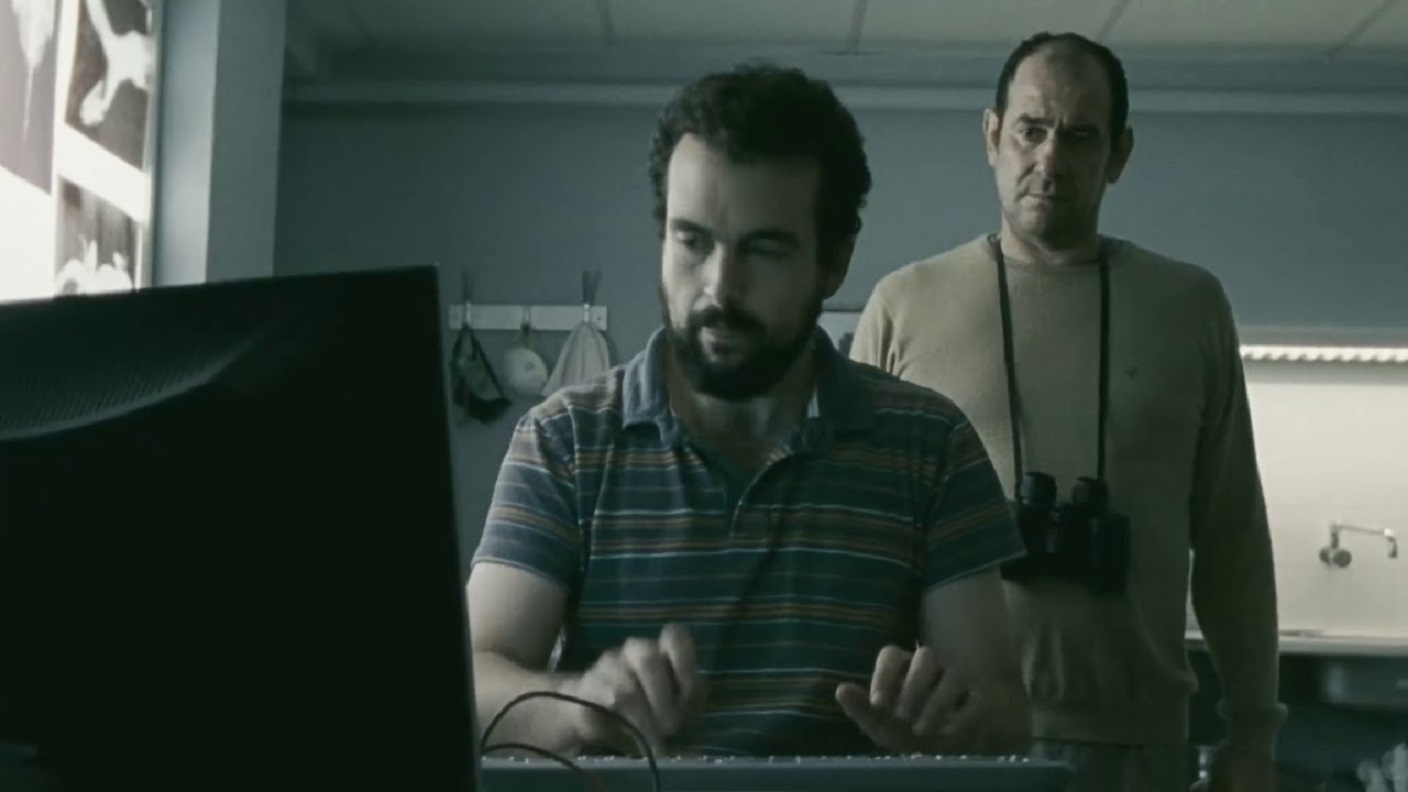 Timecrimes is one among this handful of rare conceptually adventurous time travel films. It dances with a dexterity of ideas and plotting contortions. Firstly, the film gives us the story of an ordinary man being led through a series of puzzling events and then sends him back in time where it turns about on itself to reveal that his innocent blundering is the cause of each of the events that led him there in the first place. Not happy with that, the film then sends a third version of the protagonist back in time to rectify the disastrous outcome of events from the previous time around.
The revelation of each layer of the film comes like a beautifully subtle series of Chinese boxes. The script must have been a major headache in terms of continuity trying to keep track of what was happening at each point in time – even which timeline they were in – not to mention to lead actor Karra Elejalde who must have gotten frequently confused over which one of himself he was meant to be at any one point in time.
Unlike the Back to the Future films and Doctor Who, Timecrimes has the view that time is fixed and unchangeable – the moment the hero moves into the past he seems deemed to re-enact everything that leads up to his being there in the first place. It certainly would have been an even more interesting script if he had attempted to defy fate and change the way that things happen ie. what would happen if Hugo 2 or 3 successfully prevented Hugo 1 from going into the woods or up the hill and getting into the time machine in the first place?
Nevertheless, the film works as an exquisitely wrought piece of circuitous, self-contained logic. There is a great beauty and at the same time eminent predictability in seeing every piece of the puzzle falling into place. The logic of the film comes together without a hitch or wrinkle that one can point to anywhere. (One of the more interesting issues is the film's lack of any moral objections to the way the hero acts – he abducts a woman (Barbara Goenega) and forces her to strip at knifepoint and then at the end of the film allows her to die all in order to preserve the integrity of his own timeline).
Timecrimes was the feature-length directorial debut of Nacho Vigalondo (he also plays the role of the scientist who sends Karra Elejalde back in time). As the measure of any foreign-language success, Timecrimes was brought up for an English-language remake, with David Cronenberg at one point announced as director. Nacho Vigalondo next made the alien invasion comedy Extraterrestrial (2011); Open Windows (2014), a reality bending thriller about online stalking and cyber-surveillance; Colossal (2016) wherein Anne Hathaway develops a strange symbiosis with a giant monster; as well as wrote Paradise Hills (2019) about a strange re-education institute; plus directed episodes for various anthology films, including the A is for Apocalypse segment of The ABCs of Death (2012) and the Parallel Monsters segment of V/H/S Viral (2014).
(Nominee for Best Original Screenplay at this site's Best of 2007 Awards).
---
---