---
Crew
Director – Jon Favreau, Screenplay – John Kamps & David Koepp, Based on the Novel by Chris Van Allsburg, Producers – Michael De Luca, Scott Kroopf & William Teitler, Photography – Guillermo Navarro, Music – John Debney, Visual Effects Supervisor – Joe Bauer, Visual Effects – Sony Pictures Imageworks (Supervisor – Peter G. Travers), Additional Visual Effects – Pixel Liberation Front & Zoic Studios, Special Effects Supervisor – Jon G. Belyeu, Creature & Robot Effects – The Stan Winston Studio (Supervisors – Shane P. Mahan & Allan Scott), Production Design – J. Michael Riva. Production Company – Radar Films/Teitler Film/Michael De Luca.
Cast
Josh Hutcherson (Walter), Jonah Bobo (Danny), Dax Shepard (The Astronaut), Kristen Stewart (Lisa), Tim Robbins (Dad)
---
Plot
Brothers Walter and Danny bicker over just about everything. Their father has to rush off to work and leaves them in the charge of their teenage sister Lisa who only wants to go back to sleep. Down to the cellar, Danny finds an old space opera-themed boardgame called Zathura. He drags it out and begins playing it. Moments later, the house is bombarded by meteorites, just as it says on the card that emerges from the game. They open the front door to find that the house has been transported into outer space. They are forced to keep playing the game and move their pieces around the board in order to get home. In doing so, the game plunges them through moves that cryogenically freeze Lisa and produces killer robots, aliens that want to blow the house up and eat them and an astronaut who has been trapped in a wormhole.
---
Jumanji (1995) was a reasonable success when it came out, earning some $250 million in worldwide box-office rentals. Jumanji was adapted from a 1982 novel by children's author/illustrator Chris Van Allsburg, whose books also inspired the film The Polar Express (2004). Jumanji concerned two children who were playing a boardgame that brought various jungle perils to life with every roll of the dice.
The success of the Jumanji film clearly provoked much interest in a sequel and a Jumanji 2 was tossed around by Hollywood for a number of years but never got off the ground. In the interim, Chris Van Allsburg went on to write Zathura (2002), a book sequel where he essentially played the same idea of Jumanji out with a space opera as opposed to jungle theme. The plans for a Jumanji 2 eventually mutated into this film version of Zathura. Though Van Allsburg wrote the book as a sequel, when it comes to the film there is no direct connection between Jumanji and Zathura, although this did not stop some of the publicity materials for the film promoting Zathura as 'A Jumanji Adventure'. Jumanji was later given the sequel treatment as Jumanji: Welcome to the Jungle (2017), which produced its own sequel with Jumanji: The Next Level (2019).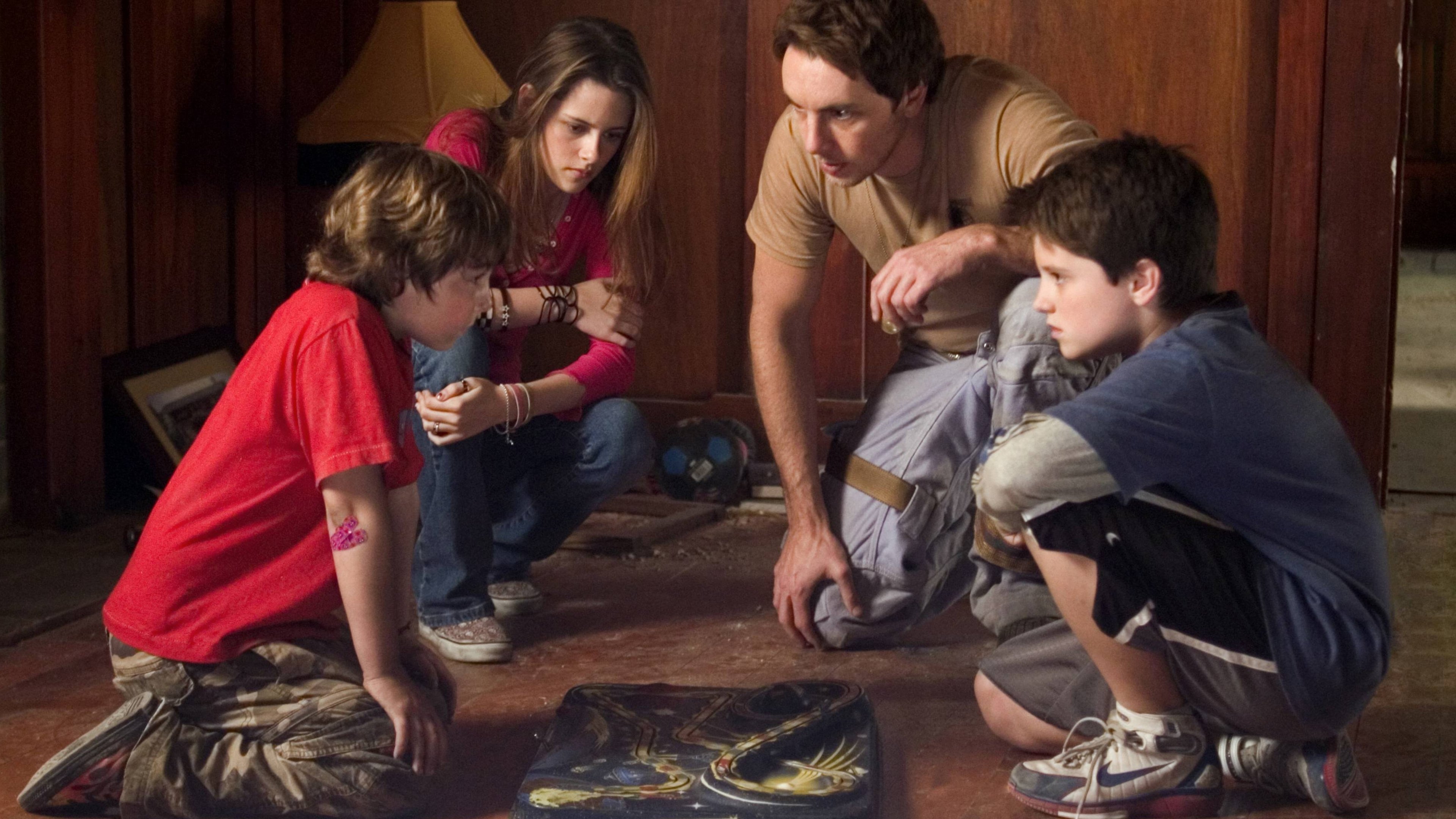 I must admit that I did not have high expectations of Zathura: A Space Adventure. Jumanji failed to move me – the film was a cute concept that never amounted to much more than a special effects show. Nor did the choice of director Jon Favreau seem terribly inspiring. Jon Favreau is probably better known as an actor – he both wrote and starred in Swingers (1996) and Made (2001), and has made acting appearances in films such as Deep Impact (1998), Very Bad Things (1998) and Daredevil (2003). Favreau's previous directorial outing was another fantasy film, Elf (2003). Elf was a big hit but I found it leaden, driven only by the annoyingly OTT Will Ferrell, while Favreau's comedy dragged and never seemed to find its feet. Mindedly, Jon Favreau subsequently proved himself with the highly successful Marvel Comics adaptation Iron Man (2008) and its sequel Iron Man 2 (2010), before going on to the subsequent Cowboys & Aliens (2011) and the live-action versions of The Jungle Book (2016) and The Lion King (2019).
On the plus side, the screenplay for Zathura: A Space Adventure was co-written by David Koepp, the writer behind high-profile films like Jurassic Park (1993), The Shadow (1994), Mission: Impossible (1996), Panic Room (2002), Spider-Man (2002), War of the Worlds (2005), Indiana Jones and the Kingdom of the Crystal Skull (2008), Angels & Demons (2009), Jack Ryan: Shadow Recruit (2014), Inferno (2016) and The Mummy (2017), as well as director of the intelligent and underrated likes of The Trigger Effect (1996), Stir of Echoes (1999), Secret Window (2004) and Premium Rush (2012).
Zathura: A Space Adventure plays against expectation and comes out rather enjoyably. What makes Zathura worthwhile is the approach that Jon Favreau and David Koepp take. The script takes the basics of Jumanji – two kids playing a boardgame that produces fantastical events with every turn of the dice, the house that is progressively destroyed with each move, the adult who has been trapped inside the game ever since they started playing as a child. Where Jumanji was only a progression of dramatic spectacles, Zathura builds the elements into a much more character driven story. The two children, Josh Hutcherson and Jonah Bobo, who carry the majority of the film between them, give excellent performances. The characters – their constant bickering and rivalry, and their inevitable reconciliation, as well as their fighting with their father – are drawn with considerable strength and a rare degree of authenticity. Indeed, while single parent families have become a relative norm within children's films, it is striking to see a film that depicts the domestic situation with a less-than-rosy feelgood sentiment. It feels like a film filled with real kids for once.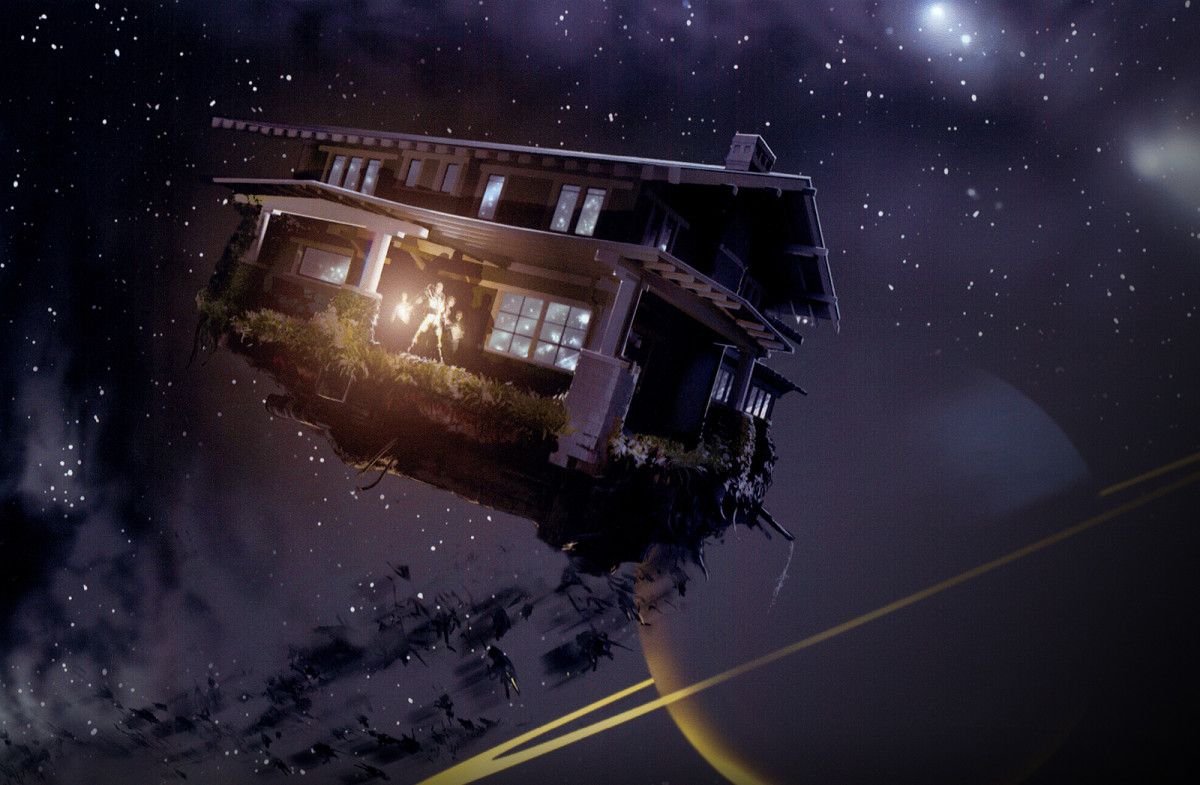 Jon Favreau more than commendably acquits himself in the director's chair. The dramatics and special effects are impressive without being insistently in-your-face and, unlike Jumanji, the dramatic peaks of Zathura are familial ones, rather than triumphs of the special effects department. All the set-pieces work well, with Favreau evoking a genteel sense of wonder and a wry sense of offhand humour. (The touch with the bicycle falling down in the back garden in the final shot is delightful).
[SPOILERS ALERT] The only part about Zathura that left me confused was the revelation that The Astronaut was an older version of Walter. The script never makes it particularly clear how Walter ended up in a wormhole as he claims to do when he first meet him. Presumably, this was a result of his giving in to anger when making the wish, but the film never does much to explain the nature of such alternate realities and how they come to coincide, especially when the film ends with a Walter who chooses a different path than the one that would end him up as The Astronaut. Zathura is also a film where you have to tune out some of the more realistic scientific quibbles that keep coming to mind – like how the house can be progressively blown apart and open to the vacuum and the kids inside still manage to keep breathing, or how the effects of zero gravity only seem to kick in beyond the steps of the front porch.
(Nominee for Best Adapted Screenplay at this site's Best of 2005 Awards).
---
---