aka Zoom
---
Crew
Director – Peter Hewitt, Screenplay – David Berenbaum & Adam Rifkin, Screen Story – Adam Rifkin, Based on the Graphic Novel Zoom's Academy by Jason Lethcoe, Producers – Todd Garner, Jennifer Todd & Suzanne Todd, Photography – David Tattersall, Music – Christophe Beck, Music Supervisor – John Houlihan, Songs – Smash Mouth, Visual Effects Supervisor – Marko Forker, Visual Effects – Digital Domain, Additional Visual Effects – Custom Film Effects (Supervisor – Mark Dornfeld) & Luma Pictures (Supervisor – Payam Shohadai), Prologue/Epilogue – Imaginary Forces, Special Effects Supervisor – Colin Chilvers, Production Design – Barry Chusid. Production Company – Revolution Studios/Team Todd/Boxing Cat Films.
Cast
Tim Allen (Jack Shepard/Captain Zoom), Courteney Cox (Marsha Holloway), Chevy Chase (Dr Grant), Ryan Newman (Cindy Collins/Princess), Michael Cassidy (Dylan West/Houdini), Kate Mara (Summer Jones/Wonder), Spencer Breslin (Tucker Williams/Mega-Boy), Rip Torn (General Larraby), Kevin Zegers (Connor Shepard/Concussion)
---
Plot
Thirty years ago, Jack Shepard operated as Captain Zoom and led a team of superheroes. However, experiments by the military using Gamma-13 radiation to enhance their superpowers caused Jack's brother Connor alias Concussion to go rogue, killing the rest of the team. In the present day, the military pick up evidence that the dimensional vortex where Connor is trapped has returned and is heading across country. Jack, who has lost his powers and is now running a garage, is forcibly recruited by the military to head the Zenith Program at Area 52. He finds that he is to train a new team of superheroes, although is not told why. Chosen for the team are six-year old Cindy Collins who has super-strength; teenager Summer Jones who can levitate objects and read people's thoughts; teenager Dylan West who can become invisible; and Tucker Williams who can expand his body like a giant balloon. However, Jack is burned-out and cynical and has no interest in training. Eventually through the mishaps that occur, he comes to develop a liking for the kids.
---
Zoom: Academy for Superheroes is one of several films that came out in the wake of the huge success of Pixar's The Incredibles (2004). We had had spoof superhero films before but after The Incredibles there came a number of comedic films about the domestic and everyday lives of superheroes. Indeed, the basic premise that Zoom founds itself on – a training school for young superheroes – is very similar to Sky High (2005), another film that came out around the same time. It should be noted that both Sky High and Zoom: Academy for Superheroes were substantial box-office flops for their respective studios.
Most reviews treated Zoom: Academy for Superheroes harshly, although it is not entirely bad but certainly no more than a mediocre film. The main problem with Zoom is that the focus of the film is not where it should be in a superhero film. Most superheroic films feature great feats of superherodom or battles with super-villains, as well as the requisite origin story that comes in the first outing. In Zoom: Academy for Superheroes, that focus is instead placed on comic/slapstick scenes with the kids as they attempt to perfect their powers, which usually go awry in one way or another. Zoom does get itself together for a big superheroic showdown at the climax where the kids get to combine in the use of their powers, but this is over fairly quickly. The result is a film that spends its running time on comedy and only emerges into what a superhero film should be in the last few minutes.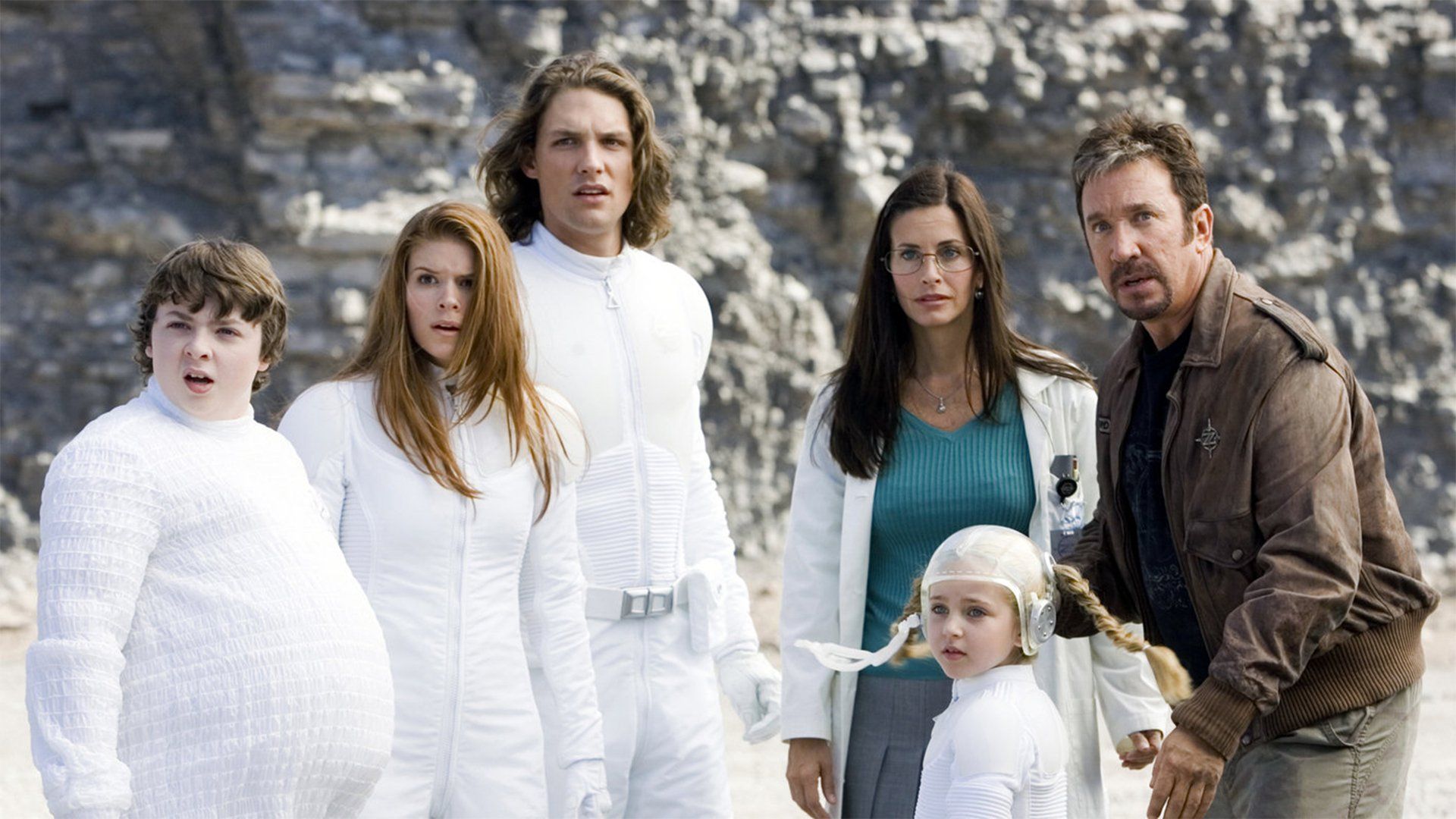 Moreover, the villain of Jack's brother is not particularly well developed and seems a cursory attempt to create a dramatic menace to drive the show. The character arcs are all predictable – Tim Allen learning to come to care for the kids and give up on his cynicism about life; he and scientist Courteney Cox realising their mutual attraction for one another; the similar realisation of the attraction between teenage trainees Kate Mara and Michael Cassidy.
Tim Allen has been polishing a career in family films for some time now – Zoom: Academy for Superheroes is even co-produced by his production company Boxing Cat Films. Allen handles the central role reliably. The surprise among the cast is Courteney Cox in the role of a nerdily bespectacled scientist – a part where one sees Cox attempting to stretch herself and play something different for about the first time.
On the other hand, one of the more grotesque sights is Chevy Chase having been brought out of retirement to play the throwaway role of one of the scientists. As Tim Allen says to Chevy at one point: "You've got old" – it is hard to tell if its makeup or just the way Chevy Chase looks these days, but he seems like a very old man (Chase was 61 at the time of the film). The part is not helped by some of the embarrassing scenes the filmmakers put him through – like a scene where the kids trap him in a biosphere chamber and for no particular reason pelt him with storm, lightning and snow conditions. As though determined to totally trash Chase's career, the film even includes outtakes that run alongside the end credits, including a particularly embarrassing scene of Chevy improvising a child's song about pooping in his pants.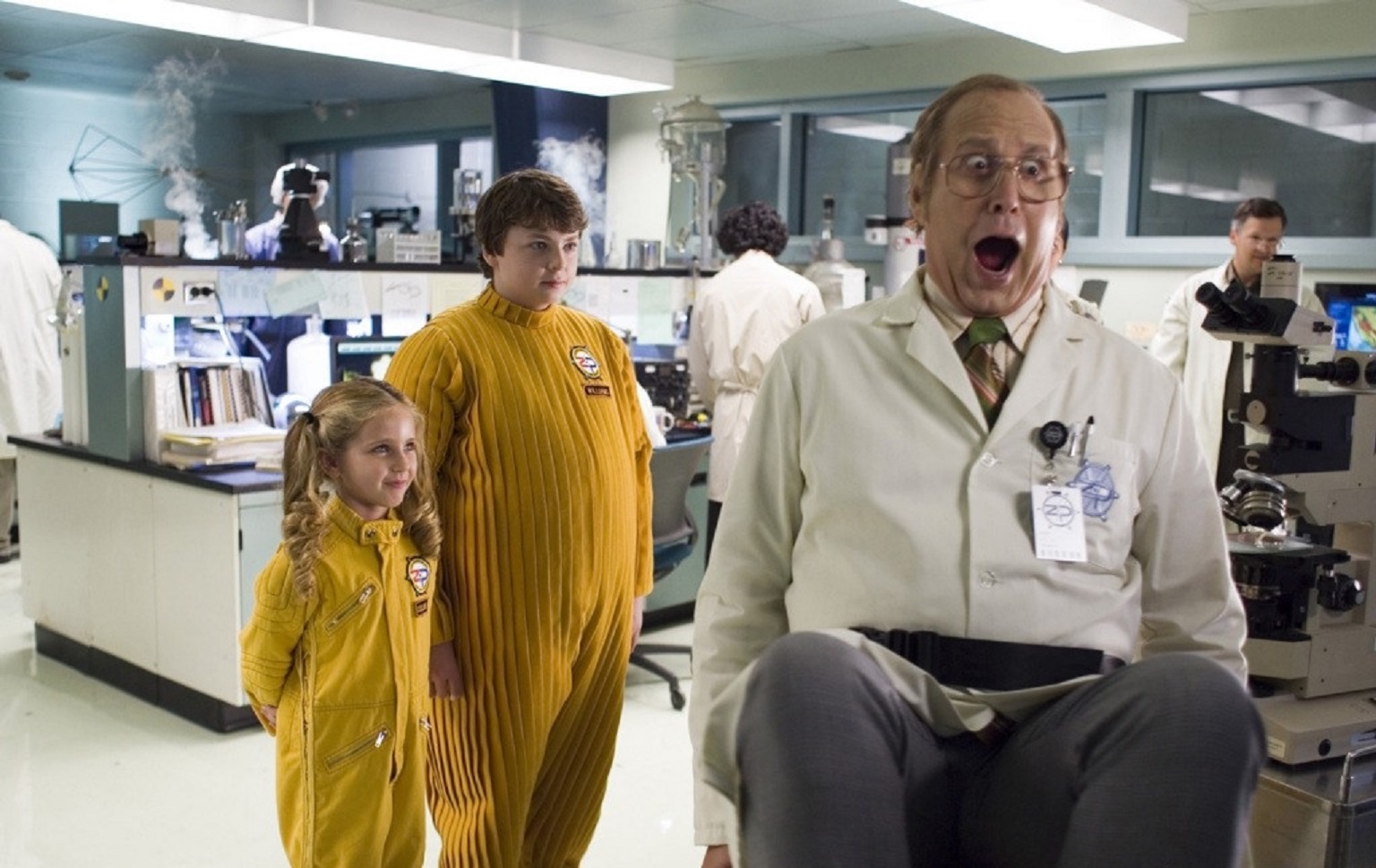 The special effects in the film are extremely variable. In particular, the scenes with Spencer Breslin blowing up to the size of a barrage balloon look as though they have been produced by a cut-rate digital effects house. On the other hand, there is a cute scene with Tim Allen and the kids erratically piloting a UFO that travels only about 20 mph, even if the scene is ruined by a blatant product placement for Wendy's. There are some appealing graphics over the opening credits that relay the exploits of Captain Zoom and his original team in terms of comic-book panels.
Director Peter (sometimes Pete) Hewitt has made a number of genre entries including Bill and Ted's Bogus Journey (1991); The Borrowers (1997) about a family of little people; Whatever Happened to Harold Smith? (1999), a coming of age comedy about a teen whose father has psychic powers; Thunderpants (2002) concerning a kid whose farts are so powerful he is able to launch a NASA rocket; Garfield (2004) based on the popular comic strip; and Mostly Ghostly: Have You Met My Ghoulfriend? (2014). Hewitt is also credited with the story for the big-screen adaptation of Thunderbirds (2004).
---
---