---
Crew
Director – Josh C. Waller, Screenplay – Robert Beaucage, Story – Robert Beaucage, Kenny Gage & Josh C. Waller, Producers – Zoë Bell, Kenny Gage, Andrew Pagana & Josh C. Waller, Photography – Dylan S. O'Brien, Music – Frank Riggio, Visual Effects – Cosmic Toast Studios (Supervisor – Tom McLaughlin), Makeup Effects – Thomas Floutz, Nicole Michaud & Bart J. Mixon, Production Design – Rob Howeth. Production Company – Cinipix/Quincy Pictures/XYZ Films/Celluloid Nightmares.
Cast
Zoë Bell (Sabrina), Doug Jones (Joseph), Sherilyn Fenn (Elizabeth), Bruce Thomas (William Kurtz), Tracie Thoms (Teresa), Bailey Ann Borders (Cody), Rebecca Marshall (Phoebe), Rachel Nichols (Jamie), Allene Quincy (Brenda), Adrienne Wilkinson (Nancy), Amy Johnston (Gloria), Nicole Steinwedell (Isabelle), Jordan James Smith (Adam)
---
Plot
Fifty girls have been abducted and are locked up in a secret facility under armed guards. There they are paired up and forced to fight each other with bare hands in an arena where one girl must kill the other. If they lose or refuse to fight, then their families and loved ones will be killed by the shadowy organisation that stages the matches. As she is forced to fight, Sabrina determines to make an escape despite the impossible odds against doing so.
---
Raze is a directorial debut for Josh C. Waller who had previously made three short films. Waller is also a producer for Elijah Wood's Spectrevision horror production company and is a credited on films such as Toad Road (2012), A Girl Walks Home Alone at Night (2014), Open Windows (2014), The Boy (2015), The Greasy Strangler (2016), Mandy (2018), Color Out of Space (2019) and Daniel Isn't Real (2019), as well as Cooties (2014), which he also co-wrote.
The quick pitch for Raze could be Girlfight (2000) meets Saw (2004). Waller builds on the premise of people imprisoned and forced into brutal acts for the sake of survival that we get in the Saw films – but at the same time focuses the film around a series of scenes with the girls engaged in hand-to-hand combat to the death. I kept wondering where Josh Waller's focus was throughout the film – while the set-up of people imprisoned and forced to do things easily makes this into one of the numerous Saw copies such as Exam (2009), Die (2010), Vile (2011) and Would You Rather (2012), there is not the focus we get in these on the sadistic torture of the contestants or their attempts to escape. Instead, most of the film serves up serial scenes of the girls fighting each other in the arena where what we have feels more like an action movie/combat focus than necessarily a work that sits inside horror material.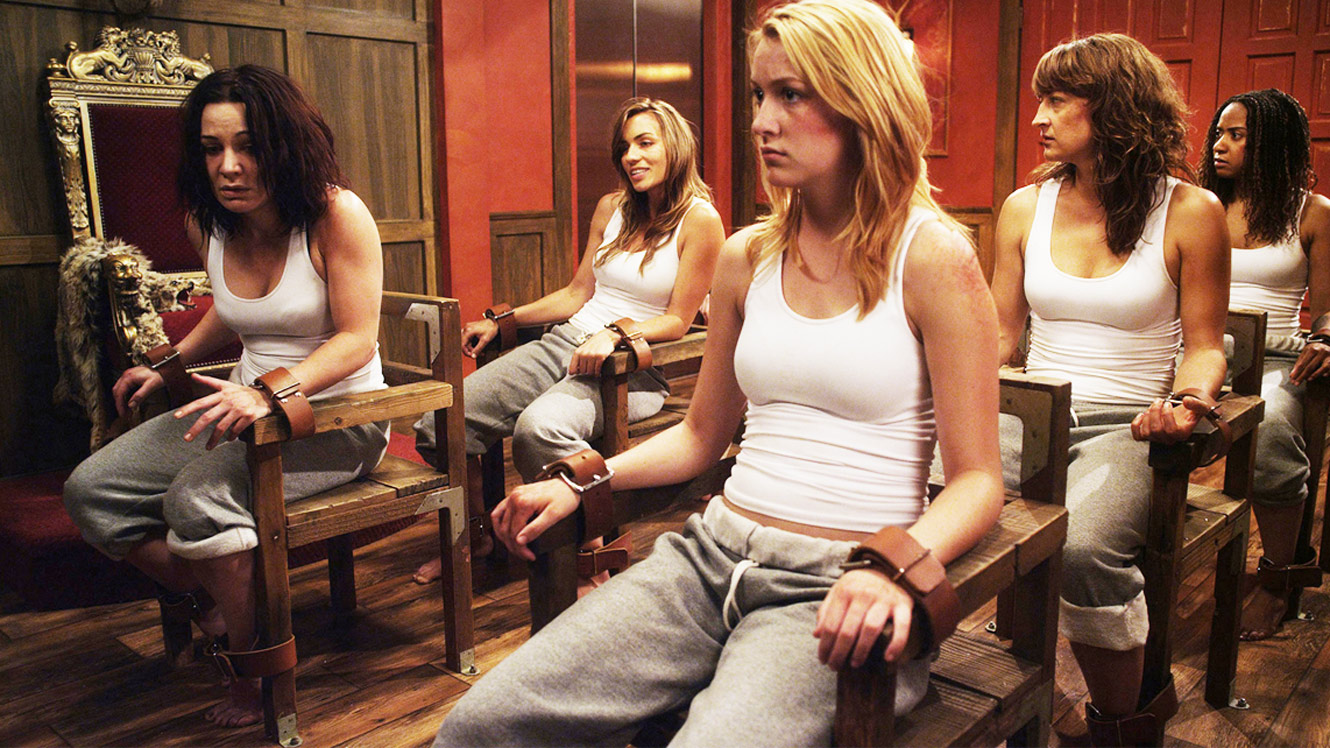 The scenes of the girls fighting end up becoming repetitive. Basically all that this consists of is girls identically dressed in singlet top and sweat pants fighting one another in a circular sand-floor arena. They never get to employ any weapons so the actual hand-to-hand combat moves end up being limited – effectively one is limited to what we get in a televised wrestling or boxing match. A more comic-book action film would expand it out and have them dressed in costumes and/or employing novelty weapons/moves.
Nevertheless, Josh C. Waller keeps the action tight and gritty. Where the film does work is in giving each of the girls their own personalities so that, just like the heels and heroes we get on televised sports, we are cheering on one side to win, hating the other and feeling loss when a sympathetic supporting character is killed. In this regard, Raze works fairly well – the major minus is that the film arrives at such a downbeat ending after engaging us in Zoë Bell's triumphant and herculean effort to escape.
Josh C. Waller is clearly a Quentin Tarantino fan. Aside from casting Zoë Bell, who came to attention in Tarantino's Death Proof (2007), he includes appearances from other Death Proof girls such as Tracie Thoms and Rosario Dawson. Similarly, he pays obvious homage to Saw in having its co-writer Leigh Whannell make a cameo appearance as a guard who gets his throat slit by Zoë Bell after uttering the amusing line "As an Aussie, I was glad to see when they killed that Kiwi." (Whannell is Australian, Bell a New Zealander and the line plays on traditional rivalries between the two countries).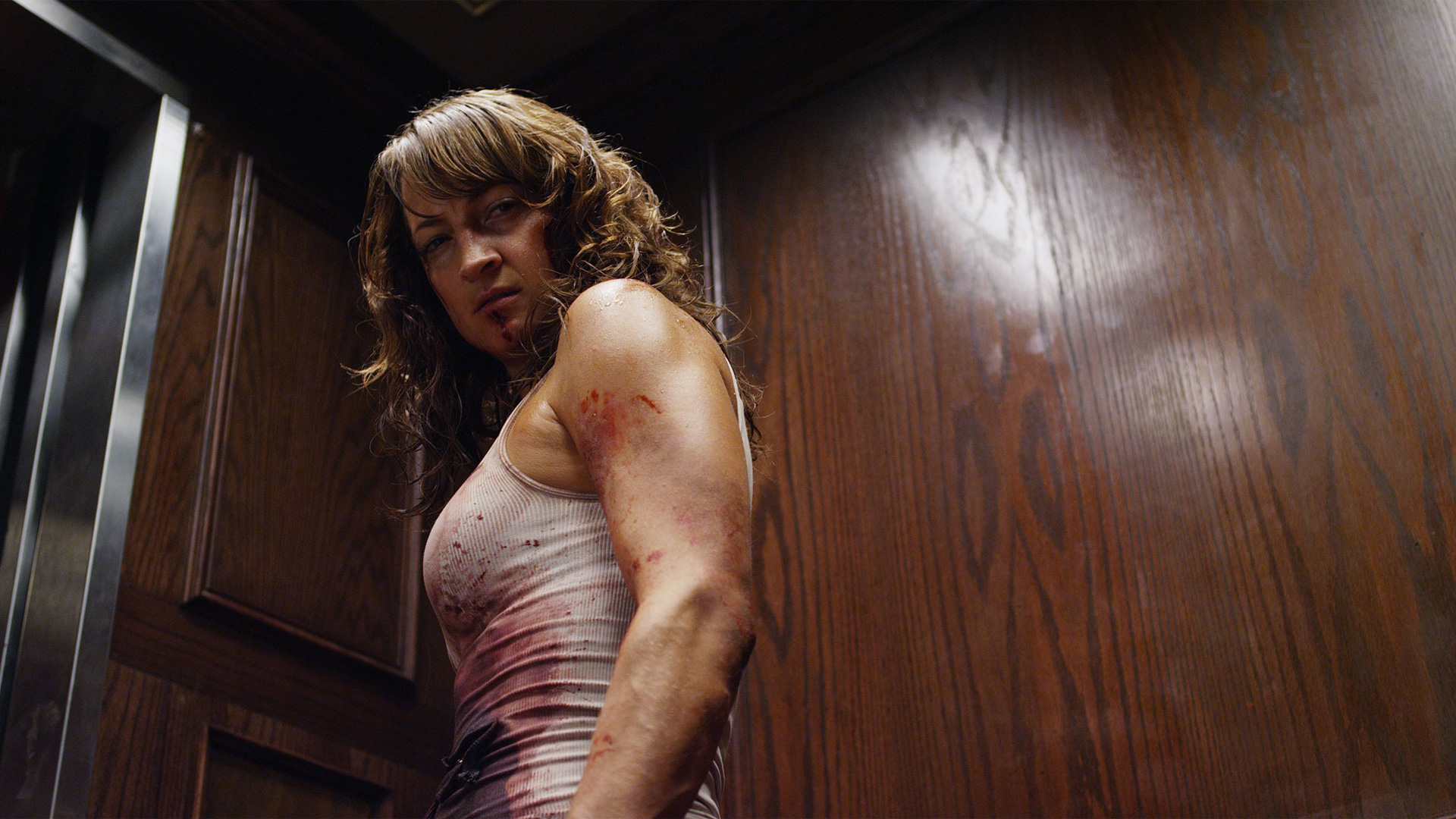 I felt dubious about Zoë Bell's acting abilities after seeing her in Death Proof but it is nice to see that she has the capacity to carry the lead here and do a reasonable job of it. The other fascinating piece of casting is Sherilyn Fenn, who had a rise to fame in unclothed roles and several David Lynch films during the late 1980s/early 90s and largely disappearing thereafter. Here she is back and looking a whole lot older than since one last saw here, nevertheless manages to hold her own and go head-to-head with Zoë Bell is one climactic scene.
Josh C. Waller subsequently went on to make the thriller McCanick (2013) and reteamed with Zoë Bell for Camino (2015) in which she plays a woman engaged in a brutal game of survival hunted through the jungle.
---
---