---
Crew
Director/Screenplay – Woody Allen, Based on the Book by Dr David Reuben, Producer – Charles H. Joffe, Photography – David M. Walsh, Music – Mundell Lowe, Production Design – Dale Hennesy. Production Company – Rollins-Charles H. Joffe & Alan Brodsky/Gould
Cast
Do Aphrodisiacs Work?:- Woody Allen (Fool), Lynn Redgrave (Queen), Anthony Quayle (King), Geoffrey Holder (Sorcerer). What is Sodomy?:- Gene Wilder (Dr Doug Ross), Titos Vandros (Stavros Milos), Elaine Giftos (Mrs Ross). Do Some Women Have Trouble Reaching Orgasm?:- Woody Allen (Fabrizio), Louise Lasser (Gina). Are Transvestites Homosexuals?:- Lou Jacobi (Sam). What Are Sex Perverts?:- H.E. West (Bernard Jaffe), Baruch Lumet (Rabbi Chaim Baumel). Are the Findings of Doctors and Clinics Who Do Sexual Research and Experiments Accurate?:- Woody Allen (Victor Shakapopolis), John Carradine (Dr Bernardo), Heather MacRae (Helen Lacey), Dort Clark (Sheriff), Ref Sanchez (Igor). What Happens During Ejaculation?:- Woody Allen (Sperm No 2), Oscar Beregi (Brain Control), Burt Reynolds (Switchboard), Jay Robinson (Priest)
---
Plot
Do Aphrodisiacs Work?:- A court fool falls in love with the Queen. Upon the advice of his father's ghost, the fool obtains a love potion from a sorcerer. The potion works – only for the fool to find his lust obstructed by the Queen's chastity belt. What is Sodomy?:- A shepherd visits his doctor complaining that his sheep Daisy no longer loves him. The doctor thinks him crazy but agrees to treat Daisy, only to fall in love and then embark upon an affair with Daisy himself. Do Some Women Have Trouble Reaching Orgasm?:- Fabrizio marries Gina, only to discover that she feels nothing during sex. One day in a department store, she suddenly becomes turned on at the idea of having sex in a public place. Are Transvestites Homosexuals?:- At a dinner party with his in-laws, Sam tries on some of the clothes belonging to the lady of house but is forced to sneak out the window rather than be discovered. He then faces public embarrassment when his handbag is snatched in the street and the police are called. What Are Sex Perverts?:- On the tv game-show 'What's My Perversion', celebrities try to guess a guest's perversion. Are the Findings of Doctors and Clinics Who Do Sexual Research and Experiments Accurate?:- Sexologist Victor Shakapopolis travels to meet the eccentric Dr Bernardo who was thrown out of Masters and Johnson for conducting unorthodox experiments. While there, a giant breast Bernardo has created accidentally gets free and rampages across the countryside. What Happens During Ejaculation?:- While out on a date, the control centre in a man's body experiences difficulty in maintaining erection and a nervous sperm has doubts as it prepares for its jump into the breach.
---
While having nothing whatsoever to do with David Reuben's 1969 best-selling sex-guide of the same name beyond the title, Everything You Always Wanted to Know About Sex * But Were Afraid to Ask is a witty anthology of scatological skits from Woody Allen. In his book, David Reuben poses a series of questions and offered expert answers. Woody Allen uses these questions as a springboard for a series of comedy sequences where his satirical butts run from Shakespeare to B-monster movies, Fellini and an elaborate stylistic parody of 1950s tv gameshows. Woody Allen's later work, the weightier self-analytic intellectual quests from Annie Hall (1977) onwards, show an increasing quest for significance and meaning in comedy, and it is his earlier films like this, Take the Money and Run (1969) and Sleeper (1973) that have a freer, lighter bounce and a less neurotic happiness with the medium that many fans prefer.
Particularly amusing are the one-liners during Do Aphrodisiacs Work? that joyously blend Shakespeare, modern idiom and dippy rhyming dialogue – "with grievous dispatch I will open the latch" and throwaway lines – "He will cleave me in twain – twain here and twain on the other side of the room. I don't look so good in twain – all my suits were made for a whole person."
Woody Allen always has the singular ability to undercut his frequent ventures into fantasy material with a charmingly banal nonchalance – especially funny is the sequence where Gene Wilder takes a sheep to a hotel room, placing 'Do Not Disturb' signs outside, making room service orders for grass and with shots of the sheep clad in suspenders.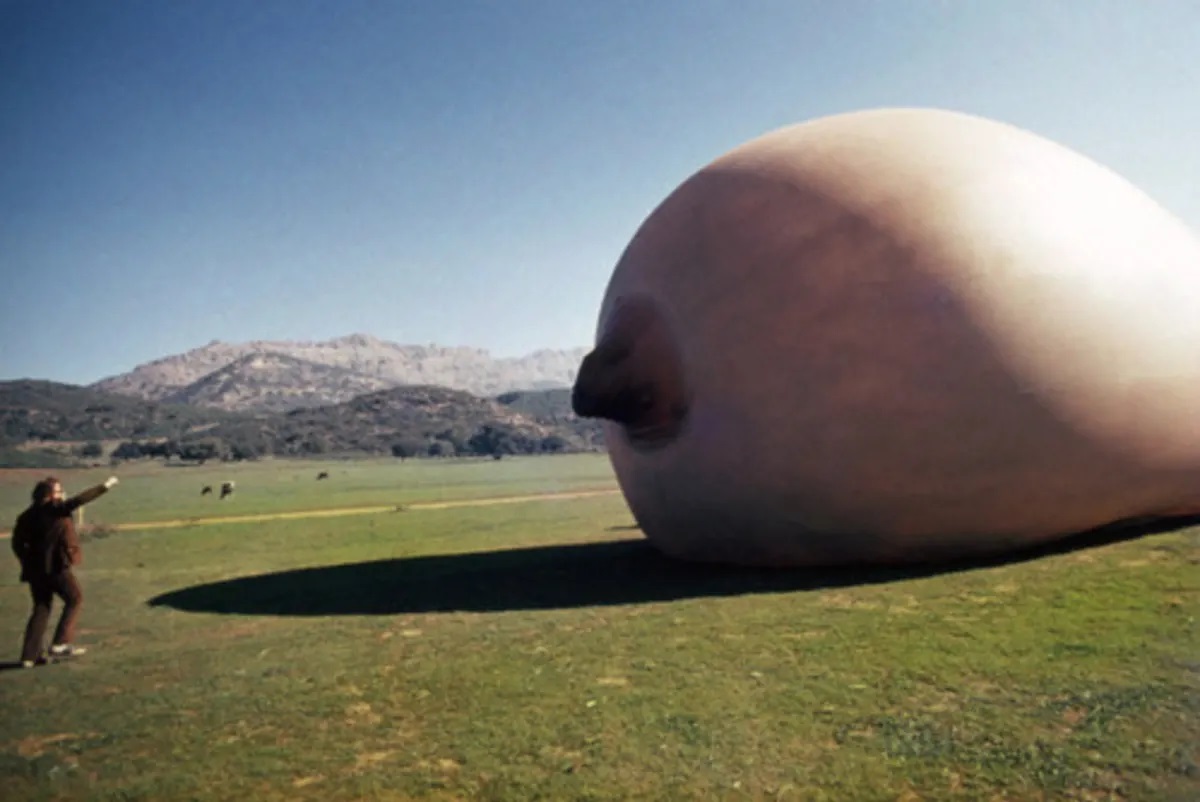 The two most amusing sequences are the two most overtly science-fictional ones – Are the Findings of Doctors and Clinics Who Do Sexual Research and Experiments Accurate? and What Happens During Ejaculation? The mad scientist/monster movie spoof conducted during Experiments is particularly hilarious – the image of a 100 foot long breast rampaging about the countryside squirting people with milk and then running them down and Woody Allen waving a crucifix to try and drive it back and trap it in a bra, where it is then taken off to an orphanage to feed motherless babies. The segment fades out as they worry about the possibility of another one: "These things usually travel in pairs." The spoof is perfected by the presence of John Carradine who played many straight mad scientist parts in the 1940s.
Equally funny is the other most overtly science-fictional episode What Happens During Ejaculation?, which wittily spoofs the control room doubletalk of the Moon Landing and the antiseptic white look of contemporary science-fiction films like 2001: A Space Odyssey (1968) and The Andromeda Strain (1971), with Woody Allen playing a neurotic sperm ready to take his great leap into the breach, worrying about rumours of The Pill or encountering a giant wall of rubber, while a priest is apprehended trying to sabotage the guilt centre in the control room that is responsible for maintaining erection.
Woody Allen's other genre films are:– Play It Again Sam (1972), Sleeper (1973), Love and Death (1975), A Midsummer Night's Sex Comedy (1982), Zelig (1983), The Purple Rose of Cairo (1985), New York Stories (1989), Alice (1990), Shadows and Fog (1991), Mighty Aphrodite (1995), Everyone Says I Love You (1996), Deconstructing Harry (1997), Match Point (2005), Scoop (2006), Midnight in Paris (2011), To Rome with Love (2012) and Magic in the Moonlight (2014).
---
---