Germany/France. 2009.
Crew
Director/Screenplay/Music – Julie Delpy, Producers – Matthew Chausse, Andro Steinborn & Christopher Tuffin, Photography – Martin Ruhe, Visual Effects – Arri, Special Effects – SFX Department Leipzig GmbH & Co. KG (Supervisor – Adolf Wojtinek), Makeup – Kerstin Gaecklein & Heiko Schmidt, Production Design – Hubert Pouille. Production Company – Mitteldeutsche Medienfordenburg/Medienboard Berlin – Brandenburg/Filmforderungsanstalt/Minitraite/National Centre of Cinema. France/French Ministry of Culture and Communication/Deutscher Filmforderfonds/X Filme International/Celluloid Dreams/X Filme Creative Pool/Fanes Film/Social Capital Film.
Cast
Julie Delpy (Countess Erzebet Bathory), Daniel Brühl (Istvan Thurzo), William Hurt (Count Gyorgy Thurzo), Sebastian Blomberg (Count Dominik Vizakna), Anamaria Marinca (Anna Darvulia), Charles Hübner (Count Ferenc Nadasky), Andy Gatjen (Miklos), Maria Simon (Helena), Frederick Lau (Janos), Jesse Inman (King Matthias), Paula Hartmann (Erzebet Aged 6), Felix Vortler (Reverend Matej), Nora Von Waldstatten (Countess Von Kraj)
---
Plot
Erzebet Bathory was born to a Hungarian noble family in 1560. It was arranged that she marry Count Ferenc Nadasky. Ferenc conducted many successful battles on behalf of the king, but died after returning home, leaving Erzebet to inherit his wealth and lands. Count Gyorgy Thurzo sought to marry Erzebet for her wealth but she declined his offer. Not long after, Erzebet engaged in an affair with Gyorgy's 21-year-old son Istvan. Despite she being 39 years old, the two fell deeply in love. When Istvan planned to join her, Gyorgy intervened and sent him away to marry a Dutch countess. Heartbroken, Erzebet began to obsess with aging and her disappearing looks. When she struck a maid in anger, the blood splashed on Erzebet's face. In the mirror it seemed to Erzebet that where the blood had splashed her face was smooth and unwrinkled again. Erzebet had the maid tapped for blood so that she could apply it to her face, demanding more and more to the point it killed the maid. When this was no longer enough, Erzebet had other young virgin women brought to her and killed, building special torture machines to drain their blood. The murders became so notorious that word soon reached the king. This became an opportunity for Count Thurzo to step in and manufacture evidence so that he could claim Erzebet's lands and property.
---
Erzebet Bathory (usually Anglicised as Elizabeth Bathory) (1560-1614) was a Hungarian Countess. She was arrested in 1610 and the story that emerged has entered into legend. Placed on trial, she was accused of murdering servants and peasant girls from the nearby region. It was claimed that she had killed as many as 650 women, which would make her the second most prolific serial killer in history, although the numbers wildly vary and at the trial she was only convicted of 80 murders. According to witness accounts, she gained pleasure from sadistic mutilation and causing deaths by a variety of means, including freezing and starving victims. In recent years, revisionist scholars have questioned the reliability of some of the witness statements and whether these were fabricated. One of the most notorious stories about Countess Bathory is that she had virgin women drained of their blood and bathed in this in the belief it would rejuvenate her youth – some scholars have cited this as one of the bases for the legend of the vampire. Although the truth, when examined, is that this is one of the more unreliable claims about Countess Bathory, even though it has become the most notorious aspect in legend. (There is also no evidence that her preference was for virgins either). In 1610, under the orders of Gyorgy Thurzo (who was the Prime Minister of Hungary), Countess Bathory was sentenced to house arrest where she was walled up inside a room in her castle and was found dead there several years later.
The Countess Bathory story has attained a great deal of fascination on cinema screens over the years. She appeared in a supposed historical account from Hammer Films with Countess Dracula (1971) where she was played by Ingrid Pitt. Around the same time, she appeared in the present-day as a languidly bored lesbian vampire seductress played by Delphine Seyrig in Daughters of Darkness (1971). The two of these laid down the Countess's horror movie persona – as a vampire who has survived into the modern day where her proclivities were lesbian, or where the historical claims of the countess's blood rejuvenation treatments actually worked. The countess turns up in a number of other films – in various of Paul Naschy's Waldemar Daninsky films with The Werewolf vs the Vampire Woman (1971), Return of the Werewolf (1973) and Night of the Werewolf (1981); the Spanish The Legend of Blood Castle/The Bloody Countess/The Female Butcher (1973) played by Lucia Bose; played by Paloma Picasso in an episode of the erotic anthology Immoral Tales (1974); played by Diane Witter in the obscure Bathory (2000); played by Caroline Néron in the present-day Canadian erotic thriller Eternal (2004); in the present-day played by Michelle Bauer in Fred Olen Ray's Paul Naschy homage Tomb of the Werewolf (2004); in the cheap Night Fangs (2005); with modern-day girls travelling back in time in Demon's Claw (2006); in the present-day Dracula's Curse (2006); in the present-day in the animated Hellboy: Blood and Iron (2007); in the dreadful Hungarian-shot Metamorphosis (2007); in the softcore Blood Countess (2008); mixed up with the Dracula story in Blood Scarab (2008); as a present-day abstinence campaigner (Louise Griffiths) in Chastity Bites (2013); as the female Jerry Dandridge (Jaime Murray) in Fright Night 2 (2013); in Lady of Csejte (2015) played by Svetlana Khodchenkova; even in the midst of a videogame in Stay Alive (2006) and as the host of a horror anthology in Countess Bathoria's Graveyard Picture Show (2007), while Eli Roth homages her activities in Hostel Part II (2007). At the same time as The Countess, there was also Bathory (2008) starring Anna Friel, an East European-made production that similarly attempted to set the historical record straight.
The Countess has been personally mounted by French actress Julie Delpy, known for her acting roles in films such as the Three Colours trilogy, Killing Zoe (1994) and Before Sunrise (1995). Delpy has ventured into the horror genre before, in works such as Tykho Moon (1996), An American Werewolf in Paris (1997), The Passion of Ayn Rand (1999), Frankenstein (tv mini-series, 2004) and The Legend of Lucy Keyes (2006). She had previously written and directed the low-budget Looking for Jimmy (2002), the romance 2 Days in Paris (2007) and subsequently went on to direct Le Skylab (2011) and Lolo (2015), as well as written the screenplay for the Before Sunrise sequel Before Sunset (2004). Here she writes, directs and stars, even composes the film's score.
With The Countess, Julie Delpy has clearly set out with the intention of paring away all the vampire movie nonsense and telling the Elizabeth Bathory story of the historical record. This is an excellent idea I have wanted to see done for some years. While most horror movie versions of Elizabeth Bathory strain at lesbian vampire cliches, the historical story is a far more disturbing one. Julie Delpy pays a great deal of respect to the historical account, far more so than any other film version has done so far. Although, what needs to be stressed is that she has mounted The Countess largely as a costume drama as opposed to a horror film.
Julie Delpy has far more sympathy for Countess Bathory than any other account (excepting Bathory). She takes a revisionist feminist stance – seeing that much of the Countess's problem came from being a single woman with a wealthy estate and surrounded by men who either disdained her capacity to manage such or sought to steal her wealth. Much of the film is a highly effective portrait of a vulnerable woman being duped by men and how the cumulative effect of this was something that caused Countess Bathory to slide into delusion. The Countess is outfitted with speeches expressing her frustration and at the disregard of her power in a world of men, even a speech standing up to the Church on the issue of male-female equality. It is the oddity of the Countess Bathory story having been written as a work of historical feminism.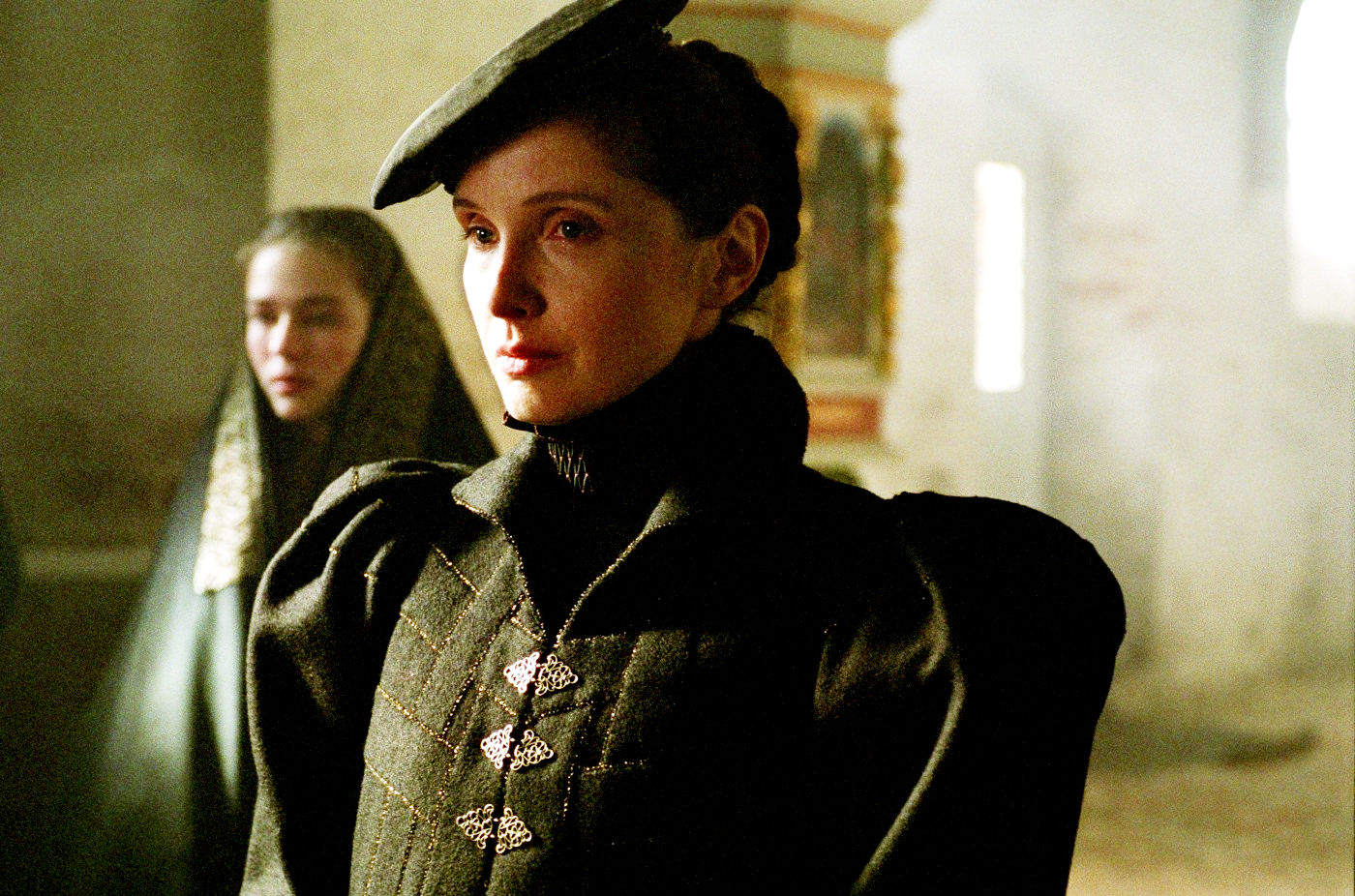 In the opening scene, Daniel Brühl's voiceover narration states that history is "a fiction written by the conquerors" and that he is telling the story that will set the record straight. Yet, for all its supposed true account, The Countess goes ahead and tells the sensationalistic version anyway. The film oscillates between either of these approaches – despite settling for telling the tabloid version of the Countess's story, it arrives at an end where we are abruptly told that all the murders and torture were made up by William Hurt's Count Thurzo to steal her wealth and lands. However, this requires us to suddenly regard everything we have seen depicted throughout as a pack of lies and view the Countess as an innocent. Surely almost everything we have seen in the film up to that point has indicated the Countess is not an innocent.
One suspects that this approach was something forced on the film – the problem it is stuck with is that if it tells the revisionist version that Julie Delpy clearly wants to where Countess Bathory was an innocent and her cruelties were maliciously manufactured, then we would be left with a far less interesting story simply about men attempting to connive a woman's wealth. Nor does the film make it clear to us which parts of the story were true and which not – the affair with the younger Istvan may well have been true (particularly in that he is the narrator) but then the film attempts to wind this in as part of her justification for bloodletting, while confusingly also telling us to regard it as a fiction. It is these attempts to tell both the historical horror that one expects of a Countess Bathory biopic and a revisionist attempt that leaves The Countess with a confused tone of uncertainty.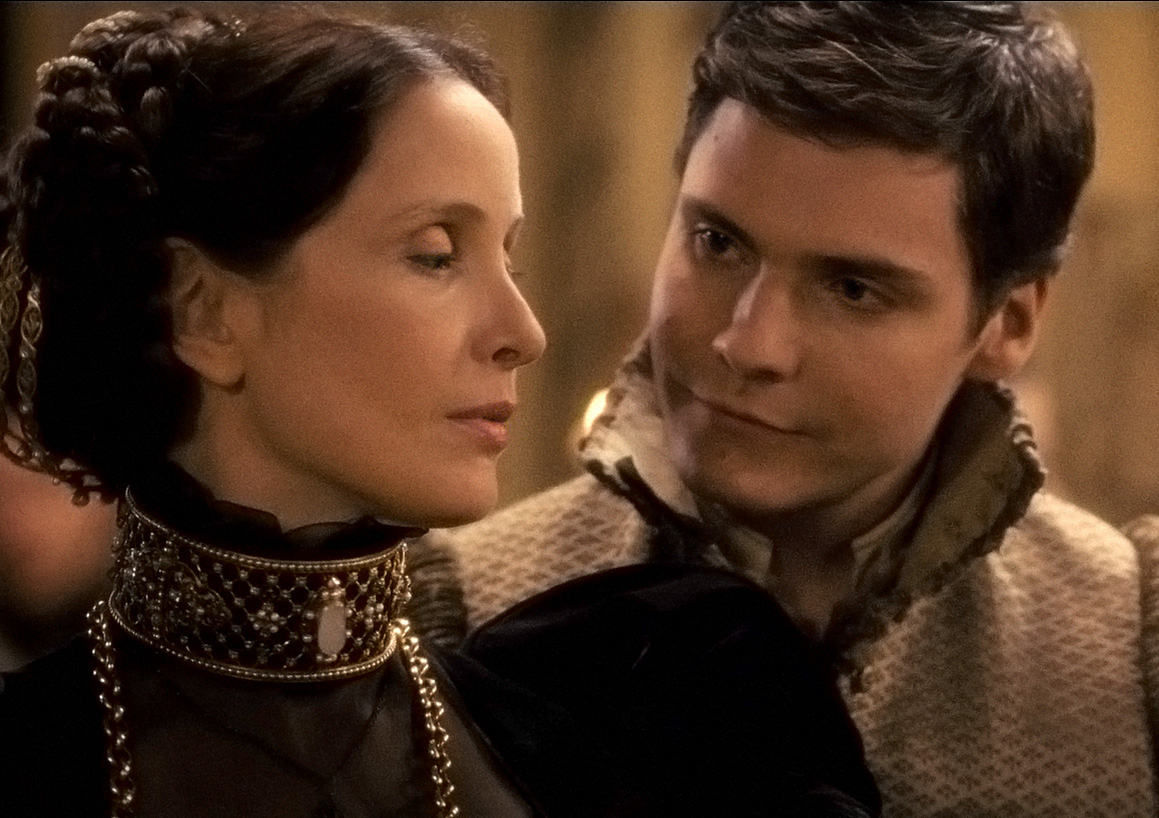 The uncertainty of tone aside, Julie Delpy does an excellent job (within the fictional account) in credibly exploring the psychological reasons for the Countess's obsessions – that she fell for a man nearly half her age and that, when he was forcibly kept away by his father, she took this as rejection and became obsessed with her age and vanishing looks. Julie Delpy does a fine job of drawing out the scenes of the Countess heartbroken, her obsession with age, the discovery of the rejuvenative effects of blood (here Delpy never has the Countess rejuvenating in actuality but it being seen that it is all in her mind and that those around her simply agreed with her belief that it was working out of fear of not doing so), which grew into her bleeding servants and then the need for more and more bodies.
The other disappointment about The Countess is that Julie Delpy soft-pedals the horror element. We see a maid progressively bled to death and one scene where Delpy slits a rival (Nora Von Waldstatten)'s throat. We see the Countess setting up torture instruments in her dungeon, daintily daubing blood on her face, yet there is never any scenes of her killing and draining the blood of the numerous girls she was said to have done, let alone bathing in it. This is perhaps the most notorious aspect of the Countess Bathory story and for it to be pushed to the side and left unmentioned seems a disappointment. The other aspect that the film minimises is the Countess's legendary sadism. There is the suggestion that she was inducted into it by her lover Sebastian Blomberg who was a masochist and ask her to flog him in bed. To me, it stretches credibility going from a lover asking to have a kinky fetish indulged one minute to getting one's kicks from seeing young women tortured to death the next – it is the sort of connection between mildness and extremes that is akin to the stretch that says one puff of a joint invariably leads to hard drug addiction.
Julie Delpy is not the first actress that you would think of casting as the countess. She has soft, watery features that are almost elfin, not something that come to mind when you are thinking of a cruel sadist and serial killer. That said, Delpy does bear a more-than-passing resemblance to the historical portraits of Countess Bathory. Certainly, the performance she gives is Julie Delpy at her most autocratic and coldly austere.
---
---