aka Fright Night 2: New Blood
USA. 2013.
Crew
Director – Eduardo Rodriguez, Screenplay – Matt Venne, Producers – Michael Gaeta & Alison Rosenzweig, Photography – Yaron Levy, Music – Luis Ascanio, Visual Effects Supervisor – Bogdan Lazar, Visual Effects – Wonderworld Studios VFX (Supervisor – Mark Dippé), Additional Visual Effects – Vaxa Studio, Animated Sequence – Sunnyboy Entertainment, Special Effects Supervisor – Lucian Iordache, Makeup Effects – Illusion Industries, Inc. (Supervisor – Todd Tucker), Production Design – Serban Porupca. Production Company – Gaeta-Rosenzweig Films.
Cast
Will Payne (Charley Brewster), Jaime Murray (Gerri Dandridge), Chris Waller ("Evil" Ed Bates), Sean Power (Peter Vincent), Sacha Parkinson (Amy Peterson), John-Christian Bateman (Chaperone), Jouelle Coutinho (French Girl)
---
Plot
Charley Brewster, his best friend Evil Ed and Amy Peterson, the girl he loves but who has decided she is over him, arrive in Romania as part of a school field trip. Charley is disturbed after seeing their new arts professor Gerri Dandridge drinking the blood of various people and then disposing of the bodies and believes that she is a vampire. As Gerri comes taunting him, Charley and Evil Ed go to Peter Vincent, the head of the reality tv monster hunting show 'Fright Night' who is in town filming a show, offering to pay him to tackle Gerri. Vincent goes along for the money but flees after finding that Gerri is a real vampire. Gerri then discovers that Amy is the virgin born under a full moon, which will mean that she can gain greater powers if she makes Amy into a vampire and gets her to kill Charley before dawn.
---
The original Fright Night (1985) is an indisputable classic of 1980s pop culture. A relatively lightweight film, it was one of the most popular films to domesticate the classic vampire, showing us a modern teenager Charley Brewster (William Ragsdale) fighting a vampire Jerry Dandridge (Chris Sarandon) who had moved in next door and seduced his girlfriend (Amanda Bearse), with Charley resorting to recruiting the help of a cowardly former horror actor (Roddy McDowall as Peter Vincent, so named after horror icons Peter Cushing and Vincent Price). The dynamic that ran through Fright Night, something that none of the other films have picked up on, is that of everyday people finding what they have been enjoying for years as a B-movie fiction play out in reality. The rest was patched together with some then cutting edge makeup effects depicting people transforming into bats and wolves.
Fright Night was sequelised as Fright Night Part 2 (1989), featuring return performances from William Ragsdale and Roddy McDowall now fighting Jerry Dandridge's sister (Julie Carmen). Amid the modern fad for remakes of just about every film that came out in the 1970s and 80s, Fright Night was given the workover as Fright Night (2011), starring Anton Yelchin as Charley, with Colin Farrell as Jerry Dandridge and David Tennant as Peter Vincent who was now made into a celebrity Las Vegas stage magician.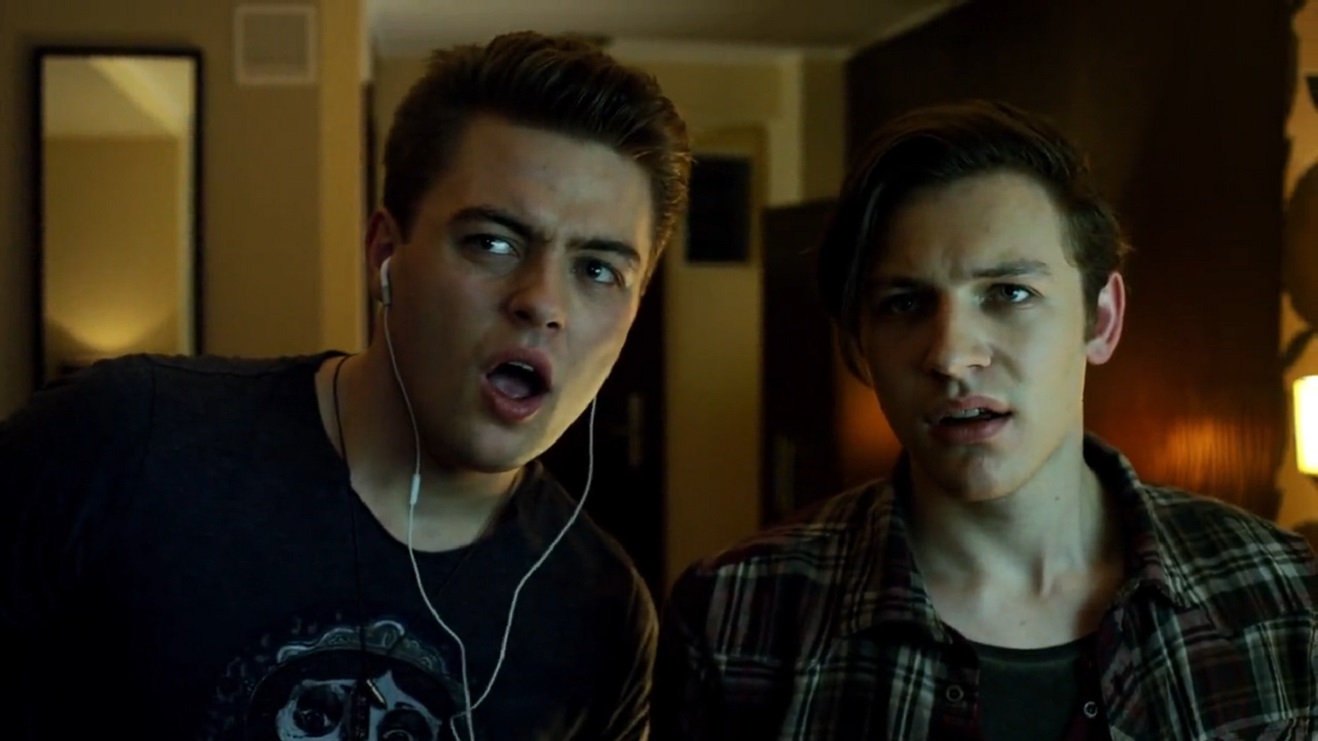 Fright Night 2, known as Fright Night 2: New Blood on the end credits and the dvd cover, is a supposed sequel to the 2011 remake. At the first glance – the idea of replacing Jerry Dandridge with a female vampire – gives the impression that this film is a remake of Fright Night Part 2. However, this is not the case and less than any sequel or a remake of the 1989 film, Fright Night 2 serves more as a remake of the original. Though there is a Charley Brewster, his girlfriend Amy and an Evil Ed here, there is no suggestion that they have encountered any vampires before as you would get if this were a sequel. Thus we have Charley, Evil Ed and Amy going through the same essentials as the first plot and encountering a vampire named Jerry/Gerri Dandridge and then enlisting the help of a vampire hunter named Peter Vincent all for the first time to which you can only conclude we have an unofficial remake.
Fright Night 2 performs some intriguing and potentially interesting twists on the Fright Night basics. The first of these is that is transfers the location to Romania, the home of vampirism (which also effectively allows some cut-price international location shooting). Thus Jerry, Evil Ed and Amy are now American students on a field trip and Jerry/Gerri is their professor. The other important change is that Gerry is now a woman in the person of Jaime Murray. The Romanian locations and recasting allow some intriguing resonances where the film tries to suggest that Dracula was in fact a woman – a potentially absurd notion that does have some basis in academic study where Dracula scholar Raymond McNally argued in his book Dracula Was a Woman (1984) that Bram Stoker took all his images of vampirism from Countess Bathory, which the film happily appropriates to connect up and tells us that Gerri Dandridge is the modern incarnation of Bathory.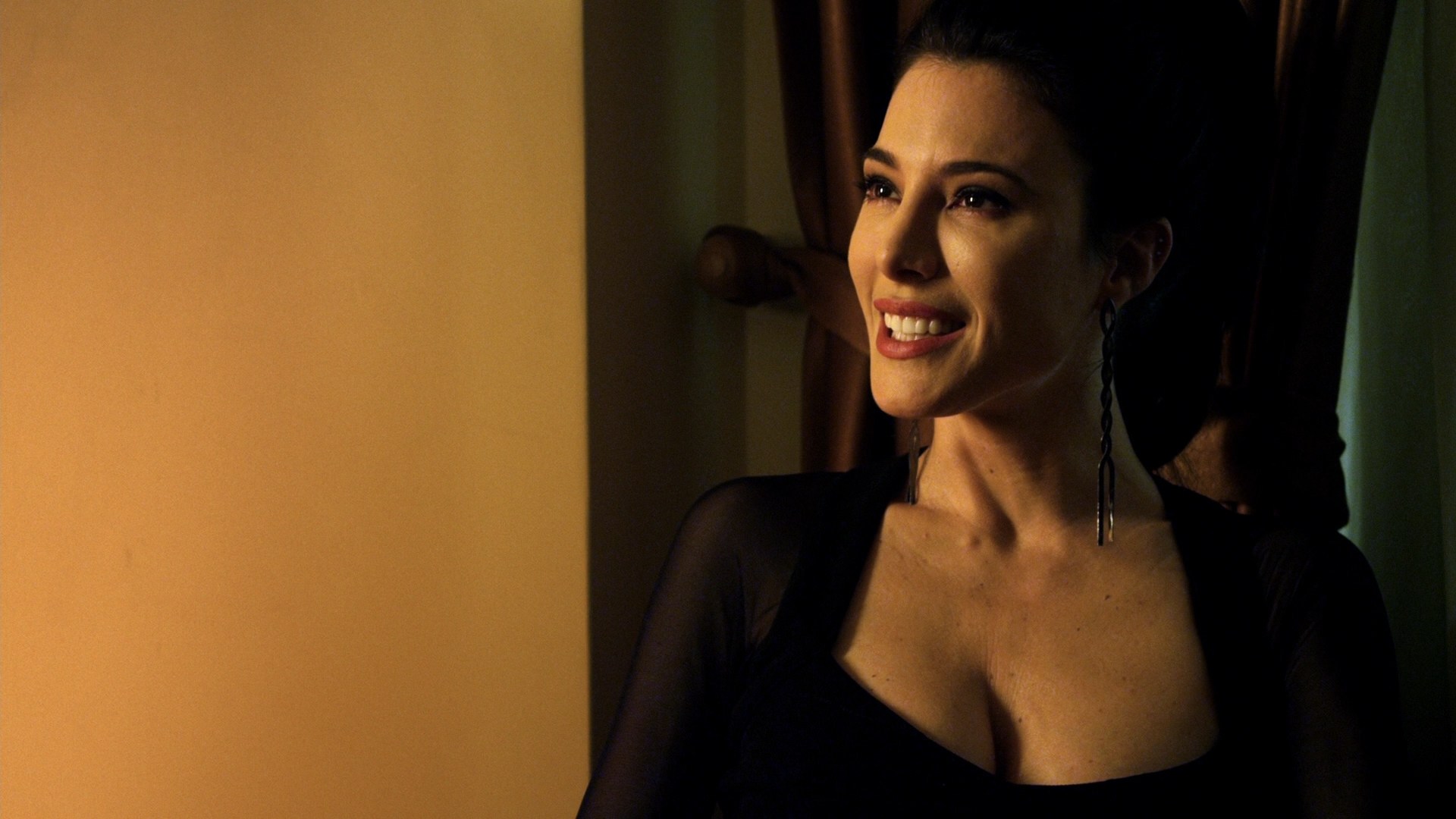 Director Eduardo Rodriguez hails from Venezuela where he debuted with the horror film Curandero (2005), which I haven't seen. This proved sufficient for him to be imported to the US to make an episode of the horror anthology tv series Fear Itself (2008) and the action films El Gringo (2012) and Stash House (2012). All of this seemed to indicate that Curandero was sufficiently innovative that Rodriguez was considered worthy of being given a US work permit. You are not sure what happened here though as Fright Night 2 looks like the work of a rank amateur.
The shocks are canned pieces of editing – audio jumps from the soundtrack, red herring scares and an especially silly scene where Will Payne dreams of Jaime Murray killing Sacha Parkinson in the middle of a lecture theatre – that do nothing in the slightest to engage us. One of the worst scenes is where Will Payne and Sacha Parkins are pursued through the catacombs by Jaime Murray in beast form – a scene that is all stroboscopic flickers and interminable wild animal snarls that seem there to disguise the fact that nothing is happening at all. To be fair, where all the other Fright Night films kept the balance a light one between horror and comedy, Eduardo Rodriguez goes for gutsy horror impact – in particular a scene where Will Payne watches Jaime Murray do the full Countess Bathory and gut a naked woman into a bath. In truth though, Rodriguez makes Fright Night 2 into one of the most badly directed horror films that one has seen in some time – all cheap cliche horror effects, inane red herring jumps, and a posturing vampire that is an empty cardboard menace that holds no threat, not to mention is constantly represented by absurd animal snarls.
Further, in its budgetary corner-cutting, this version has opted for a no-name cast. The only actor present who one had heard of before was Jaime Murray, a British actress who gained a minor name in US tv series on one season of Dexter (2006-13) and recurring roles in shows like Hustle (2004-12), Valentine (2008), Ringer (2011-2) and Spartacus: Gods of the Arena (2011). When an actress whose only fame is as a tv guest star is the biggest name that a film has, it is clear that it is stuck waaaay down in B-budget territory. Jamie Murray fails to do anything interesting with the role and only vamps it up in cliche ways.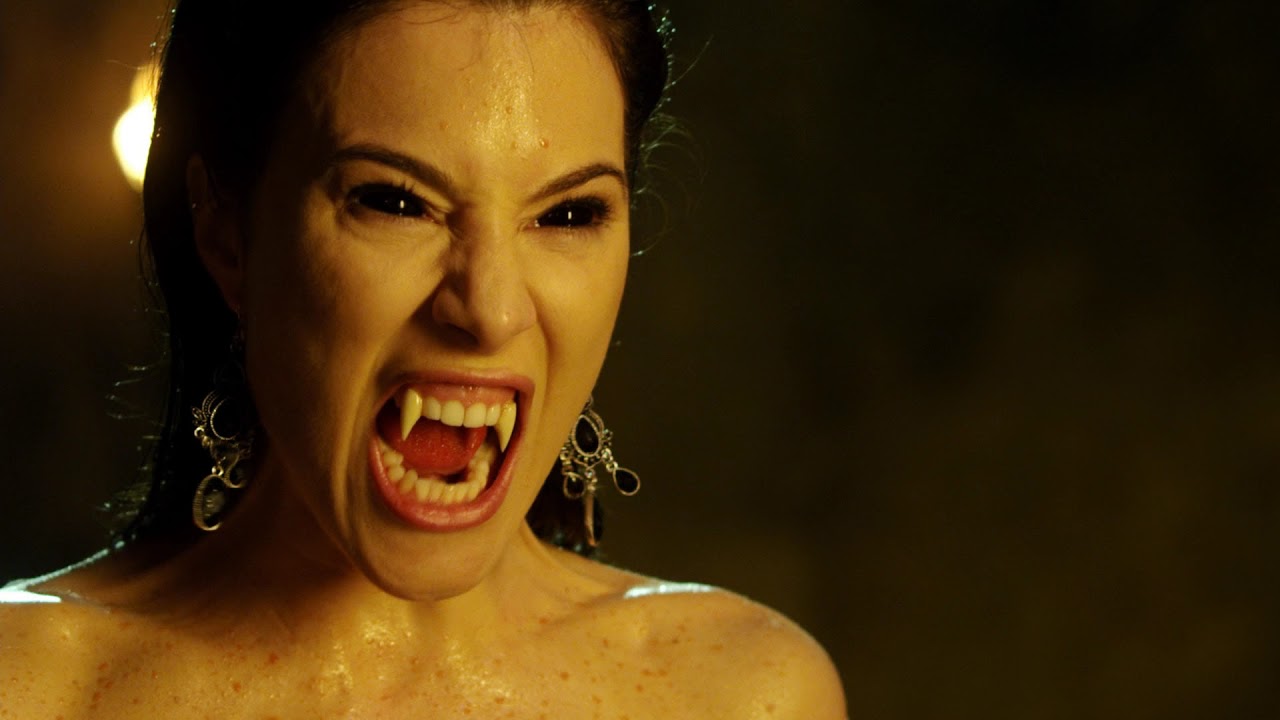 One of the weakest aspects of this new version is that Peter Vincent is now made into the star of a reality tv ghost hunting show. This is some kind of strained effort to give Roddy McDowall's horror host relevancy in the present but the part falls flat due to an indifferent performance from Sean Power, not to mention the script making Vincent a character who is largely irrelevant to the action for the most part.
One of the most irritating parts about the film is Chris Waller as Evil Ed who plays the part as an irritating loudmouth jerk – although one then remembers that that was exactly the way that Stephen Geoffreys was in the original film. Rather than the essential girl next door, Sacha Parkinson's Amy becomes someone who wants nothing to do with Charley at the outset, an out-of-step move that makes her self-absorbed rather than someone you want to cheer along as Charley fights to stop her innocence being stolen. Will Payne makes for a weedy Charley, which is sort of in keeping with the way the role is now written.
Other films dealing with Countess Bathory are:– Hammer's supposedly true historical account Countess Dracula (1971) where she was played by Ingrid Pitt; in Daughters of Darkness (1971) where she turns up in a present-day Belgian hotel played by Delphine Seyrig; in various of Paul Naschy's Waldemar Daninsky films with The Werewolf vs the Vampire Woman (1971), Return of the Werewolf (1973) and Night of the Werewolf (1981); the Spanish The Legend of Blood Castle/The Bloody Countess/The Female Butcher (1973) played by Lucia Bose; played by Paloma Picasso in an episode of the erotic anthology Immoral Tales (1974); played by Diane Witter in the obscure Bathory (2000); played by Caroline Néron in the present-day Canadian erotic thriller Eternal (2004); in the present-day played by Michelle Bauer in Fred Olen Ray's Paul Naschy homage Tomb of the Werewolf (2004); in the cheap Night Fangs (2005); with modern-day girls travelling back in time in Demon's Claw (2006); in the present-day Dracula's Curse (2006); in the present-day in the animated Hellboy: Blood and Iron (2007); in the dreadful Hungarian-shot Metamorphosis (2007); in the softcore Blood Countess (2008); mixed up with the Dracula story in Blood Scarab (2008); as a present-day abstinence campaigner (Louise Griffiths) in Chastity Bites (2013); in Lady of Csejte (2015) played by Svetlana Khodchenkova; even in the midst of a videogame in Stay Alive (2006) and as the host of a horror anthology in Countess Bathoria's Graveyard Picture Show (2007), while Eli Roth homages her activities in Hostel Part II (2007). There were two attempts to set the historical record straight with Bathory (2008) starring Anna Friel, and The Countess (2009), directed by and starring Julie Delpy.
---
---