UK/USA. 2011.
Crew
Director – Lynne Ramsay, Screenplay – Rory Kinnear & Lynne Ramsay, Based on the Novel by Lionel Shriver, Producers – Jennifer Fox, Luc Roeg & Robert Salerno, Photography – Seamus McGarvey, Music – Jonny Greenwood, Visual Effects – Lipsync Post, Special Effects Supervisor – Drew Jiritano, Production Design – Judy Becker. Production Company – BBC Films/UK Film Council/Footprint Investments LLC/Piccadilly Pictures/Lipsync Productions.
Cast
Tilda Swinton (Eva Khatchadourian), Ezra Miller (Kevin Khatchadourian as a Teenager), Jasper Newell (Kevin Aged 6-8), John C. Reilly (Franklin), Ashley Gerasimovich (Celia Khatchadourian), Rock Duer (Kevin as a Toddler), Siobahn Fallon Hogan (Wanda), Alex Manette (Colin)
---
Plot
Eva Khatchadourian gives birth to a son Kevin. As she raises Kevin, Eva becomes concerned by his seemingly malicious actions, his acting in a constantly defiant way and showing intelligence beyond his years. However, Kevin seems perfectly angelic whenever her husband Franklin and others are around. This causes Eva to become increasingly withdrawn and at wits end. Into his teens, Kevin's actions become even nastier and more calculating, including blinding his younger sister in one eye, eventually culminating in an act of savagery that has him placed in jail.
---
I became aware of Scottish director Lynne Ramsay with her first film Ratcatcher (1999), a harsh but lyrical work about life growing up in Glasgow. Lynne Ramsay gained a great deal of critical attention with her next film Morvern Callar (2002), which I must confess left me cold. Ramsay was apparently also set to make the film of The Lovely Bones (2009) before it was taken over by Peter Jackson and, going by the style she demonstrates on We Need to Talk About Kevin, would almost certainly have made a far more interesting film out of it than Jackson did after he allowed his ridiculous pretensions to get the better of him. With We Need to Talk About Kevin, Lynne Ramsay adapts an award-winning 2003 novel by female writer Lionel Shriver.
We Need to Talk About Kevin is a variant on the evil child thriller. This is something that has a genesis that goes all the way back to The Bad Seed (1956). We have seen numerous other variations, usually made as B-budget psycho films, with the likes of The Godsend (1980), Bloody Birthday (1981), Mikey (1992), The Good Son (1993), Relative Fear (1994), Daddy's Girl (1996), Joshua (2007), Case 39 (2009), Orphan (2009) and The Boy (2015). Equally, you could say that We Need to Talk About Kevin draws upon the paranoia about children (or at least a pregnancy) that Rosemary's Baby (1968) did – Tilda Swinton's mother and her paranoias, where her child's malice seems directed against and apparent only to her while her husband and others seem unaware of anything, could almost be the story of Mia Farrow's Rosemary extended after the delivery of her baby.
Compared to these other psycho child films, We Need to Talk About Kevin comes with the sensibility of an arthouse film. It feels like the audiences for the two films are different, even if the subject matter is not – where all of these others are thrillers that have been pitched to multiplex audiences or cable and video markets for B-thrillers, We Need to Talk About Kevin premiered at Cannes and was shown at film festivals and arthouse theatres. You could consider We Need to Talk About Kevin as a film that strips the evil child thriller away from all thriller tropes. It is in essence the evil child film deconstructed, reduced to a series of cinematic images and dramatic confrontations. Lynne Ramsay even strips the film of plot – the story is elliptical, far more elusive than it was in Lionel Shriver's novel. The film generally follows the path of Kevin from birth to adulthood but also flips from one time period to the next between and within scenes. Even the title is an ironic one for talking about Kevin is something that the film and the characters within it do everything else except. We only, for instance, find out the great crime that Kevin did at the end, yet the rest of the film is constantly giving us scenes that allude to such, or showing Tilda Swinton dealing with its aftermath and visiting Kevin in jail.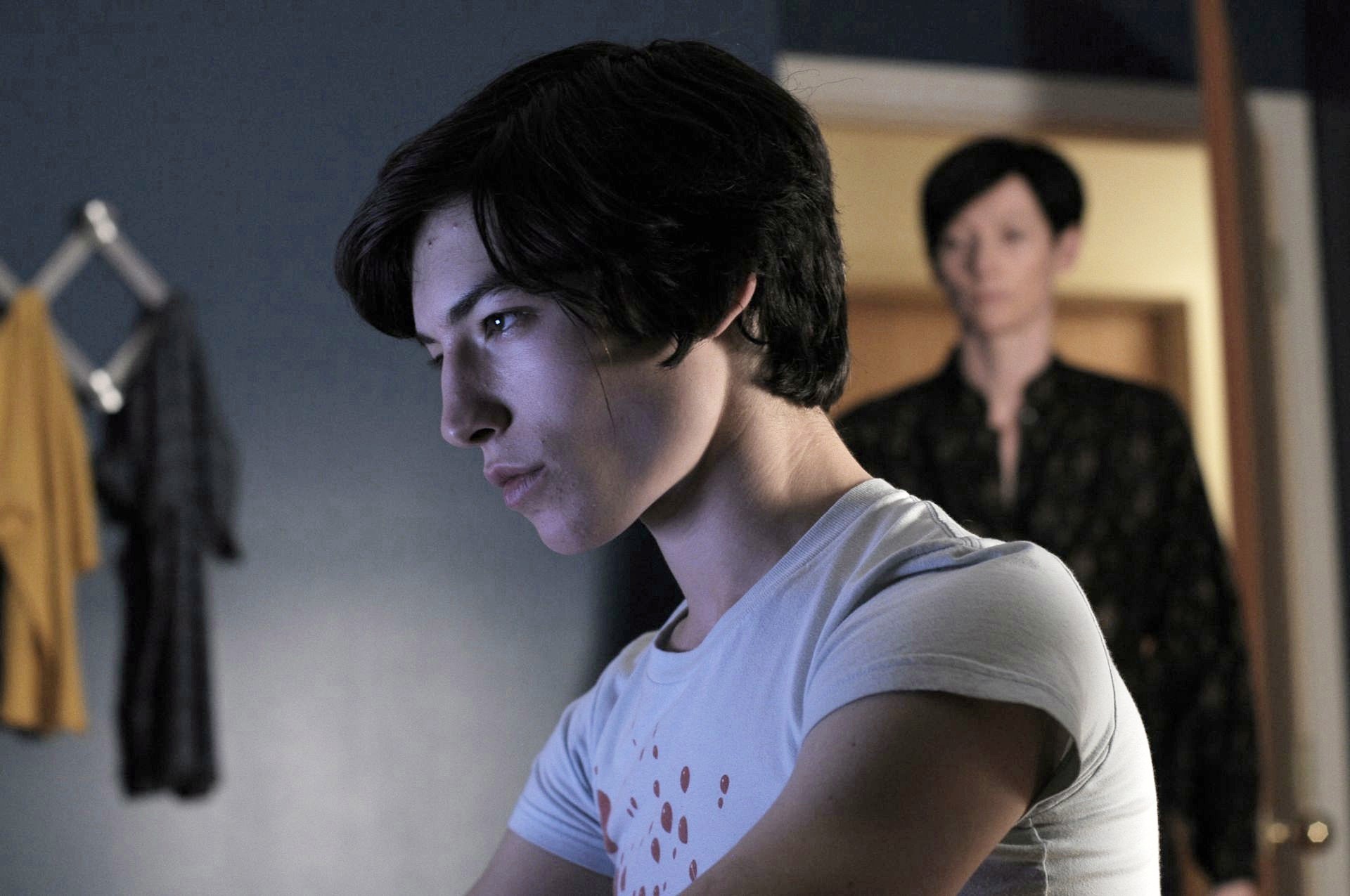 Maybe what strikes most about We Need to Talk About Kevin is Lynne Ramsay's directorial style. What she was wanting to do in Morvern Callar finds its full flowering with magnificent effect. If there is a filmmaker you could compare Lynne Ramsay's emergence  here to it might be the dreamy, nostalgic tableaux of Terrence Malick and in particular the same year's The Tree of Life (2011). We Need to Talk About Kevin is a film that is almost like an impressionistic canvas – painted in elliptical washes of tableaux, of scenes that seem punctuated by startling images where a sudden momentary shot in a scene can tell an entire picture without words, where sound is layered over into the subsequent scene with striking effect. It is often a film of colour patterns, notably the colour red that reappears as a motif throughout from the opening amid a ceremony in Spain with Tilda Swinton being bathed in red dye amidst a crowd, the house splattered in red paint, and Kevin's T-shirt to the blood that covers him at the climax, while Tilda is seen throughout trying to remove the red paint from the house and her own body as though trying to rid herself of shame.
Tilda Swinton was nominated for a host of year end Best Actress awards for her role as the mother. It is a fine part, although one where Tilda Swinton is required to only register varying degrees along the continuum of shocked and numbed and not a whole lot else. Her acclaim has tended to overshadow the contributions from the two boys – Jasper Newell as the younger Kevin and Ezra Miller who plays Kevin in his teens. The two of them give wonderful malicious performances. Ezra Miller in particular, some years before going on to become DC's The Flash, adding a superbly bored and mocking laconicism.
(Winner in this site's Top 10 Films of 2011 list. Nominee for Best Director (Lynne Ramsey), Best Supporting Actor (Ezra Miller) and Best Cinematography at this site's Best of 2011 Awards).
---
---