aka What the Peeper Saw
---
Crew
Director – James Kelly [Kelley, Screenplay – Trevor Preston, Producer – Graham Harris, Photography – Luis Cuadrado & Harry Waxman, Music – Stelvio Cipriani. Production Company – Leander Film/Leisure-Media, Inc..
Cast
Mark Lester (Marcus Bezant), Britt Ekland (Elise Bexant), Hardy Kruger (Paul Bezant), Harry Andrews (Dr Kessel), Lilli Palmer (Dr Viorne), Conchita Montez (Sophie), Collette Jack (Sarah Bezant)
---
Plot
Elise, the second wife of successful writer Paul Bezant, is surprised when Marcus, Paul's son by his late first wife, turns up at their villa in Spain. Marcus says he has been sent home from boarding school in England because of a chickenpox outbreak. Elise finds Marcus behaving in disturbing and adult ways, including having made a peephole in the attic to spy down on her and Paul in bed. She talks to Marcus's headmaster who says there is no chickenpox outbreak, that Marcus was in fact dismissed from school because of his voyeuristic tendencies and cruelty to animals. Making Elise strip for him in return for information, Marcus openly admits that he killed his mother. However, when Elise tries to make Paul aware of these things, Paul either dismisses them or Marcus swings things around to make it seem that Elise is imagining things.
---
Psycho (1960) changed the horror film for the 1960s, placing the focus on disturbed psychology and popularising the Psycho Film. There were numerous imitators. In the UK, Hammer Films and other companies made a vigorous output of Psycho-Thrillers throughout the 1960s and into the early 1970s. Far stranger were the occasional independent British ventures into the psycho film, which pushed a strange and perverse envelope with the likes of Michael Powell's Peeping Tom (1960); Twisted Nerve (1968), which argued that Down's Syndrome was responsible for psychopathology; The Fiend (1971) about a religiously and sexually repressed killer; and the true-life serial killer film 10 Rillington Place (1971); as well as the films of Pete Walker – in particular House of Mortal Sin/The Confessional (1976) with its murderous Catholic priest. All of these stand outside the regular Anglo-Horror cycle – in many cases they had mainstream releases – and plumbed a much more perverse undertow than the regular Psycho copies.
Night Hair Child falls into the fad for Evil Children films that began with The Bad Seed (1956), featuring a murderous eleven year-old Patty McCormick. We have had variants on the psycho child film throughout the years with the likes of Who Can Kill a Child? (1976), The Godsend (1980), Bloody Birthday (1981), Mikey (1992), The Good Son (1993), Relative Fear (1994), Daddy's Girl (1996), Joshua (2007), Case 39 (2009), Orphan (2009), We Need to Talk About Kevin (2011), The Boy (2015) and Better Watch Out (2016).
With its plot concerning a twelve-year old boy who has a voyeuristic tendencies – indeed, is the peeper referred to in the alternate title What the Peeper Saw – we have yet another example of a film that could never get made today. The most envelope-pushing moment is a perversely charged scene where Mark Lester – no less than the kid who played the title role in Oliver! (1968) – forces Britt Ekland to strip for him, giving out a titbit of information for every item she removes, until he actually confesses to murdering his mother.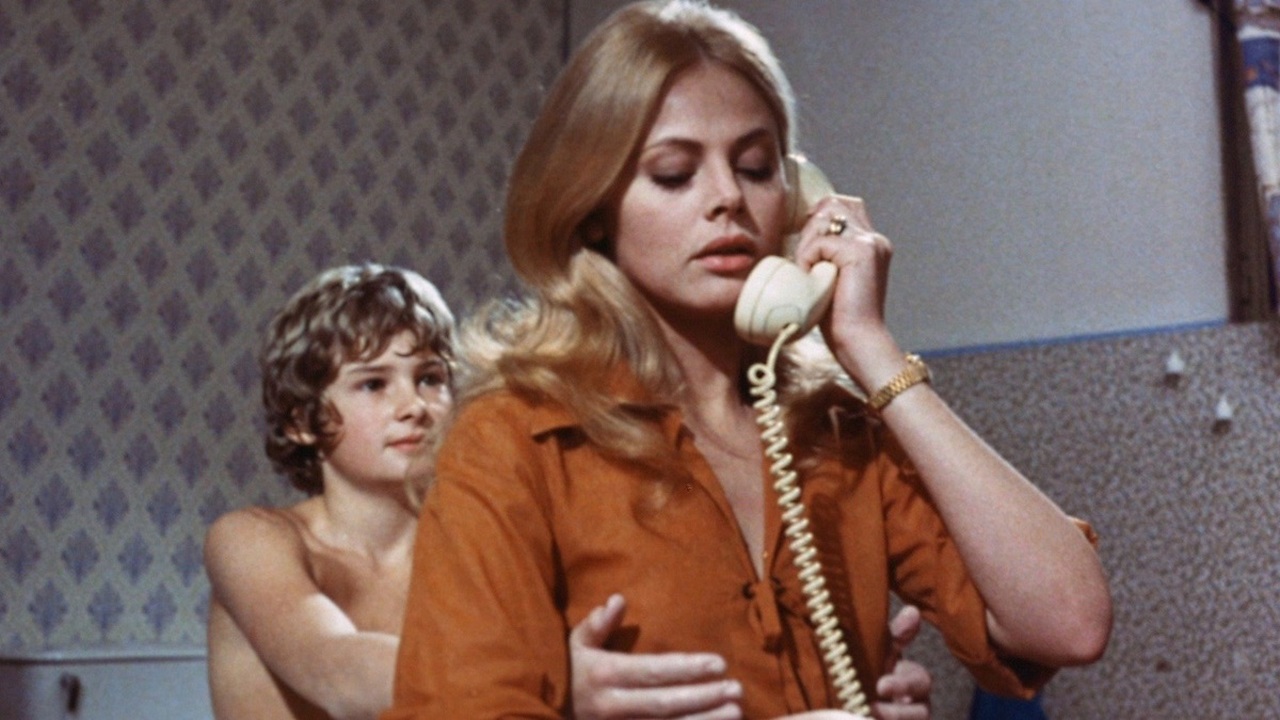 The main problem, and especially for a film that has voyeurism, evil children and matricide as its central theme, is that hardly anything happens throughout much of the show. A good part of the first half consists Mark Lester and Britt Ekland wandering around the villa as clues about his true nature become apparent. A Hammer psycho-thriller would almost certainly have tightened the psychological tension and delivered at least one big twist. Certainly, Britt Ekland, who was placed in quite a few forgettable roles during this time, most notedly as a Bond girl in The Man with the Golden Gun (1974), is at her most radiant. Things become more interesting in the latter half, especially when Lester starts to manipulate things, playing on father Hardy Kruger's affection to make it appear that it is all in Britt's imagination, even having her committed to a psychiatric institution. The film does arrive at a satisfyingly nasty ending.
The film was directed by James Kelly who had previously made The Beast in the Cellar (1970). He did write several thriller scripts including the early Anglo-horror film Doctor Blood's Coffin (1961) and the US psycho-thriller W (1974).
It is rumoured that the producers also brought in Andrea Bianchi, a director of several Italian adult films of the era, including the giallo Strip Nude for Your Killer (1975) and the zombie film Burial Ground (1981), to shoot additional scenes to spice up the material, although Bianchi's name does not appear anywhere on the film's credits. To this extent, the IMDB even incorrectly claims that this is an Italian co-production and insists on listing it by its Italian title La Tua Presenza Nuda! Despite this, no Italian producers, writers or production companies are listed on the credits and every other indication is that it is a British-made film, albeit one that was shot on location in Spain.
---
Trailer here
---