---
Crew
Director – Alex Turner, Screenplay – Simon Barrett, Producers – David Hillary, Thomas Wayne Peternel, Ash R. Shah & Alex Turner, Photography – Sean O'Dea, Music – Luke Rothschild & String Theory, Visual Effects Supervisor – Stephen Lebed, Visual Effects – Mechnology Visual Effects Studio, Additional Visual Effects – Modul8tion (Supervisor – Joe Cashman) & Slappy Studio, Stop Motion Sequences – Asami Morita, Special Effects Supervisor – Rudy Perez, Makeup Effects – Almost Human, Inc. (Supervisor – Robert Hall), Production Design – Antonio Rivero Stabley. Production Company – Silver Nitrate/Tricky Pictures/Deviant Films.
Cast
Shane West (Jeff Keller), Leonard Roberts (Staff Sergeant Marcus Howston), Aldis Hodge (Trevor Anderson), Callum Blue (Geoffrey Wilcox), Brendan Miller (Chard Davies), Theo Rossi (Tino Hull), Noel G (Jorge Wardell), Mercedes Masöhn (Arab Woman), J.K. Simmons (Lieutenant-Colonel Arson)
---
Plot
Afghanistan, 2002. A troupe of US soldiers are despatched to set up base at a stone building in the desert with orders to monitor any potential al-Qaeda traffic passing through the area. While investigating nearby, a redneck soldier shoots at and destroys an ancient statue they see in a canyon. As they settle into their camp, the building is surrounded by a dust storm. Out of it emerges an Arab woman who seeks shelter, which they grant even though none of them are able to speak her dialect. Strange things begin to happen and each of the soldiers experiences guilt-ridden hallucinations. Their numbers then start disappearing. As paranoia and pressure causes the men to start going off the deep end, it appears that the woman is something not entirely human.
---
Red Sands was the second film from Alex Turner who had previously gained some notice with the horror film Dead Birds (2004). Also on the credits is the name of Simon Barrett, who had also written Dead Birds, Frankenfish (2004) and Temple (2017). Shortly after this, he became a regular screenwriter for Adam Wingard on A Horrible Way to Die (2010), Autoerotic (2011), What Fun We're Having (2011), You're Next (2011), The Guest (2014), Blair Witch (2016) and Wingard's segments of The ABCs of Death (2012) and the V/H/S films. He also directedthe Tape 49 segment of V/H/S/2 (2013) and The Empty Wake segment of V/H/S/94 (2021) and the full-length Seance (2021).
Red Sands is a film that one watched with little expectation and ended up being gently surprised. It has borrowed much from the basics set down by Michael Mann's The Keep (1983) – of a group of soldiers in a fort being picked off by an ancient evil that they have unwittingly unleashed (although where The Keep had Nazis during World War II, Red Sands is updated to the contemporary US occupation of Afghanistan). Once he has the men in the stone encampment and cut off by a sandstorm, Alex Turner creates a contained situation filled with the constant lurking sense of something eerie about to happen.
The film is a slow, quiet burner. Alex Turner never deals in in your face shocks or deaths served up at regular intervals as you might get in a more formulaic horror film, rather it is a film of slow accumulating mood. There is the genuinely eerie scene part way in where the woman (Mercedes Masöhn) is lying down and reaches up to place a water bottle on a table and her wrist suddenly extends about two metres across the room to do so. There is another fine scene where Theo Rossi searches a room, his light passes across the wall and illuminates the woman there, he joins her and the scene fades to shadow and then a few moments later one of the other soldiers comes into the room and sees him there standing blankly.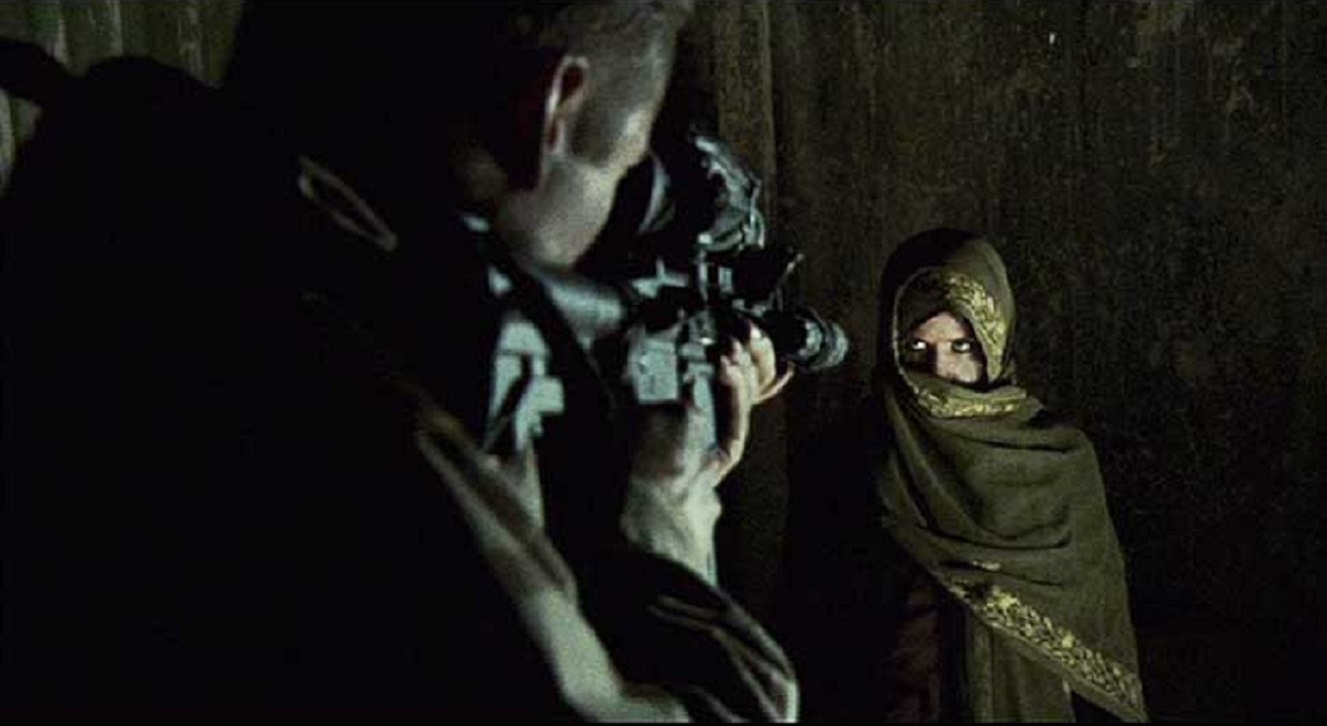 Turner creates particularly effective tension during the last half, with the only briefly glimpsed creature flitting through the shadows, a commander (Leonard Roberts) who has lost his marbles and gone AWOL, and the lights out throughout the building. The full djinn creature that we see looks unearthly, although does suffer from weak CGI effects.
Alex Turner has obtained a credible flavour of US soldiers in action – the film at least feels like it is offering up a realistic portrait. This makes it one of the first genre films to dig into the deeply contentious issue of the Afghan/Iraq Wars of the 2000s in much the same way that films like Platoon (1986) and Full Metal Jacket (1987) took the lid off the aftermath of the Vietnam War.
That said, you are not entirely sure if the film is being critical of or neutral to the soldiers. The script seems to show the men being punished for an incident of cultural callousness and there is the character of the psychopathic redneck Brendan Miller, which takes Red Sands closer to the territory of Brian De Palma's Redacted (2007). That said, the film pulls short of offering blanket condemnation of US actions and it is seen as only being one member of the troupe rather than that they are being punished for attitudes that were endemic throughout the military, which is something that increasing evidence to emerge – see the documentary The Kill Team (2013) – shows to be the case.
---
---