---
Crew
Director/Screenplay – Simon Barrett, Producers – Matthew Baker, Russell Ackerman, Isaac Clements, Tomas "Dutch" Decky, Alex Mace & John Schoenfelder, Photography – Karim Hussain, Music – Sicker Man, Visual Effects – Andy Robinson, Special Effects Supervisor – Tim Freestone, Production Design – Mars Feehery. Production Company – Dark Castle Entertainment/HanWay Films/Ingenious/Addictive Pictures.
Cast
Suki Waterhouse (Camille Meadows), Ella-Rae Smith (Helina), Inanna Sarkis (Alice), Marina Stephenson Kerr (Mrs Landry), Madisen Beaty (Bethany), Seamus Patterson (Trevor Landry), Stephanie Sy (Yvonne), Djouliet Amara (Rosalind Carlisle), Jade Michael (Lenora), Megan Best (Kerrie Riley)
---
Plot
Camille Meadows signs in as a pupil at the Edelvine Academy, an exclusive girl's boarding school. She learns that she has taken the room of Kerrie Riley, a girl who committed suicide, jumping from the window of the room. Camille becomes curious about what happened to Kerrie. As she asks around, she begins to hear stories of the Edelvine Ghost. She gets into a fight with the bullying Alice who heads a clique but is drawn in as Alice decides to hold a seance to contact Kerrie. At the same time, the girls in the clique start disappearing or being found dead. Camille cannot be sure if what is responsible is ghostly or a murderer in their midst.
---
Simon Barrett has reasonable reputation as a genre screenwriter, having written screenplays for Dead Birds (2004), Frankenfish (2004), Red Sands (2009) and Temple (2017) and acted as a regular screenwriter for Adam Wingard with A Horrible Way to Die (2010), Autoerotic (2011), What Fun We're Having (2011), You're Next (2011), The Guest (2014), Blair Witch (2016) and Wingard's segments of The ABCs of Death (2012) and the V/H/S films. Barrett made his directorial debut with the Tape 49 segment of V/H/S/2 (2013) and The Empty Wake segment of V/H/S/94 (2021). He makes his full-length debut with Seance, while Wingard serves as one of the executive producers. The film is produced by Dark Castle Entertainment who were a company specialising in producing theatrically-released horror films throughout the 2000s but have faded away in recent years (see below for Dark Castle's other films).
With Barrett and Wingard on board and the backing of Dark Castle, I had high expectations of Seance. It soon becomes apparent that Barrett has ventured into the arena of the girls' boarding school horror film. This is theme that has a certain genre history – see works like The House That Screamed (1969), What Have You Done to Solange? (1972), The Picnic at Hanging Rock (1975), Satan's School for Girls (1976), The Possessed (1977), Suspiria (1977), The Initiation of Sarah (1978) and The Moth Diaries (2011). In more recent years, the girls' boarding school ghost story was revived with Down a Dark Hall (2018).
I wanted to like Seance and had hopes that Simon Barrett, who gives all intention he is versed in genre material, would do amazing things. Only he doesn't. The film produces a few jumps and mildly unexpected moments but there is nothing here that raises the pulse above an even heartrate, nothing that we haven't seen in any of two or three dozen near-identical or interchangeable Hauntings and Ghost Story films that have come out throughout the 2000s/10s.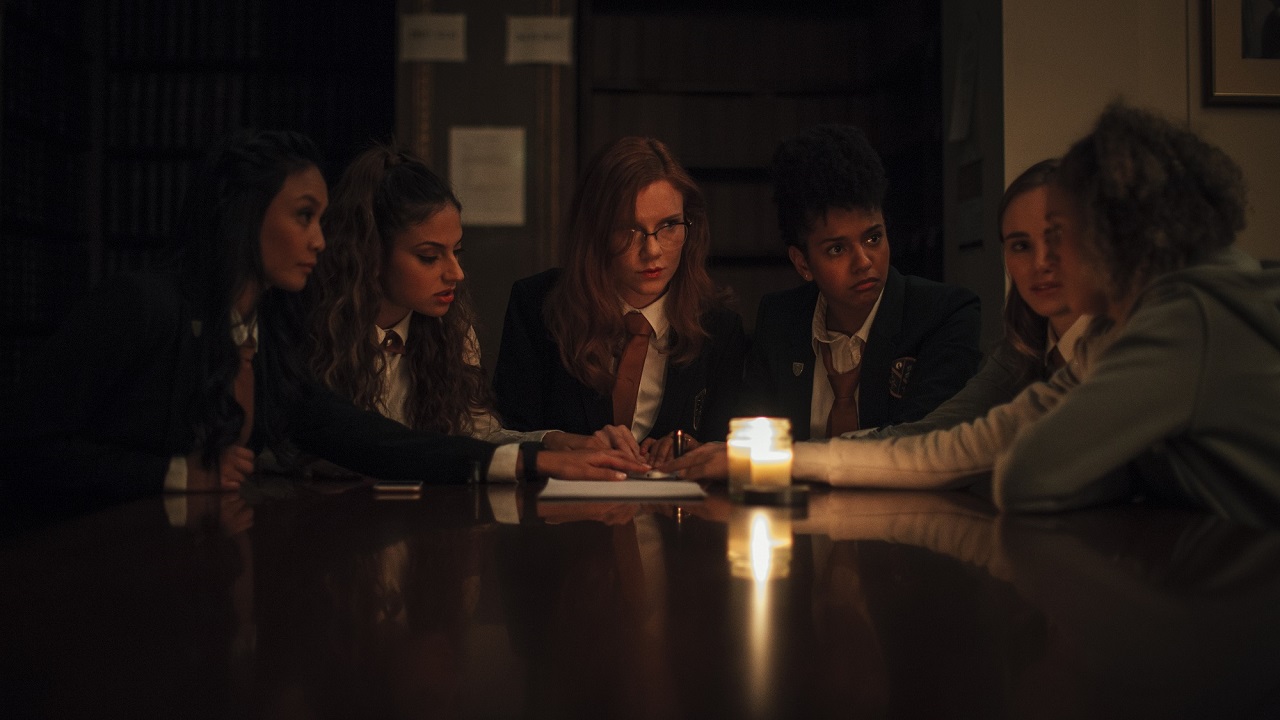 Things are further weakened by the choice to shoot the film with a lighting scheme that reduces everything to the level where most people would be stumbling around in the gloom tripping over furniture. Quite a substantial amount of the film is shot at these almost completely lightless levels such that I had difficulty actually seeing what was going on on screen at various points. Maybe it is that the film was intended to be shown on the big screen with the lights turned off but watching it at home, it seems impenetrably murky.
The film also arrives at a Rationalised Fantasy ending where the haunting and seance is revealed to be caused by two individuals because reasons. The film then goes out with a cliche twist that there appears to be a real haunting after all. Not to mention the ever-so-slightly improbable notion of 28 year-old Suki Waterhouse being passed off as a teenage schoolgirl.
I wanted there to be more to Seance but it is an incredibly tame film the entire way. There is not the slightest hint of impropriety and the usual gratuitous shower scenes we get in any of the other girls' school ghost stories. The scares are so tepid and safe there is nothing at all interesting about them and they only serve to make for a dull and eminently forgettable film.
Dark Castle's other films include House on Haunted Hill (1999), Thir13en Ghosts (2001), Ghost Ship (2002), Gothika (2003), House of Wax (2005), The Reaping (2007), Return to House on Haunted Hill (2007), The Hills Run Red (2009), Orphan (2009), Splice (2010), The Apparition (2012) and The Factory (2012).
---
Trailer here
---