---
Crew
Producers – Josh Goldbloom, Kurtis David Harder & Brad Miska, Music – The Lord, Visual Effects – Justin Martinez. Production Company – Cine Pocalypse Productions/Bloody Disgusting/Hangar 18 Media..
Holy Hell
Crew
Director/Screenplay – Jennifer Reeder, Photography – Andrew Apelle, Special Effects – Nexus Canada SPFX (Supervisor – James Sled), Production Design – Justin Rue.
Cast
Kimmy Choi (Petro), Nicolette Pearse (Nash), Thomas Mitchell (Sprayberry), Dru Viergever (Slater), Rodrigo Fernandez-Stoll (Spivey), Dax Ravina (Oursler), Kevin P. Grabel (Cameraman Gary), William Jordan (Tom Tucker)
Storm Drain
Crew
Director/Screenplay – Chloe Okuno, Photography – Jared Raab, Special Effects – J.M.S. Special Effects Ltd (Supervisor – Jeff Shochko), Makeup Effects – Karlee Morse, Creature Design – Magee FX Inc. (Creator – Patrick Magee), Production Design – Peter Mihaichuk.
Cast
Anna Hopkins (Holly Marciano), Christian Potenza (Camerman Jeff), Brian Paul (Pastor), Tim Campbell (TV Anchor Mark)
The Veggie Masher
Crew
Director – Steven Kostanski, Photography/Music – Pierce Derks.
Cast
Connor Sweeney (Himself)
The Empty Wake
Crew
Director/Screenplay – Simon Barrett, Photography – Andrew Apelle, Special Effects/Animatronics – Gaslight Studio Inc (Designer – Chris Bridges), Special Effects Supervisor – Michael Hamilton, Production Design – Zosia McKenzie.
Cast
Kyal Legend (Haley), Devin Chin-Cheong (Andrew Edwards), Daniel Matmor (Gustav), Andrew Kenneth Wilson (Ronald), David Reale (Tim)
The Subject
Crew
Director/Screenplay – Timo Tjahjanto, Producer – William Chandra, Photography – Patrick Tashadian, Visual Effects – Astronaut VFX (Supervisor – Deo Mareza), Special Effects Supervisor – Suhanto, Makeup Effects – Ernaka Puspita.
Cast
Budi Ross (Dr James Suhandra), Shahabi Sakri (Male Subject), Daniel Ekaputra (Male Subject Alpha), Donny Alamsyah (Captain Hassan), Bio One (Jono)
Terror
Crew
Director/Screenplay – Ryan Prows, Photography – Benjamin Kitchens, Special Effects – Nexus Canada SPFX (Supervisor – James Sled), Creature Design – Magee FX Inc. (Creator – Patrick Magee), Production Design – Joshua Turpin.
Cast
Christian Lloyd (Greg), Thomas Mitchell Barnett (Cameraman Bob), Cameron Knetelman (Chuck), Steven McCarthy (Jimmy), Brendan McMurthy-Howlett (Prisoner), Slavic Rogozine (Steve), Daniel Williston (Wayne), Dru Viergever (Slater)
---
Plot
Holy Hell:- An armed SWAT team break into a facility, discovering members of a cult who have gouged their eyes out. Storm Drain:- TV news reporter Holly Marciano and her cameraman enter the sewers in search of reports about a ratman – only to discover something in the depths. The Empty Wake:- Haley, an employee at the Jensen Funeral Home, is asked to stay overnight in the chapel while the wake for Andrew Edwards is observed and videotaped. As she settles in on her own, strange things start to happen. The Subject:- In Bangkok, Dr James Suhandra attempts to bring to life a male and a female that he has transformed into biomechanical creations. Just then, armed security forces burst into the laboratory to arrest Suhandra for his theft of corpses. Terror:- A militia group plan to conduct an attack on a government building in Detroit. Their secret weapon is something taken from a prisoner that explodes when it comes into contact with sunlight.
---
The V/H/S films were one of the more popular among the spate of multi-director Anthology Films that came out in the 2010s. These consisted of V/H/S (2012), V/H/S/2 (2013) and the standout of the bunch V/H/S Viral (2014) where all of the episodes were made in the Found Footage format. The films included offerings from Adam Wingard (who also executive produced the series); Eduardo Sanchez, co-director of The Blair Witch Project (1999); Gareth Evans, director of The Raid films; and other luminaries such as Nacho Vigalondo and Justin Benson/Aaron Moorehead. While all of the other films were made for theatrical and dvd release, V/H/S/94 was released to the Shudder streaming network.
The first segment (in terms of chronological appearance) is Holy Hell, which acts as wraparound for the rest of the show where the scenes of the SWAT team making their way through the warehouse complex are interspersed between the other episodes. This comes from Jennifer Reeder who had previously made Signature Move (2017) and Knives and Skin (2019), both non-genre films. The episode comes with the intriguing lead-in where the armed SWAT team raid a warehouse and find cultists with their eyes gouged out and videos playing on tvs. The frustration of the episode is that it never particularly explains anything or goes anywhere before an ending that fragments into incoherence – something to do with two of the SWAT team women deciding to make a snuff movie using the imprisoned leader of the group.
Storm Drain comes from Chloe Okuno who had previously only made several short films and subsequently went on to make the quite good full-length Watcher (2022). This is certainly a better episode that creates a certain dread as Anna Hopkins ventures into the sewers in search of the rumours of a ratman. The creature we do get looks ungainly but Okuno does a solid job of building up to its appearance. The episode does go out on a silly coda where Anna Hopkins returns to the tv studio and then vomits black ichor on her co-anchor on air before turning unfazed to complete the broadcast.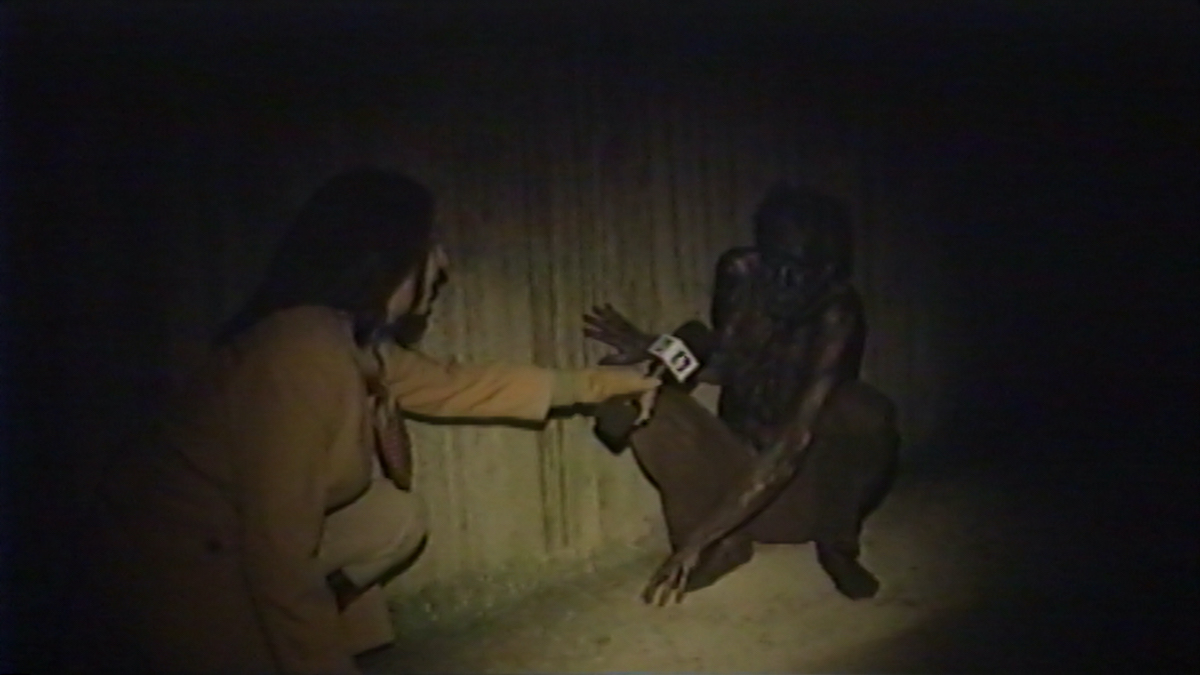 The storm drain scenes and the final news broadcast of the above episode are broken up with The Veggie Masher. This is a brief piece, too slight to considered a full episode and worth only in mentioning because it comes from Steven Kostanski who has made Manborg (2011), The Void (2016) and P.G. Psycho Goreman (2020). Kostanski has a love of 1980s/90s video era and this is a perfect mimicry of an infomercial of the era, centred around a product that crushes vegetables. That is really all there is to the episode.
The best of the episodes is Simon Barett's The Empty Wake. Barrett has reasonable reputation as a genre screenwriter, having written screenplays for Dead Birds (2004), Frankenfish (2004), Red Sands (2009) and Temple (2017) and acted as a regular screenwriter for Adam Wingard with A Horrible Way to Die (2010), Autoerotic (2011), What Fun We're Having (2011), You're Next (2011), The Guest (2014) and Blair Witch (2016). Barrett made his directorial debut with the Tape 49 segment of V/H/S/2 and his full-length debut with Seance (2021),
The plot of the individual required to spend the night with a corpse has a certain legacy in the horror genre ranging from the classic Nikolai Gogol's short story The Viy (1835), which has been filmed several times, most accurately as Viy (1967), to the recent standout classic of Keith Thomas's The Vigil (2019). As with these others, the episode is based around lots of inaction and nothing happening, a few occasional red herrings that are dismissed as being in the protagonist's imagination – before something does happen. In this case, Barrett produces a real doozy. The image of the dead man staggering up out of his coffin with half a head, guts tumbling out and his sliced-off face on the floor with the eyes still moving has an outlandishness that holds all the impact you want it to.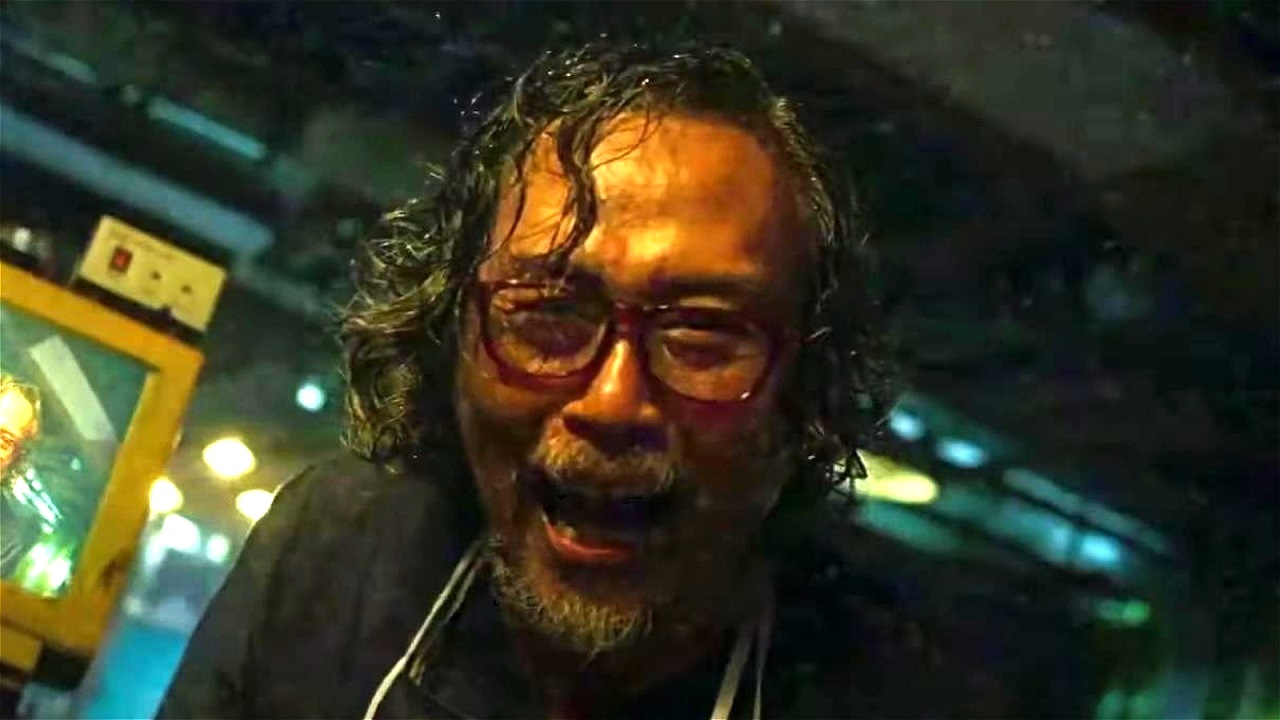 Timo Tjahjanto is the one other returning director on the series. The Indonesian born Tjahanto first appeared as one half of the directing team known as The Mo Brothers with the gore-drenched Macabre (2009). The Mo Brothers have also made Killers (2014) and the action film Headshot (2016). On his own, Tjahjanto has made May the Devil Take You (2018) and its sequel and the jaw-dropping action film The Night Comes for Us (2018), plus contributed episodes to two other horror anthologies – the completely wild L is for Libido segment of The ABCs of Death (2012) and the Safe Haven episode of V/H/S/2.
The Subject feels like a horror version of Hardcore Henry (2015). We have a standard Mad Scientist (Budi Ross) who is attempting to activate two Cyborgs – one male, one female – in a gungy laboratory. The Found Footage viewpoint is frequently from their camera eyes and we get some alarming glimpses like when Budi Ross's head is nearly severed when the male cyborg unexpectedly brings up its arm – a lethal-looking two-metre long blade. There is assorted action as the security forces burst in – where finally we get to see the cyborgs with the male rebuilt into a towering robot that proceeds to slaughter all of the armed forces. The Subject is effective, although sits as a minor entry in comparison to Tjahjanto's feature-length films or even his L is for Libido episode of The ABCs of Death.
The final episode Terror comes from Ryan Prows who had previously made the organ harvesting film Lowlife (2017). This is a solid piece about a militia group as they prepare for an attack on a federal building. The piece centres around the group preparing their secret weapon, which seems to involve killing the same person over and over, resulting in a powerful explosive. As two drunken members decide to fool around with the prisoner, we finally realise [PLOT SPOILERS] that the prisoner is a vampire. The whole episode is built up to this punchline.
Overall, V/H/S/94 disappoints and is the weakest of the V/H/S series so far. Most of the episodes are okay. The best of these is Simon Barrett's The Empty Wake, followed by Timo Tjahjanto's The Subject. None of the other episodes are particularly bad but mostly feel like filler pieces. Usually in one of the other V/H/S films a middle-of-the-road piece is balanced out by a standout episode elsewhere but there is a distinctive lack of truly memorable moments here.
---
Trailer here
---