---
Crew
Anthology Concept – Brad Miska, Producers – Roxanne Benjamin, Gary Binkow & Brad Miska. Production Company – 8383 Productions.
Tape 49
Crew:
Director/Screenplay – Simon Barrett, Producer – Chris Harding, Photography – Tarin Anderson, Visual Effects – ShootFX (Supervisor – Dimitri Loginowski), Special Effects – The Creature Company (Supervisor – Lino P. Staudle), Production Design – Thomas S. Hammock. Production Company – Shoot Entertainment.
Cast:
Lawrence Michael Levine (Larry), Kelsy Abbott (Ayesha), L.C. Holt (Kyle)
Phase I Clinical Trials
Crew:
Director – Adam Wingard, Screenplay – Simon Barrett, Producer – Chris Harding, Photography – Seamus Tierney, Music – Steve Moore, Visual Effects – ShootFX (Supervisor – Dimitri Loginowski), Special Effects – The Creature Company (Supervisor – Lino P. Staudle), Production Design – Thomas S. Hammock. Production Company – Shoot Entertainment.
Cast:
Adam Wingard (Herman Middleton), Hannah Hughes (Clarissa), John T. Woods (Dr Fleischer)
A Ride in the Park
Crew:
Directors – Gregg Hale & Eduardo Sanchez, Screenplay – Jamie Nash, Producers – Kyle D. Crosby & Jamie Nash, Photography – Stephen Scott, Visual Effects Supervisor – Josef Richardson, Makeup Effects – Aftermath FX Studio (Supervisor – Jason Koch). Production Company – Haxan Films.
Cast:
Jay Saunders (Mike Sullivan), Dave Coyne (Good Samaritan Guy), Wendy Donigan (Good Samaritan Girl), Bette Cassai (Screaming Girl)
Safe Haven
Crew:
Directors/Screenplay – Gareth Huw Evans & Timo Tjahjanto, Story – Timo Tjahjanto, Producer – Kimo Stamboel, Photography – Abdul Dermawan Habir, Music – Aria Prayogi & Fajar Yuskemal, Special Effects Supervisor – Andy Novianto.
Cast:
Fachry Albar (Adam), Hannah Al Rashid (Lena), Oka Antara (Malik), Andrew Lincoln Buleiman (Joni), Epy Kusnandar (Father)
Slumber Party Alien Abduction
Crew:
Director – Jason Eisener, Screenplay – John Davies & Jason Eisener, Producers – Robert Cotterill, Photography – Jeff Weaton, Visual Effects – Jon Eisener. Production Company – Yer Dead Productions
Cast:
Riley Eisener (Terry), Rylan Logan (Gary), Samantha Gracie (Jen), Cohen King (Randy), Zachary Ford (Shawn), Josh Ingraham (Danny), Jeremie Saunders (Zack)
---
Plot
Tape 49:- The private detective Larry and his assistant Ayesha break into a house in search of a missing teenager, filming everything with video cameras. Looking for what happened to the missing teen, they examine a cache of disturbing videotapes they find there. Phase I Clinical Trials:- Herman Middleton is given an implant to replace a damaged eye. To test the still experimental device, a camera has been built into the eye. However, as soon as he returns home, Herman starts to see a series of ghostly apparitions. A Ride in the Park:- Mike Sullivan goes for a bike ride in Golden Stone State Park with a video camera attached to his helmet. Along the trail, a bloodied woman stumbles out and falls in front of him. As Mike goes to her help, she turns and bites him. He collapses but then returns to life as a zombie, biting others. The zombies then spread throughout the park attacking the living en masse. Safe Haven:- In Indonesia, a video crew go to interview Father and make a documentary about the Paradise Gates cult he heads. As they begin the interview, he promises that an awaited time is near. Things suddenly erupt into bloody violence as people become zombies and one of the crew gives birth to a demonic figure. Slumber Party Alien Abduction:- A group of kids left at home for a slumber party supervised by the teenage sister are pranking around. As they do so, they see lights across the lake and are then abruptly attacked and abducted by aliens.
---
The horror anthology has undergone a revival in recent years with efforts such as Chillerama (2011), The Theatre Bizarre (2011), The ABCs of Death (2012) and sequel, the V/H/S series, The Profane Exhibit (2013), Tales of Halloween (2015), Grindsploitation (2016), Holidays (2016), XX (2017), The Field Guide to Evil (2018), Nightmare Cinema (2018) and Isolation (2021). In these, the standard horror anthology has become something where a group of directors with genre backgrounds are brought together and given small-budget funding to make a short on some overarching theme. It is starting to resemble a boy's club where are a number of familiar faces keep reappearing in these anthologies – with Adam Wingard, Ti West, Jason Eisener, Timo Tjahjanto, Yoshio Nishimura, Richard Stanley and Nacho Vigalondo all having delivered episodes in more than one of these, and Wingard in particular delivering episodes in no less than three different anthologies.
V/H/S (2012) was one of these multi-director anthologies that attempted to give a unique spin on things by requiring that all of the directors make their episodes in the Found Footage format (as though shot by video cameras in the middle of the action). V/H/S enjoyed a reasonable popularity both in video/cable release and limited theatrical screening. V/H/S/2 was a sequel featuring a different line-up of directors. This time the production team have even recruited Eduardo Sanchez, one of the co-directors of The Blair Witch Project (1999), the massive hit that created the Found Footage genre.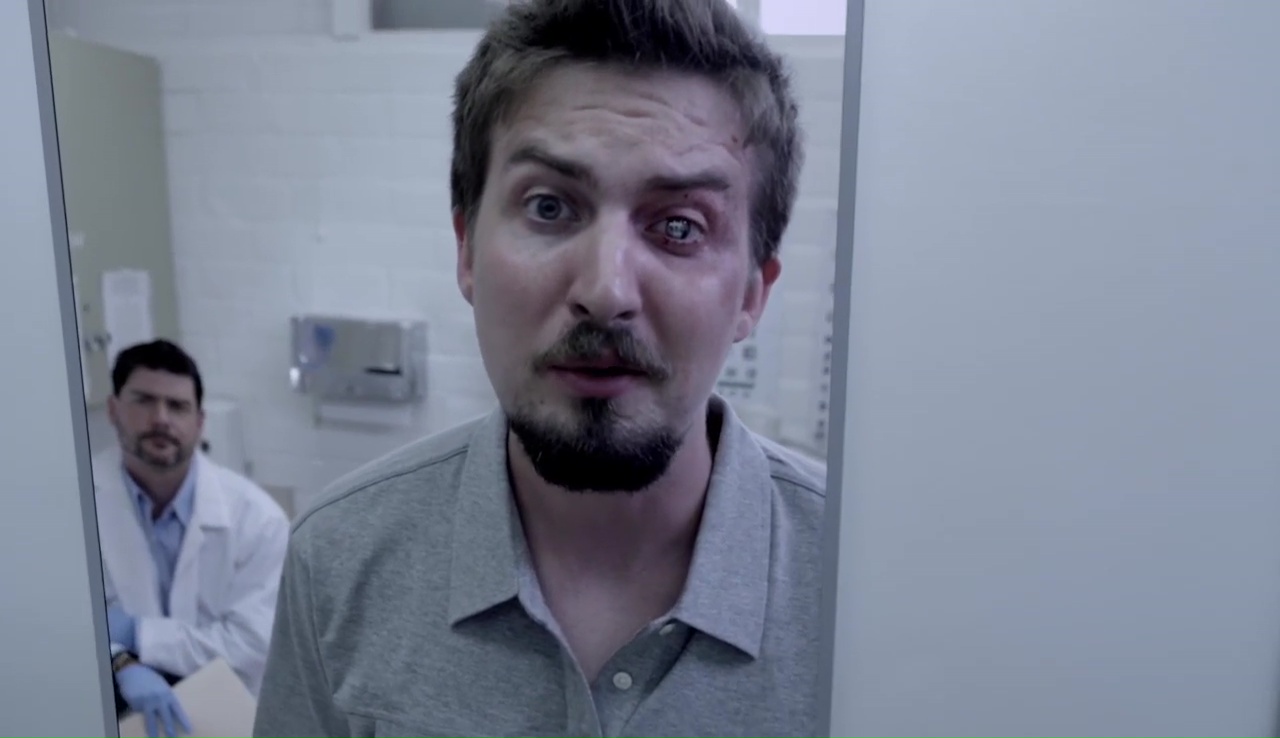 The opening and wraparound segment Tape 49 comes from Simon Barrett, a producer on V/H/S and writer/producer on most of Adam Wingard's other films, who also wrote the screenplays for Dead Birds (2004), Frankenfish (2004), Red Sands (2009) and Temple (2017). Returning to the theme of people breaking into a house and viewing the tapes they find there, this feels a more substantial wraparound than the one in V/H/S did. This time the episode bothers to wind the show up with a proper resolution that arrives at some shock effect in contrast to the first film where you came to the end and the wraparound just petered out. From this, you start to expect promising things from V/H/S/2.
Adam Wingard, otherwise the director of feature-length films such as Pop Skull (2007), A Horrible Way to Die (2010), You're Next (2011), The Guest (2014), Blair Witch (2016) and Godzilla vs. Kong (2021), directs the first segment Phase I Clinical Trials. This plays out as a variation on the Pang Brothers' The Eye (2002) and its dull English-language remake The Eye (2008) in which a woman received a corneal transplant and started seeing ghosts. Wingard (who also plays the central character) offers up a Found Footage spin on this where there is also a video camera placed into the eye. However, the appearances of the ghosts are routinely handled, there is a nominal rationale offered (and an entirely gratuitous sex scene), before the whole episode can be almost instantly forgotten.
A Ride in the Park comes from Eduardo Sanchez, co-director of The Blair Witch Project and solo director of Altered (2006), Seventh Moon (2008), ParaAbnormal (2009), Lovely Molly (2011) and Exists (2014). His co-director here is Gregg Hale, a producer on all of Sanchez's other films who made his own directorial debut with Say Yes Quickly (2004). A Ride in the Park is a Found Footage variant on a zombie film, although this was something that was previously done with Diary of the Dead (2007) and [Rec] (2007) and sequels.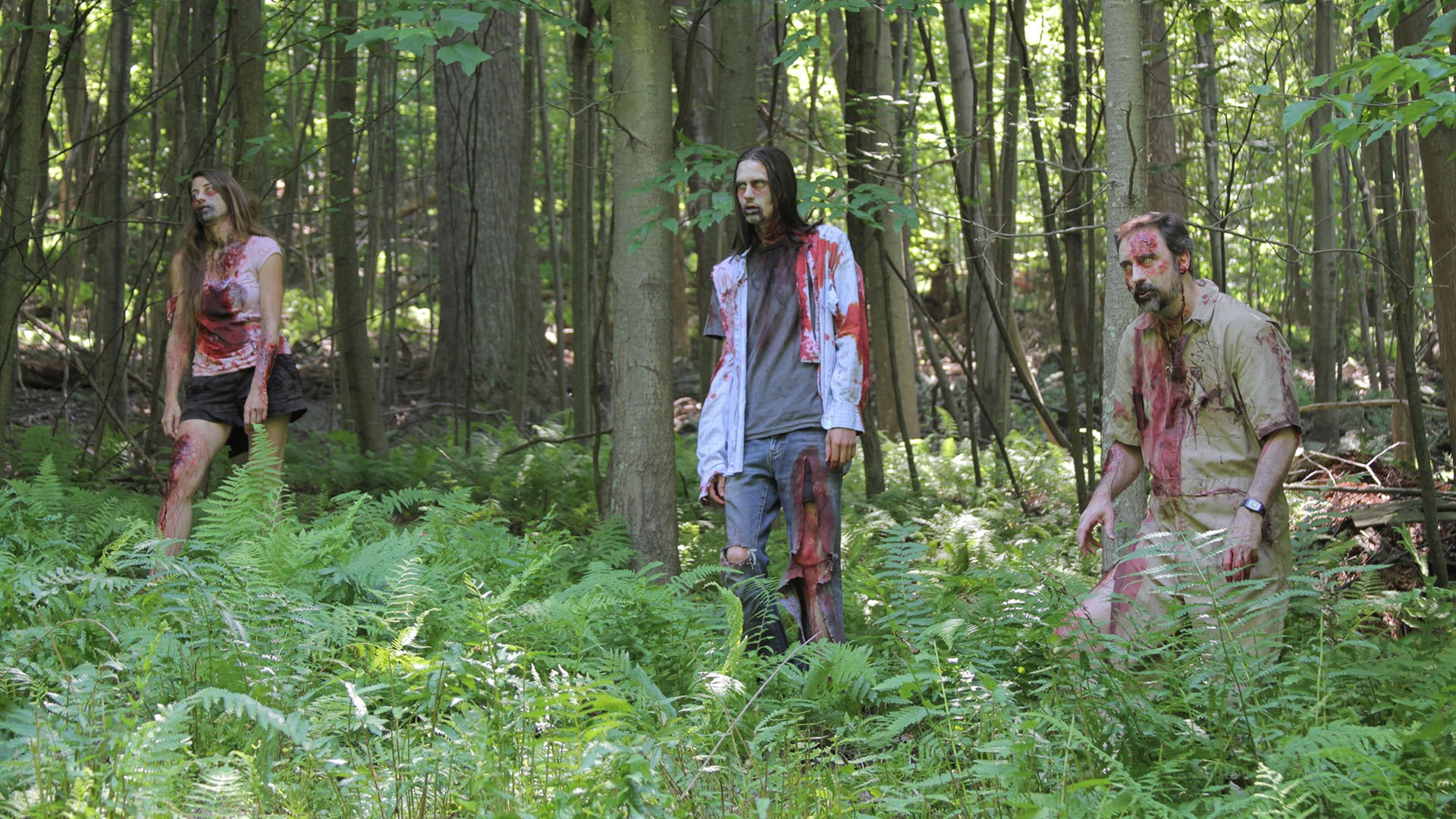 This segment's novelty is to have the zombie be the one with the camera – a cyclist with a camera mounted on their helmet who gets bitten. This allows the segment to present a number of familiar aspects of the zombie film – zombies tearing open stomachs and munching on intestines, being blasted away with shotguns, even scenes where they are stabbed in the head by a barbeque fork and run over by a vehicle – in terms of the novelty of seeing them from the perspective of a first-person camera. Other than that, A Ride in the Park rarely rises out of the routine and feels like another amateur film, of which there have been too many plumbing the vein of the zombie genre.
Safe Haven comes from Timo Tjahjanto, the Indonesian director who co-directed the gore-drenched Macabre (2009) and subsequently the psycho film Killers (2014) and non-genre action film Headshot (2016) with Kimo Stamboel under the handle of The Mo Brothers, before solo directing the full-length horror film May the Devil Take You (2018) and the action films The Night Comes for Us (2018) and The Big Four (2022). Here Tjahjanto co-directs with Gareth Huw Evans, a Welsh filmmaker known for the Found Footage film Footsteps (2006) and who previously travelled to Indonesia to make the international action hit The Raid: Redemption (2011) and its subsequent sequel The Raid 2: Berandal (2014). Evans later solo directed the horror film Apostle (2018), also set around the activities of a cult. (This makes for the first entry in the V/H/S series that is not only made by non-Americans but also shot outside the US).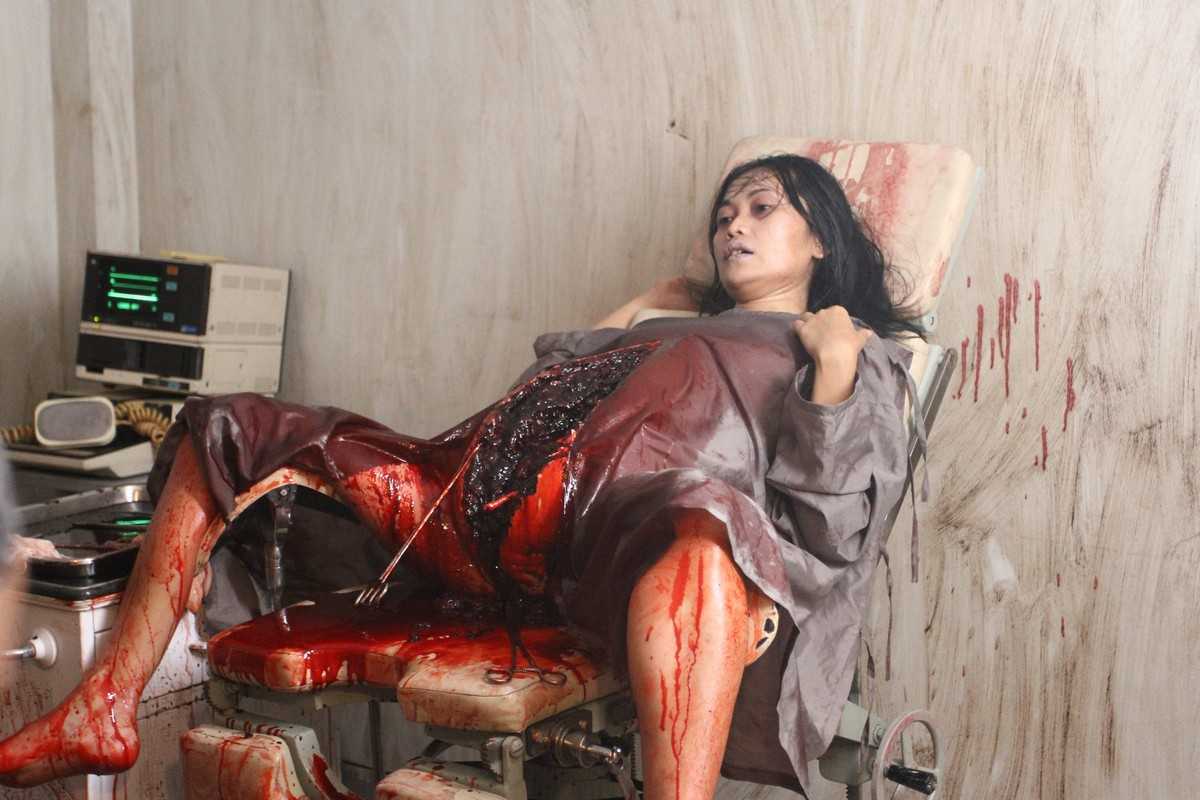 Safe Haven seems at face value to be about a venture into a cult and a variant on the theme of films like Believers (2007), End of the Line (2007), The Reaping (2007) and The Invitation (2015) where nutty beliefs held by cult members appear to be coming true. A few minutes in however, Safe Haven takes a turn for the apocalyptically blood-drenched. Things explode out as the cult leader (Epy Kusnandar) abruptly leaps across his desk and stabs one of the camera crew in the neck. The others run out into the hallways of the compound pursued by cult members who then become zombified, while the female film crew member (Hannah Al Rashid) gives birth to a demon figure that pursues the remaining survivor. No rationale in the slightest is offered for the proceedings but Safe Haven creates an admirably full tilt bloodbath during its running time and is the only episode to raise the energy in an otherwise lacklustre anthology.
The final episode Slumber Party Alien Abduction comes from Canadian director Jason Eisener, who gained his fame with one of the fake trailers contributed to Grindhouse (2007) that he then expanded out as the full-length international cult hit Hobo With a Shotgun (2011). Slumber Party Alien Abduction starts well with the pranking among the kids and babysitting sister and her boyfriend, which Eisener shoots with a fair verisimilitude. With the entry of the Grey aliens, things alas slip into the routine. The rest of the episode simply becomes one with aliens pursuing and snatching people. Eisener gets a couple of jumps in but the Spielbergian backlit mist effect that accompanies the aliens every time they appear soon starts to feel overdone.
This was followed by V/H/S Viral (2014), which was the best of the series, V/H/S/94 (2021) and V/H/S/99 (2022).
---
---