---
USA. 2013.
Crew
Director/Producer/Photography – Jason Hull, Screenplay – Darin Foltz, Jason Hull & A.J. Leslie, Music – Aaron Forsyth, Makeup Effects – Jamie Foster & Paul Gorman, Krampus Design – Dustin Austen & Krista Austen. Production Company – Snowdog Studios/Dismal Productions.
Cast
A.J. Leslie (Jeremy Duffin), Brad Weaver (Krampus), Erica Soto (Rebecca Duffin), Rich Goteri (Capt Gil Farabee), Bill Oberst, Jr (Brian Hatt), Mike Mili (Bartender Harry), Paul Ferm (Santa Claus), Samantha Hoepfl (Heather Duffin), Darin Foltz (Dave), Jay Dobyns (Norris), Jeremy Sidun (Walker), Jared Sidun (Young Jeremy), Annette Lawless (Jeremy's Mother)
---
Plot
Jeremy Duffin is a detective on the police force in Edinboro, Pennsylvania. Assigned to investigate a series of child disappearances, this brings back memories for Jeremy from thirty years ago when he was snatched by Krampus on Christmas Eve for being a naughty child but managed to escape. He sets out to hunt the Krampus creature down but this ends with several of his men being killed. As Jeremy defies department orders to go back out hunting Krampus, Brian Hatt, a child killer that Jeremy put away, has been released and comes seeking revenge.
---
According to Germanic tradition, Krampus is the evil brother of Santa who comes to punish naughty children, leaving coal in their stockings or even dragging them away for punishment. Krampus was a fairly obscure piece of folklore but was suddenly discovered by American filmmakers in the 2010s who promptly saw much potential in adapting Krampus for the Christmas horror film and made a swag of films featuring Krampus. Krampus: The Christmas Devil was the first of these and was followed by the high-profile Krampus (2015), Krampus: The Reckoning (2015), Krampus Unleashed (2016), Lady Krampus (2016), Mother Krampus (2017), Bigfoot vs Krampus (2021), Sister Krampus (2021), Return of Krampus (2022) and one of the stories in the anthology A Christmas Horror Story (2015). (For a full list see Christmas Films).
It is painfully obvious almost immediately into Krampus: The Christmas Devil that it is a film made on a shoestring by industry novices. The videography is amateurish, often shot using natural lighting. At one point, Jason Hull tries to direct a barroom fight scenes and the results are woefully unconvincing. The film also arrives at an abrupt and downbeat resolution that feels like it leaves the plot unresolved.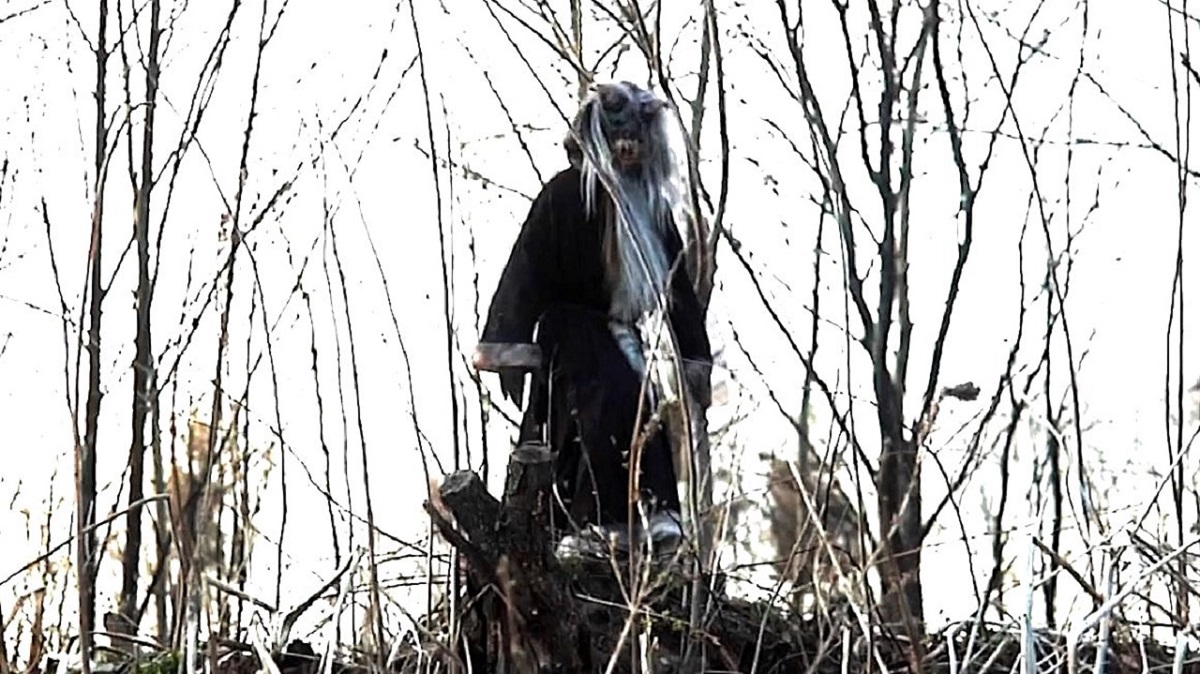 Despite being the film's headline act, The Krampus of the film never gets to do much. He drags one or two children away and is even seen in his cave (apparently located in rural Pennsylvania) with children in cages and a naked woman chained up. Far better is the less-than-family-friendly version of Santa who greets Krampus "What the fuck, brother?" and calls a kid "You snivelling little shit."
The film does manage to reign in genre regular Bill Oberst, Jr for a single scene appearance where at least he gives a rather deranged performance that lights the film up as he promises to do things to A.J. Leslie's family. The rest of the cast give the impression they are the director's friends he has persuaded to take roles – certainly, A.J. Leslie makes a reasonable lead and you could expect him to on to doing other things.
Jason Hull, A.J. Leslie and several others returned for a sequel Krampus: The Devil Returns (2016).
Director Jason Hull, along with many of the actors here, had previously made the horror films Chasing Darkness (2007) and The Four (2012).
---
Trailer here
---