---
Crew
Director – Malcolm D. Lee, Screenplay – Pat Proft & David Zucker, Producers – Phil Dornfeld & David Zucker, Photography – Steven Douglas Smith, Music – James L. Venable, Visual Effects Supervisor – Andrew Karr, Production Design – Clark Hunter. Production Company – DZE/Brad Grey Pictures.
Cast
Ashley Tisdale (Jody Sanders), Simon Rex (Dan Sanders), Erica Ash (Kendra Brooks), Lidia Porto (Maria), Grace Whitton (Kathy), Ava Kolker (Lily), J.P. Manoux (Pierre), Terry Crews (Martin), Charlie Sheen (Himself), Lindsay Lohan (Herself), Snoop Dogg (Himself), Molly Shannon (Heather Darcy), Ben Cornish (Dom Kolb), Darrell Hammond (Dr Hall), Katt Williams (Blaine Fulda), Jerry O'Connell (Christian Grey), Bow Wow (Eric), Tyler Posey (Peter), Sarah Hyland (Mia)
---
Plot
Ape behaviourist Dan Sanders receives news that his two nieces Kathy and Lily have been found living in a feral state in a cabin in the woods. They are brought home to stay with Dan and his rocker wife Jody. The two girls insist they have a ghostly companion called Mama. When strange things begin happening around the house, Dan installs a series of security cameras. Jody decides to go back to studying ballet where she obtains the lead in 'Swan Lake', although there is intense rivalry with her understudy Kendra Brooks. Meanwhile, Dan has been engaged in a series of experiments to raise the intelligence of apes. The apes then break out of the laboratory and one of them, Caesar, takes refuge at Dan's home. Jody and Kendra decide the only way to stop Mama is to obtain the book of incantations from the cabin in the woods.
---
Scary MoVie was the fifth film in the Scary Movie franchise. It follows on from Scary Movie (2000), Scary Movie 2 (2001), Scary Movie 3 (2003) and Scary Movie 4 (2006). By any other name, this should be Scary Movie 5 but the credits print the title as Scary MoVie where the Roman numeral 'V' replaces the letter 'v' (something that is less apparent when rendered in plain text here).
The first two entries in the series were started by the Wayans Brothers amid much crude farce and lowbrow, frequently un-PC humour. The next two were helmed by David Zucker, one of the originators of the movie parody on film as a director or co-director on Airplane (1980), Top Secret (1984) and The Naked Gun: From the Files of Police Squad (1988). Zucker steps back to a producing/writing position here and turns Scary MoVie over to Malcolm D. Lee, Spike Lee's cousin who had previously made the amusing Blaxploitation spoof Undercover Brother (2002) and a handful of other films Soul Men (2008), The Best Man Holiday (2013), Barbershop: The Next Cut (2016) and Girls Trip (2017), before having a reasonable hit with Space Jam: A New Legacy (2021).
You kind of hoped given the seven year gap between Scary Movie 4 and Scary MoVie might have meant that the witless and unfunny series had run out of steam and/or audience interest. Alas, someone figured that there was still money to be made by dragging it out once again. Scary MoVie proves to be fairly much business as usual for the Scary Movie franchise. The major difference is that Anna Faris, Regina Hall and the other regulars have departed (although you can see that the roles here have clearly been written for them to fill). The only returnees are Simon Rex, who played a different role in the previous two films, and Charlie Sheen.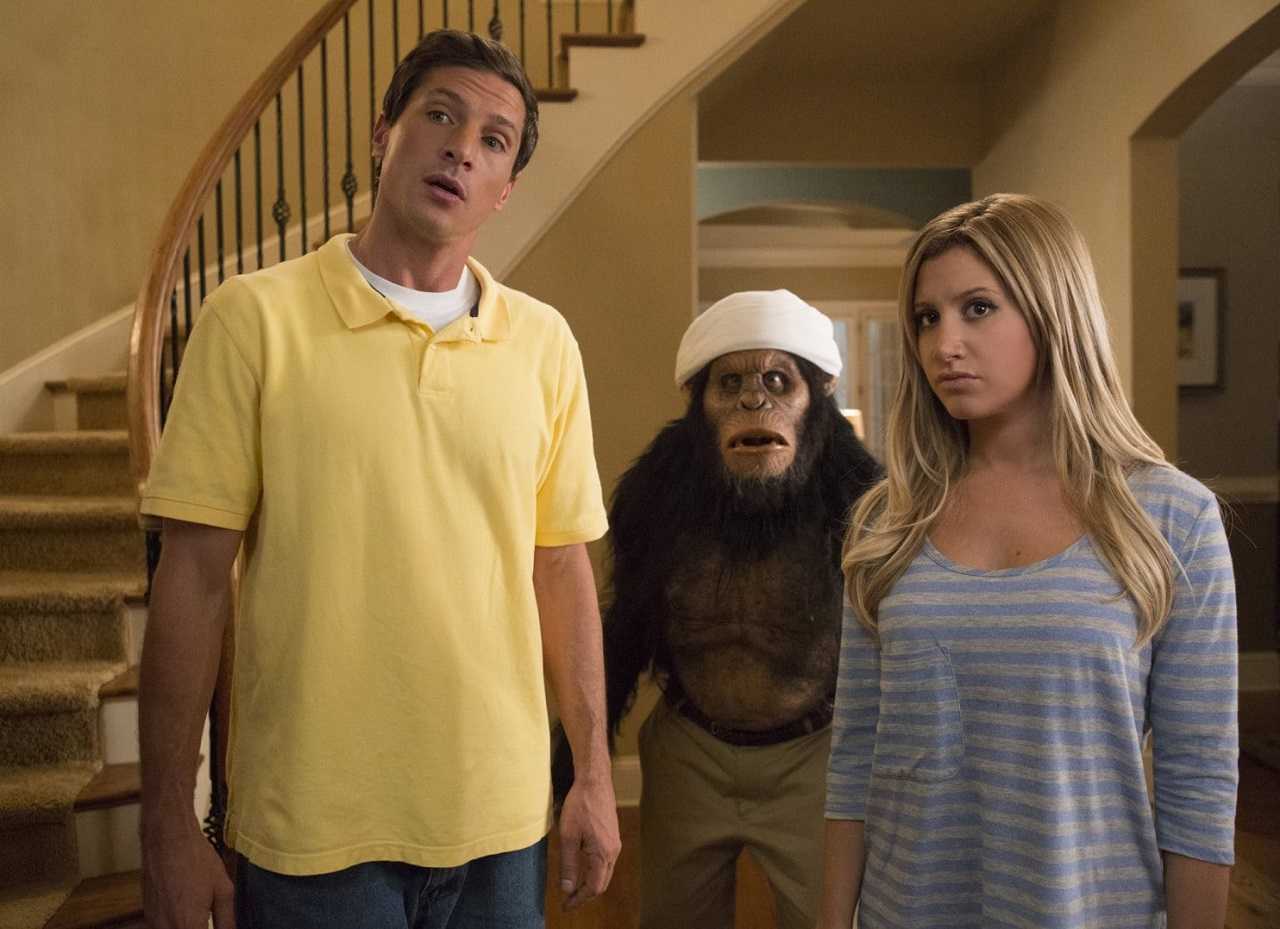 As with the other films, the essential formula has been to take a bunch of scary movies that have come out in the last couple of years and run them over with a series of gags. Thus we get spoofs of Paranormal Activity (2007) and several of the sequels – various security cameras placed up around the house; Black Swan (2010) – Ashley Tisdale gets the lead in a ballet and has a heated rivalry with her understudy Erica Ash; Inception (2010) during a venture into shared dreams; Rise of the Planet of the Apes (2011) – Simon Rex is experimenting to raise ape intelligence and takes Caesar into his own home; Mama (2013) – the two feral children with a spectral companion who are adopted by their uncle and his rocker wife. There are other odd individual scenes that copy films such as Insidious (2010), The Cabin in the Woods (2012) and Sinister (2012).
You can even commend Scary MoVie in that it manages to get in a parody of Evil Dead (2013), despite being released only a week after the remake was. Although, as a fellow critic pointedly noted, most of this – scenes like the knife on the tongue scene could have been gleaned from the trailer, while the repeated citing of the "Klaatu Barada Nikto" line in fact comes from the original's sequel Army of Darkness (1992) not the remake.
As was the case with the previous films, the parodies stretch beyond what could be remotely considered scary movies – Inception and Rise of the Planet of Apes are stretching it, but parodies of The Help (2011) and the publishing mega-success of Fifty Shades of Grey (2011) certainly go well beyond even the remotest suggestion of a scary movie.
Scary MoVie is neither anything better, nor anything worse than any of the preceding entries in the franchise; it simply is exactly what we expect of it. It is mainly due to the influence of original Scary Movie co-writers Jason Friedberg and Aaron Seltzer – subsequently directors of Date Movie (2006), Epic Movie (2007), Meet the Spartans (2008), Disaster Movie (2008) and Vampires Suck (2010) – on the movie parody genre that one has given up expecting that these parody films actually connect a gag or something funny up to their quoting of a film as used to be the case back in the heyday of Mel Brooks or David Zucker's aforementioned earlier parody films.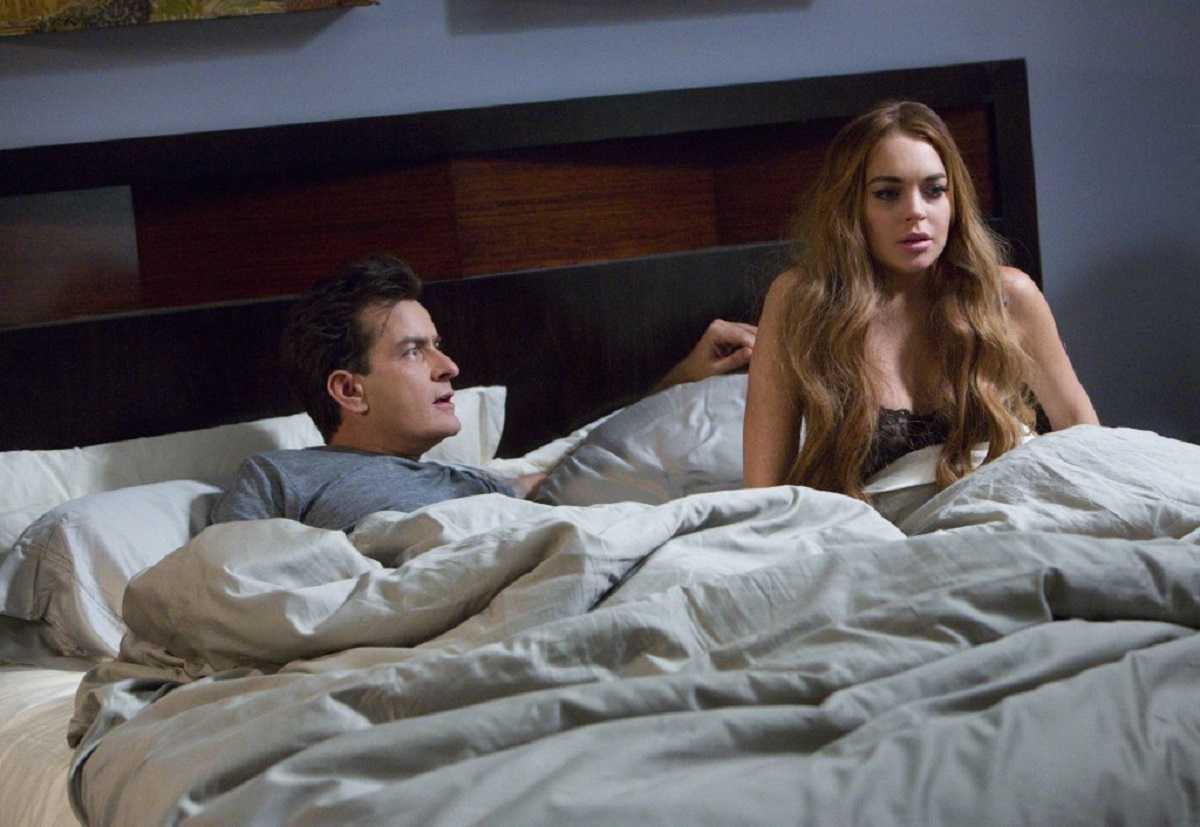 Mostly what we get here is the replication of a scene from another film and the expectation that the audience regard the filmmakers as clever for quoting a film that they have seen and showing it replayed with people doing something moronic. The opening scene with Lindsay Lohan (who gives the impression that she is desperate enough to be employed anywhere) spoofing her own recent high-profile brushes with the law during a bedroom encounter with Charlie Sheen gets a mild smile but the rest of the film heads downhill.
As the end credits, which consist of some ten minutes of outtakes demonstrate, the film appears to have been made in a scattershot manner where entire scenes involving other cast members were shot but discarded. Heather Locklear is present but barely gets a couple of lines of dialogue in the finished film, while even the trailer (see below) has a number of scenes that do not feature in the finished film. If what we end up with here was the best the film had, what that says about how lame the rest of the film is rather sad.
Malcolm D. Lee's sense of humour is certainly a good deal tamer and less raucously scatological than the Wayans Brothers in the first two films. Aside from a few almost customary jokes about breasts, erections and monkeys throwing poop, there is the feeling that Scary MoVie has almost been cleaned up for general audiences. What Lee does throw in is some surprisingly bad racial jokes – which is especially dubious given that his cousin Spike has been so strident critical about the racial caricature of African-Americans by Hollywood. We even get a lookalike of Tyler Perry's Madea (one of the directors/performers that Spike has accused of pandering to stereotypes of African-Americans). In particular, there seem a great many of these gags aimed at Lidia Porto's Latino maid and others in the direction of Charlie Sheen's Mexican gardener.
---
---