---
Fantastic Cinema often features real people that existed (or are still living) incorporated into a story. What we are concerned with here are their appearances in works of fiction. For films that dramatise the stories of real people see Biopics and True Stories. In the case of notorious killers see True Crime Films.
This theme concerns real world figures and the way in which they are wound into fictional stories in the fantastic genre. These can range from:-
---
Real Figures Used to People a Fantastical Story in an Historical Setting
– Cameos from real-life US Presidents like Ulysses S. Grant in From the Earth to the Moon (1958) and a digitised Bill Clinton into Contact (1997). Considerable controversy was created by the mockumentary Death of a President (2006), which depicted the assassination of then-sitting President George W. Bush
– Cameos from monarchs such as Queen Elizabeth I in Jubilee (1978) and Orlando (1992), Queen Elizabeth II in The BFG (1989) and The BFG (2016) and Queen Victoria in Dolittle (2019), as well as To Play the King (1992) and King Charles III (2017) that depict Prince Charles as king of England
– Murder By Decree (1979), which blends the fictional character of Sherlock Holmes with various real-life people involved in the Jack the Ripper case and British government of the day
– Indiana Jones's accidental meeting with Adolf Hitler in Indiana Jones and the Last Crusade (1989), while the tv series The Young Indiana Jones Chronicles (1992-3) had the young Indiana meeting a different historic person each episode
– A comic cameo from Leonardo da Vinci in Hudson Hawk (1991)
– Inquisition head Tomas Torquemada as the anti-hero of The Pit and the Pendulum (1991), plus an appearance from Torquemada in Assassin's Creed (2016)
– The Disney animated films Pocahontas (1995) and Mulan (1998), which are based on real historical figures but people the stories with talking animals and dragons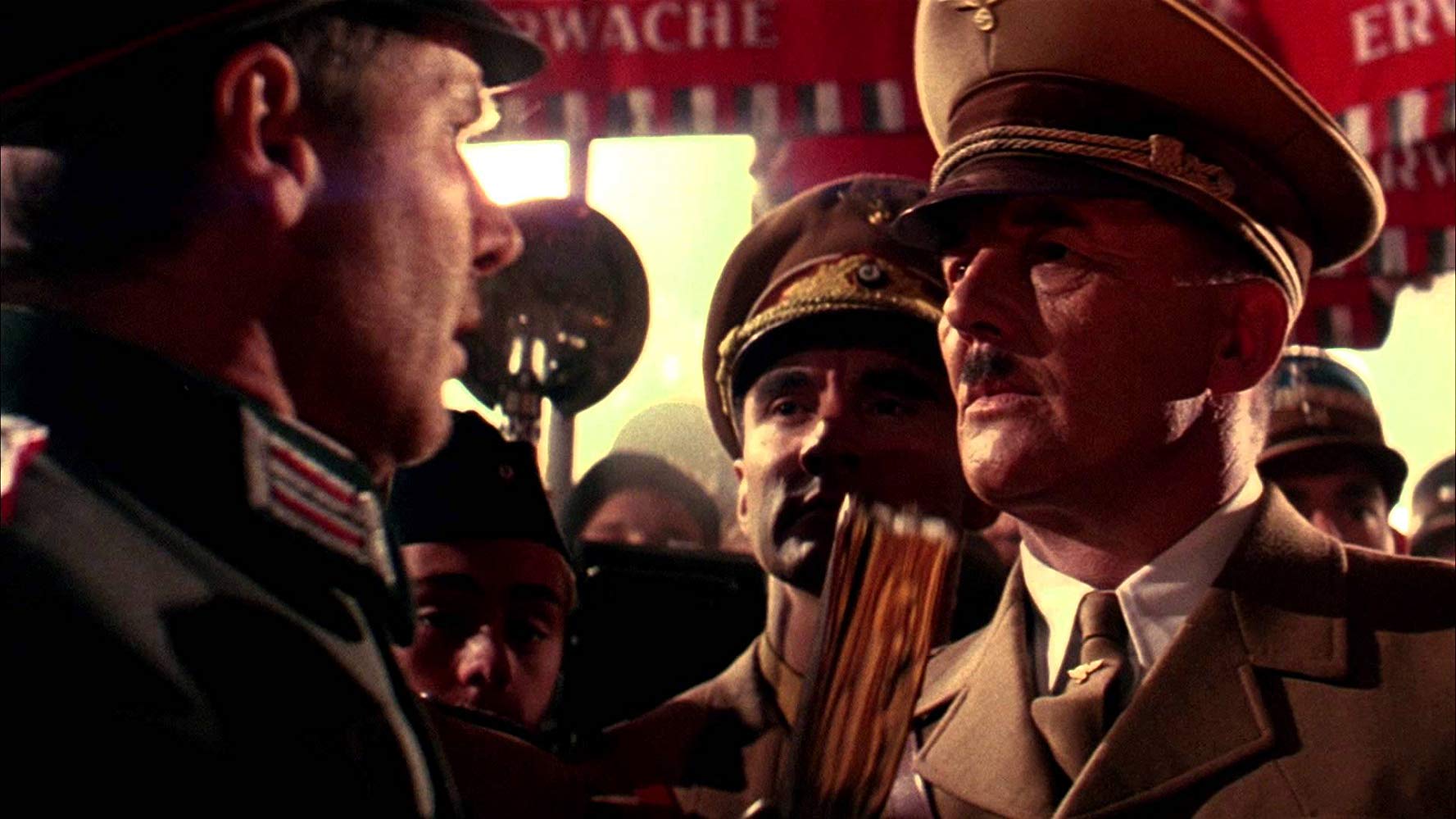 – EverAfter (1998), a deconstruction of Cinderella featuring appearances from Leonardo Da Vinci and the Brothers Grimm
– Angels in America (2003) – an extraordinary fantasia based around the early days of the AIDS Crisis in America featuring real-life conservative politician and AIDS infectee Roy Cohn haunted by the ghost of executed spy Ethel Rosenberg
– Appearances from Queen Victoria and the Wright Brothers in Around the World in 80 Days (2004)
– The appearance of Nikola Tesla in The Prestige (2006)
– Hugo (2011), a fictional story involving filmmaker Georges Melies, as well as Melies's appearance in the animated Jack and the Cuckoo-Clock Heart (2013)
– The pirate Blackbeard in Pirates of the Caribbean: On Stranger Tides (2011)
– The Conjuring (2013) and sequels, a series of fictional films based on the exploits of real-life ghosthunters Ed and Lorraine Warren
– The Limehouse Golem (2016), a fictional Victorian murder mystery with appearances from Karl Marx and other historical figures of the era
– Dilili in Paris (2018), an animated journey through the Belle Epoque and featuring encounters with numerous of the artists, performers and scientists of the day including Marie Curie, Louis Pasteur, Picasso, Renoir, Henri Toulouse-Lautrec, Rodin, Sarah Bernhardt, Gustav Eiffel and others
– Peter the Great as a prisoner in the Tower of London in Iron Mask/Viy 2: Journey to China (2019)
– The Death Valley episodes of American Horror Story: Double Feature (2021) featuring Dwight Eisenhower and wife, Richard Nixon, John F. Kennedy, Marilyn Monroe, Stanley Kubrick and Steve Jobs in a story about UFOs and alien invasion
– Jungle Cruise (2021) featuring appearances from the Conquistador Lope de Aguirre and the German Prince Joachim Humbert
---
Historical Figures Encountered During Time Travel Stories
– Assorted figures met on tv's Doctor Who (1963-89, 2005- ) including Winston Churchill, Charles Dickens, Elizabeth I, Nero, Rosa Parks, Marco Polo, Richard the Lionheart, William Shakespeare, Vincent Van Gogh and H.G. Wells
– Various figures encountered in the tv series The Time Tunnel (1966-7) including Marie Antoinette, Billy the Kid, Hernan Cortes, General Custer, Alfred Dreyfus, Robin Hood, the Biblical Joshua, Rudyard Kipling and Nero
– Time Bandits (1981) featuring temporal encounters with Napoleon, Robin Hood and Agamemnon
– Various figures encountered in the tv series Voyagers! (1982-3) including Alexander Graham Bell, Buffalo Bill, Cleopatra, Arthur Conan Doyle, Thomas Edison, Lawrence of Arabia, Abraham Lincoln, Robin Hood, Teddy Roosevelt, Spartacus, Werner von Braun and George Washington
– Bill and Ted's Excellent Adventure (1989) where the title characters recruit Napoleon, Billy the Kid, Sigmund Freud, Socrates, Abraham Lincoln, Genghis Khan, Beethoven and Joan of Arc to help with their school history project and the sequel Bill & Ted Face the Music (2020) that recruits Jimi Hendrix, Louis Armstrong, Mozart and Ling Lun to form a band
– The tv series Quantum Leap (1989-93) with Sam Beckett (Scott Bakula) leaping into the bodies of assorted historical figures such as Lee Harvey Oswald, Ruth Westheimer and Elvis Presley
– Assorted characters encountered in children's films like Willy McBean and His Magic Machine (1965) and Mr. Peabody & Sherman (2014)
– Owen Wilson's encounters with various famous writers and artists of 1920s Paris in Midnight in Paris (2011), including Picasso, Salvador Dali, F. Scott Fitzgerald, Luis Buñuel, Cole Porter, T.S. Eliot and Josephine Baker among others
– James Franco's time traveller befriending Lee Harvey Oswald in 11.22.63 (2016)
---
Historical Figures in Alternate History Scenarios
– Fatherland (1994), a Hitler Wins scenario featuring a climactic meeting between Adolf Hitler and President Joseph Kennedy
– Watchmen (2009), an alternate history of the 20th Century with appearances in the background from historical figures like Richard Nixon, Andy Warhol, Fidel Castro and Lee Iacocca
– Winston Churchill rallying the troops against a Nazi invasion of England in Jackboots on Whitehall (2010)
– War of the Worlds: Goliath (2012) featuring Teddy Roosevelt, The Red Baron and Nikola Tesla in the aftermath of H.G. Wells' Martian invasion
– King George III and Lord Wellington alongside magicians in Jonathan Strange & Mr Norrell (2015)
– The Plot Against America (2020) where Charles Lindbergh becomes president featuring appearances from Henry Ford, Baron von Ribbentrop and Walter Winchell
– Superman: Red Son (2020) where the comic-book characters of Superman and Lex Luthor mix with Josef Stalin and John F. Kennedy
---
Actor and Celebrity Appearances and Cameos
This includes:-
– The Beatles on a nonsensical adventure in Help! (1965) and as animated figures in Yellow Submarine (1968)
– Wolfman Jack encountering Cylons in Conquest of the Earth (1981)
– Wings of Desire (1987) that reveals that actor Peter Falk is a former angel
– Arnold Schwarzenegger encountering his screen counterpart in Last Action Hero (1993)
– Wes Craven's New Nightmare (1994) following director Wes Craven and the actors of the A Nightmare on Elm Street series as the fictional entity of Freddy Krueger invades their lives
– NBA superstar Michael Jordan on the basketball court with the Looney Tunes in Space Jam (1996) and LeBron James in the sequel Space Jam: A New Legacy (2021)
– William Shatner as himself in both Free Enterprise (1998) and Fanboys (2008)
– James Cameron and Martin Scorsese come to consult The Muse (1999) for inspiration
– The portal that allows entry into actor John Malkovich's head in Being John Malkovich (1999)
– Incident at Loch Ness (2004), a mockumentary where director Werner Herzog sets out to make a film about the Loch Ness monster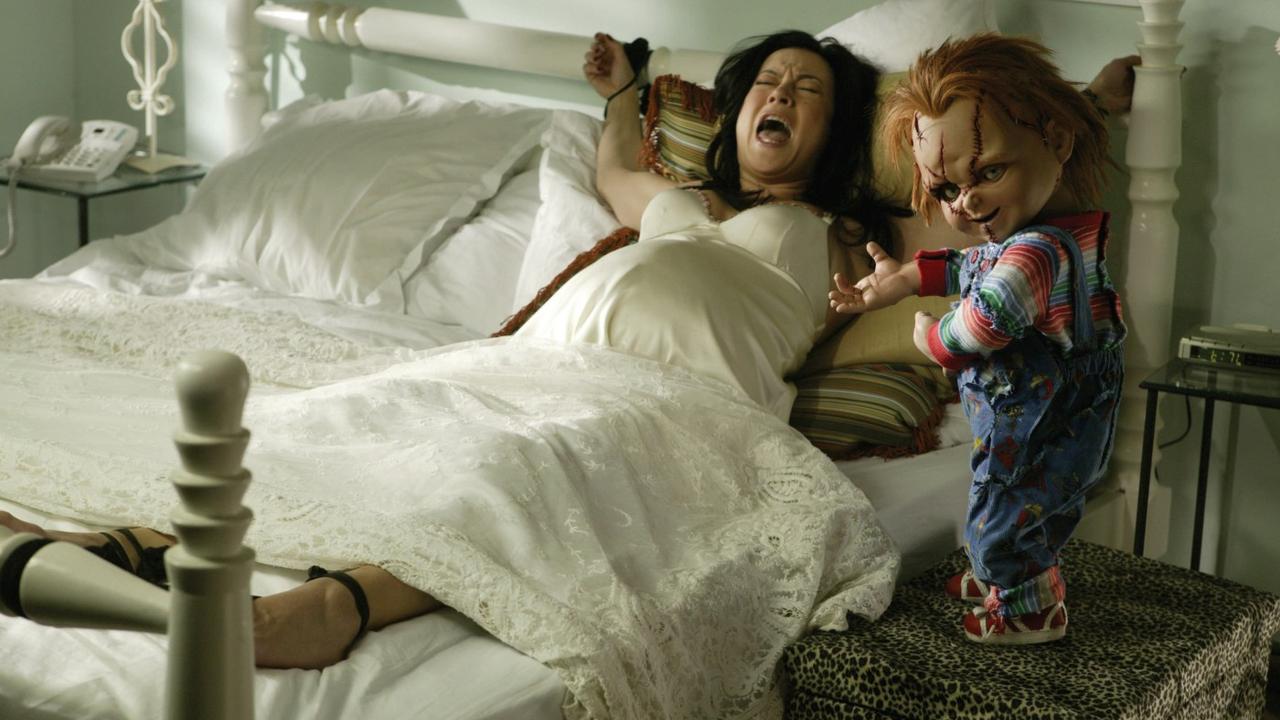 – Seed of Chucky (2004) in which the dolls set out to take over the body of actress Jennifer Tilly
– The League of Gentleman's Apocalypse (2005) in which characters in a cancelled tv series set out to meet their real-life creators
– Actor Paul Giamatti having his soul removed in Cold Souls (2009)
– Bill Murray's cameo as himself in Zombieland (2009) and Zombieland: Double Tap (2019)
– The Human Centipede II (Full Sequence) (2011) where the actress from the first film is abducted to become part of a centipede and The Human Centipede 3 (Final Sequence) (2015) where the series' director Tom Six is brought in to advise on creating a human centipede
– Buzz Aldrin's cameo in Transformers: Dark of the Moon (2011)
– Actress Robin Wright having a virtual version of herself constructed in The Congress (2013)
– This is The End (2013) in which various actors including Seth Rogen, James Franco, Jonah Hill, Craig Robinson, Emma Watson and others experience the Biblical Apocalypse
– Assorted WWE wrestlers encountering zombies in Pro Wrestlers vs Zombies (2014) and assorted real-life marines against zombies in Range 15 (2016)
– Director's Cut (2016), a mind-boggligly meta film in which actors Missi Pyle and Harry Hamlin appear in a detective thriller that gets hijacked in mid-film by a demented stalker
– Musician Ed Sheeran as himself in Yesterday (2019) and rapper Kid Cudi in Jexi (2019)
– 13 Fanboy (2021) in which actresses from the Friday the 13th film series are stalked by a masked killer
– Studio 666 (2022) where the band Foo Fighters stir occult forces during a recording session
---
The 'Further Adventures of …'
This concerns a series of films in which usually authors and other famous historical figures have an adventure similar to their well-known exploits. These often come with the implication that this is what inspired them to create their stories.
– Examples might include science-fiction author H.G. Wells building his own time machine in Time After Time (1979), Franz Kafka encountering German Expressionism in Kafka (1991), H.P. Lovecraft as narrator in Necronomicon (1993) and the tv series The Secret Adventures of Jules Verne (2000) where the young Verne undergoes a series of fantastical adventures
– All That Money Can Buy/The Devil and Daniel Webster (1941) wherein the famous lawyer Daniel Webster defends a man who has sold his soul to The Devil
– The assorted adventures of Baron Munchausen, a real-life figure known for his tall tales, which are given life on screen in Münchausen (1943), Baron Munchausen (1962) and The Adventures of Baron Munchausen (1989)
– The real-life outlaw encountering Frankenstein's grand-daughter and her monster in Jesse James Meets Frankenstein's Daughter (1965)
– Jules Verne's Rocket to the Moon (1967) where showman Phineas T. Barnum sets out to build a moon rocket
– The White Buffalo (1977) where Wild Bill Hickok and Crazy Horse team to hunt a mythic buffalo
– Edgar Allan Poe in an insane asylum in The Spectre of Edgar Allan Poe (1974), hunting a serial killer in The Raven (2012) and dealing with a shapechanging demon in Raven's Hollow (2022)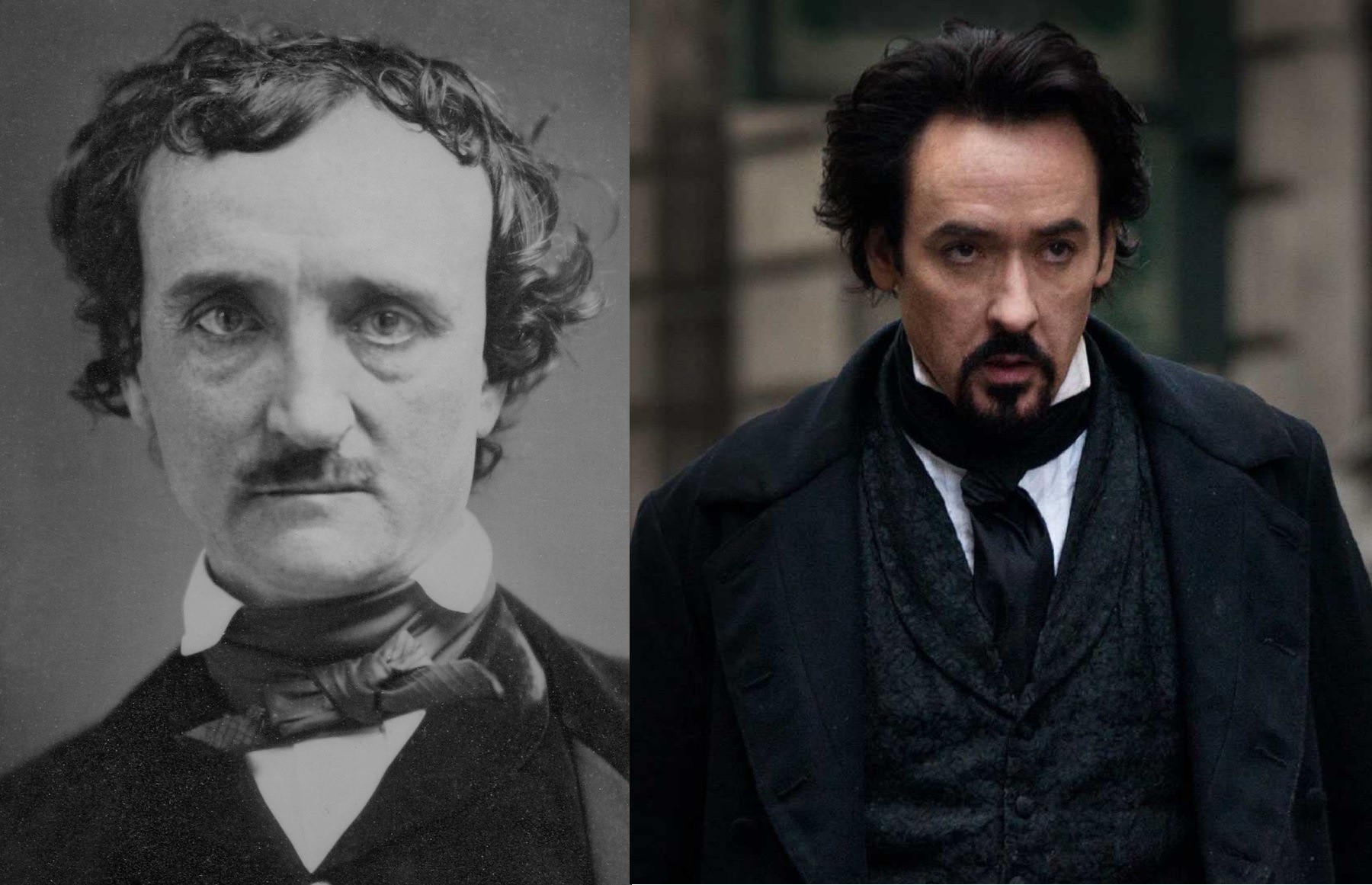 – Nazi scientist Josef Mengele attempting to produce a clone of Adolf Hitler in The Boys from Brazil (1978), conducting werewolf experiments in Werewolves of the Third Reich (2017) and still alive in the present-day conducting mad science experiments in and Stay Out of the Fucking Attic (2020)
– The All New Adventures of Laurel & Hardy in "For Love or Mummy" (1999) in which the two comedians face a mummy
– Arthur Conan Doyle as a Sherlock Holmes-like detective in the tv series Murder Rooms (2000-1) and encountering his own creation in The Strange Case of Sherlock Holmes and Arthur Conan Doyle (2005)
– Vidocq (2001), a fantastical adventure involving the real-life 19th Century detective Francois Vidocq
– Detective Dee and the Mystery of the Phantom Flame (2010) and sequels featuring the real historical Chinese figure of Judge Dee in a series of fantastical adventures
– The self-explanatory Bonnie & Clyde Vs. Dracula (2008) or Giacomo Casanova meeting Dracula in The Story of My Death (2013)
– Edgar Rice Burroughs encountering his own fictional hero in John Carter (2012)
– Goosebumps (2015) in which horror author R.L. Stine traps horrors inside the pages of his books
– The adventures of a juvenile H.P. Lovecraft in his own realms and encountering his creations in the animated Howard Lovecraft and the Frozen Kingdom (2016), Howard Lovecraft and the Undersea Kingdom (2017) and Howard Lovecraft and the Kingdom of Madness (2018)
---
Secret Histories
These are stories that tell usually very different stories within the margins of official biography or historical events
– Vlad the Impaler (the real-life Dracula) identified as an actual vampire in Dracula (1974), Bram Stoker's Dracula (1992) and Dracula Untold (2014) and where the historic Countess Eizabeth Bathory is an actual vampire as in Daughters of Darkness (1971), Eternal (2004), Metamorphosis (2007) and Fright Night 2 (2013)
– Time After Time (1979) in which H.G. Wells builds his own time machine and pursues Jack the Ripper through time to the present, as well as the tv mini-series The Infinite Worlds of H.G. Wells (2001) where Wells investigates various scientific discoveries and The War of the Worlds (2019) where Wells is in the midst of his own Martian invasion
– Where Billy the Kid goes hunting vampires in Billy the Kid Versus Dracula (1965) and where Billy actually is a vampire in Bloodrayne: Deliverance (2007)
– Frankenstein Unbound (1990) where a time-traveller encounters both Mary Shelley and Baron Frankenstein
– The end of Death Becomes Her (1992) revealing that various celebrities have faked their deaths and sought immortality
– Anastasia (1997), an animated fantasy adventure based around the Russian princess and popular myth (later shown to be a hoax) that she survived execution by the Soviets (here the film substitutes Rasputin as a back sorcerer), and Anastasia: Once Upon a Time (2020) where Anastasia and Rasputin travel through time to the present, fleeing from Vladimir Lenin who is aided by a witch
– Shadow of the Vampire (2000), a retelling of the making of Nosferatu (1922) where Max Schreck turns out to be a real vampire
– An aging Elvis Presley alive and in a retirement home in Bubba Ho-Tep (2002)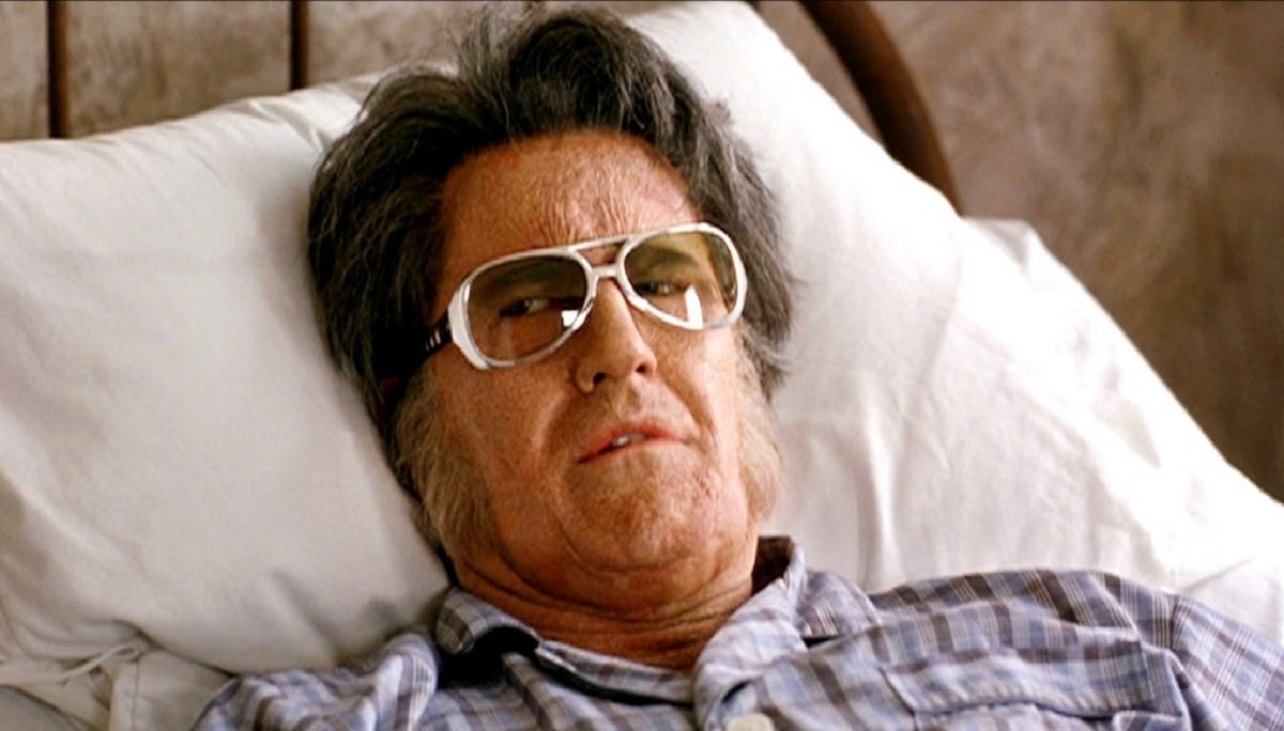 – The Brothers Grimm (2005) where the two brothers create fake hauntings and monsters to claim fees hunting then
– The Da Vinci Code (2006) that reveals that various great thinkers of history were part of a secret conspiracy
– The Man from Earth (2007) and He Never Died (2015) in which very long-lived people reveal they have been famous historical figures
– Tyrannosaurus Azteca/Aztec Rex (2007) where Conquistador Hernan Cortes faces dinosaurs in Aztec Mexico
– Where Abraham Lincoln goes hunting vampires as in Abraham Lincoln, Vampire Hunter (2012), hunts zombies in Abraham Lincoln vs Zombies (2012) and encounters time-travelling Frankenstein monsters in Army of Frankensteins (2014)
– The revelation that Andy Warhol and the denizens of The Factory are aliens in Men in Black 3 (2012)
– The tv series DaVinci's Demons (2013-5) in which Leonardo da Vinci deals with historical events of the day, while combatting a cult that seeks a book of occult knowledge, as well as meeting Vlad the Impaler at one point
– The revelation that Stanley Kubrick really did direct the faking of the Moon Landing in Operation Avalanche (2016)
– The Man Who Killed Hitler and Then The Bigfoot (2018) that tells the story of Hitler's assassin
– The historical spy film The King's Men (2021), which winds in an adventure about a super-villain involving Rasputin, Tsar Nicholas II, King George, Emperor Wilhelm II, Lenin, Franz Ferdinand and Gabrilo Pinzip, Mata Hari, Woodrow Wilson, General Kitchener and Adolf Hitler
---
Satire
– South Park: Bigger, Longer & Uncut (1997), which shows Saddam Hussein as Satan's lover in Hell and the same team's puppet film Team America: World Police (2004) featuring Kim Jong Il as the villain
– Dante's Inferno (2007) where various notorious figures and modern politicians are encountered in Hell
– Uwe Boll's Postal (2007) featuring satiric versions of Osama bin Laden and George W. Bush running off hand-in-hand
– The Trial of Tony Blair (2007), which takes a near-future setting and imagines the former British Prime Minister's shame over the Iraq War
– An American Carol (2008), a conservative spoof on A Christmas Carol (1843) in which a counterpart of filmmaker Michael Moore is skewered and including an appearance from the ghost of John F. Kennedy
---
The Resurrection of Dead Historical Figures
– The resurrection of or attempts to resurrect Adolf Hitler in They Saved Hitler's Brain (1964), Flesh Feast (1970), The Eagle's Nest (1976) episode of The New Avengers and Nazis at the Center of the Earth (2012), while Bunker of the Dead (2015) features a zombie Hitler and Iron Sky: The Coming Race (2018) a Hitler alien lizard person
– The Twilight Zone episode The Bard (1963) where William Shakespeare is magically resurrected to work as a scriptwriter in the present-day
– Torture Garden (1967) in which Edgar Allan Poe has been resurrected from the dead to write new stories and Gas; or It Became Necessary to Destroy the World in Order to Save It (1970) featuring a motorcycle riding Edgar Allan Poe following the collapse of civilisation, as well as the ghost of Poe in Twixt (2011) and the tv series Altered Carbon (2018-20) with a Poe-based A.I.
– Play It Again Sam (1972) in which Woody Allen receives romantic advice from the ghost of Humphrey Bogart and Lovesick (1983) in which Dudley Moore receives romantic advice from Sigmund Freud's ghost
– No Retreat, No Surrender (1986) in which a young martial artist is aided by the ghost of Bruce Lee, as well as Bruce Lee Fights Back from the Grave (1976) in which Bruce is resurrected to fight on, The Dragon Lives Again (1977) where Bruce fights various nemeses in Hell and The Clones of Bruce Lee (1980) where three clones of Bruce are created as an action team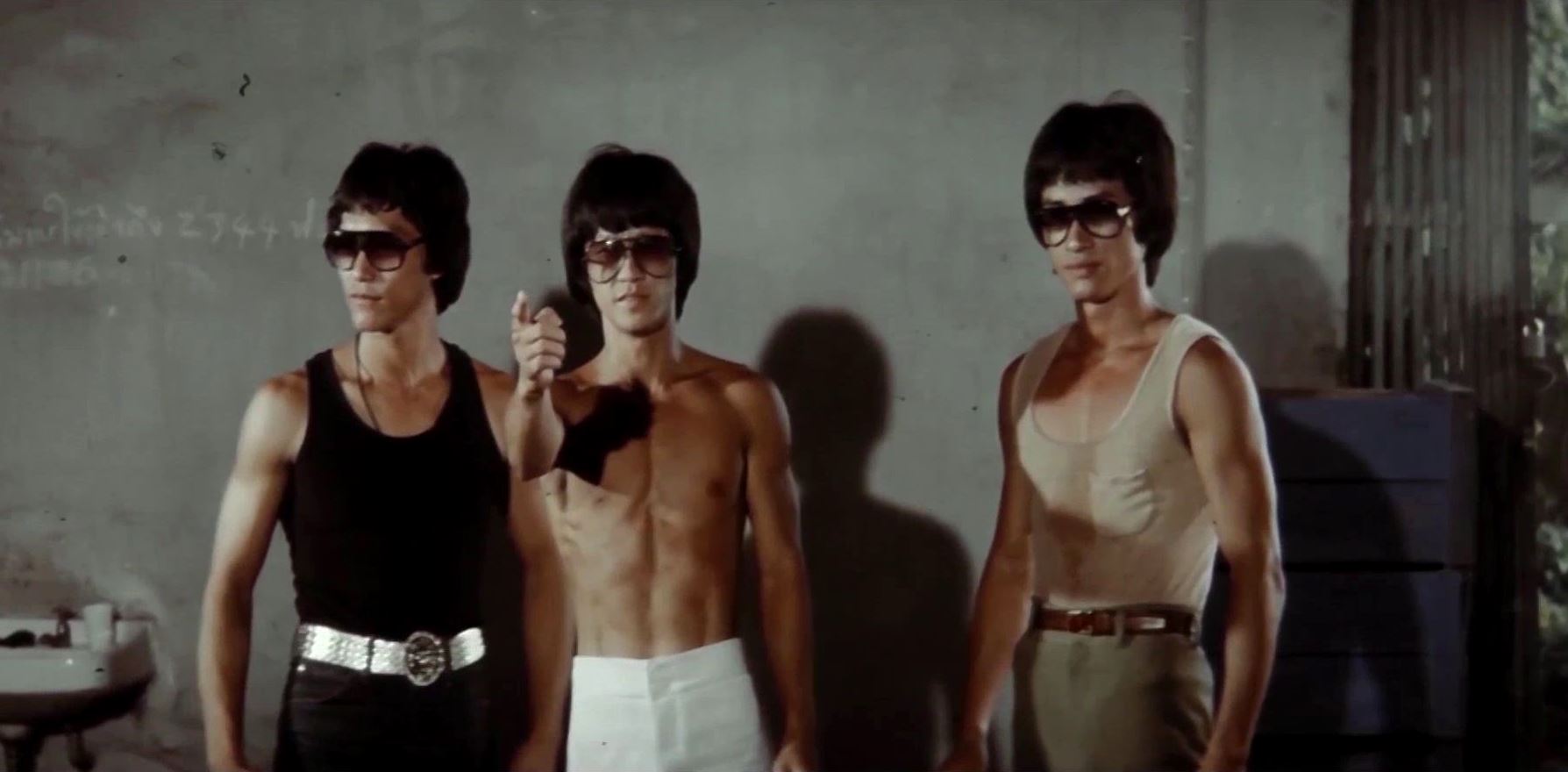 – Field of Dreams (1989) with the reappearance of the ghosts of dead baseball players
– Deadly Advice (1994) where the heroine received advice from the ghosts of famous murderers
– The assorted heads of celebrities and public figures kept alive in jars in tv's Futurama (1999-2003), including the head of Richard Nixon who becomes World Dictator
– Riverworld (2003) and Riverworld (2010) in which every figure from human history is resurrected on an alien planet
– The ghost of accused murdered Lizzi Borden in The Curse of Lizzie Borden (2006), Lizzie (2012), Lizzie Borden's Revenge (2013) and American Poltergeist (2015)
– Assorted famous musicians alive again in a strange town in the You Know They Got a Hell of a Band episode of Nightmares & Dreamscapes: From the Stories of Stephen King (2006)
– Chemical Wedding (2008) in which occultist Aleister Crowley is reincarnated in the body of a contemporary English professor
– The ghost of murder victim Elizabeth Short in The Black Dahlia Haunting (2012)
---
Gonzo Entries
– The assorted Asterix films with comic caricatures of historical figures like Julius Caesar and Cleopatra
– Young Einstein (1988) in which Albert Einstein is an Australian inventor who devises rock music and surfing and romances Marie Curie
– Marquis (1989), a surreal and very adult puppet version of the Marquis de Sade story played out by talking animals
– Night at the Museum (2006) and sequels featuring wax figures of Teddy Roosevelt, Sacajawea, Christopher Columbus, Attila the Hun, Abraham Lincoln, Amelia Earhart, Napoleon and others come to life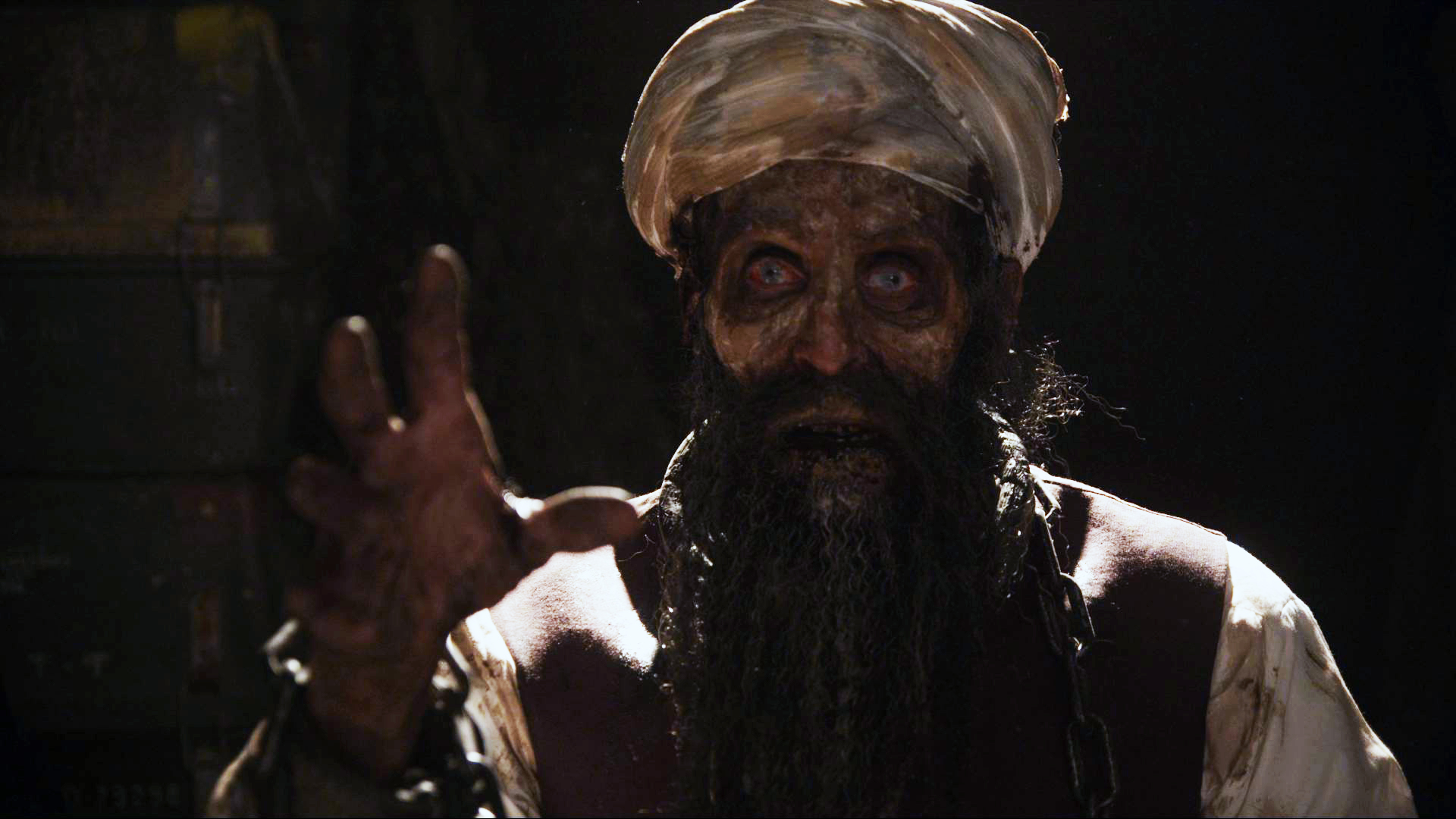 – Live Freaky! Die Freaky! (2006), a surreal Claymation retelling of the Manson Family killings
– Dahmer vs Gacy (2011) in which clones of the two serial killers are unleashed
– Adolf Hitler and vampires in Blubberella (2011) and Hitler encountering the Frankenstein monster in The Diary of Anne Frankenstein episode of Chillerama (2011)
– Osama bin Laden resurrected as a zombie in Oƨombie (2012) and former US Presidents George Washington, Abraham Lincoln and Andrew Jackson revived as zombies in Re-Elected (2020)
– Pirates encountering Charles Darwin and Queen Victoria in The Pirates! Band of Misfits (2012)
– Trump vs The Illuminati (2020) in which a clone of Donald Trump fights The Illuminati and Anubis on Mars before travelling to Hell to sort out The Devil
This is just an overview of the topic. Many more examples can be found in the List view.
---
Recommendations
A full list of titles can be found here Real Life People in Fiction
---