---
Crew
Director/Story – Pearry Teo, Screenplay – Josh Nadler & Pearry Teo, Based on the Comic-Book by Everette Hartsoe & Fairytale Little Briar Rose by The Brothers Grimm, Producers – Ehud Bleiberg & Pearry Teo, Photography – Christopher C. Pearson, Music – Scott Glasgow, Special Effects – Jason Collins, Makeup Effects – Kim Collea & Austyn Cuccia, Veiled Demon – Autonomous FX, Inc. (Designer – Jason Collins), Production Design – Alessandro Marvelli. Production Company – Bleiberg Entertainment/Xlrator Media/Nexus Motion Picture Company/2B Films.
Cast
Ethan Peck (Thomas Kaiser), India Eisley (Briar Rose), Natalie Hall (Linda Coleman), Bruce Davison (Richard Meyers), James Adam Lin (Daniel), Zach Ward (Nathan), Scott Alan Smith (Billings), Cyd Strittmatter (Dr Wessley)
---
Plot
Thomas Kaiser has persistent dreams of a sleeping woman who needs to be woken by his kiss but he always wakes up before he can do so. He then learns that he has inherited the vast rambling home of Kaiser Gardens from an uncle he never met following the uncle's suicide. Thomas travels to the property, learning of his cryptic heritage. With the help of others, he finds the secret entrances in the house and believes that these lead the way to the whereabouts of Sleeping Beauty who slumbers somewhere in the house. However, their doing so frees the demons and djinn that guard the way to his waking Sleeping Beauty,
---
Pearry Teo is a Singaporean-born director who has done all his work in the US. Teo first appeared with the SF film The Gene Generation (2007) and has remained a genre regular since with the likes of Necromentia (2009), Witchville (2009), Dead Inside (2011), Dracula: The Dark Prince (2013), Ghosthunters (2016) and The Assent (2019). He has also written The Ghost Beyond (2018) and produced Tekken: A Man Called X/Tekken 2: Kazuya's Revenge (2014), Strange Blood (2015), Bethany (2017), Stasis (2017) and Day of the Dead: Bloodline (2018).
The credits for The Curse of Sleeping Beauty claim that the film is based on a comic-book by Everette Hartsoe, although an internet search reveals this is misleading in that the comic-book was one that Teo and Hartsoe were raising money via crowdfunding sites to produce in tandem with the film.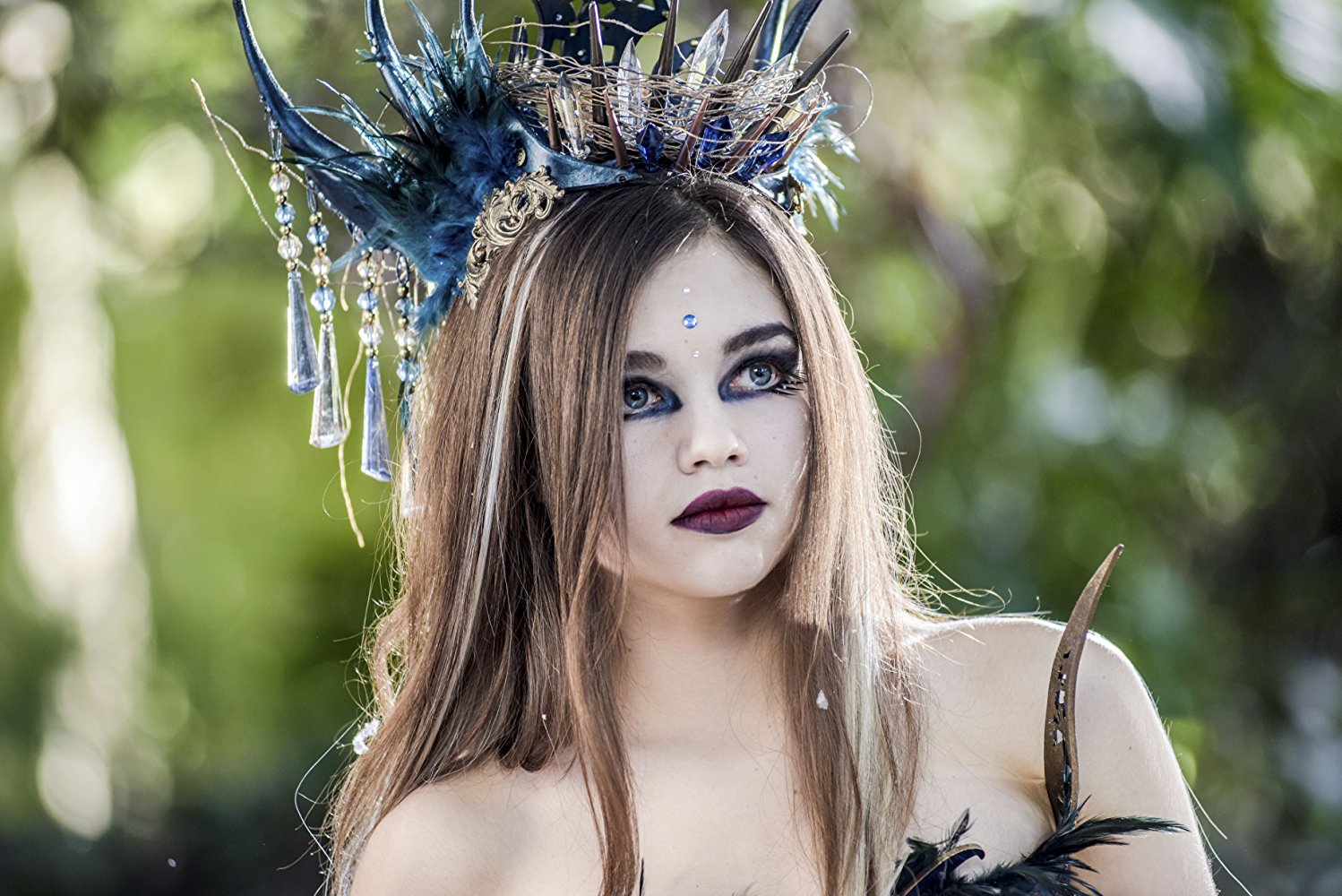 Teo claims that the film is based on the Brothers Grimm's Little Briar Rose (although this is no more than an alternate name that the brothers gave to the more familiar story of Sleeping Beauty). Certainly, the idea of a dark version of Sleeping Beauty, which is challengingly also set in the present-day, is intriguing. Even more so in the opening dream sequence where Pearry Teo seems to be trying to offer up a B-budget version of the visually extravagant, over-ornamented and elaborately costumed look that Tarsem Singh loves to adopt in his films.
Alas, The Curse of Sleeping Beauty is never as  interesting as it promises to be. What Pearry Teo ends up giving us is less a reworking of Sleeping Beauty than a Sleeping Beauty-themed haunted house ride. Much of the show has been construed as Ethan Peck – who is incidentally the grandson of Gregory Peck and would a couple of year later step into Leonard Nimoy's shoes as Spock on Star Trek: Discovery (2017- ) – and others making their way through various rooms. The rooms are filled with demons, djinns and ghoul figures barely illuminated in stroboscopic light, amid cluttered laboratory paraphernalia and so forth. It is just like the audience was passing through a regular Halloween haunted house. It's okay and some imagination has gone into this but it is also ever so formulaic. Gradually any connection to the fairytale tapers off and Teo winds in the cliche stuff of occult horror before arriving at a decidedly downbeat ending.
---
---