---
Crew
Director/Screenplay – Kevin Smith, Producers – Liz Destro, Jordan Monsanto & Jennifer Schwalbach, Photography – James R. Laxton, Music – Christopher Drake, Visual Effects Supervisor – Andrew McElfresh, Special Effects Supervisor – Joe Pancake, Makeup Effects – Robert Kurtzman's Creature Corps, Production Design – Cabot McMullen. Production Company – Invincible Pictures/Starstream Entertainment Partners/Smodcast Pictures/Abbolita Productions/XYZ Films/Demarest Films/Destro Films.
Cast
Harley Quinn Smith (Colleen McKenzie), Lily-Rose Depp (Colleen Collette), Johnny Depp (Guy Lapointe), Justin Long (Yogi Bayer), Ralph Garman (Andronicus Arcane), Tony Hale (Bob Collette), Natasha Lyonne (Tabitha), Austin Butler (Hunter Calloway), Tyler Posey (Gordon Greenleaf), Genesis Rodriguez (Ms Wicklund), Sasheer Zamata (Principal Invincible), Adam Brody (Ichabod), Vanessa Paradis (Ms Maurice), Jennifer Schwalbach (Ms McKenzie), Ashley Green ('Peg Mom), Harley Morenstein (Toilet Paper Man), Jack Depp ('Peg Son), Haley Joel Osment (Adrian Arcand)
---
Plot
In Winnipeg, fifteen year-old BFFs Colleen McKenzie and Colleen Collette work dead-end jobs at the Eh-2-Zed convenience store owned by Colleen C's father, while rehearsing their band Glamthrax in the back room on breaks. They think they have hit the jackpot when they are invited to a senior party by the hot-looking Hunter Calloway. They get permission to go, only for Colleen C's father to tell them they have to work that night because he is going on an impromptu trip to Niagara Falls with his girlfriend. When Hunter calls about the party, their only option is to invite him over to the store. He and his obnoxious friend Gordon turn up but prove to be wannabe Satanists who try to sacrifice the girls. As the girls fight back, Hunter and Gordon are killed by miniature-sized Nazi clone soldiers made out of sausage meat. The Colleens are arrested for the murders. Freed by detective Guy Lapointe, they return to the store to discover the secret hiding place of the Canadian Nazi Andronicus Arcane, frozen in suspended animation since World War II, who has now reawakened and is ready to kill all art critics with his army of miniature soldiers.
---
Director Kevin Smith emerged in the 1990s, with the low-budget cult hit of Clerks. (1994), a slacker comedy about guys in a dead-end nowhere job filled, which was filled with Smith's characteristically witty and sarcastic dialogue and nerdish in-jokes. Smith went onto direct a string of other films in a similar vein with Mallrats (1995), Chasing Amy (1997), Dogma (1999) and Jay and Silent Bob Strike Back (2001). Come the mid-00s, Smith had built a solid cult following as filmmaker, comic-book author, Twitter correspondent, live raconteur, podcaster and occasional actor. During this time, directorial efforts like Jersey Girl (2004) and Cop Out (2010) gave the feeling that Smith had started to lose direction or in the case of Clerks II (2006) that he was just rehashing material.
The Kevin Smith of the 2010s at least appears to be looking to genre material for new directions with Red State (2011), an uncharacteristically serious effort for Smith concerning a religious cult, and Tusk (2014), Smith's first full-fledged leap into the horror genre with Michael Parks deciding to surgically transform Justin Long into a walrus, as well as the Halloween episode of the horror anthology Holidays (2016).
Yoga Hosers is a follow-on from Tusk and features a return performance from Johnny Depp as Quebecois detective Guy Lapointe. Crucially, this also brings back and places centre stage Lily-Rose Depp and Harley Quinn Smith, respectively the daughters of Johnny Depp and Kevin Smith, and real-life best friends after meeting in a Hollywood kindergarten. The two Colleens made a supporting appearance in Tusk and are slated to appear in Smith's announced follow-up Moose Jaws. Justin Long also returns from Tusk but plays a different role as the Colleens yoga instructor. The term 'yoga hoser' originated on one of Smith's podcasts, although quite what it means is left unclear in the film, despite being used several times. (The term 'hoser' is a Canadian insult that derives from ice hockey where the losing team would be left with the job of hosing down the winning team's ice rink).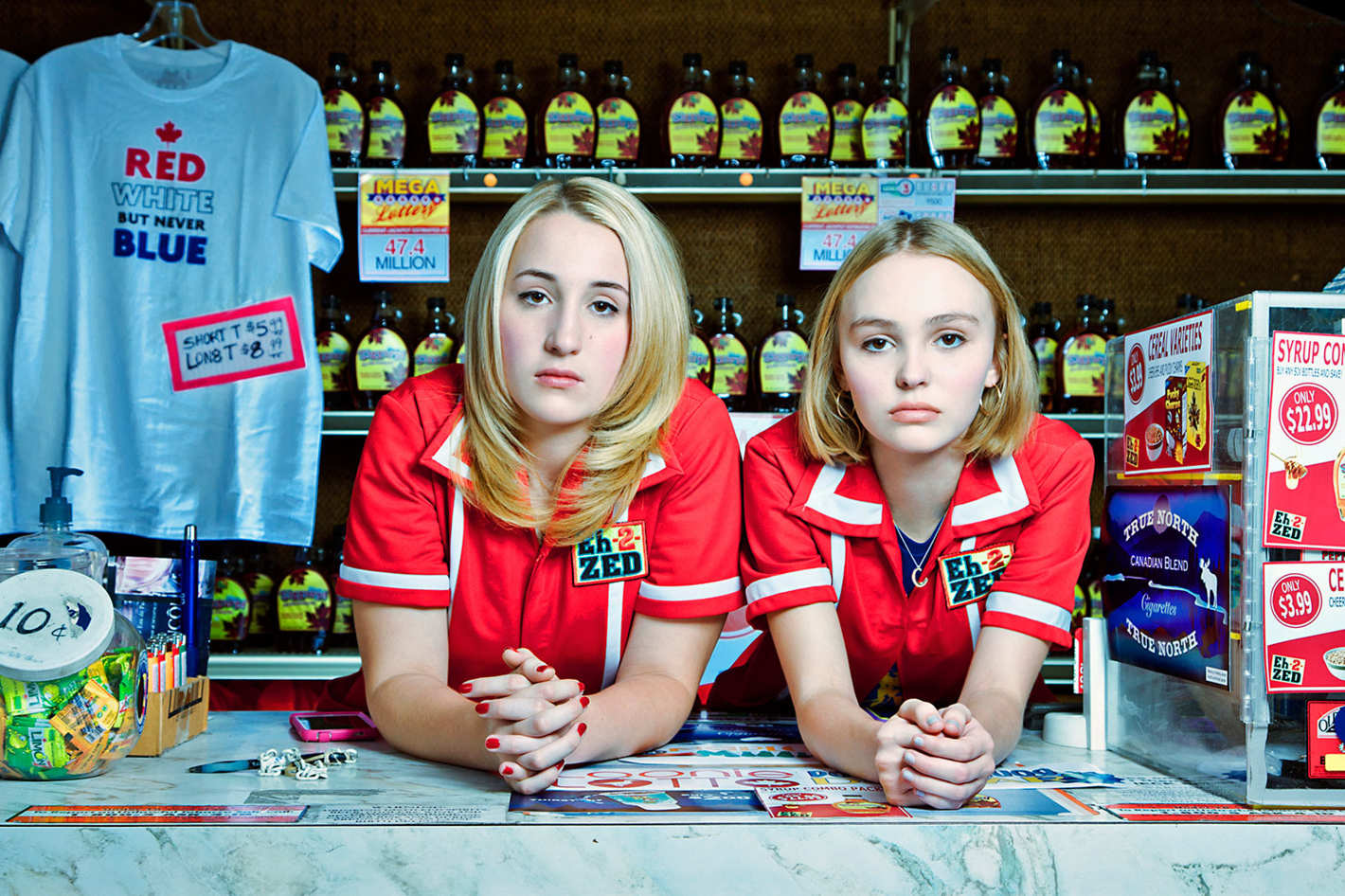 I enjoy most of Kevin Smith's comedies – they are smart, clever, have a wry sense of absurdity and come with an undeniable genre savvy wit – but I can't say that Yoga Hosers was one Smith film I much liked. Kevin Smith has essentially made another of his slacker films – Lily-Rose and Harley Quinn are not very different from the characters in Clerks. and sequels, bumming around a nowhere minimum wage job – about the only difference is that they are somewhat more culturally clueless and Smith is now poking fun at millennials and the social media generation.
I have issues with Kevin Smith's describing some of his films as horror. He was certain Red State was but it wasn't. Similarly, Yoga Hosers has undeniable fantastic elements in its second half but registers far more as a comedy. Indeed, with the farcical playing given over to the Bratzis, the tone of the film heads more into the realm of the wilful absurdity of Sharknado (2013) and sequels. The end scenes have the amusement of Ralph Garman doing some fine voice impressions of well-known actors but between the lame humour, Johnny Depp's incredibly silly performance, the copycat Scott Pilgrim vs. the World (2010) visuals as the girls go into yoga action and a nemesis (cloned Nazis made out of sausage meat) that you cannot take seriously, the rest of the show slides off the cliff.
The other main issue that gets me with Yoga Hosers comes down to the word nepotism (google it if you don't know what it means). The entire film is a vehicle for Smith and Johnny Depp's daughters – in fact, Depp and Smith's entire families. Also appearing are Jack Depp, Lily-Rose's younger brother, as the son of one of the clients at the store. Depp's former girlfriend and Lily-Rose and Jack's mother Vanessa Paradis has a single scene as the history teacher (even though she and Depp parted ways back in 2012).
Furthermore, Smith's wife and Harley Quinn's mother Jennifer Schwalbach appears as Harley Quinn's mother in a scene where she gives her a switchblade to protect herself at the party. Depp also repeats his role as the Quebecois detective Guy Lapointe and is even sillier than he was in Tusk. (For all the ridicule that Depp received for his performance in Mortdecai (2015), the two performances he has given as Lapointe are far more embarrassingly awful).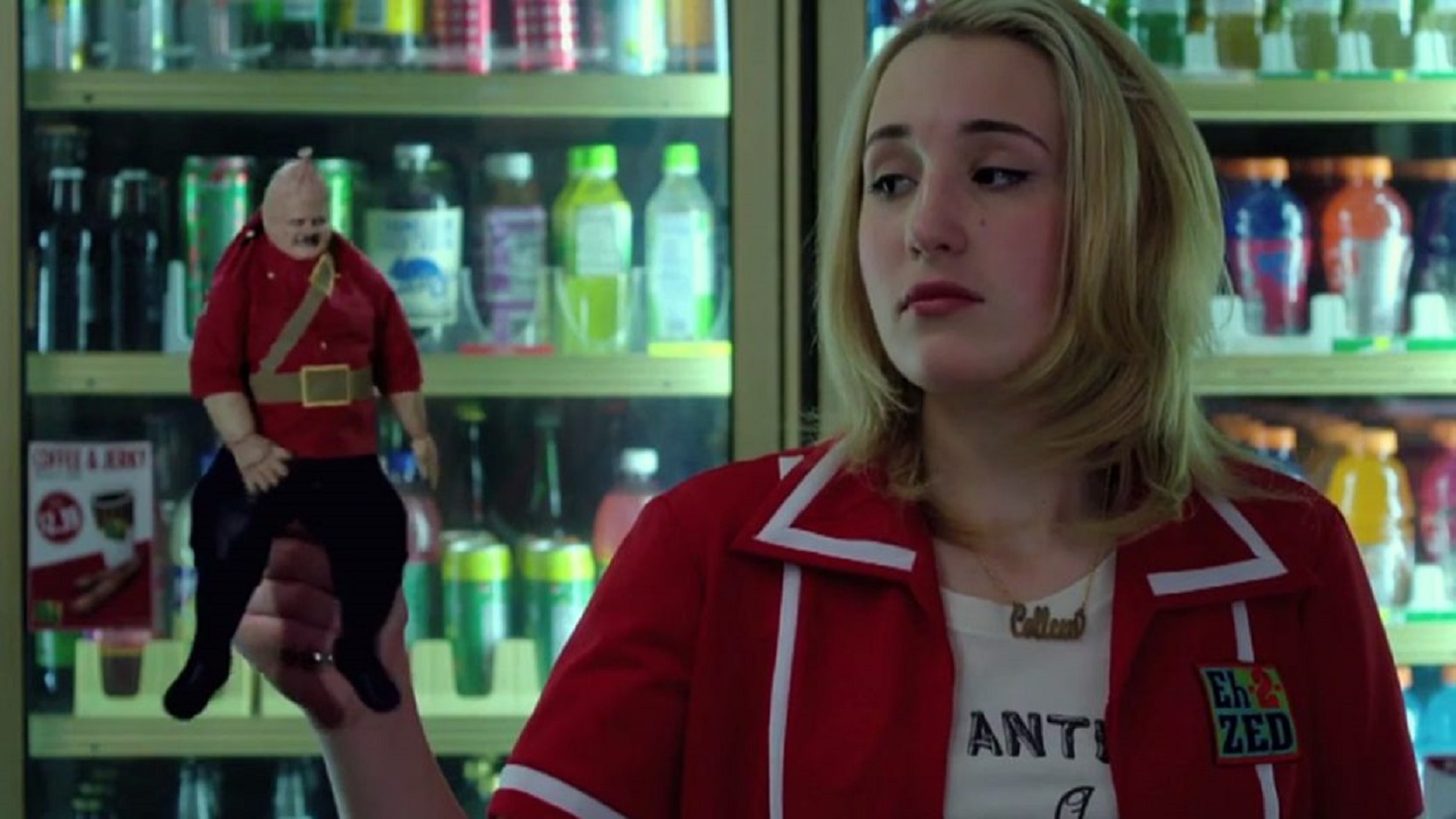 The question all of this family fun leaves me with is this – would this film have been made starring Harley Quinn and Lily-Rose if the two girls did not have such famous parents? In other words, are Harley Quinn and Lily-Rose sufficiently talented that they could have won these roles through the usual process of accruing about a million casting call rejections, doing bit parts as an extra for several years before they get the breaks that every other actor/actress (excepting perhaps Jaden Smith) has to go through? (Not to mention that it leaves us with the irony of seeing the two girls who are probably the least likely teenagers in the world to ever have to work a minimum wage job trying to play bored convenience store clerks).
The answer is I am not completely convinced. Harley Quinn Smith is not too bad and I could see her going on to do other roles. On the other hand, Lily-Rose Depp just seems too quiet and to not project enough presence on screen. I also get that their band is supposed to be a parody but it must be said the two actually belt out a rousing rock version of O Canada over the end credits.
---
---