---
Crew
Keith Fulton & Lou Pepe, Producers – Lucy Darwin & Keith Fulton, Photography – Lou Pepe & Jeremy Royce, Music – Michael Jacaszek. Production Company – Darwin Films/Low Key Pictures/Corniche Media/Fikree Films.
With
Terry Gilliam, Jonathan Pryce, Adam Driver, Nicola Percorini
---
Lost in Mancha (2002) is one of the great Making Of Documentaries. It ostensibly charts the making of Terry Gilliam's version of The Man Who Killed Don Quixote. Without intending to, directors Keith Fulton and Louis Pepe ended up inadvertently capturing what happened as the production's wheels started coming off in the midst of shooting, ending with the entire shoot being shut down. Gilliam made several attempts to relaunch the film and finally did so with The Man Who Killed Don Quixote (2018). For the occasion, he invited Fulton and Pepe back to shoot another documentary about the process. He Dreams of Giants was the result.
The great disappointment of He Dreams of Giants is that Terry Gilliam did complete his version of The Man Who Killed Don Quixote and it was released. This conversely makes He Dreams of Giants a far less interesting prospect than Lost in La Mancha – it is merely another Making Of documentary rather than the charting of a collapsing production. Sadly to report, these films only become compulsive watching when things start to go disastrously wrong with the film they are documenting.
Certainly, this shoot is not without its share of disasters. The production began filming with not all of its financing in place and we see an anxious Terry Gilliam chewing his nails, although the money does eventually come through. At another point, Pepe and Fulton arrange an interview with Gilliam in a square where they had previously filmed an interview for Lost in La Mancha but he fails to answer their calls – only for them to find that he had blood running down his leg and was rushed to hospital in an ambulance the night before. However, we next see an apparently unfazed Gilliam on set, directing again as per normal. These are serious problems but both seem speed bumps as opposed to the complete disasters that derailed the earlier production.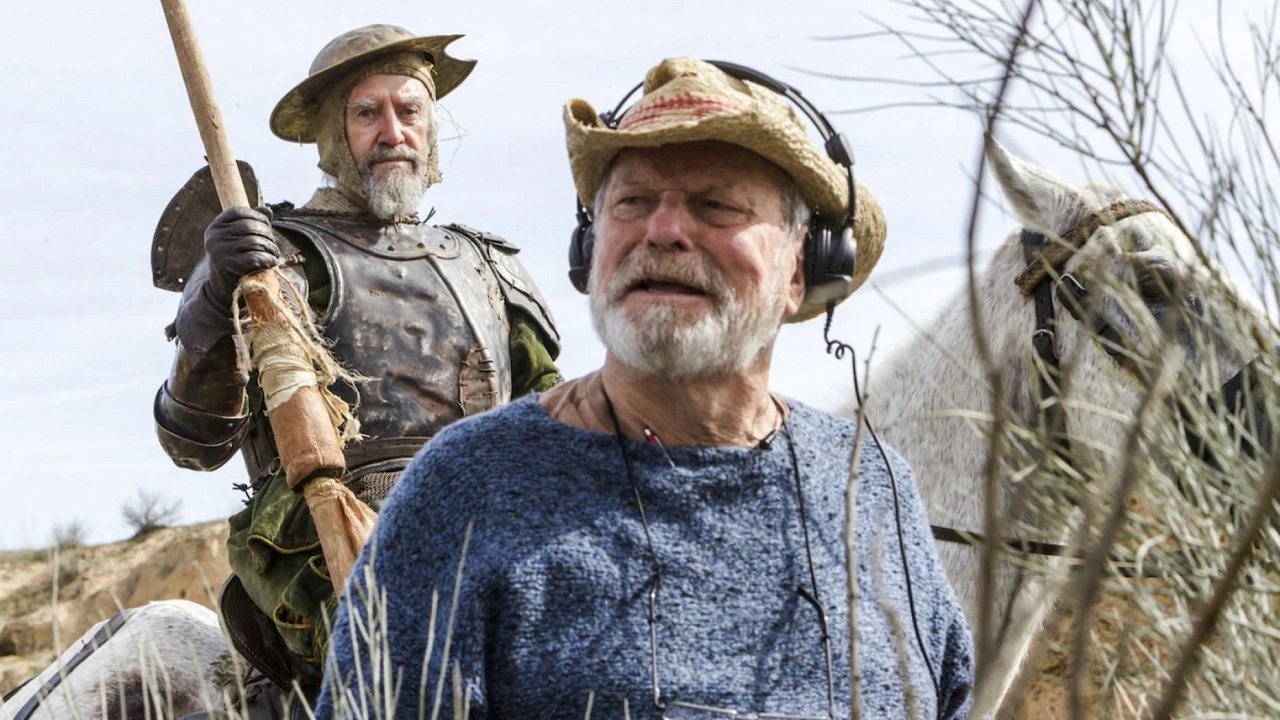 Throughout, Gilliam does not appear to be enjoying the process. He is frequently wont to lines like "I am here to suffer," or voicing the view that some creative individuals are cursed with the vision they are given. He was 78 years old at the time He Dreams of Giants was released, which would have meant he was around 76 at the time of the film's shooting. As one point, he details, he had suffered a minor stroke in one eye before filming. At another point, he contemplates that this is possibly his last film.
He Dreams of Giants shows a weary Gilliam, weighed down by the process of his vision and the constant brick walls he comes up against, wondering whether it was all worthwhile. At various points, he wonder whether he would be better off if the Man Who Killed Don Quixote project has just remained a glorious unfulfilled dream. At the end of the film, he is asked whether it was and is eventually more glad that he was able to get his vision out onto film than not.
At one point, Gilliam reflects on how his reputation has become caught up in the narrative that all his productions are disasters. (Although part of you wonders how much Lost in La Mancha contributed to the narrative and the wisdom in making a follow-up). Contrarily, The Man Who Killed Don Quixote came out relatively untroubled. Despite the early financial woes and Gilliam's health issues, we see Gilliam and the crew bounce back from these. It is a relatively smooth sailing production. Which sadly to report is something that makes He Dreams of Giants less interesting as a documentary.
---
Trailer here
---