---
Crew
Director – Kyle Rankin, Screenplay – Larry Blamire & Kyle Rankin, Producers – Kyle Rankin, Paget Brewster, Holly Taylor & S.C.V. Taylor, Photography – Aitor Uribarri, Visual Effects – Siopio Effects, Production Design – Laura Lienert. Production Company – Cocksure Entertainment/Monopol Films.
Cast
Holly Taylor (Claire McLaskey), Alice Ziolkoski (Brooke Cabot), Britt Flatmo (Jules Sutton), Tara Robinson (Mary Jane 'MJ' LaFont), Adrienne Rose White (Greta Thompson), Paget Brewster (Detective Strauss), Jared Boghosian (Jason), Greg Finley (Mr Dwyer), Ranin Brown (Darren), Dale Simonton (Mr McLaskey), Alex Bunker (Emily McLaskey), Valerie Mahaffrey (Mrs McLaskey), Sara Friedman (Margaret), Elizabeth Freeman (Karen Cabot), Jillian Mavodones (Sarah Gould), Kevin Peterson (Mr Thompson), Daniel Noel (Mr Sutton), Stephanie Atkinson (Mrs Sutton)
---
Plot
Claire McLaskey is shooting a video about detention at her high school. She goes to interview four girls who have been sent there. While doing so, the strange Jules Sutton offers to get the other detainees out and then uses magic to trigger the fire alarm. Claire and the other three girls are fascinated by what happened. Jules offers to teach them magic if they meet her at midnight that night. She gets each to cut a lock of their hair and conducts a ceremony, creating a coven that bonds them. By drawing on the power of the coven, they are able to perform magic. Flexing their increasing abilities, they are able to levitate objects, fly, bend others to their will and the like. They use their magic to go on a shopping spree and walk out with without paying for items. However, they soon find that using magic has a cost – their shopping spree has brought the attentions of Detective Strauss, while the use of their abilities starts physically taking a cost on each of them.
---
The Witch Files is a low-budget film. It swam under most people's radar and has not been widely seen. It essentially plays out as The Craft (1996) by way of The Breakfast Club (1985). It is all shot as a Found Footage film to boot.
There is a good deal of amusement to watching the premise play out – in seeing the girls experiment with the possibilities of their powers and put them to various usages, most amusingly going on a shopping spree and walking out without paying. The girls are drawn with a series of well-developed characterisations and the five actresses are all fine in their roles. The film has fun playing around offering up rationalisations of traditional aspects of witchcraft like whether witches do ride on broomsticks or if it was a form of drug usage, and as to why witches are always seen as so old and hideous – the rationale being that the practice sucks up their lifeforce.
The first half of the film is about the girls having fun. The second half becomes about the cost of this where we see such things as the police turning up to query their sudden spate of purchases that haven't been paid for and then each of them paying a physical price – degeneration of eyesight, jaw problems, outbreaks of warts. This second half is the less interesting one.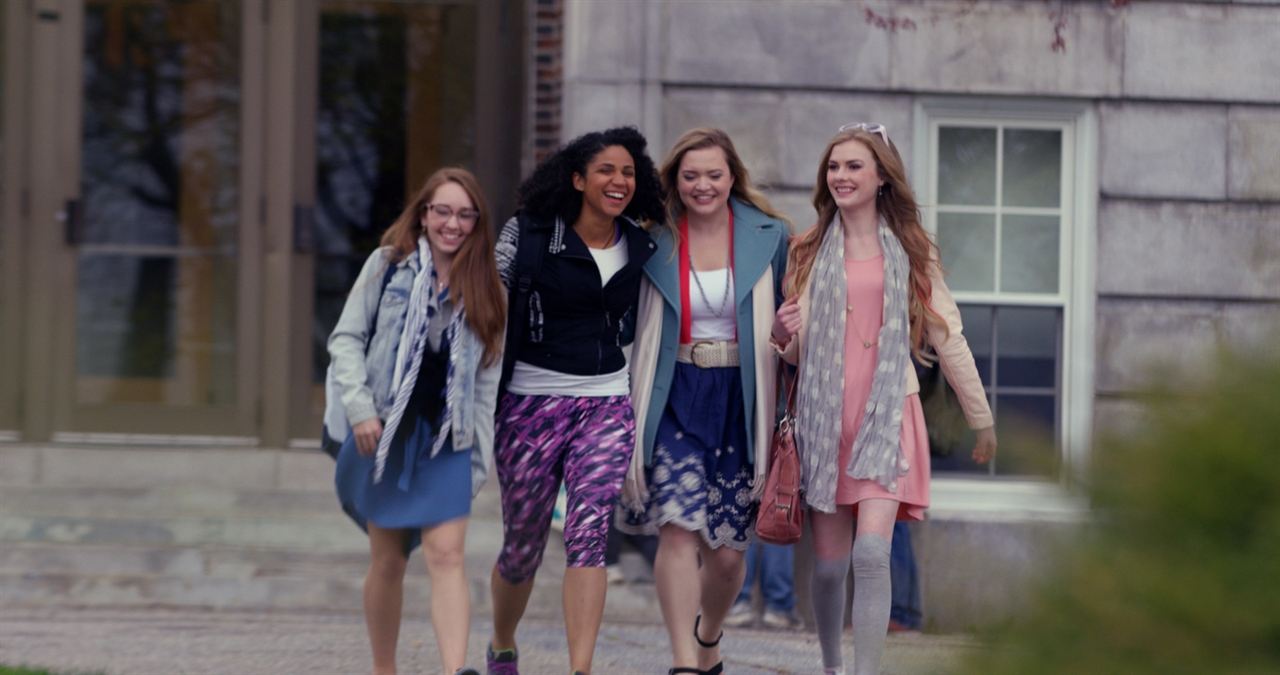 In the latter section, the film treads the standard story arc used by The Craft with the rest of the girls fighting against one of the group who has gone to the dark side. Various other revelations occur here but it is essentially the same plot pathway in both films. At this point, what had seemed an effective drama that kept itself within the realm of relative realism inflates the magical powers to a point of unbelievability with Holly Taylor and Alice Ziolkoski doing things like creating copies of themselves or turning into giants as they fight.
Director Kyle Rankin first appeared with the screenplay for Reindeer Games (1996), not to be confused with the later John Frankenheimer film. He made his directorial debut with The Battle of Shaker Heights (2003) and went on to make Infestation (2009), Nuclear Family (2012) and the witty zombie comedy Night of the Living Deb (2015). The surprise name on the credits is that of Larry Blamire, director of spoof films like The Lost Skeleton of Cadavra (2001), Trail of the Screaming Forehead (2007) and Dark and Stormy Night (2009).
---
---