---
Crew
Director – Luca Guadagnino, Screenplay – David Kajganich, Based on the 1977 film Written by Dario Argento & Daria Nicolodi, Producers – Francesco Melzi D'Eril, Silvia Venturini Fendi, Bradley J. Fischer, Luca Guadagnino, David Kajganich, Marco Morabito, Gabriele Moratti, William Sherak, Photography – Sayombhu Mukdeerprom, Music – Thom Yorke, Visual Effects – Metaphyx (Supervisor – Luca Saviotti), Special Effects Supervisor – Franco Regusa, Prosthetic Makeup Designer – Mark Coulier, Production Design – Indal Weinberg. Production Company – Frenesy Film Company/Videa SPA/Mythology Entertainment/First Sun/Memo Films.
Cast
Dakota Johnson (Susie Bannion), Tilda Swinton (Miss Blanc), Lutz Ebersdorf (Dr Josef Klemperer), Mia Goth (Sara Sinn), Angela Winkler (Miss Tanner), Chloe Grace Moretz (Patricia Hingle), Elena Fokina (Olga Meyer), Malgosia Bela (Susie's Mother), Ingrid Cave (Mss Vendegast), Alex Wek (Miss Millius), Renee Soutendijk (Miss Huller), Jessica Batut (Miss Mandel), Doris Hick (Frau Sesame), Jessica Harper (Anke Klemperer)
---
Plot
West Berlin, 1977. Susie Bannion arrives from Ohio seeking to be taken on as a pupil at The Markos Dance Academy. Despite her lack of formal training, the director Miss Blanc agrees to accept her. Susie moves into the school's dormitory and Miss Blanc soon sees great potential in her. At the same time, there are rumours about other girls at the academy who have gone missing. One of the girls accuses the women who run the place of being witches before herself being killed. As Susie and her friend Sara delve into the secrets of the Academy, they find it was founded by Helena Markos who claimed to be Mother Suspiriorum, one of the powerful ages-old witches known as the Three Mothers. It becomes apparent that Miss Blanc is attempting rituals that will bring about the return of Helena.
---
Suspiria (1977) is the key work in the oeuvre of cult Italian director Dario Argento. The film itself became a cult hit – it has even been revived in recent years with the Italian rock group Goblin playing their score live. Argento sequelised it with Inferno (1980), which is an even superior work to the original. He promised that he would return to complete his Three Mothers trilogy but this did not come about for another 27 years with Mother of Tears: The Third Mother (2007) to universal disappointment.
There was a huge fad for remakes for 1970s/80s films over the last decade-and-a-half with the likes of The Texas Chainsaw Massacre (2003), Dawn of the Dead (2004), The Amityville Horror (2005), Halloween (2007), The Crazies (2010) and A Nightmare on Elm Street (2010), among others – although the fad seemed to die down around 2015 after the flop remake of Poltergeist (2015). Suspiria had been mentioned as a remake during this period, at one point to have been directed by David Gordon Green – given how tepidly his Halloween (2018) revival went, I am glad Green did not end up as the final director.
The film finally ends in the hands of Luca Guadagnino, an Italian director who has made a number of other works including the non-genre likes of The Protagonists (1999), Melissa P. (2005), I Am Love (2009) and A Bigger Splash (2015), as well as several documentaries. The work that gained Guadagnino international attention was the gay Coming of Age story Call Me By Your Name (2017), which received an Academy Award Best Film nomination. The script is from David Kajganich, a writer who seems to specialise in genre material with his scripts for The Invasion (2007), Town Creek (2009) and the tv series of Dan Simmons' The Terror (2018-9). Kajganich had also previously written Guadagnino's A Bigger Splash. Subsequent to this, Guadagnino and Kajganich stayed within the horror genre with the Young Adult cannibalism film Bones and All (2022).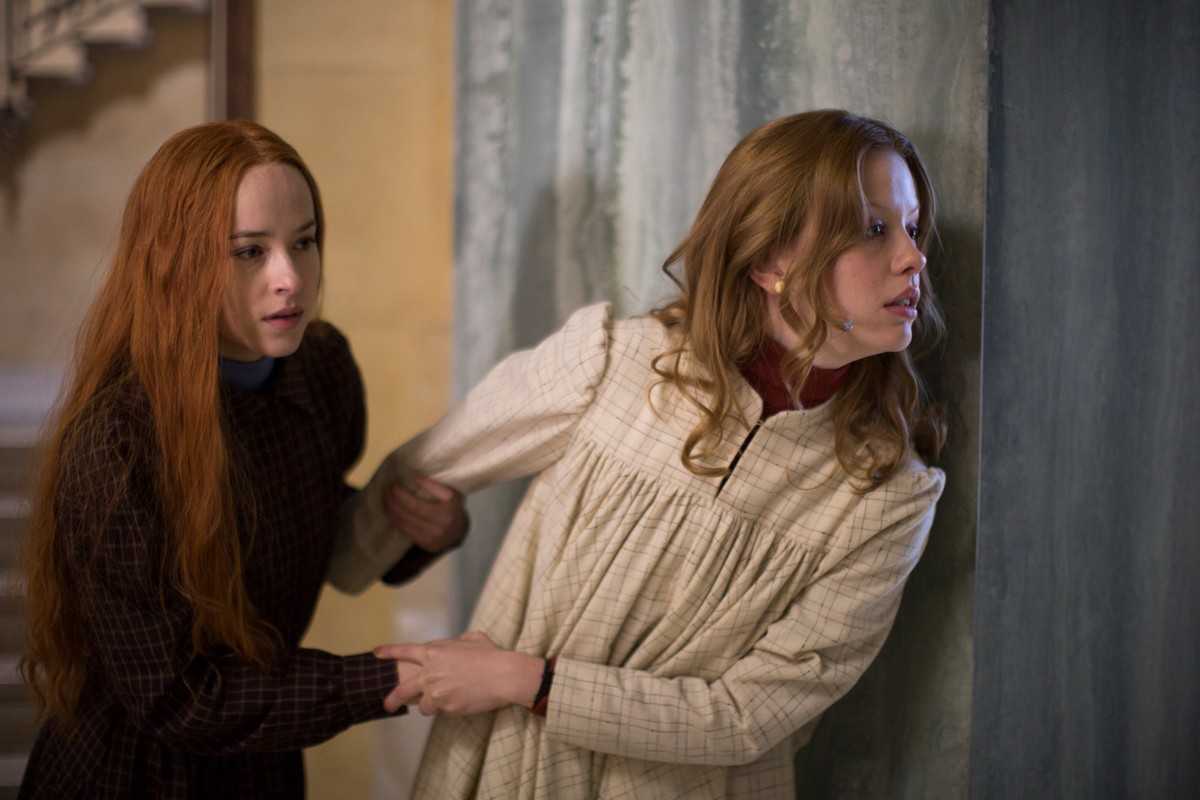 Suspiria 1977 and Suspiria 2018 tread many similar paths. The plots are essentially the same – Susie Banyon/Bannion signs in to a girl's dance school in Germany; various of the girls at the school are killed; Susie discovers that the academy is run by witches, headed by one of the legendary Three Mothers. However, beyond these similarities, both are very different works.
It is important in understanding the difference to get an idea of who Dario Argento was as a director. In the films he made running up to Suspiria such as The Bird with the Crystal Plumage (1970), The Cat O'Nine Tails (1971), Four Flies on Grey Velvet (1971) and Deep Red (1976), Argento made a string of extravagantly arty giallo psycho-thrillers. There he seemed unconcerned about the mundane turnings of plot – the thriller structure was simply there to carry the stylishly sadistic directorial set-pieces he loved to create, all of which would culminate with a gory death (usually of a woman). With Suspiria, he abandoned even the nominal thriller plots to make an almost entirely narrative-free work of grand artifice. Argento used music and colour as equal parts of this effect – it is significant that the only criticism he made of the remake was not the changes it conducts but that Luca Guadagnino seems disinterested in the use of music.
Luca Guadagnino's approach could not seem more the opposite of Dario Argento. He prefers mundane realism to arty extravagance. This is perhaps best contrasted in the opening scene of the 1977 film where Jessica Harper passes through a Munich airport and a supernatural wind seems to fly up around her. Guadagnino replicates the scene but sets in a dreary Berlin train station where the supernatural wind is simply a gust caused by a passing train. The Academy is not a baroque edifice in the Black Forest lit up in colour washes but a banal backstreet building with an interior that looks like a hotel foyer. Argento's luscious use of colour has been replaced by a desaturated colour scheme. And while the score is composed by Radiohead's Thom Yorke, the soundtrack does not susurrate with the whispers of a Goblin soundtrack but the echoes of doors slamming and the girls' footsteps clacking on wooden floors.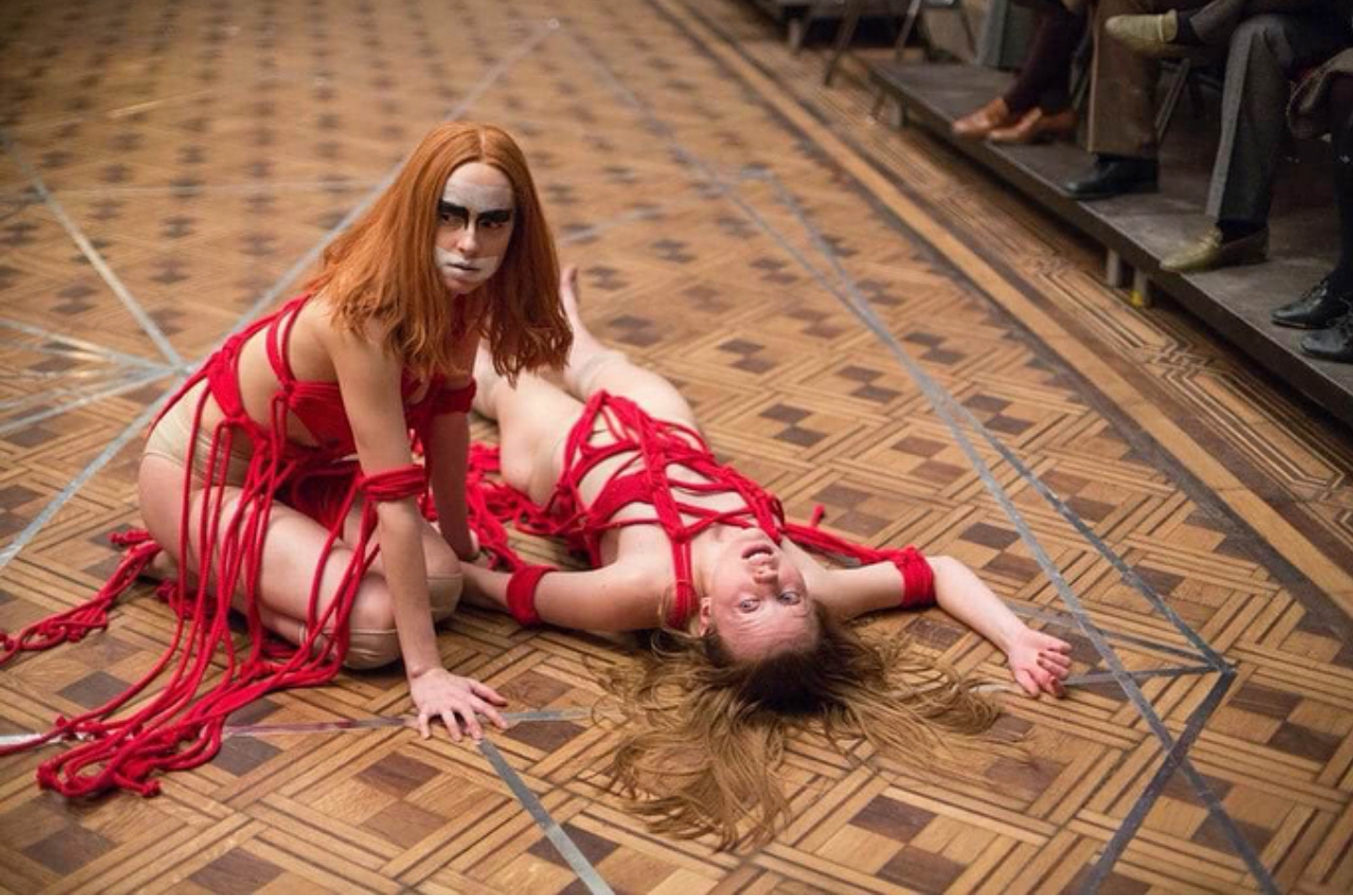 Luca Guadagnino also makes a point of grounding the film historically in the era it was made – 1977, the year the original was released. Playing out in the background on tv are images of the Baader-Meinhoff gang (The Red Army Faction), the hijacking of Lufthansa Flight 161 and the group's subsequent suicides in Stannheim Prison. The Berlin Wall and a divided Germany has a distinct presence – it runs alongside the academy, while the character of Dr Klemperer is seen travelling back and forward across the border.
Luca Guadagnino gives the witches far more prominence than Dario Argento did. It could be said that Argento was never much of a people director – he seems disinterested in characters and his body of films never seem to feature any standout work from the name actors he employs. By contrast, Luca Guadagnino gives the witches far more of a presence. They are seen sitting around dining, plotting, engaged in the various dance rehearsals and a few brief glimpses where they appear to be gutting men with hooks. The witches here are also far more calculating, whereas for Argento they were an essentially irrational force and we were never given an explanation why they were killing the girls. In fact, most of the deaths in the original never seem to come from human hand but rather to be caused by some abstract agency. Here David Kajganich's script sets out to offer more explanations for what is going on than Argento ever concerned himself with.
The most contentious aspect for me at least is that Luca Guadagnino seems uninterested in Argento's parade of extravagantly arty deaths, which were the whole point of the original. Not to say there are not any throughout – there is a strange sequence where Dakota Johnson's dance moves cause Elena Fokina, trapped in another room, to twist her limbs unnaturally and fold around herself. And one or two other lesser sequences like where one of the witches abruptly stabs herself in the throat at the dinner table, none of which are a patch on Argento's creativity. Indeed, Guadagnino seems more interested in the artful choreography of the dance routines than he is in the horror element. The contrast is best seen when two detectives arrive at the academy – they are let in and all we see afterwards is a brief glimpse of the witches taunting them, whereas Argento would almost certainly have drawn their despatch out into a set-piece in itself.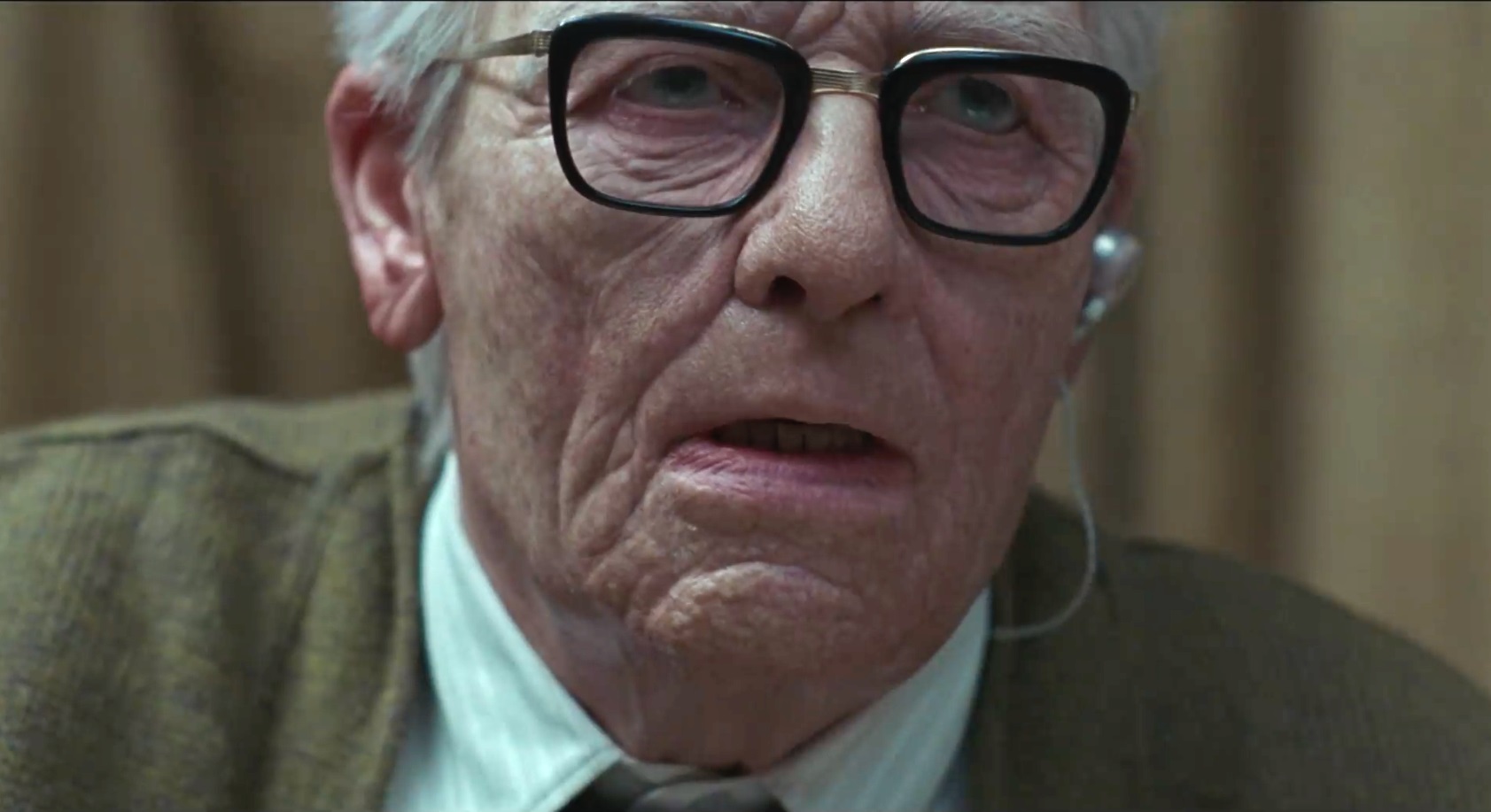 The one aspect where Guadagnino finally does get himself and the film together is at the climax. I felt equivocal about the film up to that point but suddenly he gives it his all, departing entirely from anything that Argento laid down as [PLOT SPOILERS] Dakota Johnson enters into the inner sanctum where the witches are engaged in a ritual along with the hideously aged Helena Markos, only for Dakota to stand up to Miss Blanc, revealing that she is Mother Suspiriorum, then walks through the room granting each of the girls their wish of death whereupon their throats erupt in gouts of blood. It is a real left field twist and gives the film a dementia that makes it work. There is also a nicely genteel coda where Dakota Johnson returns to visit the aging Dr Klemperer and tells him what happened to his wife before taking away his memory.
Chief among Guadagnino's performers is Tilda Swinton. Swinton plays Madame Blanc with graceful control. Although what is far more phenomenal is when you find out that Swinton also played the only major male role in the film – that of the aging Dr Klemperer (a character that does not exist in Argento's film). It is a performance where she is buried in makeup and gets the exacting affect of an old man's gait and mannerisms such that I never twigged it is her until I read up on the film afterwards. (Neither apparently did the rest of the cast with Swinton being covered in makeup during the shooting of scenes – even on the end credits she is listed as Lutz Ebersdorf). Equally she also plays the part of the aged Helena Markos in the climactic scenes under extremely old age makeup and a mountain of body fat.
(Winner for Best Supporting Actress (Tilda Swinton) at this site's Best of 2018 Awards).
---
---