(La Vampira de Barcelona)
---
Crew
Director/Production Design – Lluis Danes, Screenplay – Maria Jaen & Lluis A. Martinez, Producer – Raimon Masllorens, Photography (b&w + colour) – Josep Maria Civit, Music – Alfred Tapscott, Special Effects – In Extremis Film Services (Supervisor – Esther Ballesteros Mories), Makeup Effects – Zero SFX (Daniel Ortega, Aleix Torrecillas & Marc Torrecillas). Production Company – Brutal Media/Filmax/Generalitat de Catalunya Institut Catala de la Empreses Culturals/3 Televisio de Catalunya.
Cast
Roger Casamajor (Sebastia Comas), Nora Navas (Enriqueta Marti), Bruna Cusi (Amelia), Mario Gas (Mendez), Sergi Lopez (Comissioner Amores), Lola Darbra (Teresita Guitart), Queralt Cruz (Angelita), Nuria Prims (Madam Leonor), Pablo Derqui (Fuster), Francesc Orella (Salvat)
---
Plot
Barcelona, 1912. Journalist Sebastia Comas is covering a bunch of child disappearances around the city. The rest of the press has been wildly inflating these but Sebastia refuses to do so. When the parent of one of the missing children comes in to talk to them, Sebastia follows the trail to a brothel. There, among many of the other indulgences available, he is offered young children. When he tries to do something about this, his editor shoots the story down for lack of evidence. The police raid the brothel to find nothing. One of the missing children, Teresita Guitart, is found. Teresita leads them to Enriqueta Marti, whom she accuses of abducting and keeping her prisoner. The press is aflame with the story of Enriqueta, calling her a witch and nicknaming her The Vampiress of Barcelona. In writing about Enriqueta, Sebastia comes to believe that she is not the monster described.
---
Enriqueta Marti (1868-1913) is a fascinating figure in True Crime. Barcelona of the 1910s was plagued by a series of child abductions. One of the missing children, Teresita Guitart Congost, was found in the possession of Enriqueta Marti, who was arrested. Mati supposedly confessed to running a brothel and abducting children from poor families for those with paedophile interests. Police also found remains from children's bodies in her apartments and it is believed that she killed children to make their remains into salves to sell as healing remedies. Marti was killed in jail either from cancer or other inmates before she could be placed on trial. Revisionist historians in recent years have suggested that much of the story surrounding Marti was inflamed by a sensationalist press of the day – that she was guilty of not much more than taking home a missing child and that her problem was more one of mental health issues.
The film version of the Enriqueta Marti story comes from Lluis Danes, a former art director and production designer from Barcelona who has been making films since the early 2000s. Most of Danes's work has been in documentary, although he did venture into drama with the previous tv movie Laia (2016). Danes, who also acts as production designer here, creates a visually stunning film. When Roger Casamajor crosses the street, the carriages and even the horses are silhouetted flats, while the figures in the buildings opposite are just silhouetted shadows of bodies.
Elsewhere we get images of stylised shadows engulfing children. A walk through the slums comes in gritty black-and-white before the camera pans up to the sky overhead where we see a fanged face in the clouds all lit up in red; or black-and-white shots where the red in the frame comes from spilt blood. Roger Casamajor reunites with his love Bruna Casi at the bar where she works and sweeps her up in his arms while all around every person in the bar is frozen in motion. There are extraordinary dissolves – two men sitting at a restaurant table are suddenly seated in an alley as a carriage approaches them. A tour of the brothel comes with each doorway opening into a vignette of some perverse scenario, including at one point a woman standing in a hooped skirt, which she raises to reveal a cage of children beneath.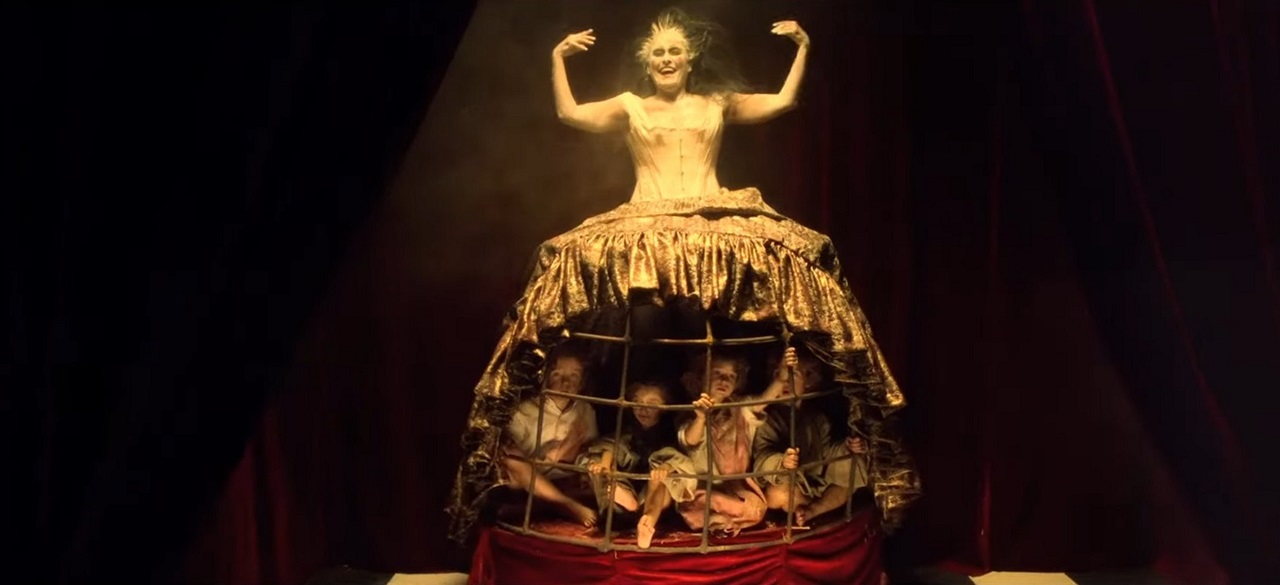 On the other hand, the title is misleading. At first glance, it makes you think you are watching a film about some kind of Countess Bathory figure. In reality, what we get is a far more mundane crime drama about a suspected child murderer, which takes the film more in the direction of something like M (1931). It's not really the film's fault as the title 'the vampiress of Barcelona' was one that Enriqueta Marti was given by the press back in the day.
Even then what we have is not a film like M about the apprehension of a child killer or anything that falls into being a modern True Crime work depicting the killer in action or the police pursuit but rather a work in which journalist (Roger Casamajor) is deconstructing the way that the press of the day is sensationalising the crimes and the figure of Enriqueta Marti after she is arrested.
I am not entirely sure if the film does that interesting a job when it comes to its story about the innocence of Enriqueta Marti. A reading of the real-life account reveals that she is a less innocent figure than is portrayed by the film – she was believed responsible for providing children to the brothels, while the feminist revisionists who argue she is an innocent fail to adequately explain what human remains were doing in the walls of her apartment. The film either tries to show she is innocent or the existing evidence of her guilt had to have been fabricated. As such, the film ends up leaving a somewhat murky and unclear picture of what did happen – indeed, in its account it is not clear if in fact there were any child killings at all. This unfortunately makes for a story that never seems quite as interesting as the highly fantastical visuals that Lluis Danes outfits the film with.
---
Trailer here
---