aka Ditch
USA. 2016.
Crew
Director – Joe Hendrick, Screenplay – Daniel P. Coughlin & Ryan W. Coughlin, Producer – Megan Waters, Photography – Joffrey Mason, Music – Giona Ostinelli, Visual Effects – Michael Blue & Greg Butner, Makeup Effects – Josh Russell & Sierra Russell, Production Design – Laine Perry. Production Company – Water Tree Media.
Cast
Bill Oberst Jr. (Vick Taddler), Kate Foley (Jenny Bilson), Zach Silverman (Mike), Gabriel De Santi (Max Tidman), Pandie Suicide (Trina), Brad Potts (Detective Mann), Tara Gerard (Officer Layman), Greg Depetro (Detective Dale Bilson), Kyle Morris (Bill), Samantha Dawn (Cathy), Suzanne Gutierrez (Helen Bilson), Lynn Lowry (Mrs. Donnatucci), Morgan Benoit (Officer Finch), Ronald J. Burkard (Principal Gallman)
---
Plot
Teenager Jenny Bilson's parents announce they are going away for a few days and leave her home alone. Her boyfriend Mike immediately persuades her to ditch school and hold a party, inviting four other friends over. As the various couples get drunk, pair off and fool around, the house is invaded by Vick Taddler whose family was killed in a car accident back in 2011 and holds Jenny and her family responsible. He begins slaughtering his way through the teens in the house as he comes after Jenny.
---
Ditch Day Massacre was a directorial debut for Joe Hendrick who comes to it after more than a decade working as an assistant camera operator on assorted productions.
This is a film produced on a miniscule budget. Much of the film gives the impression that it was shot in and around the home of the director or someone he knew – the bulk of the show is confined to one suburban California house. (This kind of reminds of the subsequent Pool Party Massacre (2017), albeit without that film's winning sense of sarcastic humour).
The film has a cast of unknowns with a couple of exceptions. The two exceptions are the headlined name of Bill Oberst Jr., who has developed a reputation as a horror movie regular throughout the 2010s. With a face like weatherbeaten leather, Oberst settles right into psycho roles like they are second nature and naturally has a field day here. The other genre regular is Lynn Lowry, once the star of George Romero's The Crazies (1973) and David Cronenberg's Shivers (1975), who suddenly developed a career revival in the 2010s while in her sixties. Here she has a small role as the neighbour who comes onto Bill Oberst Jr. Most of the other unknowns are passable, if Joe Hendrick feels awkward at times in trying to make them deliver dialogue in a naturalistic way.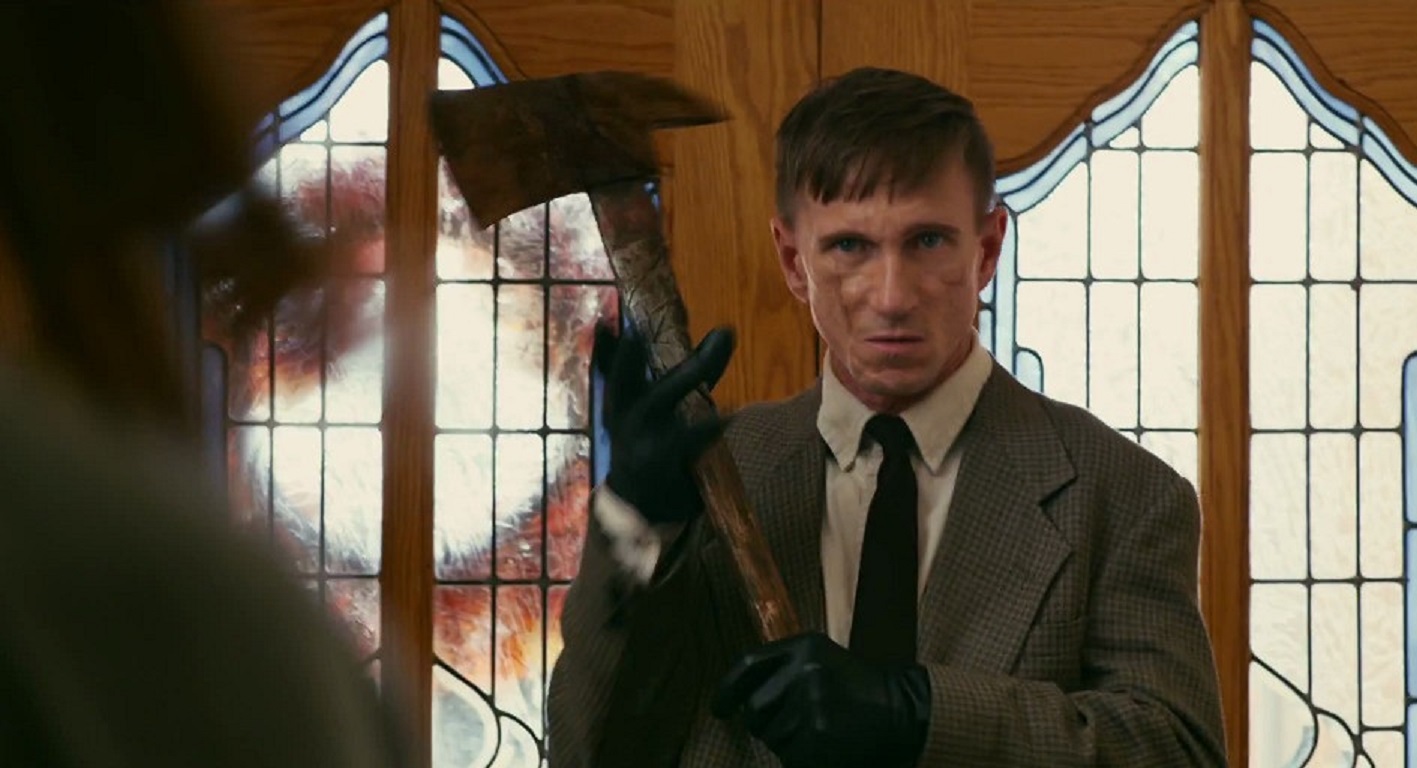 However, once the slaughter begins the initial awkwardnesses of the establishing scenes get forgotten. Joe Hendrick keeps things going with a reasonable energy. The pace is much tighter, the blood flows, there is a moderate degree of suspense and some snappily sarcastic dialogue. The only minus is the cheap and unconvincing gore effects – in particular, a scene earlier on where a pair of fingers are snipped off.
The other drawback is a lame title. The IMDB insists that the pre-release name of Ditch as the film's title, which does almost nothing to suggest it is a horror film and automatically makes you think of trenches along the side of the road. That said, the film has become far more widely known as Ditch Day Massacre elsewhere. As we get into the film, we rather lamely find out that all that the title refers to is a day when the group of teenagers have decided to 'ditch' school. Somehow you have a struggle trying to place Ditch Day Massacre up there alongside classic holiday-titled films such as Halloween (1978) and Friday the 13th (1980).
---