aka Boyz in the Wood
---
Crew
Director/Screenplay – Ninian Doff, Producers – Brian Coffey, Tobey Maguire, Matthew Plouffe & Lauren Tunstall, Photography – Patrick Meller, Music – Alex Menzies, Visual Effects – Jeremy Cox, Special Effects – Richard Magrin, Nick Rideout & Alan Senior, Prosthetics Designer – Kristyan Mallett, Production Design – Tom Sayer. Production Company – Material Pictures/Highland Midgie Productions/Nowhere/Pulse Films/Tango Entertainment.
Cast
Samuel Bottomley (Ian Harris), Viraj Duneja (D.J. Beatroot/William deBeauvoir), Lewis Gribben (Duncan MacDonald), Rian Gordon (Dean Gibson), Kate Dickie (Sergeant Morag), Jonathan Aris (Mr Carlyle), James Cosmo (Father), Eddie Izzard (The Duke), Kevin Guthrie (PC Hamish), Brian Pettifer (PC Dougie), Georgie Glen (The Duchess), Alice Lowe (Superintendent)
---
Plot
Three teenage misfits from Glasgow, Duncan MacDonald and Dean Gibson, who have all been found guilty of blowing things up, and William deBeauvoir, who insists on being called D.J. Beatroot and believes he has a career as a rapper, are sent into the Scottish Highlands. There they are to earn their Duke of Edinburgh Award for learning skills in orienteering, teamwork and survival. They are also joined by Ian Harris, the only one of the group who is enthused about being there. Everything is overseen by their teacher Mr Carlyle who gives them a map to make it across country to their end point destination. As the four bumble their way there in between assorted drug-taking and hijinks, they are attacked by a masked man they nickname The Duke and his wife who begins shooting at them, while ranting about needing to cull the herd of useless youth. At the same time, the local police sergeant Morag believes that drug-dealing terrorists have arrived from the city and sets out to break the case of her career.
---
Get Duked! was a directorial debut for British director Ninian Doff who had previously worked in music video and commercials. The film was originally to be titled Boyz in the Wood spoofing the title of Boys in the Hood (1991) but was retitled as Get Duked! following the death of director John Singleton. The film played at several festivals and streaming platforms under both titles. The Duke of Edinburgh Award is incidentally a real prize set up in 1956 by Prince Philip that allows teens to earn distinction from wilderness survival (as well as other activities not mentioned such as volunteering and sports).
Forget the nonsense about Get Duked!/Boyz in the Wood being labelled as having a 'hip-hop vibe' – certainly, there's a character who is played as a parody of a wannabe rapper and a few hip-hop numbers on the soundtrack but that's not what the film is about. Rather it is about four screw-ups – Lewis Gribben and Rian Gordon who are like inept Scottish versions of Dylan Klebold and Eric Harris; Viraj Dueja whose wannabe rapper ends up stealing a great deal of the show (and actually gets to delivers a mean rap and accompanying performance); and Samuel Bottomley as the earnest wet-behind-the-ears kid who actually wants to be there.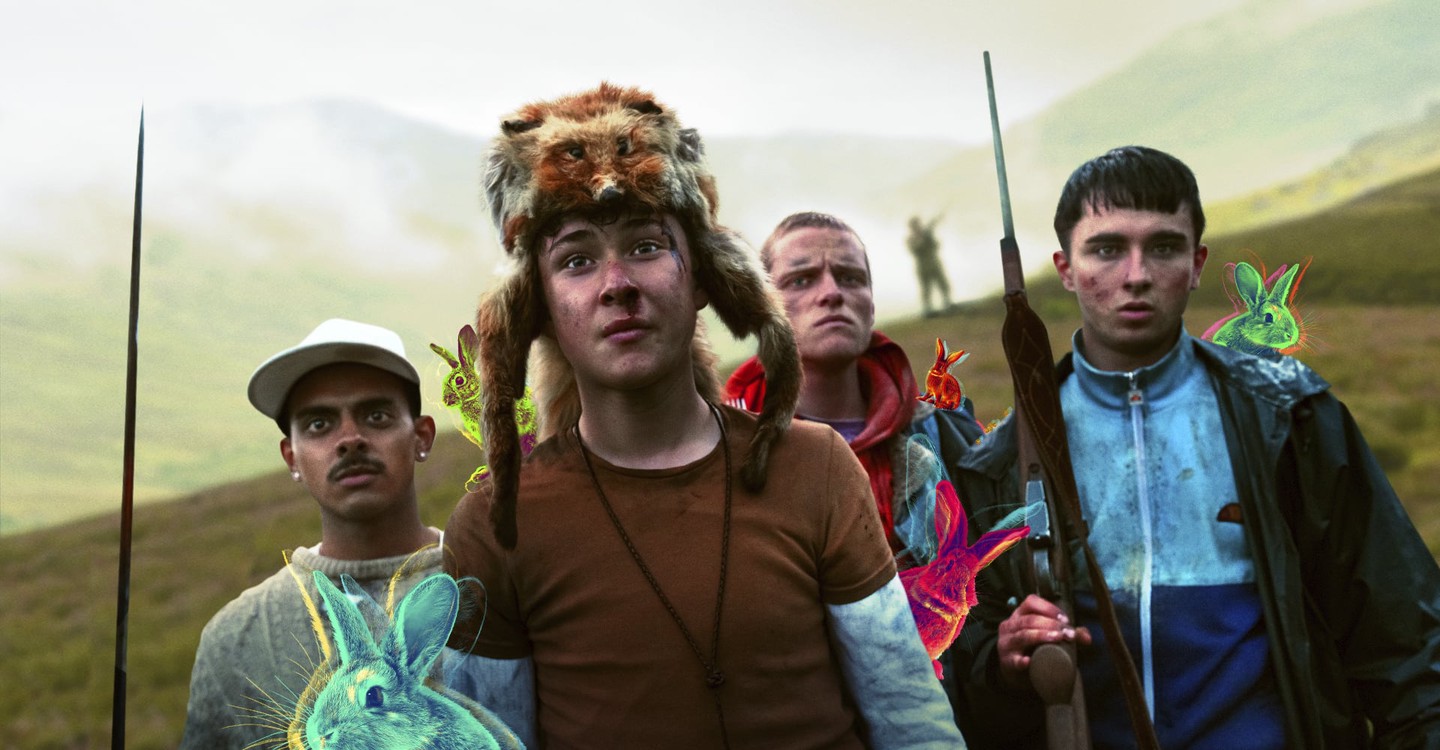 Into the mix are thrown a bunch of madcap elements, including The Duke and Duchess, two aristocrats who in a parody of Human Bloodsports and Death Games films hunt the four while ranting about the lax youth of today and culling the herd. Later they even prepare to sacrifice Samuel Bottomley in a pagan ritual, which takes the film into the realm of Folk Horror, parodying the likes of The Wicker Man (1973) – although this is subsequently forgotten about.
Much of the show is stolen by Kate Dickie as a cop commanding a police station in the middle of nowhere and determined to land the big case of her career where every single thing the four boys do is misinterpreted as evidence, as well as James Cosmo who has some highly entertaining things as he gets to discover rap. The film is filled with witty one-liners – "I can't die, I'm the future of rap," "That's the first rap song I've written that's not about my dick." Both Ninian Doff and the four guys have an wonderfully snappy, fast paced timing with the comedy.
---
Trailer here
---