---
Ireland/UK/Finland/Belgium. 2019.
Crew
Director – Lee Cronin, Screenplay – Lee Cronin & Stephen Shields, Producers – Conor Barry & John Keville, Photography – Tom Comerford, Music – Stephen McKeon, Visual Effects Supervisor – Thomas Duval, Special Effects Supervisor – Brendan Byrne, It Designed by Oriane De Neve, Production Design – Conor Dennison. Production Company – Savage Productions/Bankside Films/The Finnish Film Foundation/BAI/Head Gear/Irish Film Board (Bord Scannan Na hEierann)/Wallimage (Wallonia)/VOD/Be TV/BNP Paribas Fortis Film Finance/Metrol Technology/Wrong Men/Made.
Cast
Seana Kerslake (Sarah O'Neill), James Quinn Markey (Chris O'Neill), James Cosmo (Des Brady), Kati Outinen (Noreen Brady), Simone Kirby (Louise)
---
Plot
Sarah O'Neill has moved to a house in the countryside along with her son Chris following an abusive relationship with Chris's father. There she discovers a vast sinkhole in the nearby woods. She encounters local woman Noreen Brady who had to be locked away as deranged after she became certain that her son was not her own and tried to attack him. Not long after, Sarah starts to think that Chris has changed and become colder and different.
---
The Hole in the Ground was a full-length directorial debut for Irish director Lee Cronin. Cronin's earlier short film Ghost Train (2013) had earned acclaim and won awards and was then included in the anthology film Minutes Past Midnight (2016). The film here was funded and co-produced by an assortment of European production companies. Cronin is next projected to make Evil Dead Rise, a female-led reboot of the Evil Dead series.
Lee Cronin does a fine job in establishing mood, There's a big rambling country house and wooded grounds, including a massive sinkhole in the woods. Cronin reduces the colour tone of the film in the indoor scenes and there is quite a reasonable amount of skulking around and things going bump in the night – or of Seana Kerslake seeing unearthly things (it is not quite clear what) happening through the keyhole of her son's room. There are not quite any jump-out-of-your-seat moments but it is all good and promising build-up and mood pulled off without a hitch.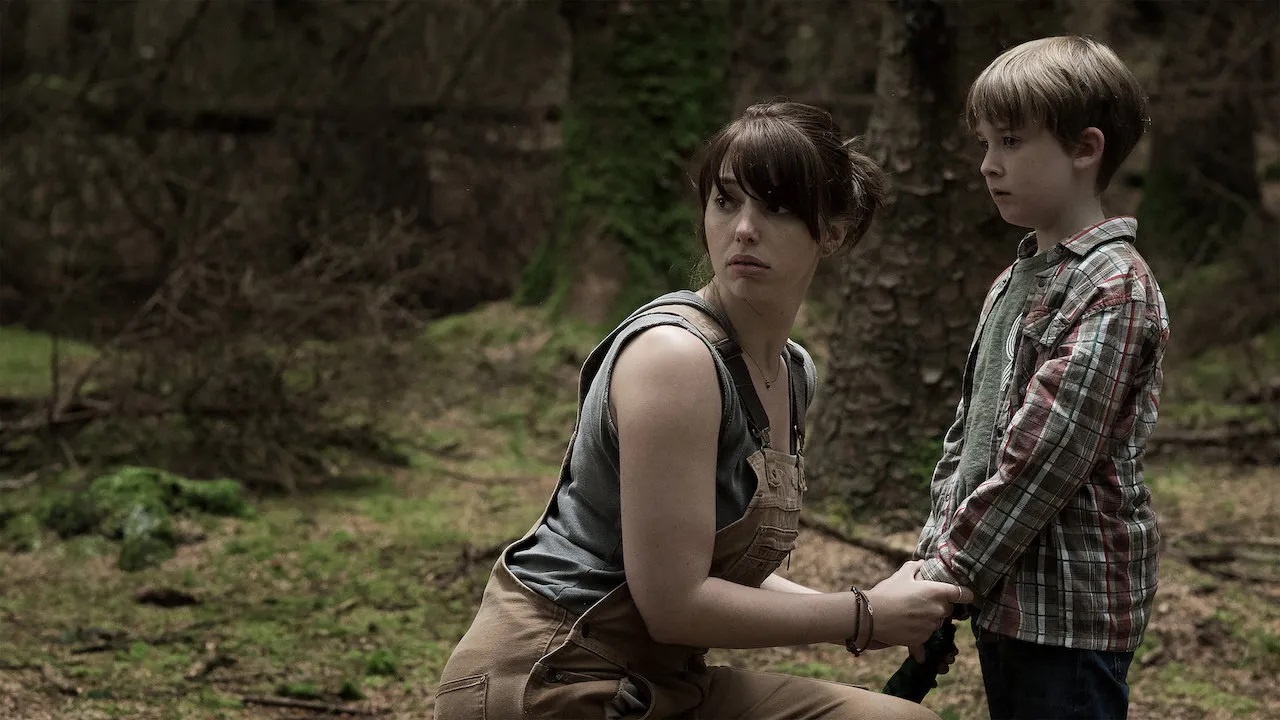 Lead actress Seana Kerslake is a new name to me but has a wonderful fresh-faced innocence as the mother. The film has essentially the same plot arc as We Need to Talk About Kevin (2011) about a mother who slowly becomes alienated from and paranoid about her son, albeit with her fears having been given more of a supernatural explanation here, As the young son, James Quinn Markey vies between child-like innocence and some wonderfully cold, chill expressions.
The only main issue I would have with The Hole in the Ground is that it never builds to as big or intense a third act as you feel that it should have done. Seana Kerslake ventures down into the hole, discovers [PLOT SPOILERS] that her son is a doppelganger – you are reminded of something like Sean Ellis's The Brøken (2008). She rescues the original, before burning the entire house down with the doppelganger in it (apparently with no concern for insurance or loss of personal belongings). The film goes out on a disquiet fadeout.
---
Trailer here
---