---
Crew
Director – Chelsea Stardust, Screenplay – Grady Hendrix, Story – Ted Geoghegan & Grady Hendrix, Producers – Adam Goldworm, Amanda Presmyk & Dallas Somnier, Photography – Mark Evans, Music – Wolfmen of Mars, Special Effects Supervisor – Chris Wilks, Makeup Effects Supervisor – Tate Steinsiek, Makeup Effects – Ill Willed Productions, Production Design – Bryan "Wally" Walior. Production Company – Fangoria/Media Finance Capital/Aperture Entertainment/Zero Trans Fat Productions.
Cast
Hayley Griffith (Samantha Craft), Rebecca Romijn (Danica Ross), Ruby Modine (Judi Ross), Arden Myrin (Gypsy Neumeier), Jerry O'Connell (Samuel Ross), A.J. Bowen (Duncan Havermeyer), Jordan Ladd (Kim Larson), Jeff Daniel Phillips (Steve Larson), Skeeta Jenkins (Mr. Styles), Hannah Stocking (Kristen Larson), Whitney Moore (Michelle Larson), Michael Polish (Gary Neumeier), Maya Rae Perkins (Samaziel), Mike E. Winfield (Karim), Cole Cordell (Frat Guy), Pam Dougherty (Cat Lady)
---
Plot
In Dallas, Samantha Craft has just started a job as a pizza delivery driver. She struggles on her first day on the job, not even getting enough tips to pay for her gas money. She accepts a delivery out to the rich neighbourhood of Mill Basin only for her customer to fail to give her a tip. With no money for return gas, she enters the side door of the house to ask for her tip, unaware that she has walked into the midst of a Satanist ceremony headed by Danica Ross. The Satanists are upset that their planned sacrifice turned out not to be a virgin. When they learn that Samantha is a virgin, they plan to make her their sacrificial victim.
---
Satanic Panic was a debut feature for Chelsea Stardust who was more mundanely born as Chelsea Peters. Stardust/Peters had been working in the film industry as an assistant since the late 2000s and from 2011 onwards is credited as an assistant to Jason Blum on a number of Blumhouse films. She made several short films and four months before Satanic Panic was released had directed one of the episodes of the Blumhose horror anthology tv series Into the Dark (2018-21). The film is produced by Fangoria Films and executive produced by the magazine's current editor Phil Nobile, Jr – part of the new production arm of the horror magazine started in 2018 as the magazine keeps flip-flopping over whether to remain in print.
The Satanist coven/conspiracy has been with us ever since Rosemary's Baby (1968). There was a fad for Satanism films for several years after Rosemary's Baby but that had slipped into being a cliche by the 1980s. Not many films still take the idea seriously – the number of full-blown Satanist conspiracy film made since then is very thin on the ground. There have however been a number of parodies with the likes of The Day of the Beast (1995), The Convent (2000) and Party Bus to Hell (2017). The forebear that comes the closest to this was the comedy Teen Lust (2014) where a teenager boy who tries to lose his virginity before his Satanist parents sacrifice him. (See Films About Devil Worship).
Satanic Panic comes with an appealing comic tone. The nearest comparison I could make is to the comically akilter black comedy of Martin Scorsese's After Hours (1985) – but with the addition of Satanists – or maybe one of the films that Richard Bates, Jr, director of Excision (2012) and Tone-Deaf (2019), keeps trying to make. When we are first introduced to the Satanists, they seem to be a parody of a New Age group, chanting positive thinking epithets. Jerry O'Connell has a rather funny scene running around after Hayley Griffith in his underwear trying to take her virginity to protect her before accidentally shooting himself.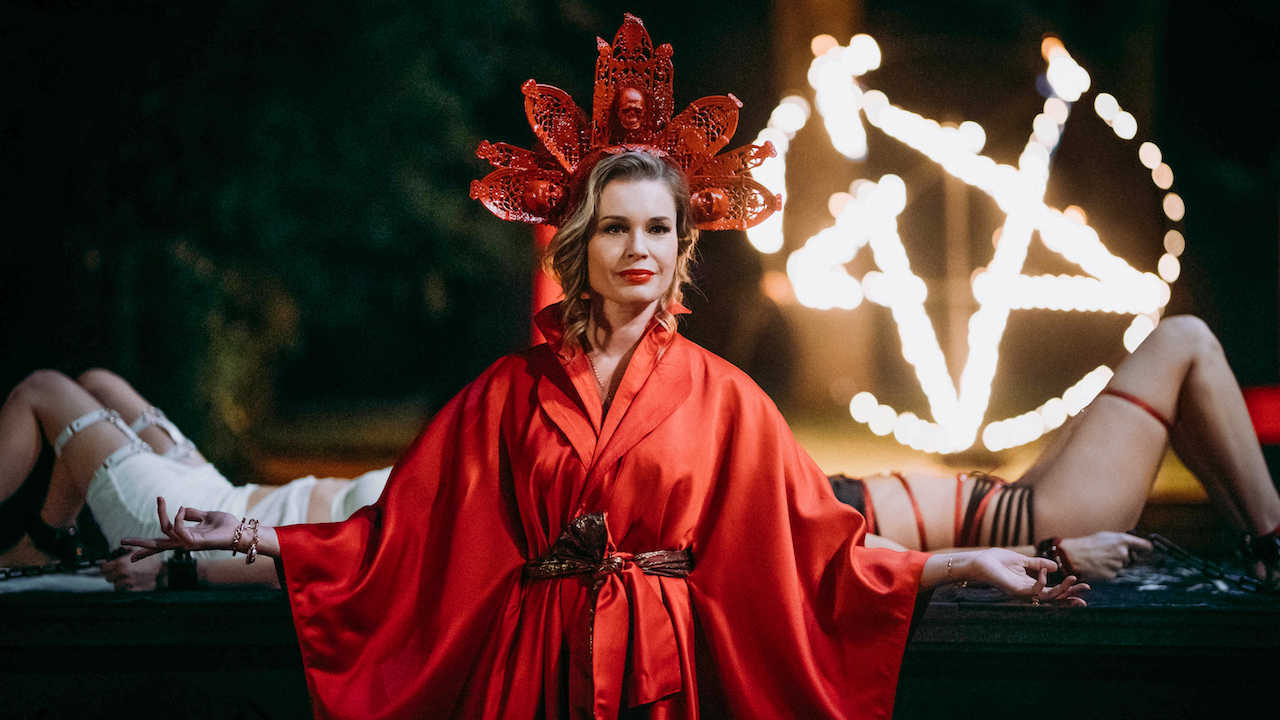 One of the most bizarrely funny scenes is where Hayley Griffith flees to the neighbouring house asking for help only to encounter a strange babysitter and then another girl upstairs torturing a guy with a giant-size drill dildo – what gets referred to as a 'killdo' – that ends up with the two girls skewered on the dildo and then electrocuted after it is impaled in the wiring in the wall.
Rebecca Romijn gets into the role of the coven head with relish – it's the most substantial role Romijn has had in some time and she has a good deal of fun. The scene-stealer of the show gets to be Ruby Modine, the daughter of Matthew, who shows herself as someone with a great future ahead of her on the basis of this film. She gets some of the film's most hilarious dialogue – it's dialogue that feels like a writer showing off rather than something any human being would ever say – but each of her wonderfully descriptive monologues leaves you wanting to cheer at the end of it. Worthy of mention as well is Arden Myrin as Rebecca Romijn's second-in-command who plays with an alarmingly intensity that fires up all of the scenes she is in.
Chelsea Stardust doesn't neglect the horror side of things in favour of the comedy as you often get in films like this. There's a fine scene with Hayley Griffith trying to cover Ruby Modine's body with markings to protect her as the Satanists cast a spell that cause her to start vomiting up things. There's also a fine scene where Rebecca Romijn lures A.J. Bowen in order to use his entrails to cast a divination.
(Nominee for Best Supporting Actress (Ruby Modine) at this site's Best of 2019 Awards).
---