---
Crew
Director – Neil Meschino, Screenplay – Dave Fogerson & Neil Meschino, Photography – Robert A. Fattaroni, Music – Julian Tulip, Special Effects – Monsters in My Closet FX (Supervisor – Jeremy Selenfriend). Production Company – Mentally Ill Films LLC.
Cast
Lawrence George (Dr Roger Bolton), Ardis Campbell (Dr Julia Young), Rick Haynes (Dr Matthew Kane), Edward X. Young (The Colonel), James Murphy (Congressman Stu Blankenship), Chris Gentile (Dave Hardy), Mike Keller (Sergeant Brisco), Nicholas Russo (Rhodes), David Pringle (Edison Carter), Derrick Peterson (Dr Peterson), Nathan Willis (Reynolds Baxter)
---
Plot
The year 1984. A congressman and colonel take a tour of the Metabiotics laboratory in the Sonora Desert. The scientists at the facility have perfected the mold Stachy Mort, which is designed for warfare and will rapidly spread with lethal effect. Unknown to those present, mold spores get in through a cut on the congressman's contamination suit and he rapidly becomes infected. As the mold spreads right around the laboratory, seeking water to grow, the others fight off the infected and try to remain uncontaminated.
---
Mold! was a directorial debut for Neil Meschino. Meschino subsequently went on to make two other low-budget genre films with The Mildew from Planet Xoander (2015), which has a very similar plot to this about a deadly mold, and the as-yet unreleased Maggots (2019).
Within minutes of opening, Mold! reveals itself as extremely cheaply made. This is abundantly evident from the cheap-looking photography and the low-budget attempts to depict a viral containment facility, which consist of nothing more than some hallways and a common room. Things seem promising from the introductory scenes of a news clip of Ronald Reagan talking about the War on Drugs, which leads one to expect a satiric take that never emerges – the clip serves as no more than explanatory rationale for the mold's development and even then has little relevance.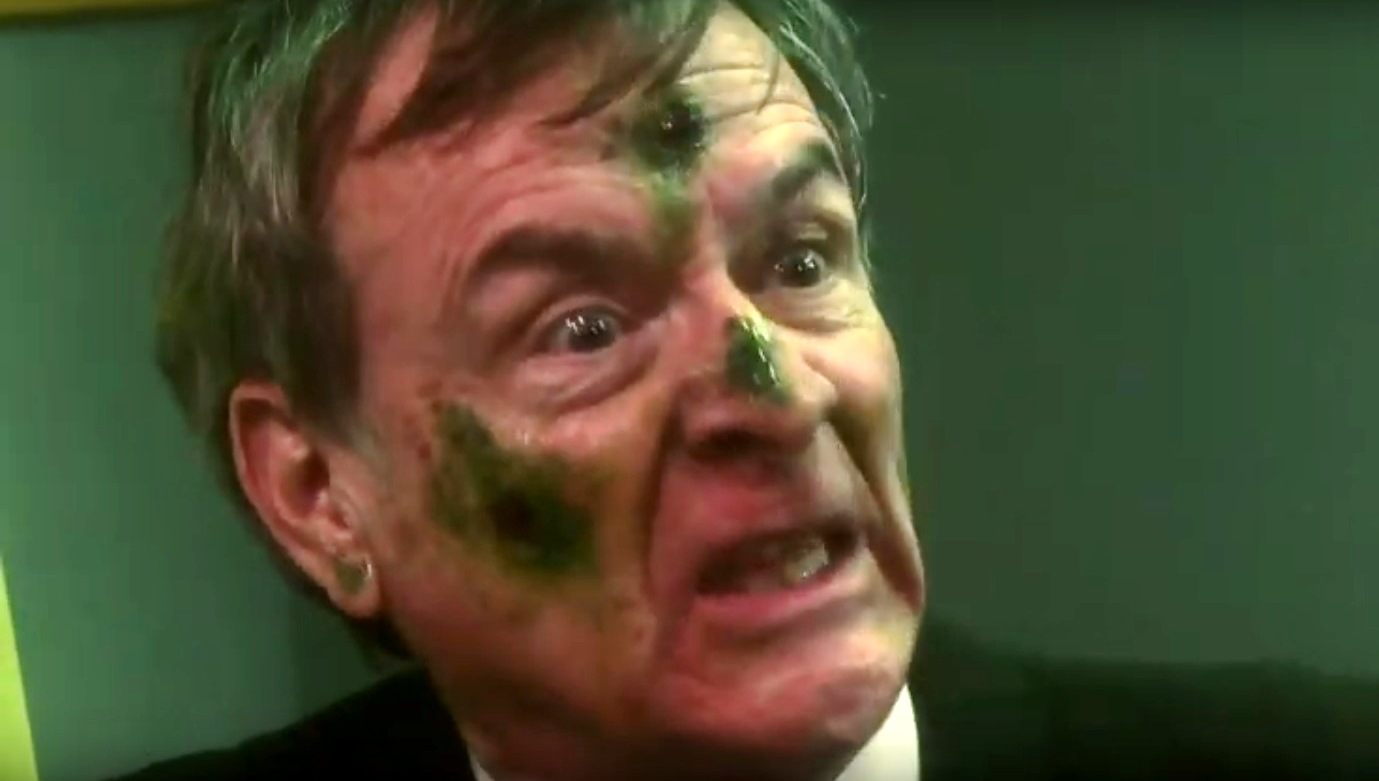 What quickly made the film's plausibility sink for me is that it is set in a bioresearch facility where people are dealing with a deadly contaminant and yet the director and writers have done no research on the topic of safety procedures in such facilities. In one of the most ridiculous scenes, the scientists discover the senator has been infected. However, rather than quarantine the room, put contamination suits on and get the infectee to isolation as quickly as possible, they stand around in the room, often less than a couple of feet away from someone who is emitting a deadly airborne contaminant and debate about what to do. Things do not improve throughout. While we do see people wearing vac suits on various occasions, we also see them treating the wounds of the infected with their bare hands.
The sole point for watching this film is during its latter third when it wheels out a good many cheap looking gore and gooey meltdown effects. Neil Meschino goes to town on these and there is amusement in watching people covered in green goop, heads exploding, severed limbs and the like. They are the only conceivable reason to want to watch the film.
---
Trailer here
---