---
Crew
Director – David Yarovesky, Screenplay – Will Honley & David Yarovesky, Producers – Gary Granat, Ed Jones, Jared Mass & Vincent Sieber, Photography – Michael Dallatorre, Music – Anthony Willis, Additional Music – Steve Aoki, Visual Effects – Les Galusha, Rez-Illusion (Supervisor – Jamison Goei), Spiffy & Work in Progress, Special Effects Supervisor – J.D. Schwalm, Makeup Effects – Two Hours in the Dark (Designer – Gary Tunnicliffe), Production Design – Brent Mason. Production Company – Midnight Road Entertainment/Witness Protection Films.
Cast
Gabriel Basso (Adam Goldstein), Kathryn Prescott (Katie), Jacob Zachar (Clark), Gabrielle Walsh (Jess), Sean Gunn (Dr Baker), Elya Baskin (Yuri Yegorov), Sonya Eddy (Nurse), Elaine Kagan (Subject 14)
---
Plot
A young man wakes up in a room with no memory of who he is. There are dead bodies there with him and his skin is covered in black ichor and starting to glow blue. He slowly pieces together fragments of memory. His name is Adam Goldstein and he was a counsellor at a summer camp. He and the various others saw a plane crash in the area and raced to the scene. There they encountered a survivor staggering and incoherent who caused various of the group to become infected with the black ichor as they tried to help him. As Adam pieces together, the ichor was the result of Soviet experiments and creates a gestalt that unites the memories of everybody it infects.
---
The Hive was a feature-length debut for David Yarovesky who had previously worked in music video. Subsequent to this, Yarovesky went on to make the superhero horror film Brightburn (2019) and the fantasy film Nightbooks (2021).
The film opens with Gabriel Basso in a room unable to remember who he is. It then proceeds to introduce a series of flashbacks as he pieces details together, along with discovering the bodies of his friends in the room. These scenes involve Basso writing key phrases on the wall alternated with flashbacks. This is about the point you start to groan and think someone has inhaled too many Memento (2000) clichés. I get that Gabriel Basso is creating a board of clues to work things out, but what the heck down writing the phrase "a riddle wrapped in a mystery inside an enigma" (a phrase originally uttered by Winston Churchill) have to do with this – it makes the film seem pretentious as anything. Similarly, it becomes clear that Gabriel is infected by something that leaves blue glowing streaks across his face but it seems ridiculous when said blue glow also cover his clothing.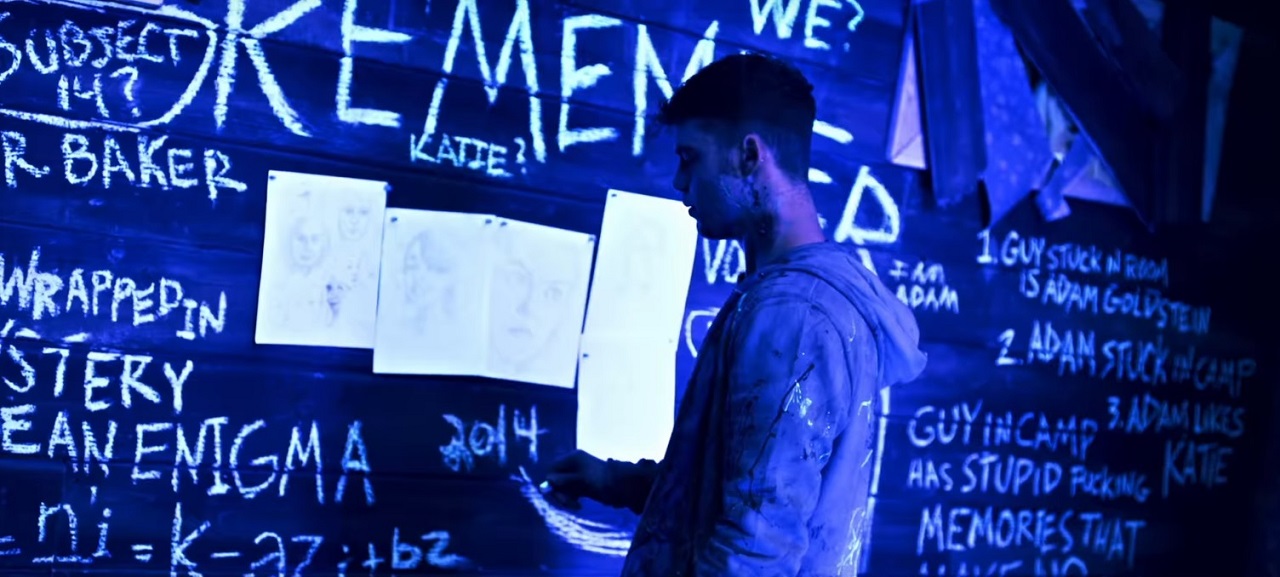 The film develops a not uninteresting premise about people being infected by a black ichor – it starts out seeming like it is going to be a zombie film but what we get is about an infection that creates a gestalt made up the memories of every previous infectee going back to the original Soviet experiments. However, as the film continues to flash back and reveal what happened, it becomes less and less interesting. The scenes at the summer camp seem to be trying to be deliberately edgy – the announcement "We're going to fuck the kids" makes you do a considerable double-take, before the anticlimactic revelation that they are only talking about a water fight.
Unfortunately, the interesting idea gets buried under a barrage of flash editing and stylistics. Scenes seem randomly punctuated by lots of stroboscopic lighting even when there seems no particular malfunctioning light source these are coming from. Much of this seems to be frenetically pumped up action and a pounding score trying to generate some drama about what is essentially a static situation – a group of people in a cabin.
---
Trailer here
---