---
Crew
Director – Richard Shepard, Screenplay – Bill Block, Eric Charmelo, Stacey Reiss, Richard Shepard & Nicole Snyder, Producers – , Photography – Vanja Cernjul, Music – Paul Haslinger, Visual Effects – Zoic Studio (Supervisor – Kevin Struckman), Special Effects Supervisor – Kyle Moore, Prosthetics – MastersFX, Production Design – John Marcynuk. Production Company – Have Passport-Will Travel Productions.
Cast
Logan Browning (Elizabeth Wells), Allison Williams (Charlotte Willmore), Steven Weber (Anton Bachoff), Alaina Huffman (Paloma), Mark Kandborg (Theis), Graeme Duffy (Geoffrey), Molly Grace (Young Charlotte), David Soo (Bus Driver), Johnny Ji (Li Jun), Eileen Tian (Zhang Li)
---
Plot
Charlotte Willmore arrives in Shanghai to attend a concert by cellist Elizabeth Wells. Charlotte was a top pupil at the Bachoff Academy of Music in Boston but had to leave to tend an ailing mother who has recently died. Following her departure, Elizabeth has become the academy's star pupil. At the performance, the two girls hit it off and are asked to perform a recital together, after which they fall into each other's arms and spend the night together. The next morning, they take a bus trip into the remote Chinese countryside but Elizabeth becomes increasingly ill, vomiting up bugs and wanting to tear her own skin off as insects spill out from her arm. To deal with this, Charlotte suggests she sever her own wrist with a meat cleaver.
---
The Perfection is a directing-writing outing from Richard Shepard. Shepard is a director who has been consistently employed since the 1990s. Shepard first directed the thriller Cool Blue (1990) and followed this with the comedy The Linguini Incident (1991), various episodes of Playboy's Inside Out compilations and the thrillers Mercy (1995), Oxygen (1999) and Mexico City (2000), Shepard gained a more high-profile presence in the 2000s and started to move out of the direct-to-video ghetto with theatrical releases such as The Matador (2005), The Hunting Party (2007) and Dom Hemingway (2013).
I didn't know what to expect of The Perfection but it had been recommended to me by others. I was immediately captivated by the film from its opening where Allison Williams travels to Shanghai to attend the recital of Logan Browning during the course of which the two girls strike up an attraction. You are immediately captivated by a scene where the two sit watching the students perform for judging in the midst of which Logan Browning draws Allison Williams' attention to a vignette on the sideline where two of the parents are conducting a secret liaison, during which she whispers in Allison's ear "It makes me wet watching." Both in the girl rivals/lovers plot and the background of a high arts setting, you are left picking up a distinct Black Swan (2010) vibe from the film.
The subsequent scene where the two girls perform their duet is punctuated by flashcuts where we see the two of them kissing, dancing in a club and then in bed making out together. The editing of these scenes becomes jaw-droppingly audacious, especially when the moans of Allison's orgasm are interwound with the applause at the end of the recital. Elsewhere various normal everyday scenes are suddenly jolted out of the ordinary by momentary flashes of people screaming or the young Charlotte running. Part of the pleasure of the film is that it comes in a series of chapters, each of which takes the story along one pathway where you think you know what is going on, before we reach the end and what we have just seen is wound in reverse and we are then given an entirely different interpretation of events. These are the sort of daring editing moves that you wish more films would employ.
Things become even more bizarre when the two girls go on a bus trip into the remote Chinese countryside, during which Logan Browning starts to become increasingly ill. Having deliberately read almost nothing about the film before I sat down to watch, these scenes seem to be going in a WTF direction and you are wondering if it is something to do with the plague outbreak that had been alluded to earlier. There is mounting tension, boosted by Allison Williams' inability to communicate to the Chinese speakers on the bus, the angry driver refusing to stop and then ordering them off in the middle of nowhere, before they are standing on the roadside and Logan Browning's arm suddenly erupts open with insects and in her panic she turns around and Allison Williams calmly hands her a meat cleaver.
If one was getting a Black Swan vibe, this goes into overdrive in the subsequent chapters. If you can imagine, the film becomes something like Black Swan by way of the histrionic melodramatics of What Ever Happened to Baby Jane? (1962). Things become even more dementedly over-the-top once the film returns to the US – about the forty minute point. I should warn in advance that this is a film that can be best enjoyed by going into it knowing almost nothing about it – if you want to enjoy, then stop reading here as everything after this point holds plot spoilers.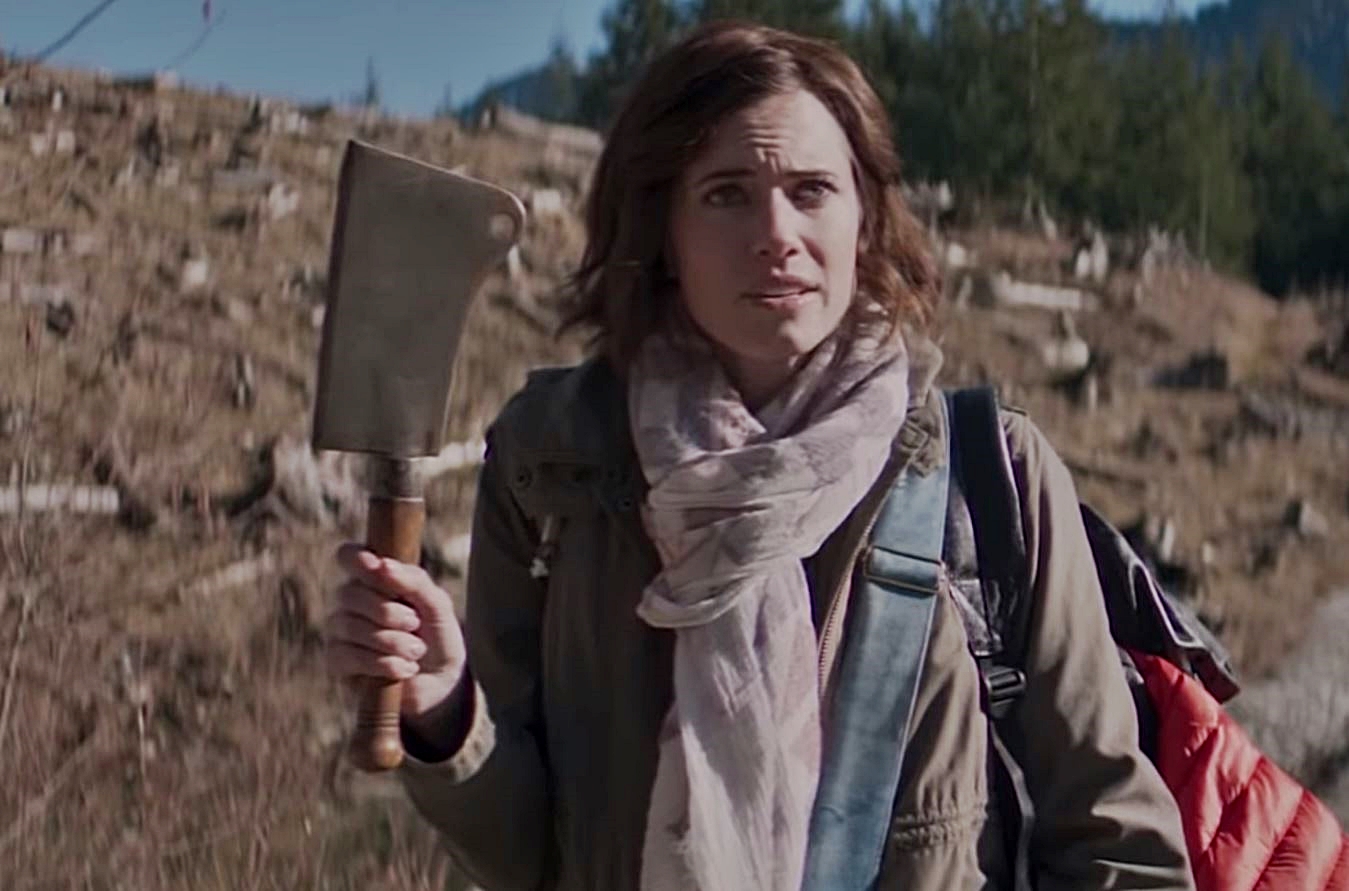 [PLOT SPOILERS HEREAFTER] The plot starts to get rather fun when it gets to the two girls hunting one another – Logan Browning breaking into Allison Williams' house with a taser and then returning to the academy with her in the trunk of her car, before Allison is tied up and forced to play the perfect recital at the end of which the associates at the academy begin torturing her by stretching her out like a cello string being wound. These section travel into some incredibly dark places – at one point it is implied that the people at the academy are raping the underage students (we even see a blurred and out-of-focus fully nude Steven Weber approaching a young Charlotte – for an actor who has been associated with comedy roles, it is quite a turnaround to see Weber, now in his mid-fifties, playing a more mature role. Behind glasses, one didn't even initially recognise it as him). The most perverse scene though is the one where we see Logan Browning preparing to sexually violate Allison Williams with the severed stump of her wrist.
If there was a film of the MeToo era, then The Perfection is surely it. It is distributed by none other than Miramax, the company co-founded by Harvey Weinstein whose outrages kicked off the MeToo movement in 2017. Although Weinstein left Miramax in 2005, you cannot help but read the film as an allegory for Weinstein's business practices. Weinstein was known for ruthlessly pushing to have his films artistically accepted – the quest for the titular 'perfection' (in musical performance) is surely the equivalent of Weinstein cutting and pushing films to be accepted to the awards establishment. At the same time, Weinstein has a long history of raping and sexually molesting actresses, while threatening that he could wreck/boost their careers. It doesn't seem too hard to substitute Weinstein and his molesting actresses for Steven Weber molesting performers in the name of art and to substitute the quest for Oscar awards for Weber's determination to have the students play 'the perfection'.
(Nominee for Best Original Screenplay at this site's Best of 2018 Awards).
---
---