---
Crew
Based on Short Stories by Stephen King, Producers – Jeffrey Hayes & John McMahon, Music – Jeff Beal, Special Effects Supervisor – Peter Stubbs, Production Company – TNT Originals/Coote-Hayes Productions/Ostar Productions.
Battleground
Crew
Director – Brian Henson, Teleplay – Richard Christian Matheson, Photography – John Stokes, Visual Effects – Stargate Digital (Supervisors – Eric Grenaudier & Sam Nicholson), Digital Character Animation – Jim Henson's Creature Shop, Production Design – Tel Stolfo.
Cast
William Hurt (Jason Renshaw), Bruce Spence (Hans Morris), Mia Sara (Beautiful Passenger)
Crouch End
Crew
Director – Mark Haber, Teleplay – Kim LeMasters, Photography – Ben Nott, Visual Effects – Iloura (Supervisors – David Booth & Julian Dimsey), Production Design – Stewart Burnside.
Cast
Claire Forlani (Doris Frehman), Eion Bailey (Lonnie Frehman), Linal Haft (Archibald), Eva Lazzaro (The Girl), Ryan Sheldrake (The Boy)
Umney's Last Case
Crew
Director – Rob Bowman, Teleplay – April Smith, Photography – John Stokes, Visual Effects – Iloura (Supervisor – David Booth), Production Design – Tel Stolfo.
Cast
William H. Macy (Clyde Umney/Sam Landry), Jacqueline McKenzie (Linda Landry), Victoria Mussett (Arlene 'Candy' Cain/Pool Girl), Harold Hopkins (Vernon Klein), Sigrid Thornton (Agnes Sternwood), Melinda Butel (Ardis McGill), Julian O'Donnell (Peoria Smith), Peter Curtin (Mr Woolrich), Don Halbert (Dunninger)
The End of the Whole Mess
Crew
Director – Mikael Salomon, Teleplay – Lawrence D. Cohen, Photography – Ben Nott, Visual Effects – Universal Production Partners. (Supervisor – David Vana), Production Design – Stewart Burnside.
Cast
Ron Livingston (Howard Fornoy), Henry Thomas (Robert Fornoy), Tyler Coppin (Richard Fornoy), Rebecca Gibney (India Fornoy), Andy Anderson (Duke Rogers)
The Road Virus Heads North
Crew
Director – Sergio Mimica-Gezzan, Teleplay – Peter Filardi, Photography – Ben Nott, Visual Effects – Iloura (Supervisor – David Booth), Production Design – Stewart Burnside.
Cast
Tom Berenger (Richard Kinnell), Marsha Mason (Aunt Trudy), Susie Porter (Sally Blair), Marg Downey (Judy Diment)
The Fifth Quarter
Crew
Director – Rob Bowman, Teleplay – Alan Sharp, Photography – John Stokes , Visual Effects – Iloura (Supervisor – David Booth), Production Design – Tel Stolfo.
Cast
Jeremy Sisto (Willie Evans), Samantha Mathis (Karen Evans), Chris Kirby (Sarge), Christopher Morris (Randy Moore), Peter O'Brien (Keenan), Robert Mammone (Jagger), Kodi Smit-McKee (Jackson Evans)
Autopsy Room Four
Crew
Director – Mikael Salomon, Teleplay – April Smith, Photography – John Stokes , Visual Effects – Iloura (Supervisor – David Booth), Production Design – Tel Stolfo.
Cast
Richard Thomas (Howard Cottrell), Greta Scacchi (Dr Katie Arlen), Robert Mammone (Dr Peter Jennings), Linc Hasler (Rusty), Jude Beaumont (Angela), Paul Glesson (Ed Brooks)
You Know They Got a Hell of a Band
Crew
Director/Teleplay – Mike Robe, Photography – Ben Nott, Visual Effects – Iloura (Supervisor – David Booth), Production Design – Stewart Burnside.
Cast
Kim Delaney (Mary Rivingham), Steven Weber (Clark Rivingham), William McNamara (Ricky Nelson), Erin Wright (Janis Joplin), Joe Sagal (Elvis Presley), Jacinta Stapleton (Sissy Pryor), Kristian Schmid (Buddy Holly), Tony Rickards (Roy Orbison)
---
Plot
Battleground:- Hitman Jason Renshaw breaks into the home of toy manufacturer Hans Morris to kill him. Returning home to his San Francisco apartment, Renshaw receives a mysterious package that contains a box of miniature plastic toy soldiers. He is startled when the soldiers come to life and begin shooting at him. His apartment becomes a battleground as he is forced to defend himself against the surprisingly resourceful miniature soldiers.
Crouch End:- Lawyer Lonnie Frehman and his newlywed wife Doris arrive in London on their honeymoon. Invited to dine with a client of Lonnie's, they head to the suburb of Crouch End. The taxi driver warns Doris that this is a place where reality has worn thin and things from elsewhere have emerged. Becoming lost in the deserted streets of Crouch End, they encounter uncanny and disturbing things.
Umney's Last Case:- Los Angeles, 1938. Private eye Clyde Umney wakes up one morning to find that everything familiar in his world is changing – his favourite diner has closed, the blind paperboy is getting a miracle operation, his secretary has quit and the elevator attendant has cancer. Umney then receives a visit from Sam Landry who tells Umney that he is a fictional character that Landry has created in a series of popular crime novels. Umney has difficulty grasping this. Desiring to retreat from his own life, which has grown painful after the drowning of his son, Landry proceeds to write Umney into his life and takes Umney's place. Umney is perplexed by the modern world but finds himself reinvigorating Landry's marriage. Meanwhile, back in the fictional scenario, Landry finds himself not quite able to get into the role of the grizzled detective.
The End of the Whole Mess:- It is the year 2011. Documentary-maker Howard Fornoy sits down in front of the camera to record his story. He tells of growing up with his genius younger brother Robert. After 9/11, Robert decided that he needed to find a solution to human aggression before it tore the world apart. Four years later, Robert announced he had discovered that the water in the town of La Plotta, Texas, had special properties that reduced aggression. He launched an ambitious plan to manufacture and then drop large supplies of the water into a volcano. When the volcano erupted, this spread the water around the world within the ash cloud, bringing peace everywhere overnight. Robert then discovered that one of the side effects of the water was that it caused the premature onset of Alzheimer's.
The Road Virus Heads North:- Successful horror writer Richard Kinnell learns that he may have cancer. Driving back home to Maine, he stops at a garage sale where he becomes fascinated with and buys a painting depicting a demoniac driver called 'The Road Virus Heads North'. As he drives on, Richard finds that not only is the picture is changing but the driver in it appears to be following the same route he is taking. Next, the people Richard meets along the way start being killed.
The Fifth Quarter:- Willie Evans is released after seven years in jail and rejoins his wife Karen at the trailer park home. His former cellmate Barney Moore came to stay there after he was released earlier. That same night, Barney returns, dying from a gunshot wound. He tells Willie how a friend had a map that showed the way to a three-quarter million-dollar stash but split the map up between four of them. Barney has been shot by one of the other men trying to steal his quarter. Before he dies, Barney gives his quarter to Willie. Willie reluctantly takes on the other three men to get the rest of the map.
Autopsy Room Four:- Businessman Howard Cottrell is taken into a hospital autopsy room, presumed dead after collapsing on a golf course. The witnesses think it was a heart attack. However, Howard has been bitten by a snake and is alive but paralysed. As the pathologists attempt to cut his body open to determine the cause of death, Howard tries to communicate with them that he is still alive despite being unable to move.
You Know They Got a Hell of a Band:- Husband and wife Clark and Mary Rivingham are driving through Oregon when Clark takes the wrong route and they become lost. They arrive in a seemingly idyllic town called Rock and Roll Heaven. At the local diner, they are startled to find that dead singers like Janis Joplin, Ricky Nelson, Buddy Holly and Roy Orbison are living in the town and that Elvis Presley is the mayor. However, the musicians are acting strangely and threateningly. When Clark and Mary go to leave town, the others try to stop them, insisting that they stay and watch the concert being put on that night.
---
Nightmares & Dreamscapes: From the Stories of Stephen King is a tv mini-series that consists of an anthology of Stephen King adapted short stories. The mini-series nominally takes its title from Stephen King's short story collection Nightmares and Dreamscapes (1993), although it should be noted that only five of the eight adapted stories come from that collection with the remainder having been taken from other King collections like Night Shift (1977) and Everything's Eventual (2002). The mini-series consists of eight stories of 60 minutes each.
Nightmares & Dreamscapes was produced for the TNT cable channel and filmed in Australia. The eight episodes have been assigned to a variety of different directors, ranging from the moderately well known – including Jim Henson's son Brian who has directed several Muppet movies, Jack and the Beanstalk: The Real Story (2001) and The Happytime Murders (2018); Rob Bowman, director of The X Files (1998), Reign of Fire (2002) and Elektra (2005); and cinematographer Mikael Salomon who directed other genre tv mini-series such as Sole Survivor (2000), 'Salem's Lot (2004) and The Andromeda Strain (2008); to unknowns like Australian tv director Mark Haber, who previously made Alien Cargo (1999), and US tv directors Sergio Mimica-Gezzan and Mike Robe. The episodes vary but most are above average.
The first story, Brian Henson's Battleground, proves surprisingly to be the best of the bunch. The fun of the episode comes in the basic concept – seeing William Hurt at siege in his apartment from toy soldiers who pelt him with miniature gunfire, blow up lamps and cabinets with their mortars, blast holes through the bathroom door or miniature helicopters that zip around the apartment after him. The reason that Brian Henson has taken this story on is clearly so that he and the Henson Creature Workshop's visual effects department can have a ball bringing the toy soldiers to life. Despite their uniform blankness, there manages to be an amazing degree of expression to the tiny plastic soldiers – they seen carrying their wounded off when William Hurt lifts up the couch, one struggling impaled on the end of a hunting knife or the commando at the end fighting to prevent the lift doors from closing and crushing him.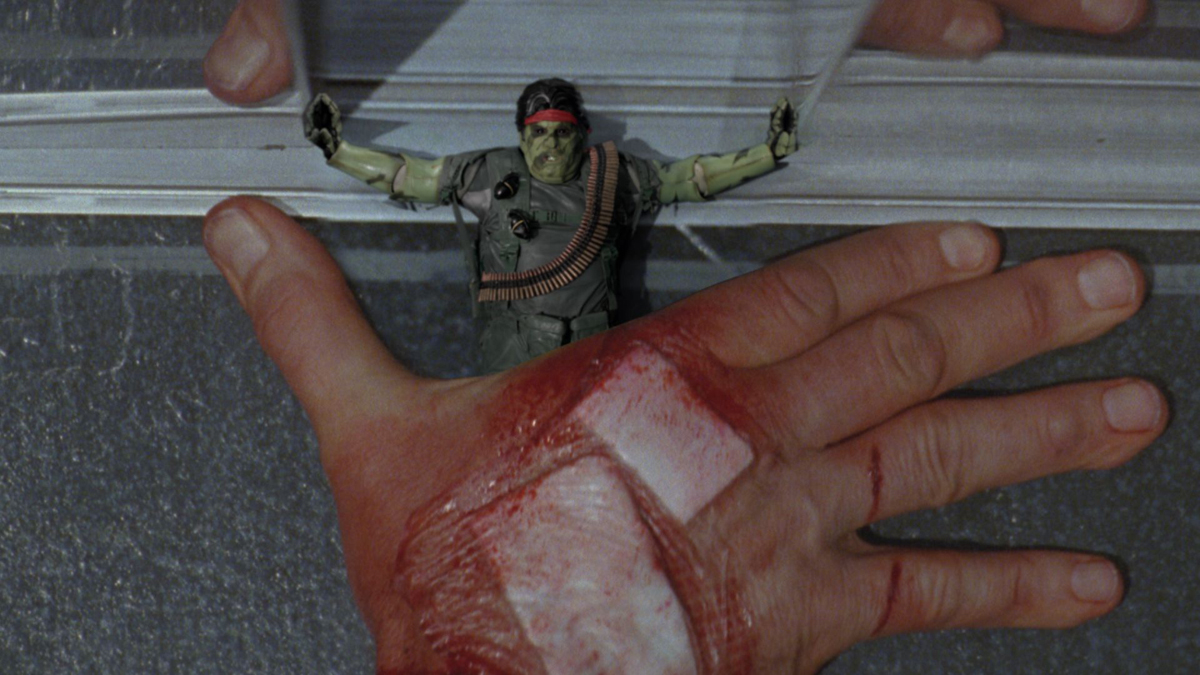 Intriguingly, Brian Henson has shot the entire episode without any dialogue. This is an interesting stylistic experiment, albeit contrived at times – William Hurt sitting beside a deaf girl (a cameo by Mia Sara) on the plane, information relayed via a tv newscast where all that we see is the teletext subtitles or when William Hurt walks into Bruce Spence's house and the two men just stand and look at one another rather than the normal reaction which would be to demand to know what the other is doing there. Henson features a Zuni Fetish doll from the classic anthology tv movie Trilogy of Terror (1975) in one of William Hurt's cabinets, clearly demonstrating that the famous and also near wordless episode from that film that involved Karen Black being pursued through her apartment by the doll has had some influence on Battleground. Henson also throws in a perilous journey around the apartment ledge, undeniably reminiscent of Stephen King's short story The Ledge (1976), which was adapted in the one other King anthology film Cat's Eye (1985). For the appealing concept and the charm of the miniature battle scenes, Battleground stands out as the best thing that Brian Henson has directed so far.
Stephen King's Crouch End story was intended as a homage to H.P. Lovecraft and originally appeared in New Tales of the Cthulhu Mythos (1980), an anthology of Lovecraft-styled stories from various authors. There are a number of Lovecraft references throughout – places and streets named after creatures like Yogsothoth, Nyarlathotep and R'Yeleh. Director Mark Haber creates a fair atmosphere of otherworldly strangeness – the eerily deserted streets, the bikers who are momentarily seen with animal faces, the cat with a half-mutilated face, the kid playing in the street who has a claw for an arm, the deserted police station with giant scratch marks across the desk. The episode is perfectly presaged by the taxi driver who warns Claire Forlani about the town and likens it to a place where reality is like a leather ball with scratches on its surface. One of the minus points of this story is that due to location shooting in Australia, the suburb of Crouch End looks far more suburban Australia than suburban London – where the much wider streets are clearly those of a small town rather than a central city neighbourhood, while the buildings come in the familiar Australian colonial style of architecture. The story also has the benefit of the lovely Claire Forlani who is at her sparklingly vivacious best.
Umney's Last Case is a venture into meta-fiction. Director Rob Bowman sets up a sterling evocation of film noir – a splendid period Hollywood street scene and cliche shots of femme fatales entering offices, slatted blinds and a hyper-realistically stylised cafe shootout. Not far in this is turned on its head as William H. Macy turns up to reveal that this is a story and he is the author. Then comes much meta-fictional interplay as we see Macy the fictional detective transported into the present day and left puzzling over modern technology or trying to deal with sexually assertive wife Jacqueline McKenzie, while Macy the writer remains in the detective scenario but seems too mild-mannered to get the tough guy pose right. The end comes abruptly, leaving one with the feeling that the full story has not yet been completed. The episode feels like it might have worked better at feature length where the interplay between fictional and real worlds could have been expanded out akin to something like Last Action Hero (1993).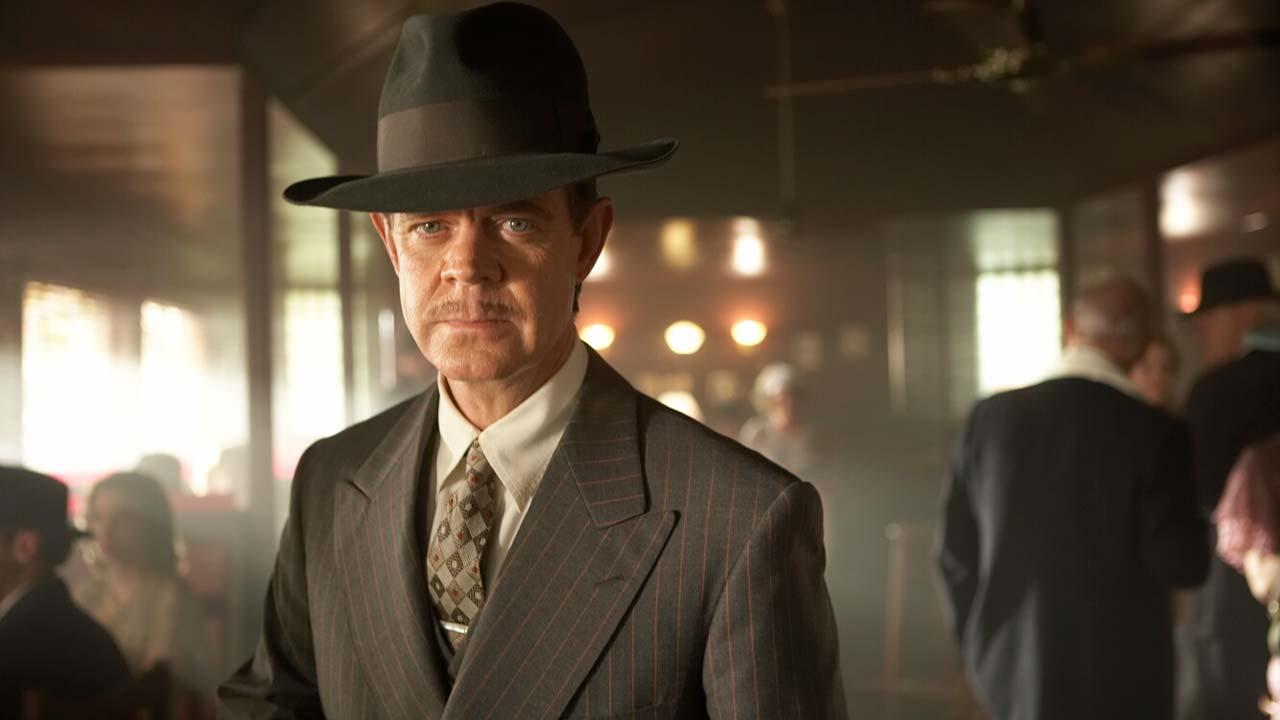 The End of the Whole Mess is probably the slightest story in the collection. It is an interesting idea but feels like it didn't need the entire one-hour running time to tell it; it could easily have taken place within the half-hour length of a standard tv anthology series. The episode is boosted by an intelligent performance from Henry Thomas, once the cute kid in E.T. – The Extra-Terrestrial (1982), in the central role of the genius brother. On the minus side, the Australian casting – you can see familiar faces throughout the series including Sigrid Thornton, Rebecca Gibney, Bruce Spence, Jacqueline McKenzie – falls down when you see quintessential Australasian actor Andy Anderson trying to wield an incredibly fake Texan accent as the professor.
The Road Virus Heads North is, like The End of the Whole Mess, another episode that feels over-extended at one-hour length. It is passable but slight. The basic premise works but it is miscast with Tom Berenger who is too outwardly physical an actor and limited in range to make for a convincing Stephen King-like writer. This episode also arrives at a frustratingly abrupt ending that leaves the story feeling not adequately resolved.
The Fifth Quarter is the only non-horror piece in the show but Rob Bowman also makes it into one of the best episodes. There is some fine casting with Jeremy Sisto, a rising young actor of some promise, who holds the show together with a natural charisma, and the intelligent and underrated Samantha Mathis. Rob Bowman gives the episode a tense urgency in the scenes with Jeremy Sisto pulling guns on and being pursued by the various hoods. The only problem with this story, which is otherwise one of the best of the show, is a weak and ambiguous ending where Jeremy Sisto goes back to jail and Samantha Mathis unearths the money (the location is obvious), leaving us uncertain whether she can be trusted or whether the two of them even have a future.
Autopsy Room Four is one of the other standout episodes. It comes with an ingenious central concept – a story that is narrated by a man (Richard Thomas) who is trapped paralysed in his own body on a morgue table and desperately trying to communicate with the pathologists who are about to cut him up that he is still alive. Despite having the narrator completely supine throughout, the episode manages to evoke considerable suspense. The minus points are Richard Thomas's voiceover narration, which tends to become shrill and girlish whenever he tries to denote urgency. Also, director Mikael Salomon pumps the piece up with forced and artificial dramatic set-pieces like the scenes with Linc Hasler trying to deal with a venomous snake in an elevator.
You Know They Got a Hell of a Band is another cute concept that fails to get the airing it needs to work. It feels as though Stephen King has taken inspiration from Gottfried Helnwein's famous painting Boulevard of Broken Dreams (1984) that shows various 50s pop icons lounging at a cafe. The episode starts well with Mark Robe creating a good lead-in in the banter between Steven Weber and Kim Delaney. The main problem is once the story arrives at the town. The actors certainly look the parts of their musician counterparts but the performances jarringly fail to match – Buddy Holly comes across as too young and cocky, Roy Orbison looks like a sleazy old-timer, with the worst being the Janis Joplin equivalent who slouches around like a crack addled old bag. Furthermore, the episode comes to an irresolute ending that may have worked better on the page but on screen feels like a sentence left without a full stop at the end
Other Stephen King film adaptations are:- Carrie (1976), Salem's Lot (1979), The Shining (1980), Christine (1983), Cujo (1983), The Dead Zone (1983), Children of the Corn (1984), Firestarter (1984), Cat's Eye (1985), Silver Bullet (1985), The Running Man (1987), Pet Sematary (1989), Graveyard Shift (1990), It (tv mini-series, 1990), Misery (1990), a segment of Tales from the Darkside: The Movie (1990), Sometimes They Come Back (1991), The Lawnmower Man (1992), The Dark Half (1993), Needful Things (1993), The Tommyknockers (tv mini-series, 1993), The Stand (tv mini-series, 1994), The Langoliers (tv mini-series, 1995), The Mangler (1995), Thinner (1996), The Night Flier (1997), Quicksilver Highway (1997), The Shining (tv mini-series, 1997), Trucks (1997), Apt Pupil (1998), The Green Mile (1999), The Dead Zone (tv series, 2001-2), Hearts in Atlantis (2001), Carrie (tv mini-series, 2002), Dreamcatcher (2003), Riding the Bullet (2004), 'Salem's Lot (tv mini-series, 2004), Secret Window (2004), Desperation (tv mini-series, 2006), 1408 (2007), The Mist (2007), Children of the Corn (2009), Everything's Eventual (2009), the tv series Haven (2010-5), Bag of Bones (tv mini-series, 2011), Carrie (2013), Under the Dome (tv series, 2013-5), Big Driver (2014), A Good Marriage (2014), Mercy (2014), Cell (2016), 11.22.63 (tv mini-series, 2016), The Dark Tower (2017), Gerald's Game (2017), It (2017), The Mist (tv series, 2017), Mr. Mercedes (tv series, 2017-9), 1922 (2017), Castle Rock (tv series, 2018-9), Doctor Sleep (2019), In the Tall Grass (2019), Pet Sematary (2019), The Outsider (tv series, 2020), The Stand (tv mini-series, 2020-1), Chapelwaite (tv series, 2021- ), Lisey's Story (tv mini-series, 2021), Firestarter (2022), Mr Harrigan's Phone (2022). and Salem's Lot (2022). Stephen King had also written a number of original screen works with Creepshow (1982), Golden Years (tv mini-series, 1991), Sleepwalkers (1992), Storm of the Century (tv mini-series, 1999), Rose Red (tv mini-series, 2002) and the tv series Kingdom Hospital (2004), as well as adapted his own works with the screenplays for Cat's Eye, Silver Bullet, Pet Sematary, The Stand, The Shining, Desperation, Children of the Corn 2009, A Good Marriage, Cell and Lisey's Story. King also directed one film with Maximum Overdrive (1986).
---
---