---
Crew
Producers – Mark Canton, Mick Garris, Joe Russo & Courtney Solomon, Visual Effects – Cos FX Films Inc. (Supervisor – Cosmas Paul Bolger Jr.) & Stargate VFX (Supervisor – Reid Paul) & Trimaran VFX (Supervisor – Fabien Girodot), Special Effects Supervisor – Simon White, Makeup Effects – KNB EFX Group, Inc. (Supervisors – Howard Berger & Greg Nicotero), Prosthetics – Vincent Van Dyke Studio (Designer – Vincent Van Dyke), Production Design – Lauren Fitzsimmons. Production Company – Cranked Up Films/Shudder/Cinelou Films/Nice Guy Productions.
The Projectionist
Crew
Director/Screenplay – Mick Garris, Photography – Andrew Russo, Music – Richard Band.
Cast
Mickey Rourke (The Projectionist)
The Thing in the Woods
Crew
Director/Screenplay – Alejandro Brugues, Photography – Matthias Schubert, Music – Kyle Newmaster.
Cast
Sarah Withers (Samantha Sanderson), Kevin Fonteyne (Jason), Eric Nelsen (Fred/The Welder), Jared Gertner (Officer Carter), Chris Warren (Mike)
Mirari
Crew
Director – Joe Dante, Screenplay – Richard Christian Matheson, Photography – Andrew Russo, Music – Richard Band
Cast
Zarah Mahler (Anna Hale), Richard Chamberlain (Dr Leneer), Mark Grossman (David Resnick), Celesta Hodge (Nurse Daniella)
Mashit
Crew
Director – Ryuhei Kitamura, Screenplay – Sandra Becceril, Photography – Matthias Schubert, Music – Aldo Shllaku.
Cast
Maurice Renard (Father Benedict Arbuelo), Mariela Garriga (Sister Patricia), Jamie Lynn Concepcion (Cindy), Stephanie Cood (Dani), Brandon Tyler (Peter), Gianni Gomez (Tania)
The Way to Egress
Crew
Director – David Slade, Screenplay – Lawrence C. Connolly & David Slade, Based on the Short Story Traumatic Descent by Lawrence C. Connolly, Photography (b&w) – Jo Willems, Music – J.G. Thirlwell.
Cast
Elizabeth Reaser (Helen Chester), Lucas Barker (Eric), Macintyre Sweeney (Chris), Adam Godley (Dr Salvador), Bronwyn Morrill (Receptionist)
Dead
Crew
Director/Screenplay – Mick Garris, Photography – Andrew Russo, Music – Richard Band.
Cast
Faly Rakotohavana (Riley Everson), Annabeth Gish (Charity), Dirk Rogers (Mr Stitches), Daryl C. Brown (Jared), Lexy Panterra (Casey Weber), Dan Martin (Dr Michaelson), Jamie Gray Hyder (Nurse Chloe), Tangie Ambrose (Nurse Annie)
---
Plot
The Projectionist:- Various people wander into the empty Rialto Theater where the sinister projectionist places on films that feature them. The Thing in the Woods:- Samantha and Jason flee through the woods pursued by a figure in a welding mask who has slaughtered all of their friends. They take refuge in a cabin as The Welder comes, trying to find a way to fight him off – but things are not quite as they seem. Mirari:- Anna Hale's fiance David suggests that she undergo surgery to remove the disfiguring scar on her cheek. Anne signs into the Mirari Clinic under Dr Leneer. However, after she comes out of surgery, Anne becomes aware that something sinister is going on at the clinic. Mashit:- Father Benedict Arbuelo battles the demon Mashit that has inhabited someone at the orphanage that he manages. The Way to Egress:- Helen Chester sits with her children waiting for an appointment with her doctor. Since splitting up with her husband days ago, she has become aware that things around her are changing. As she waits, the clinic descends into disorder and decay, while the attendants become more deformed. Dead:- Riley Everson has just performed a piano recital. He leaves along with his parents only for an armed crazy to attack them, shooting both his parents and him. Riley comes around in the hospital, having survived. However, he can now see the dead all around him, and must also deal with the killer who has returned for him.
---
The last few years have seen a major return of the horror anthology. In particular, we have seen the rise to prominence of the multi-director anthology, usually featuring a diverse range of genre directors. Examples of these films include Chillerama (2011), The Theatre Bizarre (2011), The ABCs of Death (2012) and sequel, V/H/S (2012) and sequels, The Profane Exhibit (2013), Southbound (2015), Tales of Halloween (2015), Grindsploitation (2016), Holidays (2016), XX (2017), The Field Guide to Evil (2018) and Isolation (2021). Nightmare Cinema boasts a high profile line-up of directors including Joe Dante and Mick Garris whose contributions are discussed in their respective episodes below.
The first episode The Thing in the Woods comes from Alejandro Brugues, an Argentinian-born director who had a modest splash with the Cuban zombie film Juan of the Dead (2011), as well as contributed the E is for Equilibrium segment to the previous horror anthology ABCs of Death 2 (2014). Brugues makes a highly entertaining segment that starts out seeming like a standard slasher film with teens being pursued through the woods by a maniac in a mask, before seeking refuge in a cabin.
Brugues launches into the slasher movie set-up with a great deal of enthusiasm. There are highly entertaining scenes with Sarah Withers and Kevin Fonteyne being pursued through the woods and trying to fight off The Welder. Brugues does particularly cleverly things with some of the gore effects. There's a fantastic (and rather funny) scene where The Welder has Kevin Fonteyne pinned against the wall, Kevin reaches for a block of kitchen knives only to have them taken off him and stabbed into his body, the two of them passing through the entire set of knives until Kevin is effectively crucified against the wall. The great effect that then transpires is when The Welder plunges his blowtorch inside Kevin's stomach and we see the flame lighting up the hollow cage of his stomach and his entire head.
The even more fun twist that Brugues then puts on the episode is to turn everything on its head and reveal that what we are watching is not a slasher film but an alien body snatchers film and what we take to be a masked maniac killing teens is actually someone trying to eliminate the alien possessed. There is also a highly entertaining effect in mid-film where we see Sarah Withers' head split open to reveal a bug sitting inside in the midst of her brain.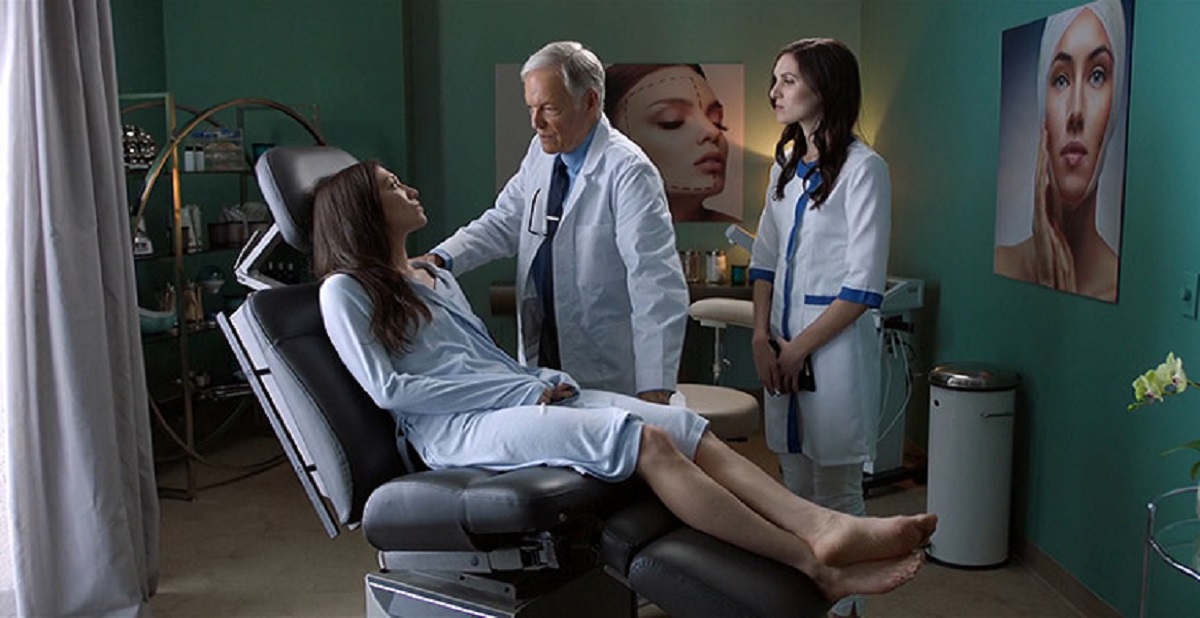 The second episode Mirari comes from Joe Dante who has had a long history in genre films as director of the likes of Piranha (1978), The Howling (1980), Gremlins (1984), Explorers (1985), Innerspace (1987), The 'Burbs (1989), Matinee (1993), Small Soldiers (1998), Looney Tunes: Back in Action (2003), The Hole (2009) and Burying the Ex (2014). In these, Dante demonstrates an enormous capacity for fannish enthusiasm and is constantly in-joking and in-referencing other genre films.
Dante's fannish in-jokes (which have overloaded some of his other films) are entirely restrained here. I would have thought Mirari would have been one of the standout episodes – it even has a story from Richard Christian Matheson – but it isn't. The episode is based around the idea of the person emerging from surgery and finding things are not quite right. Here I was getting a distinct vibe of The Twilight Zone episode Eye of the Beholder (1960) but the punch line here – which seems to imply there is a big conspiracy to make Zarah Mahler into something ugly – falls flat. An 84 year-old Richard Chamberlain plays the doctor – the first occasion he has taken on a horror role.
Mashit comes from Japanese director Ryuhei Kitamura who first appeared with the gore-drenched Yakuza zombie film Versus (2000) and went on to make Alive (2002), Aragami (2003), Sky High (2003), Godzilla: Final Wars (2004), Baton (2009) and Lupin III (2014) in Japan. Kitamura has shown an equal proclivity at directing English-language films such as the fine and underrated Clive Barker adaptation The Midnight Meat Train (2008), No One Lives (2012) and Downrange (2017).
In the last few years the possession film has shown it is running out of new ideas in a major way, that it has only been recycling the same old cliches and shock effects ever since The Exorcist (1973) – and that was 45 years ago. Kitamura doesn't particularly introduce anything new to the mix but at least goes at the old cliches with an enthusiasm way above and beyond everything else – from the opening with the boy threatening to jump from the roof where he alarmingly swings between regular kid and calculating demon to a more technically advanced version of the The Exorcist spider walk sequence to finally arrive at an enormously enjoyable climax that wades in blood and gore with Maurice Renard and Mariela Garriga in the chapel despatching a horde of possessed children with swords.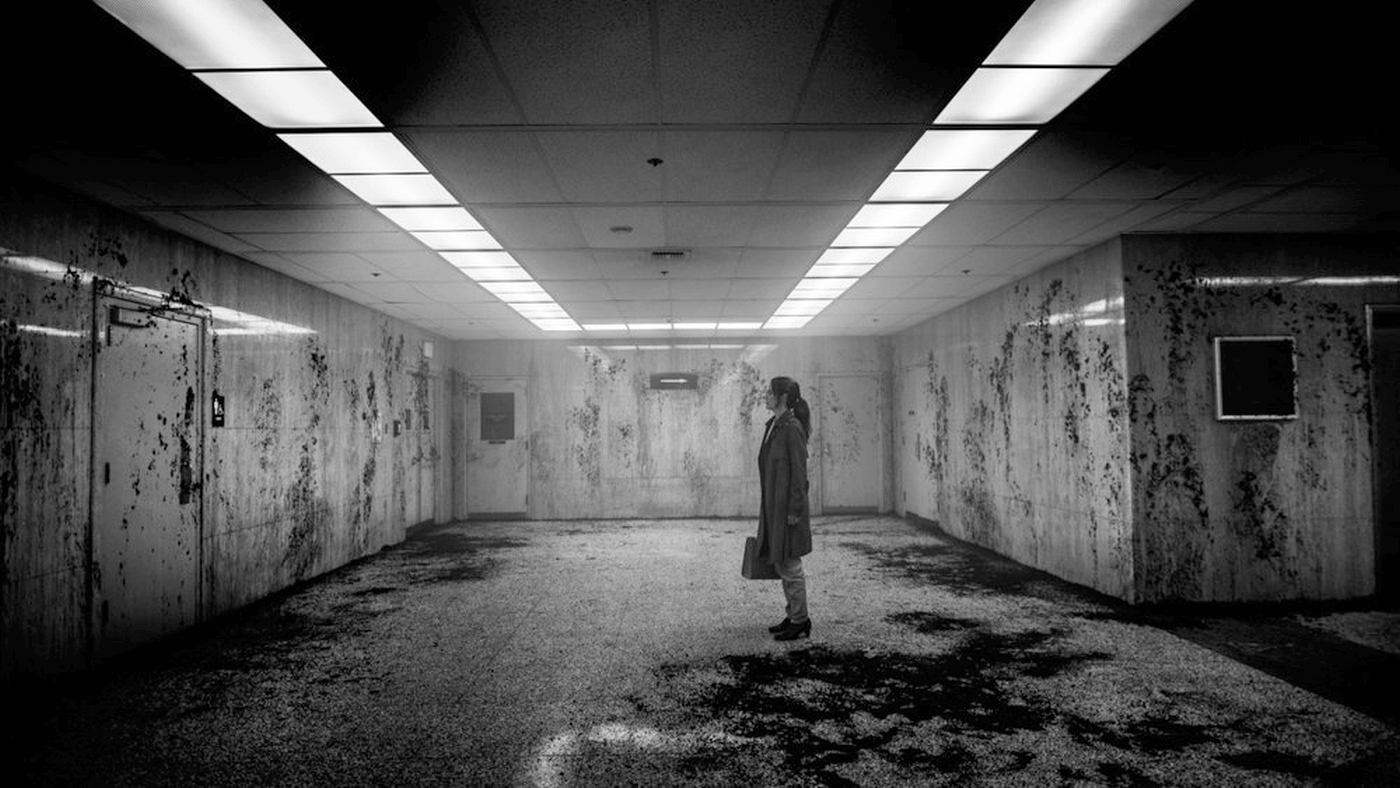 British-born David Slade is not an immediately recognisable genre director but has made the incisive and challenging Hard Candy (2005) in which an underage Ellen Page tortures paedophile Patrick Wilson, the vampire film 30 Days of Night (2007) and the Twilight sequel Eclipse (2010).
Slade makes The Way to Egress, the only episode adapted from another source – the short story Traumatic Descent (1993) by Lawrence G. Connolly. This is less horror than it can be considered a existential nightmare becoming cosmic horror by the end of the show. The episode (all filmed in black-and-white) starts at a relatively normal point – mother Elisabeth Reaser and children sitting in a doctor's waiting room – and gets progressively weirder as the waiting room and rest of the building becomes more filthy with dirt and grime streaked everywhere, while the attendants start to seem increasingly less human-like each time we meet them.
Things start to get weirder when Elisabeth Reaser goes in to talk to her doctor and it is suggested that all of this is her losing her grip on reality because her husband left her. However, when she calls her husband moments later, there comes the supremely disturbing moment where she mentions the children and he asks "What children?" Things get even weirder when she returns and hears the doctor on the other side of a door talking about her having descended from a higher plane of existence. The final scene with her exiting the building with the children as the entire world seems to be in the process of disintegration saying "Let's go home" is perfect.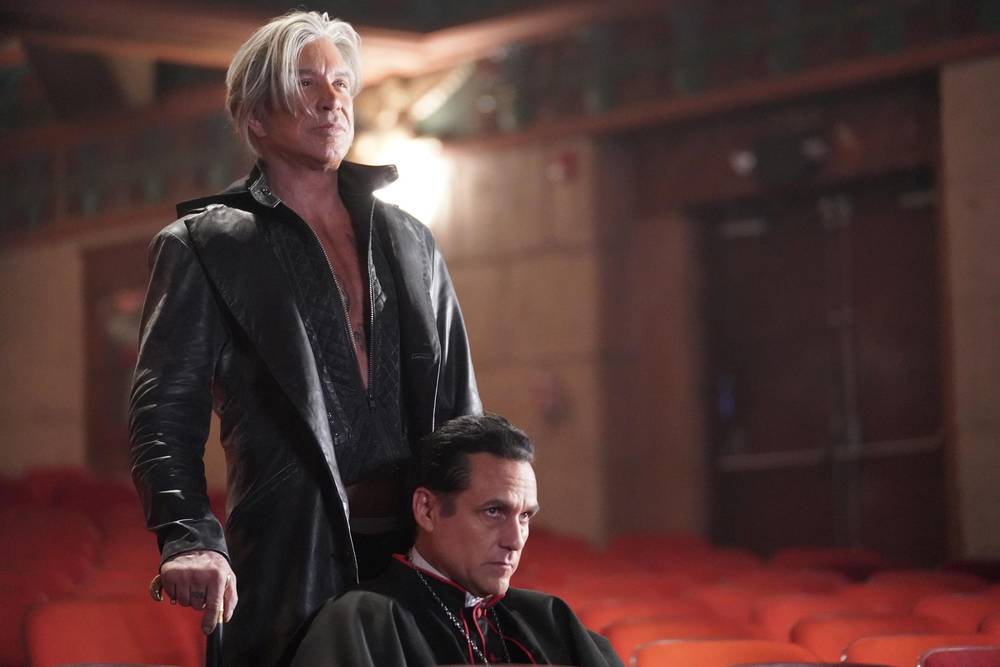 Mick Garris is the only director of the five present who left me feeling unenthused about his presence – Garris also produces Nightmare Cinema, plus directs one segment and the wraparound. Garris started out as a scriptwriter and then began directing with Critters 2 (1988) followed by Psycho IV: The Beginning (1990). However, it is for his bludgeoning and ham-fisted Stephen King adaptations that Garris has become known with the likes of Sleepwalkers (1992), The Stand (1994), The Shining (1997), Quicksilver Highway (1997), Riding the Bullet (2004), Desperation (2006) and Bag of Bones (2011).
Garris's episode Dead feels like it wants to be a deathdream film – see the likes of An Occurrence on Owl Creek Bridge (1961) and The Sixth Sense (1999). On the other hand, Garris clumsily tries to suggest this might not be the case either and the episode seems to waver in uncertain confusion. We can't be certain if Faly Rakotohavana has returned able to see the dead or it is all because he is in a state of half-death. All that really drives the film is Garris throwing in a progression of jumpshocks – his favourite directorial tactic. The scene at the end where Faly Rakotohavana wavers between visions of his mother Annabeth Gish urging him to join her and Lexy Panterra urging him to fight it is absurdly sentimental. Garris also directs the wraparound scenes with Mickey Rourke, still looking like he has spent ten years with his face being used as a punching bag, miscast as the introductory figure of The Projectionist.
---
---