---
Crew
Director/Screenplay – Matt Mitchell, Producer – Clare Pearce, Photography – Jamie Burr, Music – Adam Price, Visual Effects – Redlight Visuals, Makeup & Effects Designer – Jess Heath, Production Design – Lucy Gahagan. Production Company – Lost Eye Films Ltd/Goldfinch Entertainment.
Cast
Laura Swift (Francis Day), Patrick Knowles (Private Briggs), Christopher Takagh (Professor Richard Baughman), Bruce Payne (Admin), Lawrence Kennedy (Dr Julian Hicks), Adrian Edmondson (Interviewer)
---
Plot
A woman wakes inside a facility with no memory. From an id card, she finds that her name is Francis Day. As she passes through the corridors, she encounters two others – scientist Richard Baughman and the soldier Briggs. The hallways are inhabited by monstrosities and mutations that have killed everyone else present. All of this links back to Francis's fragmentary memories of being part of an experiment run by the military.
---
The Rizen was the third film from British director Matt Mitchell. Mitchell had previously made Gangsters, Guns and Zombies (2012) and It Never Sleeps (2014), all on low budgets.
The premise of a group of people waking up in a facility with no memory – it is not clear where they are, you get the impression of some kind of underground bunker – and then finding there are monstrous things in there with them makes this resemble a low-budget version of Resident Evil (2002). The encounters with assorted creatures around the labyrinth gives a distinct impression of something out of Silent Hill (2016) at times.
The main problem that becomes apparent as The Rizen goes on is that it is extremely vague about what is going on. There are assorted zombie-like creations lurking around the hallways; evidence of something having eviscerated other people and conducted some kind of rites, including writing the phrase 'Rizen' in blood (it is never explained what this means or why it is misspelt). There are several flashbacks to a series of experiments being conducted under military supervision as Laura Swift is inducted into these, although it is never made clear what the experiments were about.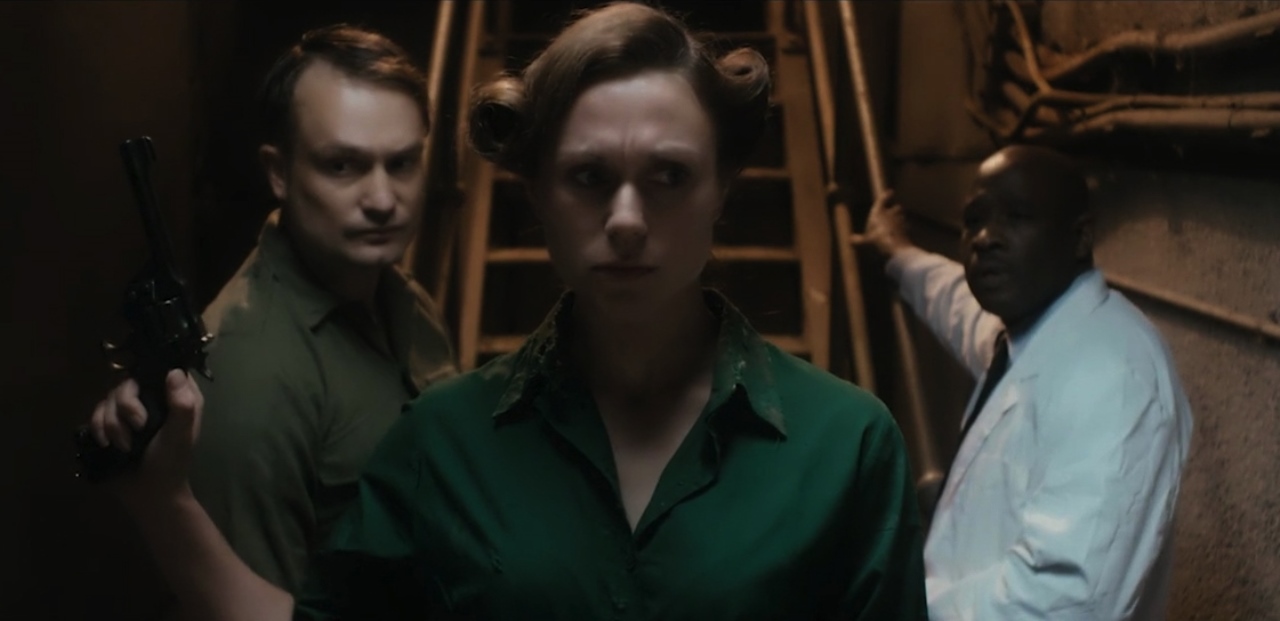 Underlying the film is a definite air of Lovecraftian Themes – of forbidden occult rites enacted, abominable entities unleashed. This becomes particularly evident at the climax of the film where Laura Swift does eventually open the doorway she has been given orders to do and encounters a vast cosmic entity – one that looks like an entire planet-combination-eyeball/squid thing. It is a rather cool effect and a good ending but doesn't quite excuse the vagueness and lack of plotting coherence that comes in the build-up to get there.
Matt Mitchell and several of the actors later returned with a sequel The Rizen: Possession (2019).
---
Trailer here
---