---
Crew
Director – Jourdan McClure, Screenplay – Ryan Finnerty & Kevin Haskin, Producers – Zachary Bryan, Jo Haskin, Kevin Haskin & Adam Targum, Photography – Brian Hamm, Music – Jermaine Stegall, Visual Effects Supervisor – Nick Trivundza, Special Effects Supervisor – Kai Shelton, Prosthetic Makeup Design – Clinton Wayne, Production Design – Tobija A. Annis. Production Company – Vision Entertainment Group/Kejo Productions.
Cast
Michelle Page (Mara), Bill Moseley (Jon), Lucinda Jenney (Lea), Chris Coy (Andrew), Michael Cudlitz (Sheriff Boyd)
---
Plot
Mara leaves California and drives to Rogue River to disperse the ashes of her late father in his favourite fishing spot. She is interrupted by Jon who admonishes her for doing so without a permit. When she returns to her car, she finds it has been towed away. Jon offers to give her a ride into town. He stops by to tell his wife Lea what is happening but she insists that Mara stay the night instead of going to a motel. However, when Mara tries to leave she finds she has been made a prisoner.
---
Rogue River was a directorial debut for Jourdan McClure who subsequently went on to make the horror films Children of Sorrow (2012) and Shepard (2020).
Rogue River is what this site labels an Imprisonment Thriller. This is a genre that began in the 1960s with films like The Collector (1965) and The Fanatic/Die, Die, My Darling (1965) in which people (usually a girl) are imprisoned by others for sinister purpose. Subsequent developments on the theme turned the captors into backwoods psychos and serial killers and focused on the torture element – the whole Torture Porn cycle is essentially a subgenre of the Imprisonment Thriller. The plots in most of these ride a rollercoaster of suspense where they build up and then dash the captive's hopes for escape.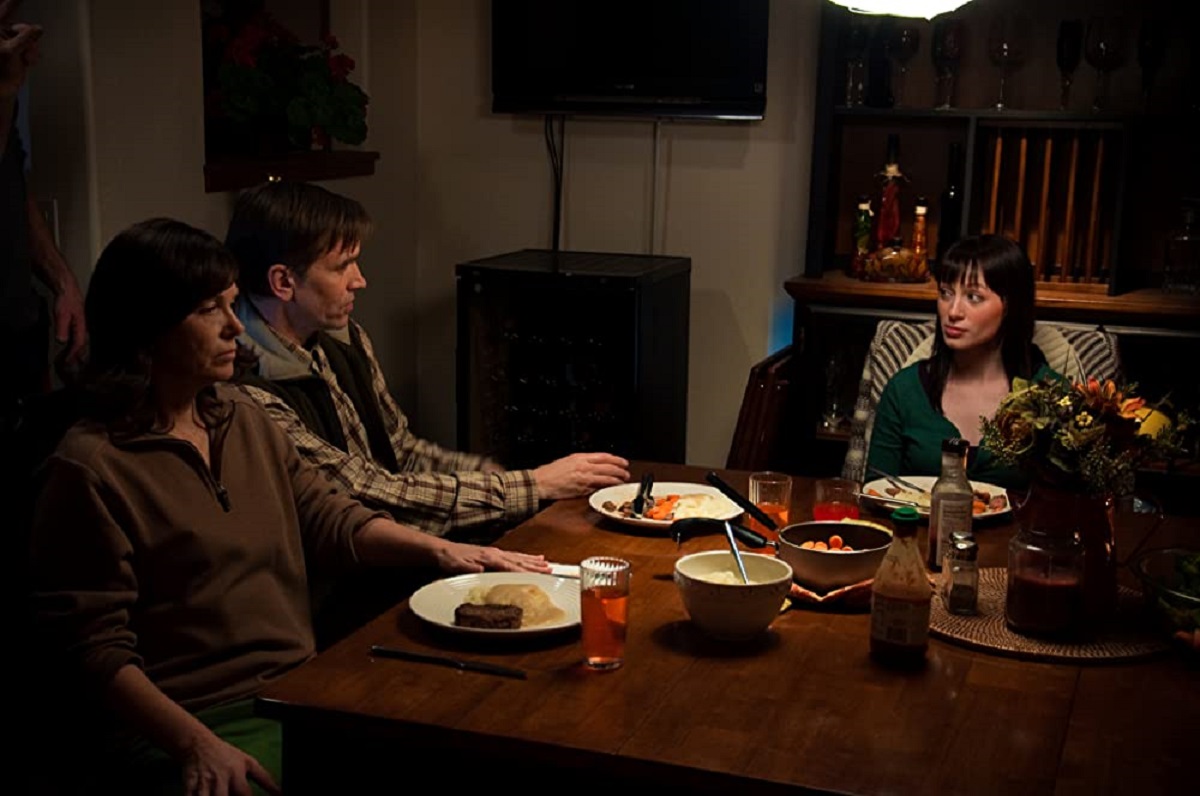 The great benefit that Rogue River has is its casting. Bill Moseley is a seasoned genre pro and launches into the role of the male captor Jon with a mix of friendliness and disturbed psychology. He is even bettered by Lucida Jenney, Moseley's wife in real life. She is an actress who always seems to have lurked under the radar in supporting roles. Here she plays Moseley's wife and gives a performance that manages to unsettle in varying degrees, not to mention has her reduced to a cancerous cadaver at other points.
The main problem with Rogue River is that it sets its situation up in solid ways with the initial friendliness of Bill Moseley and Lucinda Jenney before this invariably segues into Michelle Page's imprisonment. However, after that point nothing much happens. There are various escapes, recaptures and the like that are expected of such a plot but Jourdan McClure fails to wind them up for much tension and the promise of the film gradually dissipates. There's one WTF scene where Michelle Page is forced to have sex with someone whose face is covered – but even then it is a contrived shock that has been borrowed from A Serbian Film (2010).
---