---
Crew
Director – David Brooks, Screenplay – Chris Sparling, Story – Chris Sparling & Ron Tippe, Producers – Paul Brooks & Peter Safran, Photography – Bengt Jan Jönsson, Music – David Buckley, Visual Effects Supervisor – Perry Knoll, Visual Effects – Studio Free Radical, Special Effects Supervisor – Louis Craig, Production Design – Craig Sandells. Production Company – Buffalo Gals Pictures/The Safran Company/Gold Circle Films.
Cast
Brian Geraghty (David Hargrove), Josh Peck (Corey Thompson), Alice Eve (Emily Brandt), Mike O'Brien (Man)
---
Plot
At the company Christmas party, banker David Hargrove finally gets the opportunity to talk to Emily Brandt, a co-worker he has been interested in asking out, finding it is her last day. He offers her a ride home. At the same time, David's friend Corey Thompson annoyingly insists on being given a ride home too, despite David's efforts to dissuade him so he can get an opportunity to be with Emily. Corey wants to order pizza and stops off at an ATM machine to get some cash. While they are in the booth, a figure in a hooded coat appears outside and sinisterly waits there. When another person stops by, the man outside attacks and kills them. They are left trapped inside the booth as the mystery man attempts to break in and kill them, while foiling their every effort to escape.
---
ATM joins a fad we have had in recent years for Conceptual Economy Films – works that imprison their protagonists inside a small confined space for the duration. This began with Phone Booth (2002) where Colin Farrell was trapped inside a phone booth by a sniper. A number of others followed including Vincenzo Natali's Nothing (2003), which took place in a blank white void; Open Water (2003), which featured no sets, just two characters swimming in the sea surrounded by sharks; Black Water (2007), which took place with the cast imprisoned in a tree by a crocodile; Wind Chill (2007), a ghost story that took place inside the front seat of a car; Shuttle (2008) with its protagonists held hostage in an airport shuttle; Buried (2010) set entirely around Ryan Reynolds trapped inside a coffin; Frozen (2010) with three characters trapped in mid-air aboard a ski chairlift; 247oF (2011) with people trapped in a sauna with the heat on the rise; The Night Chronicles 1: Devil (2010) about five people imprisoned in an elevator with The Devil; the true-life 127 Hours (2010) with James Franco trapped in a crevasse; Detour (2013) and Curve (2015) with characters trapped in SUVs; Locke (2014) that takes place entirely with Tom Hardy talking on a phone while driving; Landmine Goes Click (2015) with a character trapped standing on a landmine; The Shallows (2016) in which Blake Lively is stranded on a rock by the tide and menaced by a lurking shark; 200 Degrees (2017) in which Eric Balfour is trapped inside a heat kiln; Serpent (2017) with a couple trapped in a tent with a deadly snake; Oxygen (2021) with a woman trapped inside a cryogenic capsule; and Shut In (2022) with a woman locked in a pantry by her abusive ex. (For a greater overview of the genre see Imprisonment Thrillers).
The hit of Buried, which pushed the Conceptual Economy Film to its absolute limit in terms of the tightest space it could get an actor, casts a giant shadow over ATM. For one, it has the same screenwriter in Chris Sparling who subsequently went on to direct the impressive Found Footage film The Atticus Institute (2015). One gets the impression that Sparling was signed on here on the basis of that credit and given orders to go away and write another Buried.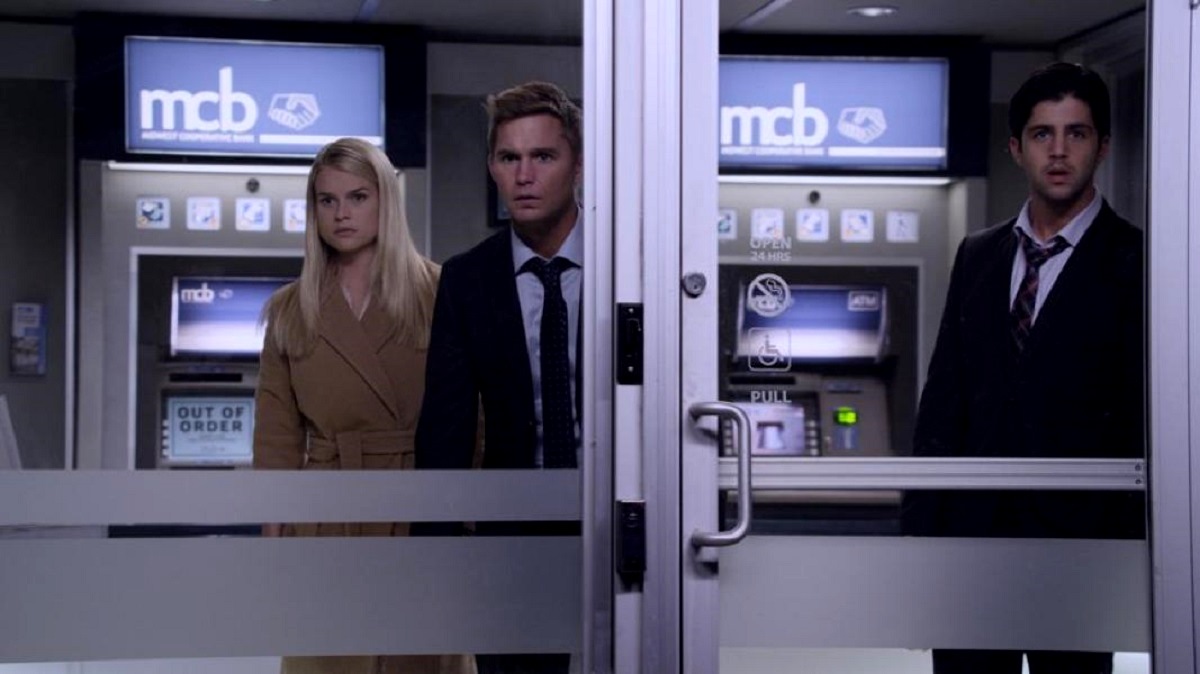 The film has a slightly larger scope than the admirable conceptual economy of Buried, which kept the camera in the coffin with Ryan Reynolds for the entire running time – there are now three characters trapped in a larger space where they at least have room to move around; the camera wanders both in and out of the ATM booth; and we get some prior scenes set in the outside world. We also get the addition of a shadowy figure outside the booth who has lured them there and is playing a series of deadly psychological games of cryptic purpose with them, which serves to take ATM closer to Saw (2004), another Conceptual Economy film of sorts that almost certainly had influence on a number of the above entries.
ATM should work – it has been banked on a repeat of the confinement concept and its drama wound around constant screws being put on the characters as they try to escape and the mysterious figure outside who keeps doing more and more malevolent things. Unfortunately, ATM fails to generate the necessary suspense. The twists and sweat-on-the-brow tension never seems to be there in Chris Sparling's script, while newcomer David Brooks directs with a competent but eventually unremarkable hand.
Amid the central trio, lead Brian Geragthy seems weak to the point of backboneless. The rising name of Alice Eve is pretty but ultimately distant. That only leaves the show to be dominated by Josh Peck who succeeds in doing so despite being the most obnoxious and unlikeable character present. I also couldn't help but think that these days it seems an ill choice to make a film about bankers being trapped inside an ATM booth – while one initially thought that the film had a subversive edge and was setting itself up for a dig at The Recession, the script seems to lack any idea of the appreciable irony inherent in the concept.
---
---