---
Crew
Director/Screenplay – Rob Zombie, Producers – Tony Ciulla, Mike Elliott & Rob Zombie, Photography – David D. Daniel, Music – Zeuss, Visual Effects – Shockbox (Supervisor – Eugene Armencha), Special Effects Supervisor – Chad Van Baalbergen, Makeup Effects – Wayne Toth, Production Design – Shawn McKinney. Production Company – Lionsgate/Spookshow International Films/Capital Arts Entertainment.
Cast
Sherri Moon Zombie (Vera Ellen 'Baby' Firefly), Bill Moseley (Otis Driftwood), Richard Brake (Winslow Foxworth Coltrane), Jeff Daniel Phillips (Warden Virgil Harper), Kevin Jackson (Gerard James), Sid Haig (Captain Spaulding), Emilio Rivera (Francisco Mendoza Chavez/Aquarius), Dee Wallace (Greta), Richard Edson (Carlos Perro), Sylvia Jeffries (Heather Starship Galen), Tracey A. Leigh (Judy Harper), Pancho Moler (Sebastian), Clint Howard (Mr Baggy Britches), Amy Rosario (Juanita), Bill Oberst Jr. (Tony Commando), Lucinda Jenney (Nebraska), Danny Trejo (Rondo)
---
Plot
The Firefly Gang make a miraculous recovery from the wounds received during the shootout and are jailed. Captain Spaulding is subsequently executed. In 1988, after ten years in jail, Otis Driftwood is sprung when his brother Winslow Foxworth Coltrane aka The Midnight Wolfman shoots up the chain gang Otis has been placed on. Baby Firefly is still in jail, having been denied parole, and her mental health is deteriorating. Otis and Winslow plot her release by taking the wife and friends of the prison's warden Virgil Harper hostage. Harper springs Baby by placing her in a guard's uniform and walking out with her. The gang then slaughter Harper and the hostages and decide to head to Mexico. They hole up in a tiny nowhere town believing they are safe. However, the hotel owner recognises them and sells the information to Francisco 'Aquarius' Chavez, the brother of a drug dealer that Otis killed during his escape. Aquarius and a team of assassins now descend on the town to eliminate the gang.
---
Rob Zombie gained fame as a songwriter/lead singer/guitarist with the heavy metal band White Zombie and then as a solo artist. At the peak of his fame, Zombie began a parallel career as a horror director, making his debut with the controversy-laden House of 1000 Corpses (2003). He went onto several other films with the sequel The Devil's Rejects (2005), the remake of Halloween (2007) and its sequel Halloween II (2009), the animated The Haunted World of Superbeasto (2009). The Lords of Salem (2012), 31 (2016) and subsequently the film remake of The Munsters (2022).
House of 1000 Corpses introduced Captain Spaulding and the Firefly gang. The film was a rough and unhoned homage/ripoff of The Texas Chain Saw Massacre (1974) where what Zombie wanted to do was still not quite formed. Nevertheless, you could see that his sympathies lay with the psychopaths and that he only had contempt for their whitebread victims they tortured. All of this crystallised with Zombie's next and best realised film The Devil's Rejects in which the same psychopaths are the anti-heroes and Zombie's full admiration is with their sadistic cruelties and murderous rampage.
3 from Hell is the third in Zombie's trilogy of Firefly Gang films. Zombie had been threatening/promising it for some time. Sid Haig was in ill health during shooting – and looks a haggard shell of a person on screen. Haig's flagging health meant that Zombie curtailed the scenes in which he appeared, having Captain Spaulding executed early in the show and rewriting the rest of his scenes for Richard Brake, another Zombie regular who made a memorable showing in 31, as Otis's brother. The film was released only five days before Haig passed away. Although the publicity promoted it as such, 3 from Hell was not Haig's last film with three others still waiting for release.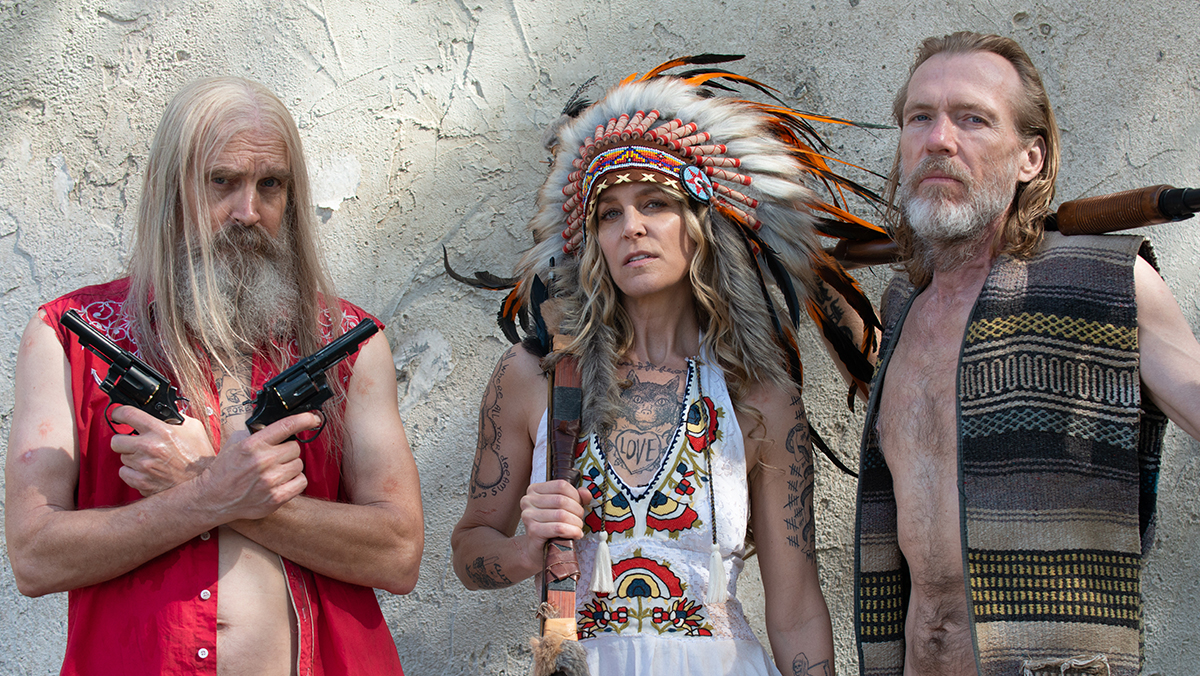 3 from Hell is fairly much the same as before. The psychopaths and killers are the anti-heroes. Zombie embraces a nihilistic worldview where he seems to say that it is enjoyable to murder, rape and commit violence because nothing matters and it is fun. Zombie identifies with the psychopaths – Bill Moseley's long-haired, long-bearded Otis could almost be a dead ringer for Zombie in real-life – just a leetle too much and you cannot help but wonder to what extent he is indulging psychopathic fantasies of his own given the extent to which he keeps returning to them in his films. (While watching the film, part of you cannot help but contemplate the unkind thought of wondering how Rob Zombie's posturing romanticism of violent and murderous behaviour would stand up if he himself were on the receiving end of a violent assault). Zombie does push the violence envelope for far more than he has previously, notably a scene where a maddened Sheri Moon Zombie gleefully pursues a fully nude Sylvia Jeffries and repeatedly stabs her to death on a suburban lawn.
If you've seen The Devil's Rejects, there is all a much of a muchness to 3 from Hell. The plot generally follows the same path, swapping William Forsythe's pursuing sheriff for Emilio Rivera's vengeful cartel leader. Certainly, Bill Moseley has settled into the role of Otis with a great deal of assurance and owns the part. On the other hand, Sheri Moon Zombie (Mrs Rob Zombie who has appeared in all of his films so far) gives a performance of giggly insanity that is allowed to go on far too long and can politely be called self-indulgent.
As usual, Rob Zombie gathers a long list of actors who have past genre careers. These include B movie veteran Clint Howard as an ill-fated party clown; horror regular Bill Oberst Jr. as a redneck hunter who tries to capture Richard Brake; a small role from Danny Trejo as the murdered cartel head; and several faces like Daniel Roebuck, Richard Riehle, Sean Whalen and Chaz Bono in small parts on the tv clips, as well as Austin Stoker from Battle for the Planet of the Apes (1973) and Assault on Precinct 13 (1976) as a newscaster. The most striking of these is Dee Wallace, a genre regular, who is cast at about 180 degrees remove from her most famous role as Elliott's mother in E.T. – The Extra-Terrestrial (1982), in a venomous and nasty role as a prison guard.
---
---