---
Crew
Director – Anthony C. Ferrante, Screenplay – Thunder Levin, Producer – David Michael Latt, Photography – Ben Demaree, Music – Christopher Cano & Chris Ridenhour, Visual Effects Supervisor – Emile Edwin Smith, Production Design – Stephanie Barkley. Production Company – The Asylum Productions.
Cast
Ian Ziering (Fin Shepard), Tara Reid (April Wexler), Vivica A. Fox (Skye), Mark McGrath (Martin Brody), Kari Wuhrer (Ellen Brody), Courtney Baxter (Mora Brody), Dante Palminteri (Vaughn Brody), Judd Hirsch (Ben), Kelly Osbourne (Flight Attendant), Robert Martin Klein (The Mayor), Andy Dick (Officer Doyle)
---
Plot
Fin Shepard and his ex-wife April Wexler are flying into New York City as part of a signing tour for the book she has written about the Sharknado incident entitled 'How to Survive a Sharknado' when their plane is struck by another Sharknado. After the pilot is killed, Fin takes command and lands the craft. In the midst of this, April has her hand bitten off by a shark. On the ground, Fin tries to warn authorities about the coming Sharknado, while trying to save his sister Ellen and her husband Martin and children. As a double Sharknado hits the city, Fin tries to prevent the catastrophe.
---
Sharknado (2013) was a genuine phenomenon. Produced by the low-budget company The Asylum who had made a bunch of other monster movies films in a similar absurd vein beginning with Mega Shark vs Giant Octopus (2009), it planted tongue-in-cheek and aimed for the intentionally ridiculous. This would normally merely have consigned the film to the same made for cable arena as other absurd shark films like Sharktopus (2010), Jersey Shore Shark Attack (2012), Jurassic Shark (2012), Sand Sharks (2012), 2-Headed Shark Attack (2012), Avalanche Sharks (2013), 90210 Shark Attack (2014), Raiders of the Lost Shark (2015), Roboshark (2015), Zombie Shark (2015), Atomic Shark (2016), Ice Sharks (2016), Ozark Sharks (2016), Piranha Sharks (2016), Planet of the Sharks (2016), Sharkansas Women's Prison Massacre (2016), Sharkenstein (2016), House Shark (2017), Trailer Park Shark (2017), Post Apocalyptic Commando Shark (2018), Santa Jaws (2018), Ouija Shark (2020), Sky Sharks (2020), Noah's Shark (2021), Sharks of the Corn (2021), Virus Shark (2021) and Shark Side of the Moon (2022). However, what caused Sharknado to erupt was social media with people live commenting on Twitter on the ridiculousness of what they were watching. This propelled Sharknado into a must-see film and within a week it was being screened cinematically and accompanied with live heckling. The Asylum even released a videogame.
Sharknado 2: The Second One was the first of several sequels. The same players behind the original – director Anthony C. Ferrante, writer Thunder Levin and stars Ian Ziering and Tara Reid have all returned (with she at least having made more of an effort to give a performance this time). The Asylum have planted tongues in cheek once again, hoping that the same people will come back for more. This attempting to capture a spontaneously generated phenomenon all over a second time is a risky proposition – especially when you are aiming to follow-up a film that audiences flocked to the first time because they saw it as being unintentionally bad.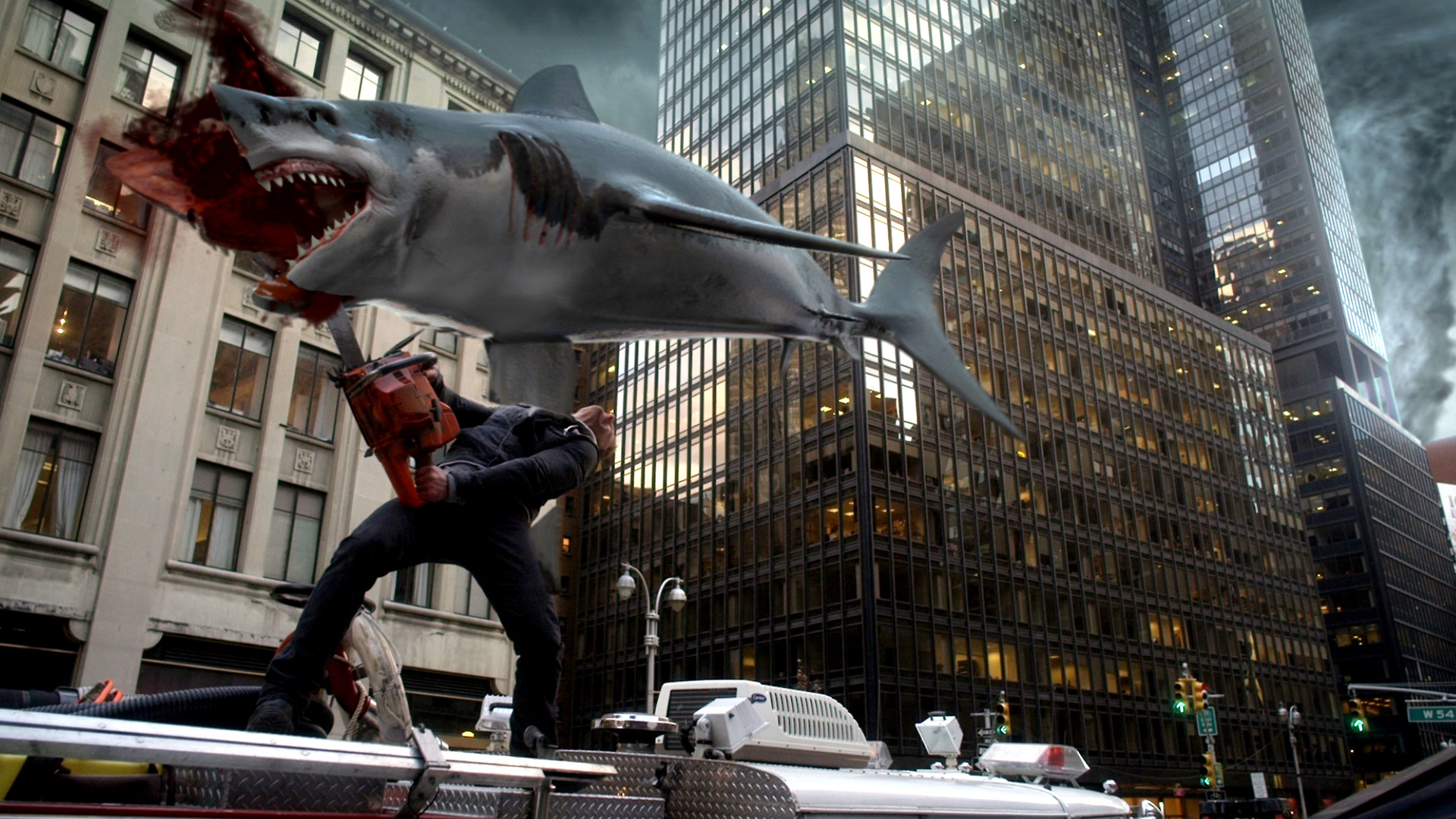 Sharknado 2 has simply changed venues from Los Angeles to New York City (which at least provides a good deal of running humour about the difficulty of finding hardware and gun stores in Manhattan). The thinking behind the sequel has been to come up with a series of situations into which to throw sharks that are as absurd as possible. Thus we get sharks in an airplane; sharks inside a tv studio; sharks climbing a stairwell; sharks invading the subway and a train carriage; Kari Wuhrer subduing a shark with a taser; Ian Ziering making an escape from a shark-surrounded cab in a flooded street by jumping to safety across the backs of sharks, which earns a muttered comment about he "having jumped the shark" – even scenes where the Statue of Liberty's head is turned into a giant bowling ball rolling through the streets.
Unlike the cheerful absurdity of Sharknado and its entirely spontaneously generated phenomenon, there is the feel of the sequel trying to recreate what it thinks made the phenomenon the first time. The result is a little like one of those "you had to be there" moments that was side-splitting when you are in the midst of it but lacks the same humour when someone tries to retell it to others.
Nevertheless, the film finally gets it together for a climax in which Tara Reid gets a buzzsaw attachment for her severed wrist; Ian Ziering dives into the tornado and starts hacking apart sharks with a chainsaw while flying through the air; people in the streets wielding improvised weaponry against sharks; and finally a shark is impaled on a tower, before the prize schlock moment where Ian Ziering reaches into the dead shark's gullet and retrieves Tara Reid's severed hand, prizes off the wedding ring and goes down on his hands and knees to propose to her again.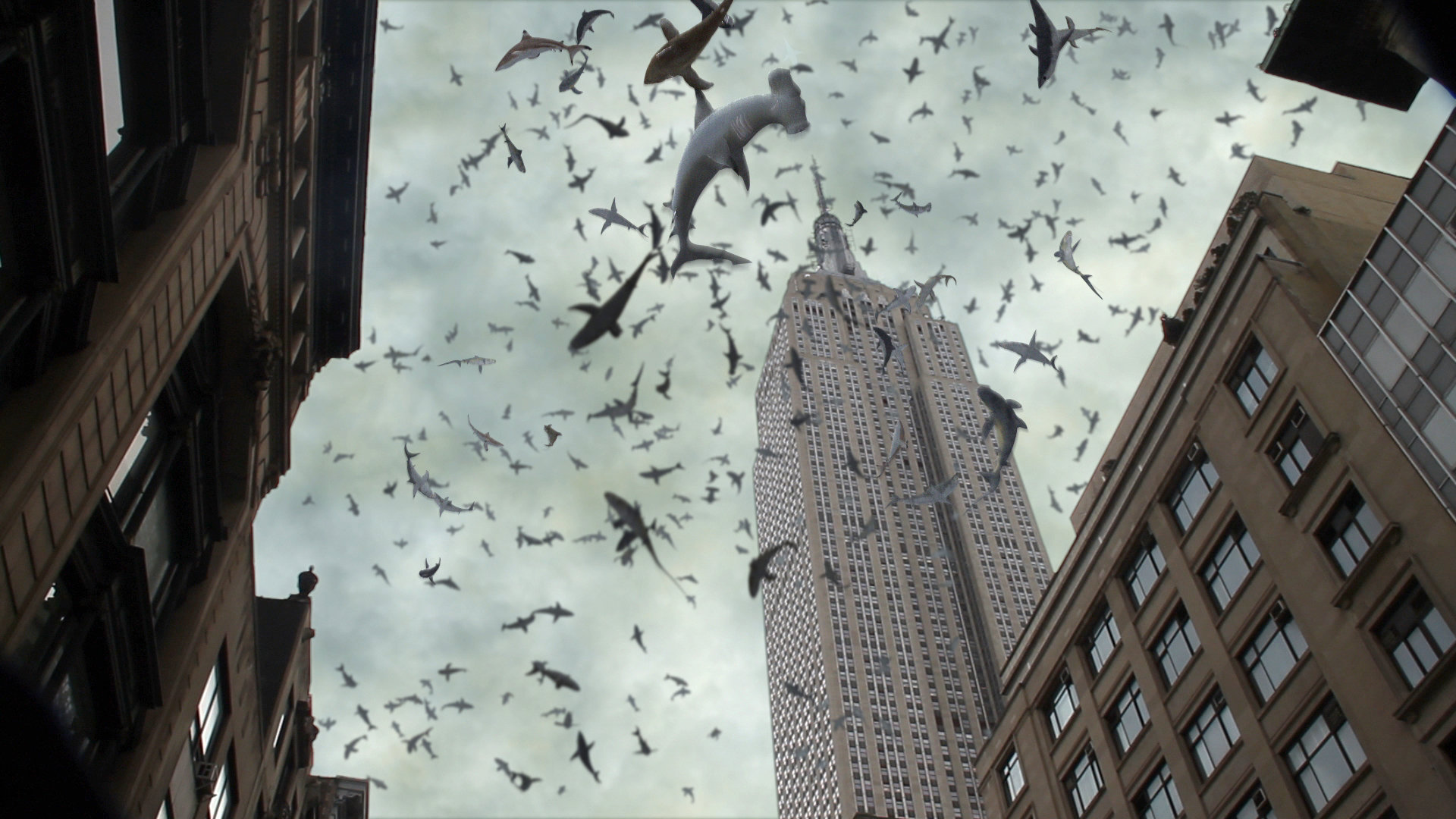 Sharknado 2 has also become a vehicle for a bunch of celebrities to climb aboard and show they are in on the joke – cameos include everybody from Perez Hilton, Kelly Osbourne, Andy Dick, Daymond John, Richard Kind, Wil Wheaton, wrestler Kurt Angle, Billy Ray Cyrus as a doctor and Downtown Julie Brown as a nurse, several real newsreaders and weather people, even Jared Fogle, the guy who appeared in the Subway ads (who naturally turns up in the subway scenes). In other words, a bunch of people whose only real fame is the fact that they are famous. This brings Sharknado 2 close to being the sort of joke that the wannabes who turn up at all the trendy parties play, on in which they are nodding and winking to show how cool they are by being in on the joke.
The upshot of this is that it transports Sharknado 2 from the realm of a goofily absurd film (as the original was) to a joke that comes fully aware of how ridiculous its audience is regarding it. The sense of a film being too knowingly clever for its own good is bolstered by the fact that the Syfy Channel screening has the screen interrupted by pop-up ads for How to Survive a Sharknado, the very book that Tara Reid's character is supposed to have written.
This was followed by Sharknado 3: Oh Hell No! (2015), Sharknado: The 4th Awakens (2016), Sharknado 5: Global Swarming (2017) and The Last Sharknado: It's About Time (2018), all reuniting Ian Ziering, Tara Reid and Anthony C. Ferrante.
---
---