---
Crew
Director – Mark Polonia, Screenplay – John Oak Dalton, Story – Ned Gregory Smith, Producer – Rob Hauschild, Photography – Gary Bucher, Music – Ghost, Visual Effects – Digital Arsenal, Special Effects – J.P. Jordin. Production Company – Polonia Bros. Entertainment.
Cast
Jeff Kirkendall (Father Benna), Ryan Dalton (Buster Pretorious), Jamie Morgan (Gina 'Jet' Jedlicher), Mark Polonia (Alan), Tim Hatch (Zee), Titus Himmelberger (Adam Blake), Kevin Coolidge (Zadkiel)
---
Plot
The priest Father Benna is called in to consult by the televangelist Buster Pretorious who is wanting to mount an expedition in search of Noah's Ark while filming it as a tv special. Buster has come into possession of a piece of wood believed to come from the ark, along with the journals of Adam Blake who retrieved the wood from Mount Ararat. Benna is able to sense that the wood is genuine. He also learns the story of Noah's fourth son Zadkiel who was tempted by Satan who appeared in the form of a shark and persuaded Zadkiel to smuggle him on board the ark. When Noah and his sons discovered this, they threw Zadkiel and the shark overboard and erased his name from history. As the expedition prepares to leave for Iran to climb Mount Ararat, Benna receives visitations from mysterious cultists urging them not to uncover the ark's evil.
---
Twin brothers Mark and John Polonia became filmmakers in the VHS heyday of the 1980s. Beginning with Hallucinations (1986), the Polonia Brothers, who were then only eighteen years old, went on to make a series of horror films that became legendary for their cheapness. Over the next two decades, they put out a heap of cheap VHS and dvd films. John died of a heart aneurism in 2008. Since then, Mark Polonia has continued on as a solo director. (Mark can be seen on screen here in a uncredited role as the mute man who pilots the boat the three characters charter). (See below for the other Polonia films).Mark can also be seen on screen as the bespectacled member of the film crew who hardly ever says anything.
The gonzo shark film has become its own mini-genre during the 2010s beginning with beginning with Shark in Venice (2008) and especially Mega Shark vs Giant Octopus (2009). There have been a great many shark films in a similar vein, that celebrate intentionally ridiculous titles and conceptual mash-ups – see the likes of Dinoshark (2010), Sharktopus (2010), Sand Sharks (2012), 2-Headed Shark Attack (2012), Jersey Shore Shark Attack (2012), Jurassic Shark (2012), Sand Sharks (2012), Avalanche Sharks (2013), 90210 Shark Attack (2014), Raiders of the Lost Shark (2015), Roboshark (2015), Shark Exorcist (2015), Zombie Shark (2015), Ice Sharks (2016), Ozark Sharks (2016), Piranha Sharks (2016), Planet of the Sharks (2016), Sharkansas Women's Prison Massacre (2016), Toxic Shark (2017), Trailer Park Shark (2017), Post Apocalyptic Commando Shark (2018), Santa Jaws (2018), Ouija Shark (2020), Sky Sharks (2020) and Sharks of the Corn (2021), among others. (For a more detailed overview of the genre see Killer Shark Movies). Within the Gonzo Shark Film genre, Mark Polonia has made a number of entries in the gonzo killer shark film with Sharkenstein (2016), Land Shark (2017), Shark Encounters of the Third Kind (2020) and Virus Shark (2021).
I only came to the Polonia Brothers in recent years but have been slowly immersing myself in their filmmaking. In the reputation of many, the Polonias are the modern day equivalent of Edward D. Wood, Jr. Their filmmaking is about as cut-price and cheap as it can get, especially in the effects department. The films are contained to as few locations as possible and casts reduced to only a handful. These include a number of recurring faces – all of the actors here, for instance, have made multiple appearance in Polonia films, most notedly Jeff Kirkendall who has become a star of sorts in Mark's films.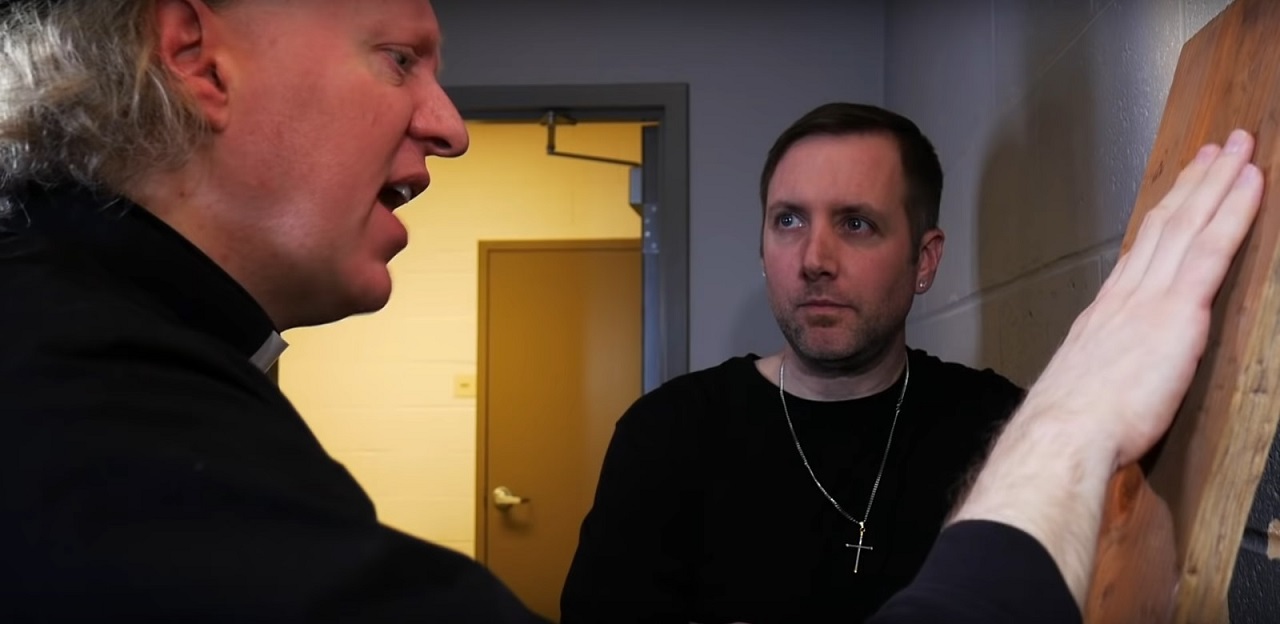 The Polonia films I have seen so far have been fairly minimalist in terms of script – just enough of a premise to keep the show running around its contained locale and some complications to give it drama. They are not exactly conceptually challenging scripts. On the other hand, Noah's Shark, which is written by John Oak Dalton, who has worked on a number of Polonia films since the mid-2000s, offers up a more interesting premise than most of their other films.
Dalton takes the title seriously and tries to wind sharks in with Biblical Mythology and the story of Noah's Ark in a way that is intriguing. Here The Devil, who is known to take the form of animals (the snake in the Garden of Eden) takes the form of a shark, Noah's son tries to smuggle the shark aboard the ark and was banished after being found it. This makes for a film that has an undeniably fascinating level beneath its otherwise deliberately ridiculous title premise.
On the other hand, the premise does run aground when it comes to the typical Polonia corner-cutting. The actor playing Noah comes with one of the most ridiculous looking fake beards in the history of cinema. There are some decent effects of the exterior of the ark, although the interior looks more like it was shot in somebody's barn. The biggest plausibility hole in the film is the casting of Ryan Doltan (son of screenwriter John Oak Dalton) as a televangelist – Dalton comes tattooed, unshaven and with a sarcastic worldwise attitude that seems the total opposite of anything you imagine a televangelist to be.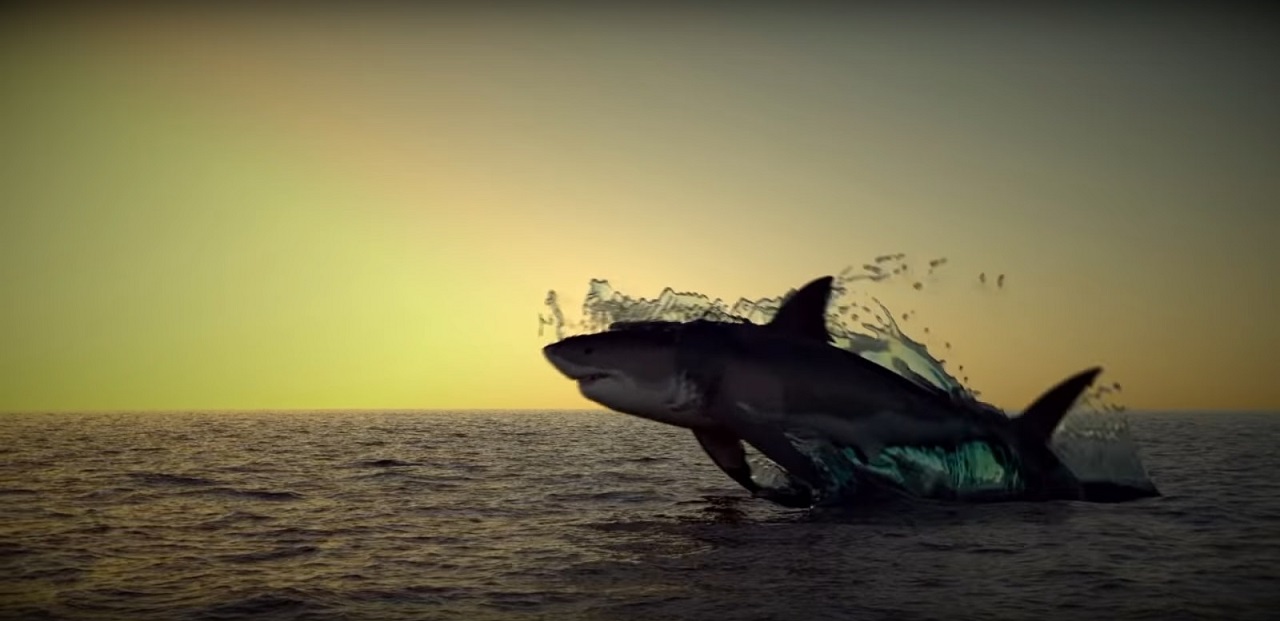 The main issue though is that the film has a great premise and title pun but never goes anywhere with it. The shark is not that well integrated into the story and never does anything more than prowl around and be seen doing slow-motion jumps out of the water. Furthermore, most of the film is taken up by the group determining the nature of the piece of wood – supernaturally empowered lumber also appeared in Mark Polonia's Amityville Exorcism – and then trekking through the wilderness of what is supposedly Mount Ararat (but looks nothing like mountainous terrain). It should also be noted that the group undertake the expedition but fail to actually bring any camping or mountaineering supplies with them. In actuality, Mount Ararat rises to 16.000 feet at its highest point, where it is the highest mountain in Turkey and not an easy climb.
The Polonia Brothers films are Hallucinations (1986), the Polonia Brothers, who were then only eighteen years old, went on to make a series of horror films that became legendary for their cheapness. Over the next two decades, the two put out the likes of Splatter Farm (1987), Hellspawn (1993), Saurians (1994), How to Slay a Vampire (1995), Feeders (1996), Night Crawlers (1996), Bad Magic (1998), Terror House (1998), Feeders 2: Slay Bells (1998), Blood Red Planet (2000), The House That Screamed (2000), Hellgate: The House That Screamed 2 (2001), Dweller (2002), Gorilla Warfare: Battle for the Apes (2002), Night Thirst (2002), Holla If I Kill You (2003), Among Us (2004), Dinosaur Chronicles (2004), Peter Rottentail (2004), Preyalien: Alien Predators (2004), Black Mass (2005), Razorteeth (2005), Splatter Beach (2007), Wildcat (2007), Forest Primeval (2008) and Monster Movie (2008). John died of a heart aneurism in 2008. Since then, Mark Polonia has continued on as a solo director, making the likes of HalloweeNight (2009), E.V.E. of Destruction (2011), Empire of the Apes (2013), Camp Blood First Slaughter (2014), Amityville Death House (2015), Channel 13 (2015), Death Reel (2015), Jurassic Prey (2015), Bigfoot vs Zombies (2016), Sharkenstein (2016), Amityville Exorcism (2017), It Kills (2017), Land Shark (2017), Revolt of the Empire of the Apes (2017), Alien Surveillance (2018), Battle Bots (2018), Frozen Sasquatch (2018), Ghost of Camp Blood (2018), Bride of the Werewolf (2019), Deadly Playthings (2019), Amityville Island (2020), Children of Camp Blood (2020), Return to Splatter Farm (2020), Shark Encounters of the Third Kind (2020), Camp Murder (2021), Dune World (2021), Sister Krampus (2021), Virus Shark (2021), Feeders 3: The Final Meal (2022), House Squatch (2022), Reel Monsters (2022), Sharkula (2022) and Saurians (2022).
---
Trailer here
---