---
Crew
Director/Screenplay/Music – Tim Ritter, Idea and Concept – Ron Bonk & Steven Kang, Additional Story – Al Nicolosi & Larry Treadway, Producer – Al Nicolosi, Photography – Steve Guynn, Al Nicolosi, Tim Ritter & Go Tread, Special Effects – Michelle Macabre & Mason Roberts, Makeup Effects – Michelle Macabre FX. Production Company – Twisted Illusions Entertainment.
Cast
Shannon Stockin (Chief Vera Scheider/Lorna Scheider/Shark Goddess), Steve Guynn (Teddy Bo Lucas), Casey Miracle (Murray Benchley), Ford Windstar (Jonathan Gottlieb), Todd Marten (Mayor Zanuck), Al Nicolosi (Kramer), Thomas "t" Kindler (Mr Mello), Trish Martin (Rosenberg), Billy Blackwell (Angel), Jason Boyd (Gary Gottlieb/Bigfoot), Rebecca Rinehart (Susan), Katrina (Joan/Cornfield Victim), Tim Ritter (Clint Grossman), Amanda Healy (Joey)
---
Plot
There have been a suspicious number of deaths in the cornfield around the town of Druid Falls, Kentucky. The latest survivor insists that the woman he was with was devoured by a shark but this is dismissed as absurd by the authorities. Murray Benchley steals a shark embryo worshipped by a shark cult in the area on behalf of the mobster Mr Mello. However, the deal goes wrong and he is pursued by Mello and his thugs. Meanwhile, police chief Vera Scheider arrests Teddy Bo Lucas after pulling him over and finding he has body parts in his car. Teddy Bo confesses to being the Great White Killer who has slaughtered dozens of women in the area as a sacrifice to raise the shark goddess. He offers to show her the cornfield where he has buried the bodies, promising that the rising of the shark goddess is about to occur.
---
Tim Ritter is a director who has been at work making a series of independently released films since the video era of the 1980s. As director, his films include Day of the Reaper (1984), Truth or Dare (1986), Killing Spree (1987), Wicked Games (1994), Creep (1995) and Reconciled (2004), while he has also contributed to a number of anthology films including Twisted Illusions (1985) and sequel, The Alien Agenda: Endangered Species (1997), Beyond the Lost World: The Alien Conspiracy III (2003), Hi-8 (2013) and sequels, Trashsploitation (2018), Earth Girls Are Sleazy (2019) and Zombarella's House of Whorrors (2019). Ritter can also be seen on screen here in the role of Shannon Stockin's bearded and shaven-headed deputy,
Of recent years, Ritter has been working in collaboration with Ron Bonk, a New York-based filmmaker and distributor. Bonk has been making films since the 1990s, with the likes of Clay (2007), Ms. Cannibal Holocaust (2012), Empire State of the Dead (2016), She Kills (2016) and House Shark (2017). Bonk also runs the SRS Cinema label, specialising in the distribution of low-budget horror and exploitation films. Bonk produces the Hi-8 anthology films, which is where it would appear that he and Ritter met up.
The gonzo shark film has become its own mini-genre during the 2010s. This began with Shark in Venice (2008) and especially Mega Shark vs Giant Octopus (2009), which increasingly placed tongue-in-cheek, reaching its zenith with the bad movie hit of Sharknado (2013) and sequels. There have been a great many shark films in a similar deliberately ridiculous vein – see the likes of Dinoshark (2010), Sharktopus (2010), Sand Sharks (2012), 2-Headed Shark Attack (2012), Jersey Shore Shark Attack (2012), Jurassic Shark (2012), Sand Sharks (2012), Avalanche Sharks (2013), 90210 Shark Attack (2014), Raiders of the Lost Shark (2015), Roboshark (2015), Shark Exorcist (2015), Zombie Shark (2015), Ice Sharks (2016), Ozark Sharks (2016), Piranha Sharks (2016), Planet of the Sharks (2016), Sharkansas Women's Prison Massacre (2016), Sharkenstein (2016), Toxic Shark (2017), Trailer Park Shark (2017), Post Apocalyptic Commando Shark (2018), Santa Jaws (2018), Ouija Shark (2020), Sky Sharks (2020), Noah's Shark (2021) and Virus Shark (2021), among others. (For a more detailed overview see Killer Shark Movies).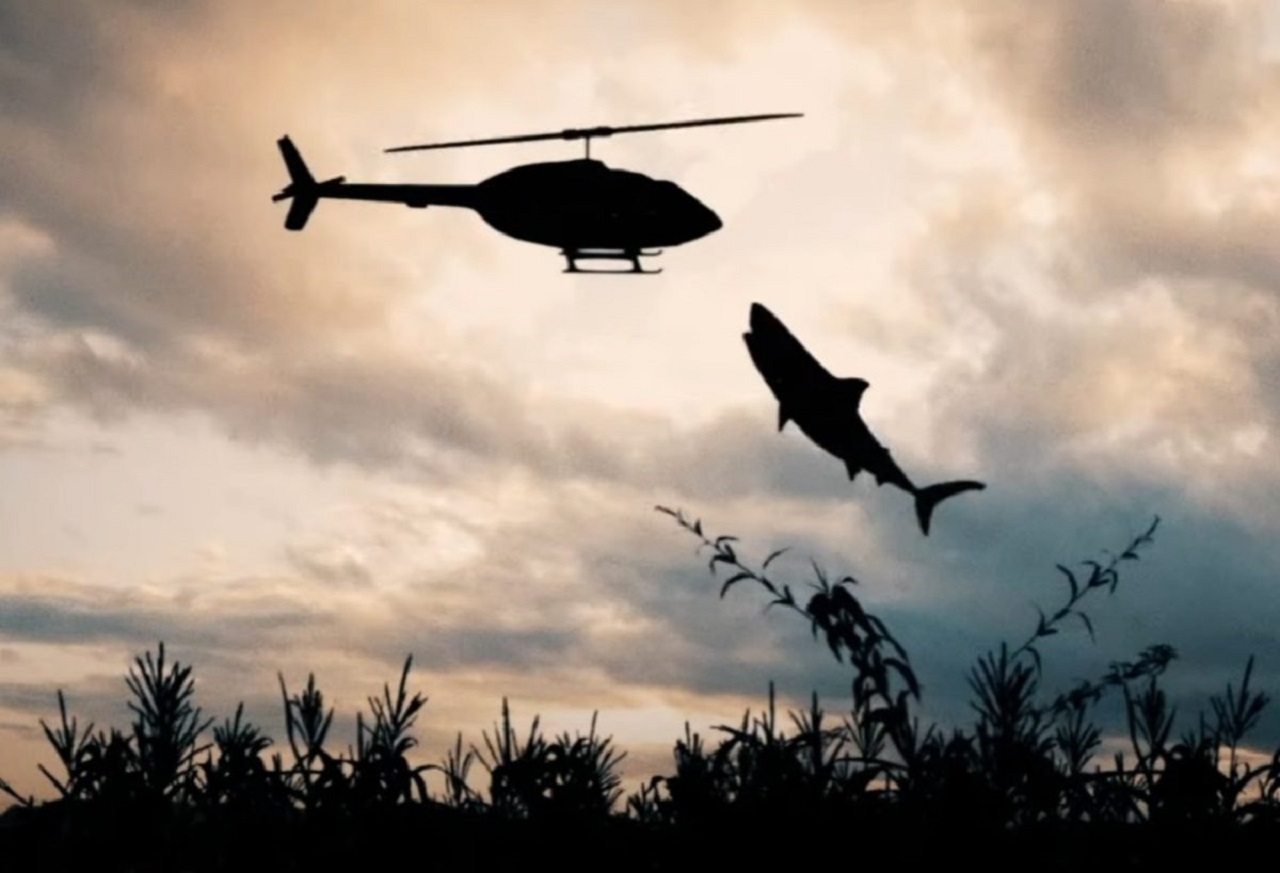 Sharks of the Corn is a painfully cheap Gonzo Killer Shark film. It is not the worst I've ever seen but it would certainly sit amid the worst half-dozen. (So too would Ron Bonk's House Shark, which Tim Ritter co-produced). The laughable tattiness of the production is evident from the opening scenes where the shark prowling through the corn is no more than a model shark being held up in front of the camera.
There is some really crappy direction and editing. The gore is so cheap that you can see scenes where the blood is just being squirted onto bodies and the camera lens from off camera. For some reason, there are random scenes of Stonehenge edited in every time the shark appears. The cast are generally competent, although Todd Martin as Mayor Zanuck gives the impression of being a redneck with a low I.Q. getting so heated up as he argues that he has developed blood-pressure problems.
It should also be noted that most of the characters are named after actors and crew from Jaws (1975) – actor Roy Scheider, screenwriter Carl Gottlieb, the book's original author Peter Benchley and producer Richard D. Zanuck, while there is even a family named after special effects supervisor Roy Arbogast. The end credits pay tribute to Jaws with "Special Note to Peter Benchley, Steven Spielberg and the Movie Jaws for its unending influence on pop culture and inspiration to fans and moviemakers."
The poster for the film also announces it is "Steven Kang's Sharks of the Corn", clearly trying to make a tongue-in-cheek play for one of the Children of the Corn films. There is a Steven Kang credited as the film's co-writer, which would appear to be a pseudonym for Tim Ritter.
(Winner Worst Film in this site's Top 10 Films of 2021 list).
---
Trailer here
---