---
USA. 1952.
Crew
Director – Edward Dmytryk, Screenplay – Harry Brown, Story/Producers – Edna & Edward Anhalt, Photography (b&w) – Burnett Guffey, Music – George Antherl, Production Design – Rudolph Sternad. Production Company – Stanley Kramer Co.
Cast
Arthur Franz (Edward Miller), Adolphe Menjou (Lieutenant Frank Kafka), Richard Kiley (Tom Kent), Gerald Mohr (Sergeant Joe Ferris), Marie Windsor (Jean Darr), Marlo Dwyer (May Nelson)
---
Plot
San Francisco delivery van driver Edward Miller struggles with his hatred of the women who reject him and the intense jealousy he feels whenever he sees lovers together. He is unable to stop himself from taking a rifle and going out and shooting women. He attempts to get doctors at the hospital to lock him up but they are too busy. He writes anonymous letters to the police begging them to stop him. As the killings continue, a psychologist tries to convince the police that the killer needs to be understood.
---
The Sniper is a fascinating effort from the pre-Psycho (1960) era. Director Edward Dmytryk had made various B horror films in the previous decade – The Devil Commands (1941) and Captive Wild Woman (1943) – and would become better known for the A-budget dramas he made subsequent to The Sniper, which included the likes of The Caine Mutiny (1954), Raintree Country (1957), Warlock (1959), Walk on the Wild Side (1962) and The Carpetbaggers (1964). The Sniper was made just on the cusp of Dmytryk's move from B director to respectable studio director. Dmytryk would subsequently venture back into psycho territory with the ludicrously overwrought Bluebeard (1972) starring Richard Burton.
The Sniper is a psycho film that never quite slots into the psycho-thriller mould that most psycho films reside in. Edward Dmytryk is never particularly interested in developing tension – although the steeplejack sequence at the end does so rather well. Rather Dmytryk opts for an oblique pseudo-documentary approach, as though the camera were merely observing rather than an active participant in what is happening. This is something that has chilling effect – like the moment where Arthur Franz grabs a fairground arcade rifle and tries to shoot two lovers on a Ferris wheel, wrenching at the rifle chained to the booth in mute frustration. Or the killing of one girl as the camera tracks her down a sloping street, she falling as she is shot and the camera following the can she has kicked as it rolls on and on into the distance seemingly forever.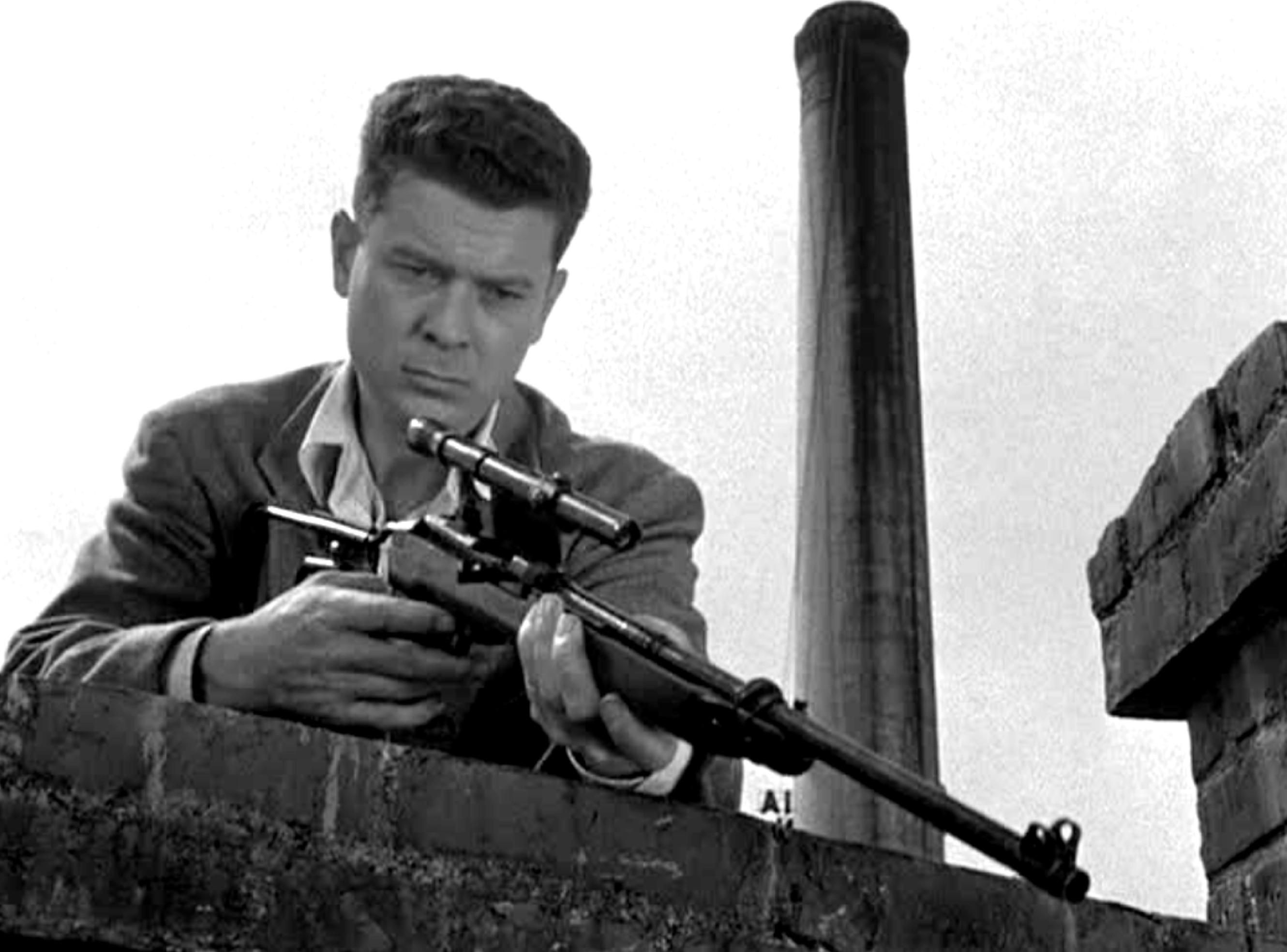 Arthur Franz's babyish looks are made to work for his tortured essayal. He gives a performance full of tormented intensity – although is actually at his best when he gets to smile and suddenly a whole different personality, that seemingly of an innocent boy, seems to light up inside. Unfortunately, the film fails to offer him any psychological motivation, other than a crudely defined misogyny, and the character remains an irritating cipher.
The film seems to be trying to make a plea of understanding of the sex offender, with Richard Kiley's psychiatrist character being used as a mouthpiece to make some effective points. Despite its professed platform of understanding, a scene where sex offenders are lined up and laughed at by the police does not do the film's case much good.
---
---